Over the years, pedal kayaks have grown so much in popularity against the conventional paddle kayaks due to how much easier and less exhausting they make things out on the water, and the way they open up possibilities as to what you can do. With a paddle kayak, you get improved stability and speed, a level of functionality that's beginner-friendly, and hands-free fishing.
With this increasing demand from anglers, many kayak brands have been producing their own versions of the paddle kayak, such as Pelican International. This company has been outputting great kayaks with superb functionalities at competitive prices.
So, in this article, let's talk about their most popular paddle kayak to date- the Catch 130 Hydryve. Without further ado,
The Catch 130 Hydryve by Pelican

The brand's first ever paddle kayak is The Catch 130 Hydryve, which makes use of a push pedal system that is much like the system on the Hobie MirageDrive. This pedal system propels the kayak on the water by moving the fins (located under the kayak) sideways as you push down on the pedals.
This fin-type pedal system is perfect for shallow waters, allowing you to breeze through various obstacles in the water without damaging the water plants, weeds, and lilies. This also makes the system eco-friendly- always a nice feature.
Performance
On the water, this pedal kayak is extremely stable and buoyant. This is thanks to the Tunnel hull design and the flotation on the hull. This engineering gives the Pelican pedal drive kayak the capability to handle unstable waters and varying torque. While it may not sound impressive, per se, you'll see that the kayaks at this price point pale in comparison.
Maneuverability
It's fairly lightweight and easy to install. Maneuvering it is also easy and straightforward, since you just have to unmount the system, change its direction, and resume pedalling. You can even adjust it to various angles in order to make for a more comfortable ride. Even better, you can add a softer footrest if you prefer pedalling barefoot. The customization options are endless.
Damage Protection
Moreover, this pedal system is contained in a separate housing that protects the kayak and the system when you're zooming along at high speeds, as well as in case of emergencies. With this design, if something happens, only the housing will get damaged rather than the kayak, and replacing the housing is quite easy and inexpensive.
Construction
Construction-wise, this Pelican fishing kayak with pedals is made of several layers of resin and polyethylene. These materials make for a lightweight, sturdy, and resilient kayak, even when compared with models from other brands. In fact, this kayak is so lightweight at just 78 pounds that you can easily carry it by yourself and haul it up your kayak rack.
Features
What really makes The Catch 130 Hydryve great is that it comes with a sleek set of features that are typically reserved for higher-end kayaks, such as rigging tracks, padded carpets, a management system for tackle boxes, rod holders, and ample storage solutions with plenty of elastic straps. The best part? This kayak comes with a 1-year warranty from Pelican.
Catch 130 Hydryve Pros:
Even when this kayak was first launched, anglers all over the world have instantly fallen in love with it. Perhaps one of the reasons is its affordable price, especially considering all the features it brings to the table. Among its many functionalities include:
Stability
Again, the tunnel hull of The Catch 130 Hydryve makes it stable, versatile, and maneuverable. Coupled with the anti-slip carpets, you can easily stand on this kayak to cast lines or look to the horizons. Sure, it may take a bit of practice, especially if you're a beginner, but the learning curve is easy and definitely worth it.
Speed and Maneuverability
This kayak also moves quite fast on the water, thanks to its lightweight construction and pedal system. With this pedal kayak, gaining speed and changing directions is easy and doesn't require much effort.
Even the rudder system is easy to use and makes the kayak move swiftly even along narrow channels. It's also responsive and easy to control, so you can enjoy your comfortable kayak seat more.
Comfort
Speaking of the comfy seat, the Pelican Catch 130 features the dual position ERGOCAST G2 sitting system, which comes with straps and pockets for holding various kayaking and fishing tools. There are also adjustable straps that make the seat more loose or firm, depending on your preferences.
This seat is also easily adjustable to help you find the perfect and most comfortable seating position. You can even flip back the seat system if you want to stand on the deck and enjoy a bit of extra space.
Ease of Use
Going back to the pedal system, they are just so easy to use- not only because pedalling feels more natural than using paddles, but also because the pedals are constructed in such a way that they are easily adjustable to your ideal position. They are comfortable, soft, and dual sided, allowing you to pedal either in your shoes or barefoot.
Storage
In terms of storage, The Catch 130 Hydryve is unlike many kayaks that suffer from a lack of available space. For one thing, this kayak comes with lots of bungee cords for holding supplies- big or small. There are plenty of rigging tracks located on each side of the kayak, which allows you to mount various accessories and devices like cameras.
You will also be able to haul quite a few beverages and tackle boxes beside the seat, and a few more stuff inside the pocket behind it. There are even two pairs of flush-mounted rod holders built into the kayak. Finally, at the rear end of the Hydryve kayak, you'll find a day hatch that has plenty of room for other gear.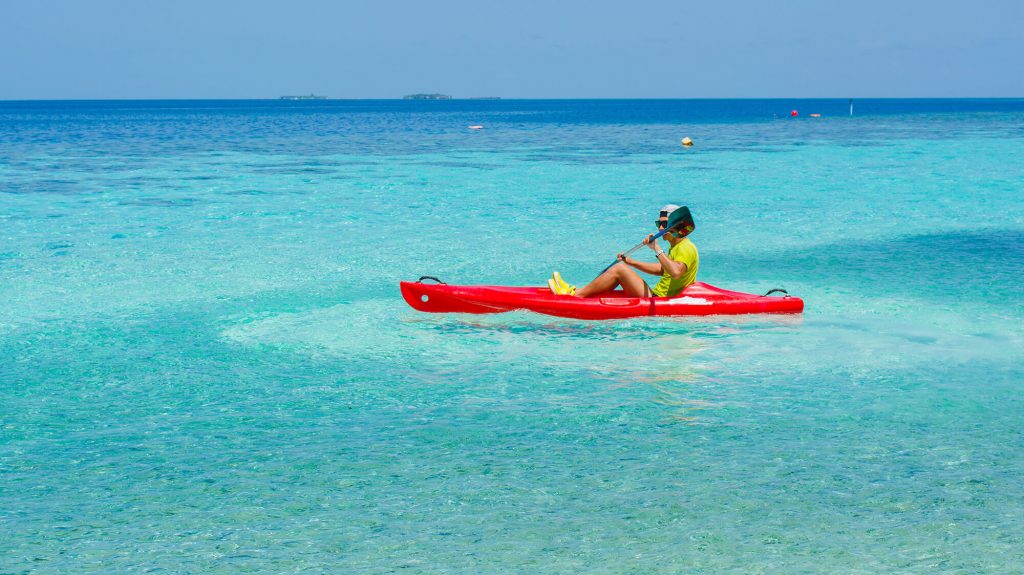 Maintenance
In the way of maintenance, you will appreciate the replaceable housing that encloses the Hydryve system. If you happen to apply too much torque and break the housing, it's easy to replace it due to its modular design and construction.
You will also find a drain towards the kayak's rear, as well as a couple of carrying handles, also at the rear (and one at the opposite end), which should make carrying the kayak easy.
Catch 130 Hydryve Cons:
Call us sappy or romantic, but we simply couldn't find any fault with The Catch 130 Hydryve, which is why we highly recommend it to anyone looking for a great pedal kayak. It's suitable for beginners and pro anglers alike, it's highly useful for various applications such as recreation, exercise, and fishing, and it hails from a trusted brand that never fails to deliver quality products.
Advantages of Pedal Kayaks
As you have seen above, there are many undeniable advantages to using a pedal kayak. It's a true revolutionary in the world of kayaking. Among these various benefits are:
Speed
As compared to traditional paddle kayaks, gaining and maintaining speed is much easier on a pedal kayak, since it makes the use of your legs and feet, which are naturally stronger than your arms. This is beneficial in reaching faraway fishing spots and covering huge distances on open waters. You can even use a pedal kayak for obstacle-rigged races.
Stability
Quite a few types of kayaks are stable on the water, with pedal kayaks being one of them. They are incredibly stable that you can stand on the deck, move around on the kayak, set your fishing gear up while the kayak is in motion, and cast lines without worrying about toppling over. And, since you're not using paddles to propel the kayak, you also won't be swaying side to side.
Silent Performance
A pedal kayak's silent performance is again thanks to its use of pedals. This propulsion system is located under the water and doesn't create as much splashing, so what little noise is produced is dampened by the surrounding water.
This makes pedal kayaks better for fishing, since there are little splashing sounds to scare away the fish. And, speaking of splashing, you also won't have to worry about getting yourself and your accessories wet.
Ease of Use
As compared to other kayak types, pedal kayaks are, by far, the easiest to use. Just launch the kayak onto the water, take your seat, and start pedalling. Unlike paddling, it doesn't take much time and practice to learn how to use the pedals.
Hence, pedal kayaks are better suited for beginners, as well as older people and those with limited mobility or weaker upper bodies. They are also great kids kayaks, as long as you can find an appropriate size for your little angler.
Hands-free Operation
Propelling the kayak using your legs and feet means that your hands are free to do whatever you want while you're moving on the water. You can do anything from fishing, sightseeing, photography, or just leaning back and enjoying a can of beer and a fresh sandwich. In fact, you can engage in lots of different activities even while using the rudder.
Reduced Muscle Strain
Here's the main issue with paddling- it causes a lot of strain, fatigue, inflammation, and even tearing on the muscles of your upper body. That's a load of health issues right there. With pedal kayaks, however, you can let your frankly stronger and more able legs and feet do the job, which makes things easier, safer, and better for your health.
Rudder System Feature
Another feature of pedal kayaks is the rudder system, which is a must-have in terms of control. Have you ever tried kayaking and lost control on tricky parts of the water? Then you probably have an idea of how important a rudder system is.
And for pedal kayaks, this system is highly sensitive, easy to use, and readily accessible since it's located by the seat. It's also typically retractable and can be deployed at any given time and over specific depths on the water.
Ample Storage
Once again, pedal kayaks are known for their bountiful storage offerings, from the built-in rod holders for your fishing rods, dry and wet hatches for keeping drinks cool, lots of different mounting racks for your accessories, and so on. Whatever space on the kayak that isn't taken up by the seat and pedal drive system are optimized for storage.
Room For Customization
Speaking of customization, pedal kayaks can be designed and outfitted for various tasks. For example, you can install tackle boxes and rod holders to partake in fun fishing activities, the seat can be raised and padded to make for a more comfortable kayaking experience, or you can twist the seat to whatever angle you prefer.
Pedal Kayak Types: Push vs Rotational Pedals
Now, let's talk about the most important part of a pedal kayak- the pedal system. There are generally two types of pedal drive systems on a pedal kayak, which are rotational and push pedals. While both of these make use of your lower body strength for propulsion, there are quite a few differences as to how they work.
Push Pedals
For push pedals, as the term suggests, you push the pedals with your feet, alternating between each foot. It consists of two pedals, each attached to fins below the kayak. Pushing these pedals moves the fins sideways and propels the kayak forward.
When you remove the pedal system and change its direction, you can pedal in reverse, or switch it back and move forward. It may look and feel vigorous, but still less exhausting as compared to conventional paddle kayaks.
Rotational Pedals
Meanwhile, rotational pedals look more like those on a bicycle, wherein you push the pedals with your feet in order to complete a cycle. This turns the propeller located underneath the kayak, thereby propelling the watercraft forward.
In comparison with push pedals, rotational pedals are easier to use, especially when moving in reverse, since you only need to cycle in the opposite direction. That said, trying to gain speed with this pedal type will feel a bit more strenuous.
Tips For Finding The Best Pedal Kayak
It's no question that pedal kayaks are great- in many ways, even greater than other kayak types. You can use pedal kayaks for fishing, recreation, sports, and more. A pedal kayak will let you get closer to hidden spots and breathtaking locations.
As such, it's no wonder that many beginner and pro anglers are keen on buying pedal kayaks. The question is, how can you make sure you're choosing the best one? Well, some of the things you need to consider include your preferred body of water, whether you prefer a sit-on-top or sit-in recreational kayak, the right kayak size, shape, and weight for you, and your budget.
Kayak Type
First, what type of kayak do you want to buy, and will it work well in the area you want to pedal in? For instance, The Catch 130 Hydryve is great for shallow waters and narrow rivers, while oceans and large lakes require sea kayaks, and you'll need whitewater kayaks for tricky rivers.
Kayak Weight
One thing to keep in mind is that pedal kayaks are heavier than paddle kayaks, primarily since the propulsion system is built into the watercraft as opposed to having separate paddles. This means you need to factor in the weight especially when it comes to carrying and transporting the kayak from garage to shore.
As much as possible, you should be able to carry it by yourself. If you're buying a kids kayak, this should be an easy job, but even with the best tandem kayaks for two, you'll have a hard time hauling kayaks up your SUV roof, and might even have to invest in a trailer.
Maneuverability
Not all pedal kayaks are maneuverable and easy to sail in relatively shallow waters. So, if you will likely encounter lots of these waters, opt for a kayak with a fin or push pedal drive system, as this pedal type will fare better. On the contrary, other types of water will have different requirements, and you need to account for those as well.
Must-have Accessories
Don't forget to pack the right accessories to make for a safe and enjoyable kayaking experience. These include lifejackets, paddles for when the waters are especially tricky, water shields and kayak bimini tops to protect you from the sun and water, and other safety equipment for your protection. Remember, your top priority should be to keep you and your kayak safe.
Customer Reviews
You'll also want to spend enough time researching online reviews for the kayak you're thinking of buying. This will help you visualize how the kayak looks, feels, and performs in real life, and whether fellow kayakers are satisfied with the kayak's performance.
Maintenance
Last, it's also a good idea to factor in the maintenance required to keep the kayak in good working condition. For example, you might need to regularly wash off salt water on the kayak if it's not built with corrosion-resistant materials. Or, if you buy inflatable fishing kayaks, you should be prepared with patches and extra pumps.
Other Promising Options For Pedal Kayaks
Aside from the Pelican 130 HD, there are a few other promising pedal kayaks on the market. Take a look at them below:
Riot Kayaks Mako 12

First is the Riot Kayaks Mako 12, which is a great quality kayak that comes at an even greater price. Unlike the Pelican 130 HD, the Riot Mako makes use of a rotational pedal for its propulsion system, which is much easier to use.
For starters, there's no need to remove the pedal drive before pedalling in reverse; instead, you just need to change your pedalling direction. You can also unmount this impulse drive system when traversing through tricky shallow waters and re-attach it afterwards.
This kayak is ideal for solo trips, especially since it's on the small side and fairly lightweight. It comes with plenty of rod holders, storage hatches, and accessory mounting tracks. The seat is also easy to adjust, highly comfortable, and close to the rudder, which makes controlling the kayak pretty easy.
Want more options for rotational pedal kayaks? Check out the Old Town Topwater 106 PDL
Hobie Mirage Passport 10.5′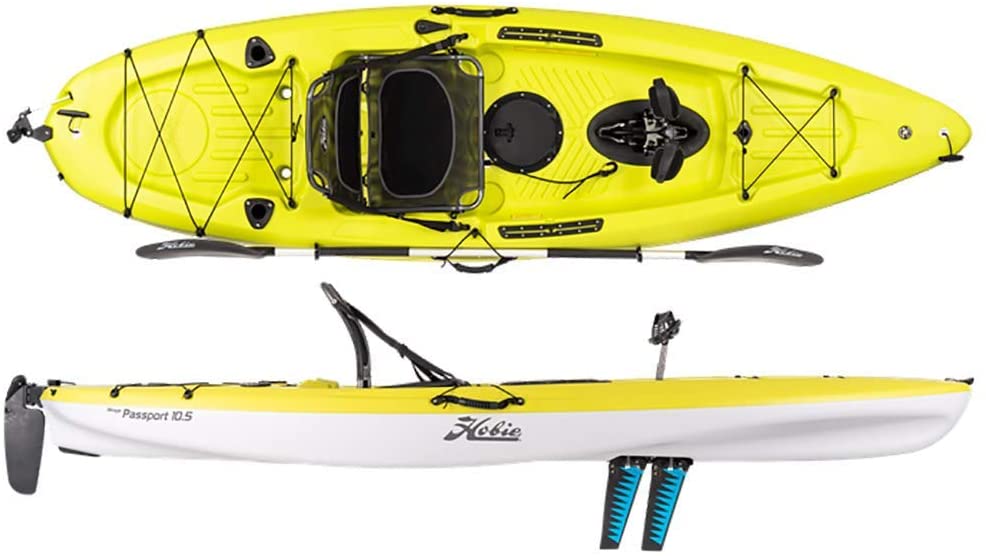 There's also the Hobie Mirage Passport 10.5′, which we mentioned earlier. Like the Pelican, this kayak features push pedals, this time in the form of the popular MirageDrive. This MirageDrive is not reversible, which makes things super convenient on the water. The kayak is also affordable and comes with a great set of features.
Other amazing features of this kayak include the comfortable and adjustable seat called Vantage CT, the adjustable pedal crank that accommodates various size anglers, plenty of storage and mounting tracks, and a waterproof hatch for electronics and food items.
Similar to the other kayaks we talked about, the Mirage Passport's rudder is located near the seat, so controlling the kayak is easy, and for the most part, hands-free. You'll even get a free paddle that makes maneuvering around tricky spots easier.
Final Words
Most would agree that pedal kayaks are the best type of kayak available today. They offer endless possibilities and benefits especially as compared to traditional paddle kayaks. These include increased stability, speed, efficiency, customizability, and storage options. Pedal kayaks are also better for our health, and certainly more suitable for fishing.
All that said, pedal kayaks are a little on the expensive side, even with more manufacturers and kayak brands entering the competition. Interestingly enough, some of the best pedal kayaks, like the Pelican pedal kayak, are on the more affordable side.