This post contains affiliate links. For more information, visit my disclosure page.
Summer is already here, and it's time to gear up and head to the nearest body of water, whether it's your backyard pool, a hidden lake, or the most popular beach in town. But, any water activity is not complete without the perfect accessory.
However, your typical floater can only do so much. Unless you're a kid, it pretty much serves as a fashion statement and something to take those insta photos with. But, what if you want something that serves more purpose?
Well, how about an inflatable dock that can handle a punch? These things are surprisingly stable and durable, so you can put all sorts of things on them and do all sorts of crazy stuff, like jumping all over. Here are the best inflatable docks that we've found just for you.
Best inflatable dock
Take a look at these seven best inflatable floating docks in 2021 that are guaranteed to give you a fun and enjoyable time out in the water, whether it's in a lake, on a pool, or out in the open ocean. We've included our favorite features for each product, too!
Whether you want big docks, small docks, rectangular docks, square docks, oddly shaped docks, docks with pumps, and all sorts of other stuff, we've got plenty of the best options for you to choose from, so keep on reading!
Solstice inflatable floating dock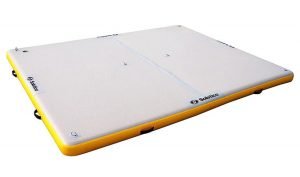 Our first pick is the Solstice inflatable floating dock, which is a highly rated Amazon's Choice product when it comes to floating docks. It's big, simple, safe, and fun, making it perfect for various water activities during the summer.
This features a super rigid construction that can comfortably and safely support standing adults. And with this high pressure and drop stitch construction, along with the stainless steel ring tie downs and the reinforced grab handles, this dock is as durable as it gets.
You can easily tether this to any boat, or make your own mini floating island by adding on some coolers, umbrellas, and even a couple of chairs. All in all, it's one truly remarkable product that makes marine leisure activities nothing short of perfection.
Amazon's Choice floating dock
Available in four sizes
Can fit 3 to 5 adults sitting or standing
High pressure valve for quick inflating and deflating
Comes with an inflating pump
Mission boat gear inflatable floating mat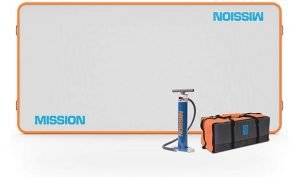 The second best is the Mission boat gear inflatable floating mat, a perfect floating lake lounge to enjoy the summer breeze and a bit of sunshine. It's highly durable and rigid, so you can do all sorts of activities from standing, jumping, and playing around.
This is because this inflatable dock is made with a high grade nylon and built through drop stitching with double reinforced seams, so it won't easily break, deflate, sink, or get damaged no matter how much fun you have on this platform.
It's also equipped with stainless steel rings, so you can conveniently attach it to any surrounding water structures such as boats and docks. Plus, even though it's a full four inches thick when inflated, it packs down to a tiny package that can easily fit in a standard locker.
Available in five sizes
Comes as a rectangle or hexagon
Portable, storage bag included
Comes with an inflating pump
Comes with 1 year warranty and repair kit
Bote inflatable pool float for adults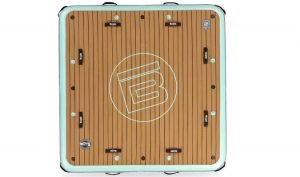 Ranking third is the Bote inflatable pool for adults, which is one cool looking floating dock that resembles a wooden deck finish with some sweet teal or mint colored highlights. It's a stable, durable, and versatile swim platform that you can bring to the lake, beach, and more.
It's a full eight inches thick and can easily accommodate a whole party of eight people without the risk of toppling over. It can also fit folding chairs, fishing rods, bait buckets, bags of ice, a snacks cooler, and even a full sized dog.
Moreover, it's easy to set up and inflate. You simply need to unfold the burrito wrap and attach the pump hose to the valve in order to fill the dock with air. Then, launch it onto the water and off you go to have lots of fun all day long.
Available in one size (7 x 7 feet)
Can fit up to 8 people, or 2-3 pax with plenty of gear
Stable and rigid construction
Beautifully stunning design
High quality and easy float solution
Paddle North inflatable swimming platform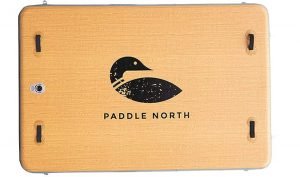 Next up is the Paddle North inflatable swimming platform, a simple yet sleek and highly functional utility dock that you can have so much fun with in the water. Truth be told, it looks like a giant chopping board, and that's also just how durable this thing is.
It's made of a highly durable vinyl material that's tough, thick, and stable, so you can paddle around and swim with a peace of mind. And afterwards, it easily packs down into a tiny package that fits into a roller backpack, so it's completely portable.
Moreover, it also comes with a huge double action piston pump, so you can inflate and deflate it conveniently and without a hassle. Not to mention the sleek wood grain design is not only attractive, but easily blends in a rural lake aesthetic.
Available in 9 by 6 feet
Maximum weight capacity of 2000 lbs
Superior strength and durability
Comes with a double action piston pump
Aquaglide airport classic inflatable swim platform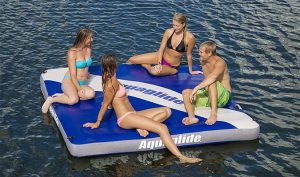 Another designer mermaid tail and monofin set by Sun Tail is their dragon tail, which is a thick and luscious carpet of green and purple scales giving you a unique under-the-sea dragon appearance, and comes with a matching green monofin.
This is a great option for mermaid tails that you can swim in, since the fabric is a premium 4-way stretch polyester and spandex. It even comes with a 1 year warranty and free replacement guarantee as a testament to the product's quality!
And, the patented monofin you're getting gives you an assurance of comfort, maximized control for underwater swimming, and improved overall functionality. It's made of superior quality materials, so you know it's durable and will last you for a long time.
Fade and wear resistant swimsuit fabric in 17 design options
1 year warranty with free replacement in case of tears, rips, and breaks
Machine washable with cool water (not suitable with bleach)
Can be purchased with matching swimsuits
Driftsun inflatable floating mesa dock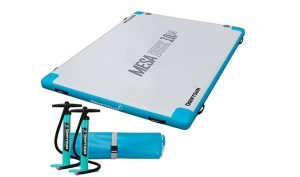 You might also want to check out the Driftsun inflatable floating mesa dock, which is a promising swim up deck platform that makes for a fun and perfect water or home activity, such as yoga, lounging, swimming, snorkeling, tanning, kayaking, and so on.
This inflatable dock is extremely rigid and super stable, not to mention durable, especially since it's made of high pressure, UV resistant, and layered PVC made with a drop stitch construction, so it can easily and safely carry multiple people, along with chairs and coolers.
Moreover, it features anchor rings, soft handles on all sides which are made of neoprene, dual high pressure valves for a quick, easy, and convenient inflation and deflation, as well as a portable packing size for easy storage and transport.
Available in 10 by 6.5 feet
Can fit up to 600 lbs (humans and valuables)
UV and wear and tear resistant
Comes with a dual high pressure valve
Island Hopper inflatable swimming platform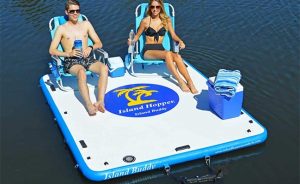 Finally, we also have the Island Hopper inflatable swimming platform, which is a perfectly pretty, bright, and summery floating dock in crisp white and blue that's perfect for water play, lounging, sunbathing, wakeboarding, tube launching, boat docking, and more.
It boasts of a rigid and buoyant commercial grade drop stitch construction, as well as heat welded seams, side welded stainless steel rings, carry handles, and top welded web loops for maximum stability and secure anchoring, plus an easy mounting and dismounting.
This is one durable and stable floating platform that's built to last, and can carry your group of friends or family with ease. It even comes with various tools and accessories, so you're sure to have a fun time with this dock for a long time to come.
Available in 8 by 6 feet, 4 inches thick
Can fit 4 to 6 people or 1000 lbs
Comes with a hand pump, stow straps, and repair patches
Comes with a 5 year limited warranty
Things to consider when buying an inflatable dock
Inflatable floating docks are fun and multifunctional swim gears that can definitely transform your summer experience out in the water. Whether you want something for lounging, jumping, swimming, decking, or whatnot, these things can do the job.
But, it can also be quite difficult to choose the right inflatable dock for you and your family or friends. In order to help you out, here are the most important things you need to consider when buying an inflatable dock.
First things first: you need to be clear on whether you want an inflatable dock or a non-inflatable one, which is a more permanent object as it's heavy and cannot easily be lifted from one place to the other. If you have a stationary area to place your dock, this might be a better choice, since it's definitely more durable than an inflatable one.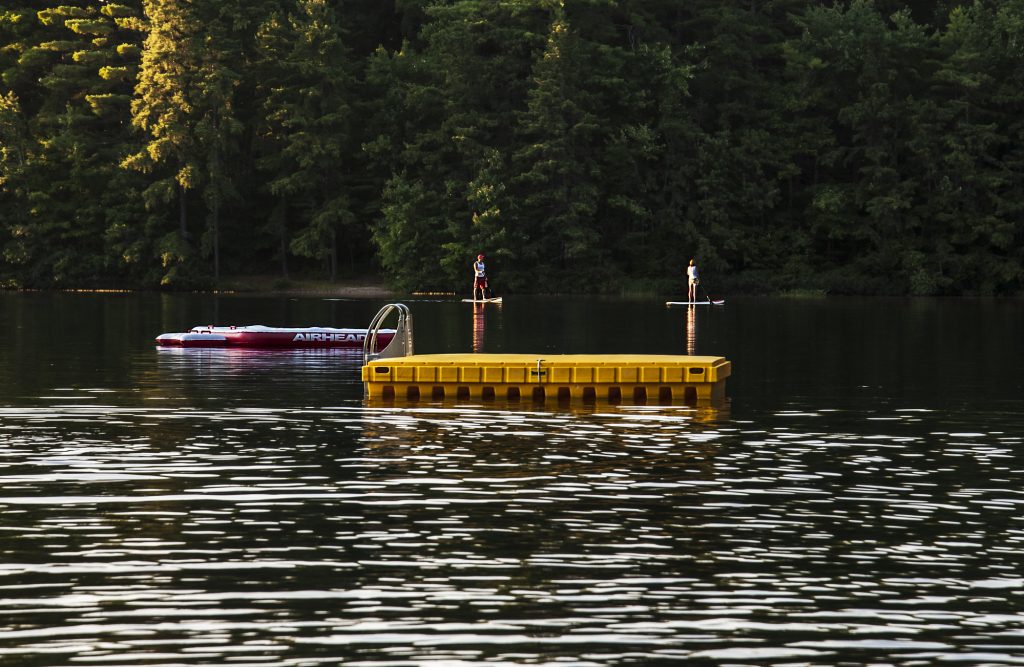 How is a floating platform used?
Floating platforms have a variety of uses, which somewhat depend on their size, thickness, and durability. In general, they are multifunctional and highly versatile swimming gears that can be used for lots of swimming, outdoor, and indoor activities.
Most common uses of a swim platform include lounging (either on chairs, beach towels, or the dock itself), boat docking, swimming and snorkelling, and other water activities. These can also be used for yoga sessions and basic exercises on your lawn, or on the water, if you're daring.
This is because these docks are made of high quality materials that make them durable and stable, so they won't topple over, deflate, or get damage even against heavy loads and increased physical activities.
Useful tip:
If you want to use your inflatable dock for some serious water activities, or load it with heavy stuff like lounging chairs, coolers, ice bags, and so on, go for a dock that's bigger, thicker, and made of highly durable materials.
Otherwise, if it's just for simple lounging, you might be able to make do with a typical plastic inflatable floater. It should do the job just fine without the hefty price tag of even an entry level floating platform.
Inflatable dock size
One of the first things you need to take into account is the size of the inflatable platform. You don't want something that's too small to accommodate enough people or supplies, as it will feel too cramped, or may even sink if you overload it.
The great thing about these docks is that they often come in a variety of sizes for you to choose from, and the ones that don't usually already come at the largest size possible and can readily fit an entire group of friends or a whole family of 4 to 8 individuals.
What you really need to consider here is how you'll usually use it and how many people will most likely want to stay on the dock. Are your priority supplies or people? How much gear are you bringing? Aside from the size, the load capacity of the dock is also important to factor in.
Size and shape
Smaller inflatable docks measure around 5 by 5 feet and can carry around 2 to 3 people, while the bigger ones can reach up to 10 by 10 feet or more, and can fit a maximum of 8 people. In relation to the size, the shape of the dock is also important.
Some people prefer square docks, especially when loading up with various summer gears like chairs and coolers, while others like the rectangular docks that can easily seat plenty of people side by side.
Features
The beauty of an inflatable water pad is that it often comes packed with various features that make it more comfortable, stable, and easy to use. The most common features include D rings to attach to whatever water structure is around you, like a boat or a permanent dock.
Side handles and other attachments are also important, so you can easily mount and unmount the dock from the water, attach your gear safely, and tow the dock along the water without a hassle.
Sometimes, these docks are designed for a specific use, like for lake usage, for the beach, or for pools. As such, they will come with specialized features to increase their functionality, durability, and resistance against the elements as well as wear and tear.
Extras
Aside from these essentials, there are also lots of fun and nice to have additional features that radically improve your lounging experience. These may include protective surfaces that keep you safe from static, scratching, wounds, and so on.
Other arguably nicer features include seats, cup holders, drink coolers, chairs, and loungers that are built in with the dock, or are attachable, and come with ready provisions for attachments. They're nice if you don't have these things and don't want to have to buy each one individually.
Portability
One other important factor that must be taken into account is the portability of the inflatable dock. Since it's not a permanent fixture, you'll need to carry it around and as such, it needs to be small, compact, and lightweight, so you don't have a hard time.
The good news is that a portable floating platform is often relatively lightweight and packs into a burrito roll that fits into a conventional backpack or a standard locker, especially since these are, well, inflatable, so you don't have to worry about lugging a full sized dock around.
That said, some docks are heavier than others, and some don't pack as tiny. You also need to take into account the weight of the inflating pump, and to a lesser extent, the carrying bag of the inflatable dock.
Inclusions
As we've mentioned, floating docks often come with a pump and a storage bag, so you'll have an easier time dealing with the logistics and preparation of the dock. What you need to make sure here is that the pump performs well and is also portable, and the bag doesn't break easily.
In the case that these things are not included with the dock, you need to make sure that the pump you have is compatible with the inflation mechanism of the dock, otherwise, it won't inflate properly, and you might accidentally break something.
Overview
When it comes to the best inflatable dock, your main priority should always be the size and strength of the product, since these two factors will determine how many people and gear you can safely fit on the dock without the risk of damage and injury.
Of course, there are plenty other things that need to be taken into account, such as the quality and material of the dock, which will affect its durability, versatility, weight, and portability. The best material here is heavy duty plastic, which is waterproof and lightweight.
Floating docks are safe and fun to use even in the deep waters, as long as you follow the correct procedures in inflating the dock and tying it off so it doesn't just float away. Hence, they're the perfect addition to your next summer trip.