This post contains affiliate links. For more information, visit my disclosure page.
Swimming is easy enough as it is, however, if you plan on going on deep dives or exploring the sea, it can be really tiring. Thankfully, the sea scooter was invented. You don't have to rely too much on your arms and legs when you are submerged when you have a sea scooter.
What is a Sea Scooter?
So, what is a sea scooter exactly? Think of the sea or water scooter as a device that will propel you through the water. It can take you horizontally or vertically, depending on its capabilities. It's highly valued by divers but any water lover can use it.
Sea Scooter Advantages
You have your arms and your legs, so why should you get a sea scooter? A sea scooter presents many advantages not just for diving. Here are just a few:
Facilitate Swimming
A water scooter is very helpful for kids and handicapped people as it can facilitate swimming. If you have a lot of gear, you know how hard and tiring it is to paddle, especially if you are going against the current. With a sea scooter, you can breeze through these activities.
Free Up Hands
When you are swimming, your hands are usually pretty occupied. Depending on the sea scooter model that you have, you can easily take photos of corals without a hitch. You can even follow fish without scrambling around for your camera.
You can save up a lot of time and oxygen with a sea scooter. Some of the water scooters in the market are quite fast, so you can have more time exploring your destination. Most likely, you'll use up less oxygen when you aren't swimming too much.
The Best Sea Scooters 2021
Sublue WhiteShark Mix Underwater Scooter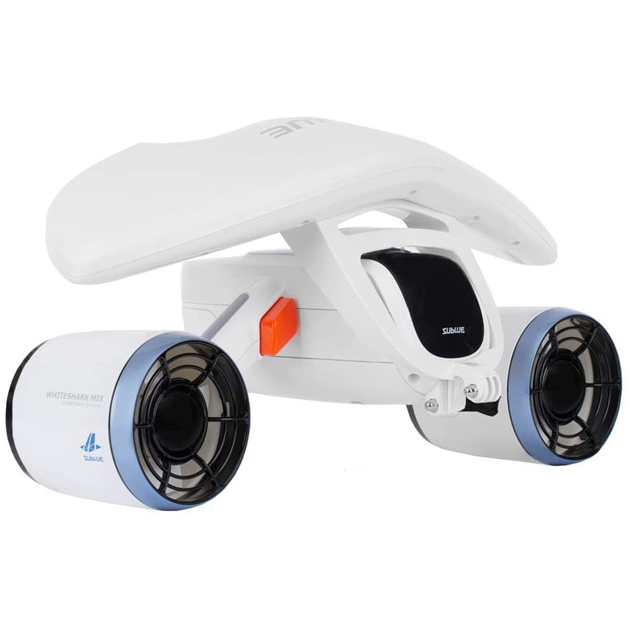 Liven up your summer trip with the Sublue WhiteShark Mix Underwater Scooter. It has a user-friendly and safe design making it ideal for both kids and adults. It comes with a floater for buoyancy plus its propellers have a protective cover to avoid accidental injuries.
With an 11,000mah waterproof battery, you can use the Sublue WhiteShark Mix Underwater Scooter for up to 30 minutes at a time. This scooter can go as fast as 3.35mph and can take you to a depth of 40m.
The Sublue WhiteShark Mix Underwater Scooter can easily fit in your backpack and weighs less than 10lbs. It's perfect for bringing on trips and it even has a mount that is compatible with different sports cameras.
User-friendly design
Up to 30 minutes running time
Small and portable
Compatible with most sports cameras
Yamaha RDS250 Seascooter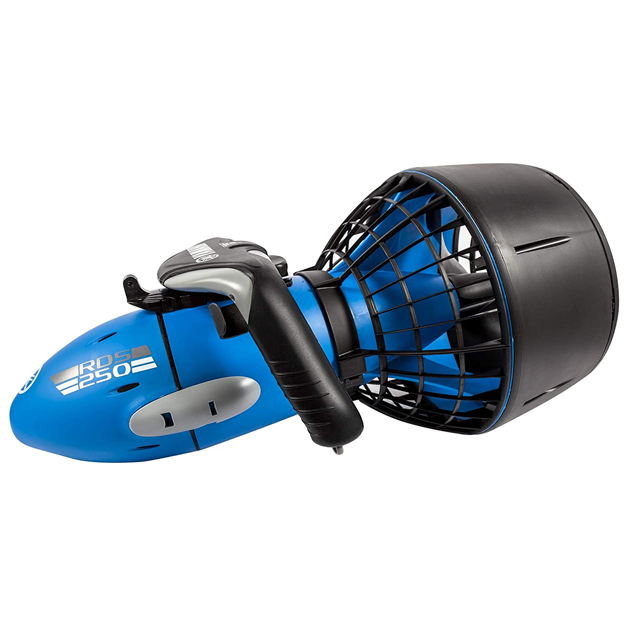 For long and leisurely dive days, take the Yamaha RDS250 Seascooter with you. This sea scooter can last up to 2 hours and it can take you deep into the waters up to 30m at a speed of 2.5mph.
The Yamaha RDS250 Seascooter has an excellent construction of hardy materials including heavy-duty hull protection made of rubber to resist impacts. It can also prevent any accidental flooding.
One of the best features of the Yamaha RDS250 Seascooter is it has a removable buoyancy. This means you can use it in both fresh and saltwater locations. With camera integration, you can snap on a GoPro or other action cameras on the mount of this sea scooter.
2-hour run-time
Durable and waterproof, can be used in saltwater
Built-in camera mount
Ideal for recreational dives
Yamaha Seascooter 220Li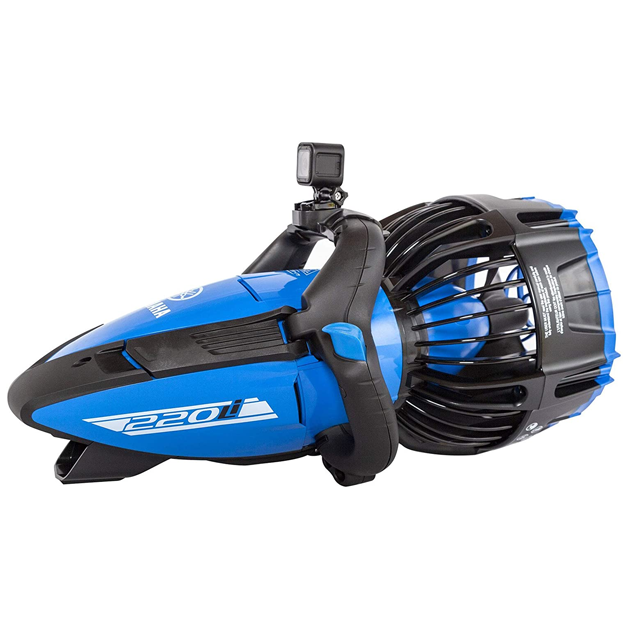 For full-day excursions, the Yamaha Seascooter 220Li is the optimal choice for divers. Using lithium-ion, this sea scooter's battery can be swapped out easily. Its run-time is about 60 minutes but you have the option to upgrade to a 350W or 500W battery.
The performance of the Yamaha Seascooter 220Li is commendable for sea or freshwater spots. It has two-speed rotational control and a speed that can go as fast as 3.1mph. The convenient automatic buoyancy system makes the sea scooter assume neutral buoyancy below the water.
The Yamaha Seascooter 220Li is safe and easy to use. It has a flood prevention system, camera mount, and handlebar controls as well as a battery indicator.
Uses removable/replaceable Li-ion battery
Automatic buoyancy control
Handlebar controls
Dive down to 30m
Tusa SAV-7 Underwater Scooter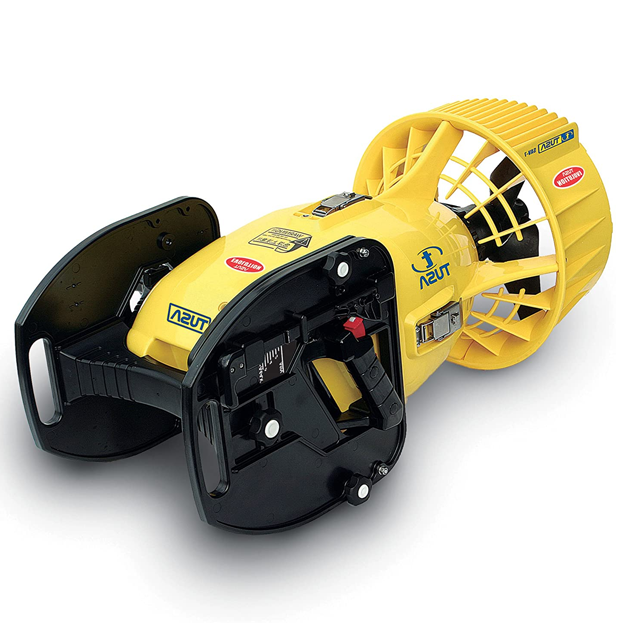 Do you want to do more during your dive? The Tusa SAV-7 Underwater Scooter is one of the best sea scooters for the job. It allows you to use it without having to hold on to it but instead you can just ride it. This enables you to free your hands, allowing other activities, such as taking underwater shots.
The Tusa SAV-7 Underwater Scooter is easy to operate, it has 3 propellers that can be adjusted to different pitches and angles. With its progressive acceleration system, you can change the speed even when you are moving. A LED indicator shows your battery status.
Truly powerful, the Tusa SAV-7 Underwater Scooter is easy to operate can propel 3 divers all at the same time without losing speed. This sea scooter can be used to a depth of 230 feet at a speed of 2.6mph.
Powerful 3-speed propeller
Can propel 3 divers at once
Hands-free use
LED battery indicator
Sublue Seabow Underwater Scooter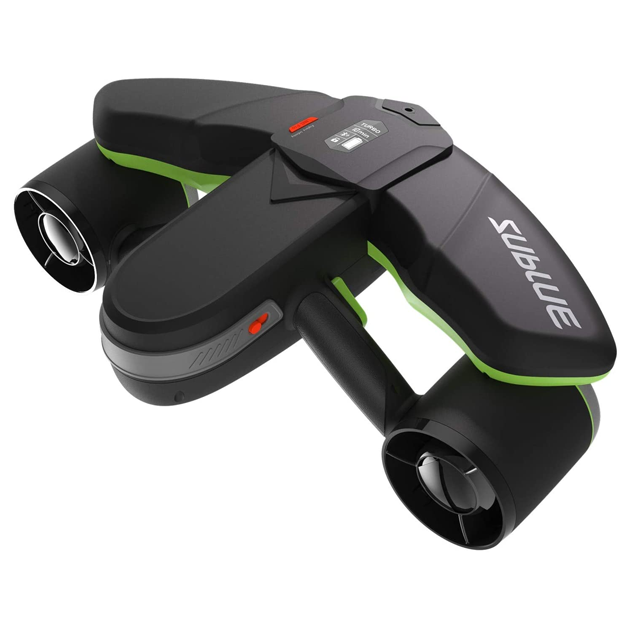 Make the modern Sublue Seabow Underwater Scooter your partner under the sea. This sea scooter offers 3 speeds (Free, Sport, and Turbo), which you can easily toggle with a switch. Thanks to a built-in OLED display, you can easily track data like battery power, running time, speed, and hand operation mode.
Fast and long-lasting, the Sublue Seabow Underwater Scooter has a maximum speed of 4.47mph, a battery life that can last up to an hour, and a depth capability of 40m. Using the tow cord and D-ring buckle, this sea scooter can be used with just one hand.
The Sublue Seabow Underwater Scooter can be used with most action cameras. It has a helpful alert to notify you when the battery is low.
3-speed switch
OLED display
Single hand control
Up to 60 minutes battery life
Aquarobotman MagicJet Underwater Scooter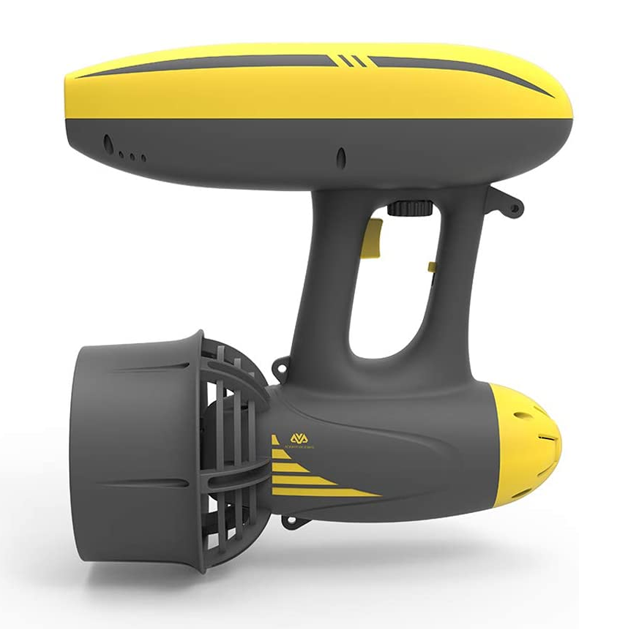 Take your diving trip to new depths with the Aquarobotman MagicJet Underwater Scooter. With a dive depth of up to 50m, this sea scooter has one of the deepest capabilities in the market. The maximum speed is 1.8mph.
The quiet motor of the Aquarobotman MagicJet Underwater Scooter makes it ideal for exploring the sea. It doesn't disturb the environment and it's safe to use. You can dive with this sea scooter for up to an hour. The battery has a pluggable design and can be conveniently replaced underwater (freshwater).
The Aquarobotman MagicJet Underwater Scooter has 3 camera mounts for multi-directional shooting. If you need a bit more power, you can use 2 scooters at a time.
Up to 50m dive depth
Modular design
Minimal sea disturbance
Safe design
Buying Guide for Sea and Water Scooters
Not all water scooters and sea scooters are the same. With so much scuba gear available in the market, it can get overwhelming to choose the right one. To help you out, you should consider the following factors when picking a sea scooter:
Hands-free Option
Is it important for you to have both of your hands free during your trip? If so, then you need a water scooter that you can straddle or ride. There are also options where you can simply operate a scooter with just one hand with the use of a tow cord.
Camera mount
If you have a GoPro or other underwater camera, you might want to check if it is compatible with the sea scooter you will get. You should also consider the type of mount that can be found on the scooter as some can offer more mounts for more shooting directions.
Battery Life and Option
This is very important if you plan on going for hours in the water. Most of the batteries for sea scooters in the market can only last up to an hour or so. However, some models have ingenious designs where you can swap out a battery even when you are in the water. Others require you to go back up in the air to change batteries so you can charge while you are using the other one.
Speed
Are you looking for a leisurely underwater experience? Maybe you have limited oxygen tanks for your trip? These are some of the questions you need to answer when considering the speed options of a water scooter. Some models can offer more than 1 or 2 speed modes, which is helpful for flexibility.
Portability
Do you travel around a lot? You should consider the portability of the sea scooter you will get, especially if you are going to multiple locations by plane. Sea scooters, especially heavy-duty ones aren't the lightest items to bring during vacations. The same can be said for long-lasting batteries.
User
Who will be using the sea scooter? If you are a professional diver, then, by all means, splurge for a sea scooter with all of the bells and whistles. However, if you just want a little help paddling your foam surfboard, then you can simply do with a simpler model.
Water location
Where will you be using the water scooter? Is it just for the kids who want to play in the pool? Or do you explore saltwater spots to find colorful anemones? You don't need a sea scooter that is too special for freshwater and swimming pool locations. But with the ocean and the sea, you might want to get sturdier and more durable models.
Conclusion
When it comes to sea scooters, you get what you pay for. However, expensive models are only better if you use them right. If you are just in a swimming pool, do you really need a battery alert indicator or a 3-speed propeller? So, when it comes to choosing a water scooter, it all boils down to your own needs and preferences. Consider the buying guide to help you pick the right sea scooter for the users and the appropriate activities.