Best Overall
Pelican Maxim 100X
Storage hatch equipped
Molded footrests
275 lb maximum capacity
Great Value
Emotion Guster 10
Performance hull
Available in 4 styles
275 lb maximum capacity
A kayak is a highly versatile and functional watercraft with which you can do a lot of different things, but perhaps the best and most fulfilling activity you can do on a kayak is kayak fishing, which is quite different from the traditional boat fishing. For starters, you need a fishing kayak, among other necessary gear.
Now, when it comes to the best sit in fishing kayak, you'll find that there are plenty of amazing options available. But if you are new to the sport, choosing a good one can be a daunting task, which is why we are here to help.
Take a look at this review and buying guide on the best sit in fishing kayaks in 2021:
Top 7 Sit in Fishing Kayaks
Not all sit in fishing kayaks are the same- some are better than others. So, we compiled a list of the best options on the market. Check our reviews of the best fishing kayak brands below:
Pelican Maxim 100X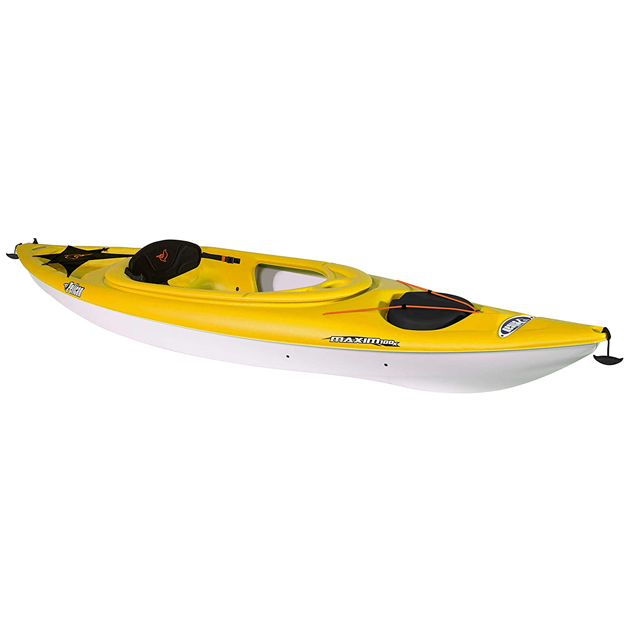 For us, the best sit in angler kayak is the Pelican Maxim 100X, which is also the perfect choice for beginner and intermediate kayakers. It's a strong, well-performing all around kayak that will let you enjoy the wonders of kayak fishing and more. This is why it's unsurprising that it's easily one of the most top rated fishing kayaks on today's market.
This recreational kayak is designed to meet the needs of demanding recreational paddlers. It features a shallow V chine hull that is exceptionally stable, easy to maneuver, highly responsive, and offers a great overall performance on the water.
It's particularly great on calm rivers and lakes. It's easy to paddle, it tracks well, and is a great choice for a paddler who wants to enjoy a relaxing and stable kayak fishing experience during warm and cool seasons alike. It's also lightweight and easy to transport.
Adjustable Ergoform backrest that comes with a seat cushion
Molded footrests for maximum comfort
Storage hatch equipped with bungee cord
Carrying handles, drain plug, and bottle holder
Mesh deck cover on storage platform for water protection
275 lb maximum capacity
Perception Flash 9.5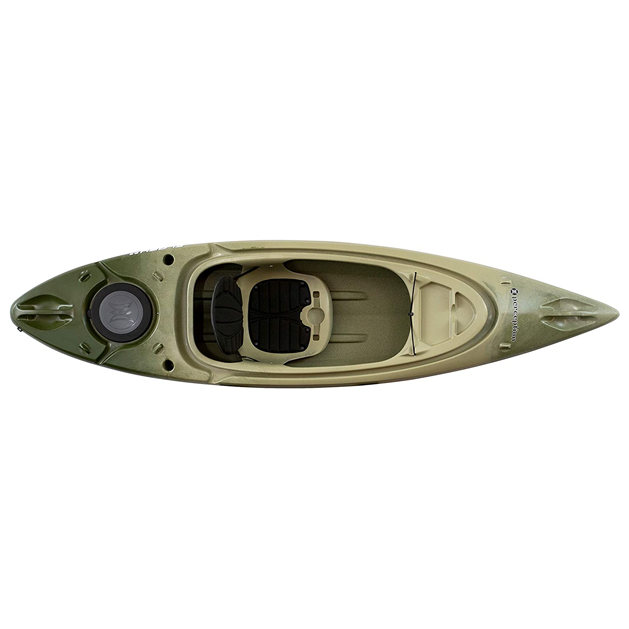 Another amazing option for the best sit inside fishing kayak is the Perception Flash 9.5, which is a fun, versatile, and easy to paddle a kayak that delivers amazing performance, making it ideal for both new kayakers and seasoned paddlers.
This kayak boasts of a stable hull with true tracking to keep you on the straight and narrow as you set out on open waters. It's also quick and easy to maneuver, and features a 10-inch storage hatch along with molded-in rod holders to make it suitable for kayak fishing and other water activities that require lots of storage space.
What we really like about this kayak is that it's simple, easy to use, and doesn't require much in the way of maintenance. It boasts of smooth paddling and extreme stability, making it ideal for leisurely voyages. It's also lightweight, so it's easy to transport and store.
Stable, easy to enter and exit
Dual tracking channels to effectively keep the kayak on course
Short length for better maneuverability
Wide profile for added stability
325 lb maximum capacity
Emotion Guster 10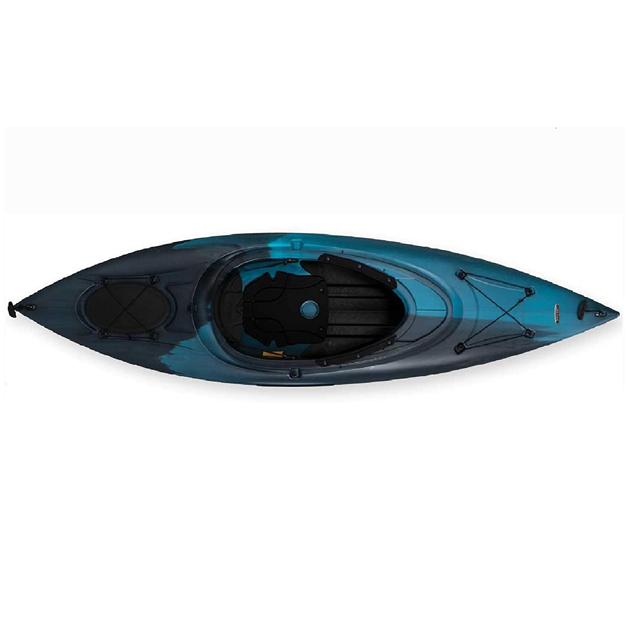 Taking the third spot is the Emotion Guster 10, which is popular thanks to its superior performance and a nice set of convenient features that make kayak fishing comfortable and easy for beginners and experienced paddlers alike.
Among these performance and convenience features include a flat bottom hull that makes for better stability, deep hull channels that ensure straight paddling, a sharp keel that help with speed and tracking, heavy-duty foot braces that are easily adjustable, a ledge locking paddle keeper, a rear oval hatch, easy carry handles, and a durable HDPE construction.
This kayak also features a padded seat back and seat pad which are both adjustable for maximum comfort, along with shock cord straps and handles on the front and rear sides for securing loose cargo and easier transport, among others.
High density polyethylene construction
Performance hull for stability and tracking
5 year limited warranty
Available in 4 styles
275 lb maximum capacity
Sun Dolphin Aruba

Ranking fourth is the Sun Dolphin Aruba, another highly popular kayak that is great for lake and river tracking. This kayak boasts of a comfortable open cockpit and multiple storage compartments to give you plenty of room both for yourself and all your gear or cargo.
It's particularly great for paddlers who want a high quality kayak that will allow them to enjoy a pleasant ride. One of its many awesome features include a paddle leash, protective thigh cushions, adjustable foot braces, and an embellished seat that's also adjustable, all of which offer great comfort while you're out on the water.
As such, the Sun Dolphin Aruba is an ideal choice for beginners and casual kayakers who want to gain kayaking experience without sacrificing the fun and enjoyment of kayaking. As an added bonus, the durable Fortiflex material construction also ensures that the kayak will last for the many years to come.
Bulky and comfortable open cockpit
Bendable embellished seat equipped with high back support
Ample storage space including shock cord deck rigging
Carrying handles for easy transport
Fitting storage hatch, water bottle pouch
Pelican Argo 100X

You should also check out the Pelican Argo 100X, one of the best recreational kayaks that's ideal for paddlers who want to enjoy a relaxing and stable kayak fishing experience during both warm and cool seasons.
Tailored to meet the needs of the average paddler, the Argo 100X features a portable seat, a twin arched multi-chine hull, and a flat bottom. These things ensure that this recreational kayak offers great maneuverability and tracking, superior capacity, and a high level of stability.
It's an agile kayak that is easy to maneuver. The excellent tracking makes it great for covering long distances without the need of much effort. The increased stability also makes it great for beginners and anglers just getting used to balancing a kayak, as well as kayak fishers who need to safely throw their lines and reel in their catch.
Adjustable ergo form padded backrest equipped with seat cushion
Storage hatch, bungee cord, tank well, and mesh deck cover
Carrying handles, molded footrests, drain plug, and bottle holder
Versatile profile with ideal size for all types of paddlers
Lifetime Payette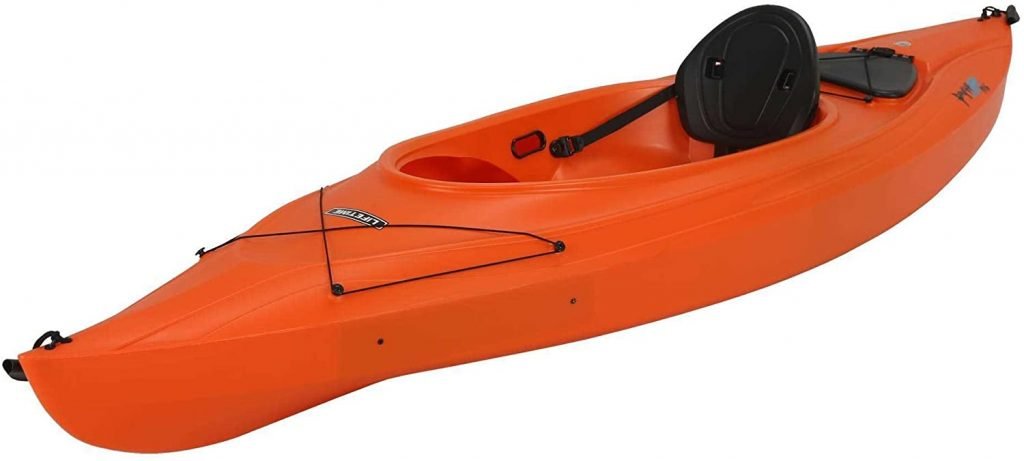 We also really like the Lifetime Payette, a sit inside fishing kayak that's best suited for rough conditions due to its high density polyethylene construction that's also UV protected to help it withstand various water and weather conditions.
It's quite a large kayak with a sizable cockpit, and it comes with a comfy seat, a rear storage hatch that safely packs away your gear, standard footrests that are good enough for average sized paddlers, and lots of other amazing features.
What we really like about this angler kayak is that it offers amazing performance with great tracking. It's tough while remaining relatively lightweight, so it's also great for recreational use. This kayak also features a firm, flat bottom hull, stability chine railings, and paddling channels, all to make for an excellent kayaking experience.
Large cockpit with comfortable seat and backrest
Durable and impact resistant construction
Front and rear carry handles for easy transport
UV protection for harsh conditions
eMotion Glide Sport

Finally, there's also the eMotion Glide Support, a cheap and lightweight sit in angler kayak that features a well-engineered hull to greatly enhance stability. It also boasts an added efficiency that allows you to easily maneuver tha kayak in the most difficult fishing spots.
You are sure to love the built-in adjustable seats that offer total convenience, as well as the adjustable foot braces that are quite bulky but offer great comfort and durability. There are also stern and bow pressure straps that help in securing your gear, and it also features a bangy paddle holder that allows you to easily shift from paddling to fishing.
Perhaps the only downside with this kayak is that it's quite hard to get in and out of if you're a beginner paddler, and it's not exactly the most stable sit in kayak on the market, but other than those things, it's still a great option for a sit in fishing kayak for intermediate and expert kayakers.
Dual rod holders for multiple rod fishing
Front and rear toggle handles for easy transport
Affordable, value for money option
Sit in vs Sit on Top Kayak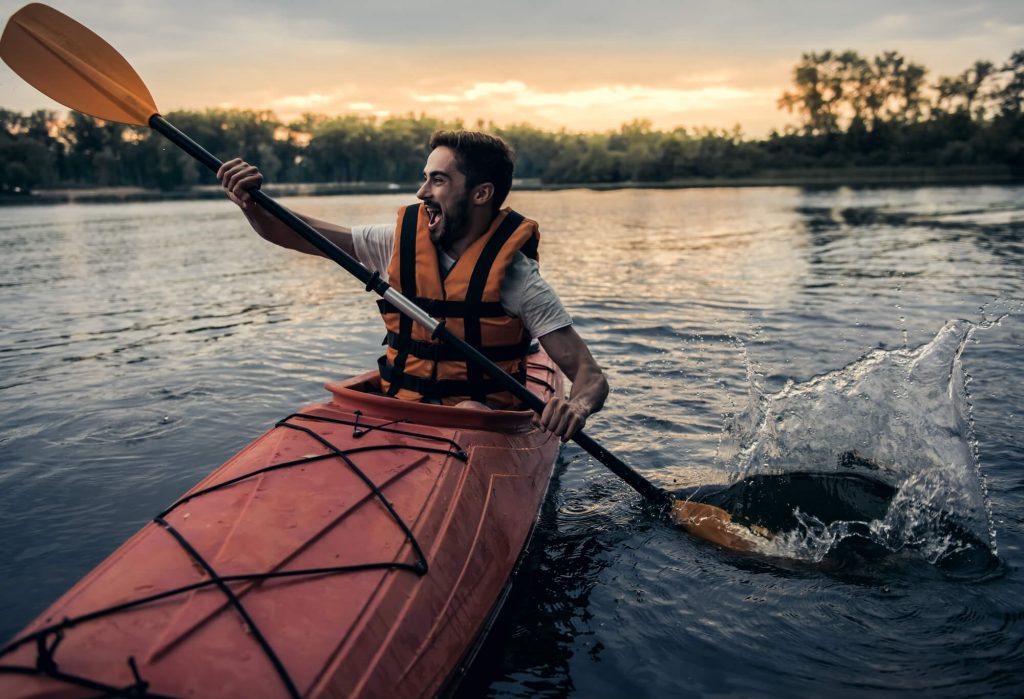 Choosing the right fishing kayak can be an overwhelming task, but there is a way to make things easier for you. For one thing, you need to base your decision on how you are planning to use your kayak.
That said, sit inside kayaks are typically better than sit on top fishing kayaks for a variety of reasons. For one thing, sit in kayaks have an enclosed cockpit that shelters your lower body from the wind and water, since you can sit inside the kayak's hull with your legs under the deck.
This design lets you brace your knees off the interior walls of the hull, which greatly helps with stronger and more efficient paddle strokes. And, since your legs are away from the water, this makes the kayak much better for cool seasons and fast flowing, ice cold waters.
Moreover, sit-in kayaks are also easier to control and move much faster due to the lower center of gravity, unlike sit on top kayaks, which are tougher to paddle, move slower, are more burdensome, and are harder to haul and store.
Not only that, sit-inside kayaks also take up less space since the seat is located inside the hull. Because of this, it's easier to store things inside the kayak, and the kayak itself is also easier to transport on a car.
Advantages of sit inside kayaks
Comfort: sit inside kayaks are more comfortable than sit on top kayaks in the sense that you are not as exposed to the elements and won't be battered by constant water splashes. With a sit in kayak, you can stay dry and warm throughout your kayaking trip.
Speed: since your legs are positioned inside the hull, you can use them to help brace yourself and perform more powerful strokes, which leads to higher speeds as opposed to sit on top kayaks where your arms are the only parts working to move the boat.
Maneuverability: sit in kayaks are narrower than sit on top kayaks, which makes them easier to maneuver. Remember, while a wide kayak is more stable, it's also more difficult to move around especially in tight spots.
Stability: the truth is, a kayak's stability mainly depends on its design and construction, so a well-made sit-on-top kayak can very well be more stable than a cheap sit in kayak, but sit-inside kayaks do offer a sense of stability and safety since you are better concealed from the water.
Weight: for some reason, sit-inside kayaks are actually lighter than sit-on-top kayaks. This is beneficial for a number of reasons, but most importantly, it means you can easily transport the kayak with less effort.
How To Find The Best Sit in Fishing Kayak
If you want a sit in fishing kayak, there are many different options available. These kayaks are generally cheap and affordable, easy to operate, easy to transport, and offer lots of storage options, among other benefits. That said, to find the best kayak, you need to consider several factors, namely:
Kayak Type
There are various types of kayaks, from pedal drive kayaks, stand up kayaks, kayaks with motors, fishing kayaks with pedals, and so on. Even with sit-in fishing kayaks, you get the option of hard packed kayaks, folding kayaks, and inflatable kayaks. You need to decide which type is best for your needs based on what each kayak type offers.
For example, folding kayaks are easy to handle and store. They are great for those with limited storage space. Inflatable kayaks are pretty much the same, and they are also surprisingly nifty and robust. In fact, you might even find inflatable kayaks for wavy waters, seas, and oceans.
Kayak Category
When it comes to buying a kayak, there are three main categories to choose from: recreational, day touring, and touring.
Recreational kayaks are affordable, simple to operate, stable, and easy to enter/ exit, making them great for flatwaters and calm rivers. Meanwhile, day touring kayaks not only look sleeker, they also move more efficiently and offer more control in unstill waters. There are also touring kayaks, which are better for long distance trips, since they track well and make use of a tiller to mitigate currents and strong winds.
Kayak Size
You also need to consider the size of the kayak; specifically it's length and width. Keep in mind that longer and narrower kayaks are faster and more efficient, while shorter and wider kayaks are slower but more stable.
A small kayak is also easier to transport, but can only fit a petite paddler, whereas a bigger 12ft fishing kayak will likely accommodate two or more paddlers, or even allow you to kayak with your dog. The best kayaks for kids are also typically on the small side, no bigger than a 10ft fishing kayak.
Weight Capacity
Another important consideration is the kayak's weight capacity, or the maximum load it can carry, which not only includes the paddler, but also all the gear and accessories being carried on board. Keep in mind that overloading a kayak not only negatively impacts its tracking efficiency, it also increases the risk of capsizing and kayak damage.
Material and Durability
When it comes to building material, you need to think about not just durability, but also weight. One thing you need to understand is that a kayak's weight is dependent on what material it's made of, and this weight also impacts the kayak's weight capacity. Meaning, a lighter kayak will be easier to transport and will allow you to carry more gear.
That said, the lightest kayaks are typically pricier than heavier alternatives. Kayak materials include polyethylene plastic, composites, or ABS plastic, and among these, composites like carbon fiber and fiberglass are the lightest and best performing but also the most expensive, whereas polyethylene plastic is the heaviest and degrades fastest.
Maneuverability
A kayak's maneuverability is one of its most important features, and it doesn't only entail the watercraft's maneuverability on the water, but also outside of it. A kayak that's easy to operate on land is a more user-friendly kayak.
What this means is that the kayak should be lightweight, not exceedingly bulky, have built-in carry handles, and so on. It should also be versatile so that you can use the kayak on both small and large bodies of water, which is important if you want to go kayak fishing.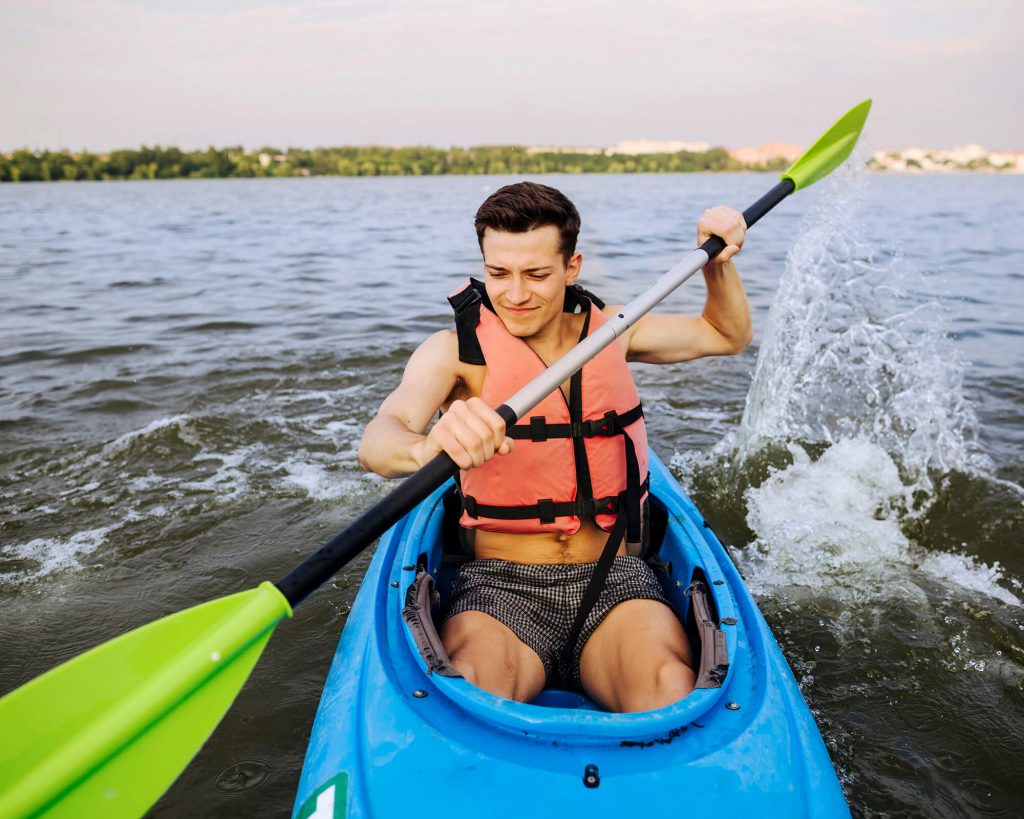 Stability
Not only should a kayak be easily maneuverable, it should also be stable. As said earlier, the kayak's stability is largely dependent on its depth and width. Basically, wider kayaks are more stable, while deeper kayaks are more easily influenced by winds and currents.
Transportability
One thing you need to keep in mind about transportability is that while a kayak with lots of convenient features may be more pleasant to use, all these added features also make the kayak heavier, so you will likely need transport solutions like kayak racks or trailers.
Comfort
In terms of comfort, the primary factor is the kayak seat, which should be comfortable and adjustable. It should feature an ergonomic design, come with lots of padding, and be flexible. Ideally, it should also have high back support or an adjustable backrest. Aside from the seat, other comfort factors include the footrests and the spaciousness of the kayak itself.
Ease of use
For beginner kayakers, an easy to use kayak is always a must, and this means looking for safety and comfort features that allow you to learn how to use the kayak, get accustomed to its operational techniques, and get comfortable while enjoying the experience.
Maintenance
Maintaining a kayak can entail anything from draining water from the hull, to making repairs, augmenting the kayak's durability features, and so on. How easily you can maintain a kayak also depends on the brand of the kayak.
That's because kayaks from the "best" brands often come with protective features like UV resistant coatings, spray protectants, scratch resistant surfaces, corrosion resistant construction materials, and so on.
Other Things To Consider
When buying a sit-in fishing kayak, remember to take into account your paddling style, height, and the kayak's width. These will help you figure out the best kayak size for you. An adequate cockpit size will also offer more safety and control in harsh conditions, and make getting in and out of the kayak easier.
Aside from the cockpit size, the storage space of the kayak is also important, especially when it comes to fishing, where you'll need to bring lots of gear and accessories.
Even the color of the kayak is an important consideration not just for style, but also for safety. Brightly colored kayaks are more visible than dark or muted ones, especially on open waters and at night.
Other considerations include kayak accessories like drop down fins and rudders that help keep you on course and mitigate any effect of harsh currents.
How To Fish in a Sit in Kayak
Learning to fish on a kayak can be difficult even for seasoned fishermen, since it's different from fishing on a traditional boat, primarily due to the closeness to the water and the reduced stability. Even so, it's not impossible. And once you get the hang of it, you'll enjoy the fun sport.
Practice casting with one hand. You will need to use baitcasting, as well as gear up with lighter combos.
Practice paddling with one hand. This way, you can fish with one hand and move the watercraft forward with the other. Alternatively, consider a pedal kayak that uses your legs instead of your arms.
Consider using an anchor. An anchor can be beneficial in adverse conditions so you can stay in one area while catching fish.
Don't go far from the shoreline. This will help you stay safe and avoid strong winds and currents.
Final thoughts
When it comes to looking for the best sit in fishing kayak, it's always best to buy a kayak that suits your specific needs and requirements, instead of buying the cheapest or most popular option you come across. This, along with buying from a reputable brand, will ensure that you find a great, well-performing, and durable kayak that you can enjoy for a long time.