This post contains affiliate links. For more information, visit my disclosure page.
Surfing is one of the oldest water activities that continue to be popular to this day. According to history, it was done as early as 400 AD. it's bound to become even more popular, thanks to wave pools. You don't need to wait for the summer or go to the coast to be able to surf.
Another amazing news for surfing is the invention of the foam surfboard. Surfboards are usually made of fiberglass, and although very attractive, it's not too friendly to beginners, as well as pockets. Thankfully, more and more foam surfboards are becoming available in the market.
Best Foam Surfboards of 2021
So, what are foam surfboards exactly? Foam surfboards are exactly what it says it is, a surfboard made out of foam. Of course, not all of it is foam but it does present awesome advantages to surfers, especially newbies.
Foam surfboards have softer tops, so it's not as hard when it hits you. At the same time, it is more buoyant, so you will have an easier time paddling on it and also getting on it. Here are some you might want to ride a wave on:
Giantex 6′ Surfboard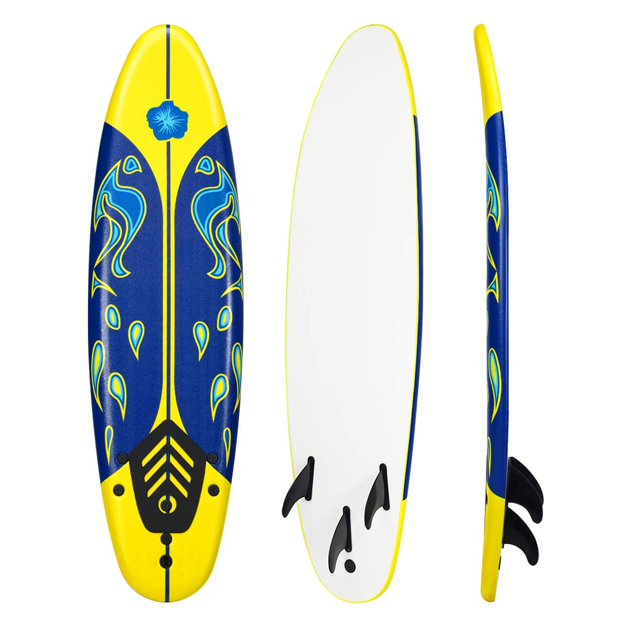 The bright and summery colorway of the Giantex 6' Surfboard is more than enough to draw attention from first-time surfers. However, this foam surfboard is more than just its looks. It is made of highly durable materials such as EPE, EPS, and HDPE.
Riders will be happy to find that the Giantex Surfboard comes with a traction pad to keep them from slipping off. It also has a free leash so you don't have to worry about losing your board in the waves.
The shape and size of the Giantex Surfboard make it an ideal option for both young and old. It's easy enough to assemble, plus fins can be added and removed as you please.
Made of durable materials, HDPE, EPS, EPE
Fins are removable
Comes with leash
Ideal for beginners, kids to adults
South Bay Board Co. Soft-Top Surfboard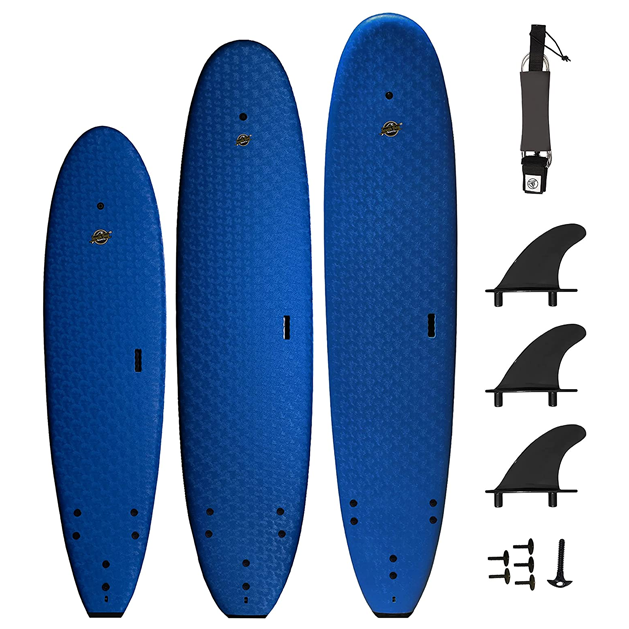 The patented design of the South Bay Board Co. Soft-Top Surfboard is specifically for beginners. With a nose that is rounded out, riders are less likely to nose dive. It also has a wide chest area so it'll be easy for you to pop up and a bottom deck that is concave for more control plus extra speed.
The wax-free South Bay Board Co. Soft-Top Surfboard has a soft top yet also has a body armor shell made of bamboo for durability. To keep the board from de-laminating and bubbling, it comes with a heat release valve.
For convenience, the South Bay Board Co. Soft-Top Surfboard has helpful features like removable fins, a leash, and an EZ carries handle.
Designed for beginners
Improved stability, rounded nose and tail
Easy carry handle slot
Removable fins
Wavestorm 8′ Classic Surfboard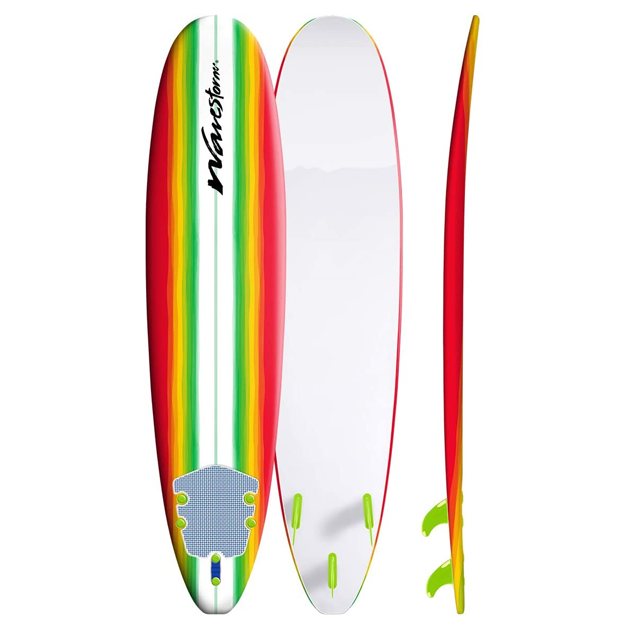 The Wavestorm 8′ Classic Surfboard is perfect for anyone looking to learn how to surf. Its amazing construction allows you to be more stable—it has a soft foam construction on the deck and a slick bottom for a stiff board.
Thanks to a water barrier skin, the Wavestorm 8′ Classic Surfboard can absorb impact. Its foam will also be able to resist water for long use. This bright board has a graphic skin plus a traction pad that is textured.
The Wavestorm 8′ Classic Surfboard can be used by riders up to 200lbs yet it weighs only a little over 11lbs. You can easily remove and attach the fins on the board but never have to worry about them falling off as it uses a bolt-thru system.
Soft foam top, slick bottom
Has water barrier skin
Textured traction pad
Can handle up to 200lbs
California Board Company CBC Surfboard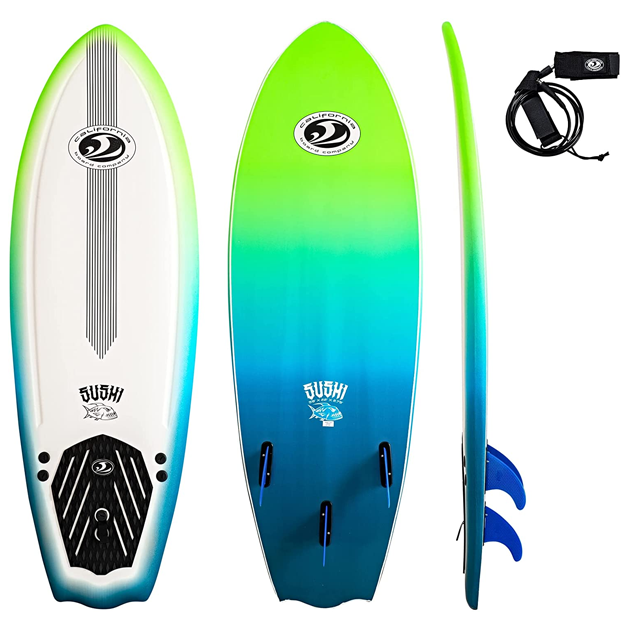 The California Board Company CBC Surfboard is a good starter board for younger beginners. This solid foam surfboard weighs a mere 6.5lbs, making it easy to carry to wave pools and the beach. The high-density EPS in the foam core makes this board perfect for long practices.
The attached traction pad on the California Board Company CBC Surfboard offers a better grip for riders. For ease of use, the sharp fins can be removed and attached whenever you need them. Plus this board also comes with a leash.
The bright and cool colors of the California Board Company CBC Surfboard make it a standout. Its consistent graphic design can be seen on the deck and the bottom.
EPS foam core
Light, only 6.5lbs
Comes with a leash and fins
Attached traction pad
California Board Company Foam Surf Board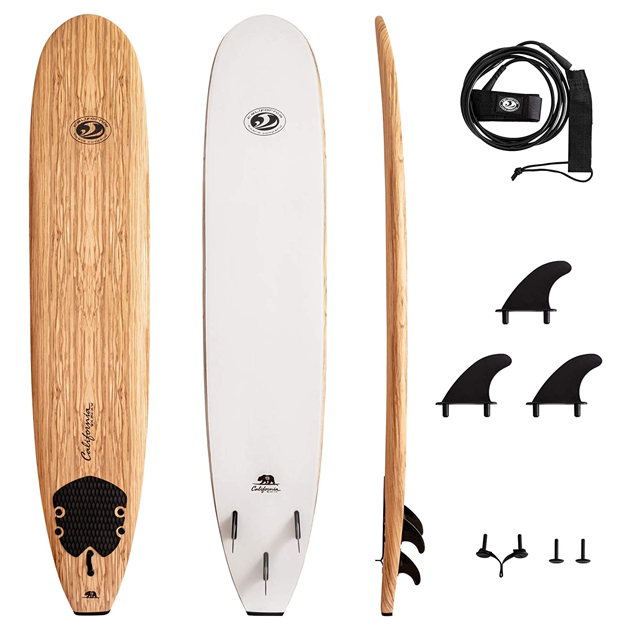 The aesthetically pleasing California Board Company Foam Surf Board comes in a faux wood design. It looks like a wooden board from afar but is actually made of EPS that is 100% waterproof. The slick bottom of the board is made of high-density polyethylene.
The custom-molded shape of the California Board Company Foam Surf Board makes it an ideal option for both beginners and intermediate surfers. This foam surfboard has a traction pad and 3 fins.
The California Board Company Foam Surf Board also comes with a PU leash. There is a mount at the back end of the board where you can attach it. You can rest easy while surfing as the leash is double velcro.
100% waterproof core
Attached traction pad
For beginner to intermediate surfers
Double velcro leash
Wave Bandit Ben Gravy Performer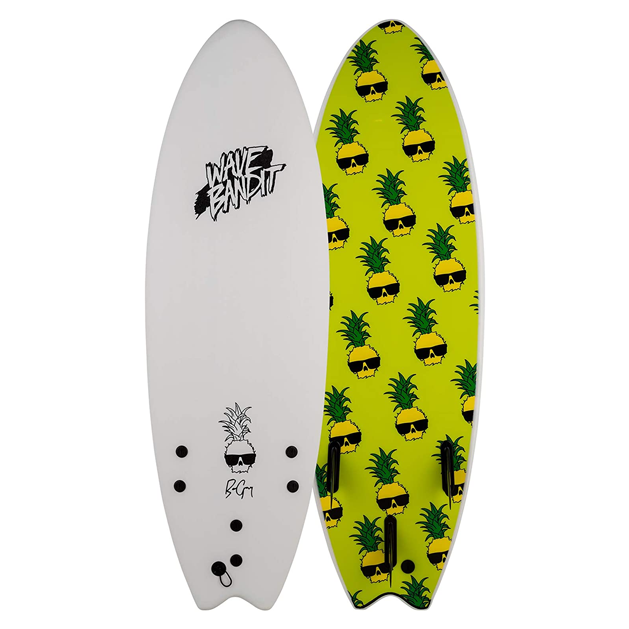 The funky Wave Bandit Ben Gravy Performer is a 5'6 fish shape board fit for fun surfing. It's endorsed by notable surfer Ben Gravy. With twin wood stringers combined with a composite core, this board promises maximum stiffness.
The high-pressure construction of the Wave Bandit Ben Gravy Performer makes it an excellent board for tricks and fun rides. You can go shredding, chasing the barrel, flying down the line, and more.
When you use the Wave Bandit Ben Gravy Performer, you will need a surf wax. It already comes with a leash plug, all you need is a surf leash. The fins included with the foam surfboard are performance thrusters with a size of 4.5 inches.
Fish shape
Comes with a leash plug and fins
Made of composite core
Perfect for shredding
Rock-It 8′ Big Softy Surfboard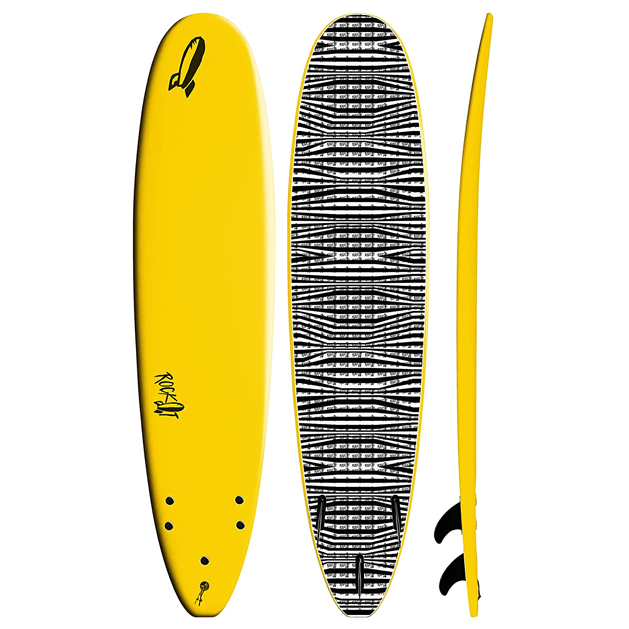 Are you looking to go cruising on a fun surfboard or maybe you want to teach your kids how to surf for the first time? The Rock-It 8′ Big Softy Surfboard can do both. This high-quality board comes with a soft top layer that is also UV resistant and EPS foam.
The environment-consciously made Rock-It 8′ Big Softy Surfboard has no harmful glues, dyes, toxins, or resins. Plus, the materials used are recyclable. With a wide top, there's no need to use wax to be able to surf. Although, you may still use wax for better grip.
The zebra strips on the bottom of the Rock-It 8′ Big Softy Surfboard isn't just for show. Aside from it being easy to spot in the water, studies show it can deter sharks.
For learning or cruising
Comes with safety fins
Zebra-striped bottom
High-quality construction, environmentally conscious process
Catch Surf Wave Bandit Performer Mini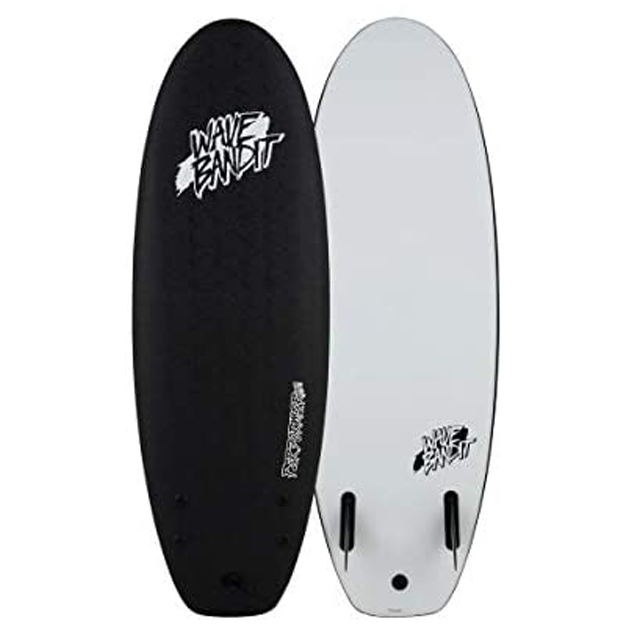 Float, snap, flip, and carve with the Catch Surf Wave Bandit Performer Mini. This foam surfboard may be small but it can pack a punch in the waters. Thanks to its high-pressure construction and composite core plus twin stringers, this board can give you the speed you need.
Take note that you will need surf wax to use the Catch Surf Wave Bandit Performer Mini. This will give you the grip that you need to surf. For even better performance, this board comes with a 4.5-inch fin set that you can attach and remove.
You can use your old surf leash with the Catch Surf Wave Bandit Performer Mini as it comes with a pro-style leash attachment. Take this board wherever, it's light and measures only 4'10".
Comes with performance fin set
Pro-style attachment for leash
Designed for high-performance surfing
High-pressure construction
Foam Surfboard Buying Guide
When picking out a foam surfboard, you might get overwhelmed at first as there are many models available. To help you pick the right one, consider the following factors.
Size
When choosing a foam surfboard you need to know your own measurements and size. Certain surfboards can only handle a certain number of kilograms. Make sure to ask sellers if the length and size are complementary to your weight. Or else, you might find yourself sinking at sea.
Surfing Level
Are you a beginner or an amateur? Maybe you are looking to do some tricks akin to a fun board? Your surfing level will also dictate the type of board you should use.
As a beginner, it's important to have a wider board to give you the stability that you need. Whereas surfers who want to do some tricks or get speed should opt for smaller boards that are easy to control on the waves.
Package/Set
Some surfboards already come as a complete package, with fins and a leash. If you are just starting out your surfing journey, it's important to get a complete set as you might not know what parts to buy individually.
If you have already been surfing for a while and just want to switch out your old board or try out a foam one, then you don't necessarily need to get a complete set. You may simply buy just the board without the bells and whistles.
Traction Pad or Surf Wax
To keep from slipping from the board, it's important to have a traction pad. However, other surfers prefer not to have a traction pad and opt for surf wax instead. Surf wax is bought separately and you also need to know that there are many kinds available in the market. What's more, there is a proper way to wax a surfboard.
Conclusion
There are still several surfers who are not into the foam surfboard but it doesn't change the fact that it's a good addition to surfboard types. Think of it like the best inflatable kayak, back then kayaks were made of wood and then resin. But pretty soon, the inflatable kayak has made itself a valuable option for watersports and activities.
The foam surfboard is definitely cheaper than fiberglass boards. But be careful as not all foam surfboards are built the same. You might want to opt for the higher-end foam boards, especially if you want to really get into surfing. It's a good practice board until you are ready to do more special types of surfing, like carving waves with a longboard.