If you've ever tried kayak fishing, you know how fun and rewarding it can be. But, you also know that there are certain requirements that come with it, such as a good quality kayak that comes with the right sets of functionalities and features.
For instance, fishing kayaks must be stable since you not only have to battle the crashing waves and sometimes turbulent waters, but also be able to stand and cast your line or reel in your catch. The only problem is, finding a good kayak can be difficult, even more so if you're on a tight budget.
The kayaks we'll be talking about below have all these important features and more. They are the most effective, affordable, and best budget fishing kayaks available on the market. So, if you want to have the best kayak fishing experience without burning a hole through your wallet, read on further!
Top 6 Budget Fishing Kayaks
Here, we have ranked and reviewed the most promising and budget-friendly fishing kayaks in 2021. All the kayaks on this list are guaranteed to offer a great return on your investment, so you don't have to worry about having a fun experience on the water just because you can't shell out thousands of dollars for those high-end kayaks.
Intex Explorer K2 Kayak, 2-Person Inflatable Kayak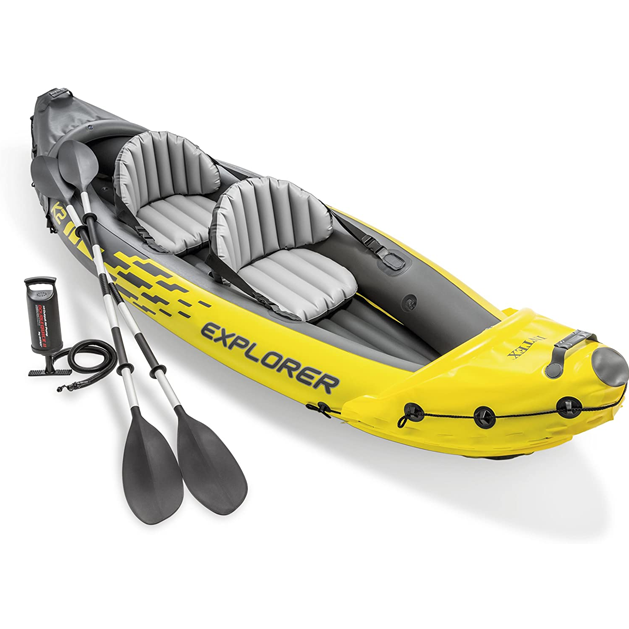 First up is the Intex Explorer K2 Kayak, 2-Person Inflatable Kayak, which many seasoned anglers would say is the best kayak for the money. It features a streamlined design that doesn't only look sporty, but is also easy to paddle, leading to lots of fun on the water. These factors alone make it the best cheap fishing kayak on the market.
Its signature cool graphics and bright yellow color makes for optimal visibility even when you're far from the shore. As such, it's great for exploring mild rivers and lakes. It's also incredibly durable and strong thanks to its rugged vinyl construction and its inflatable I-beam floor that makes for superior stability and comfort.
Plus, even as a two person fishing kayak, it's surprisingly compact, lightweight, and portable. Hence, assembling it is easy even with just one person. Meanwhile, the two adjustable seats feature cushioned backrests and can comfortably sit two adult kayakers even on long fishing trips. And did we mention that it also features a removable skeg for directional stability?
Boston valves for easy inflation/ deflation
Built-in grab handles and grab lines
Comes with 1 ID for US Coast Guard
Lightweight profile (35 pounds)
Intex Excursion Pro Kayak, Professional Series Inflatable Fishing Kayak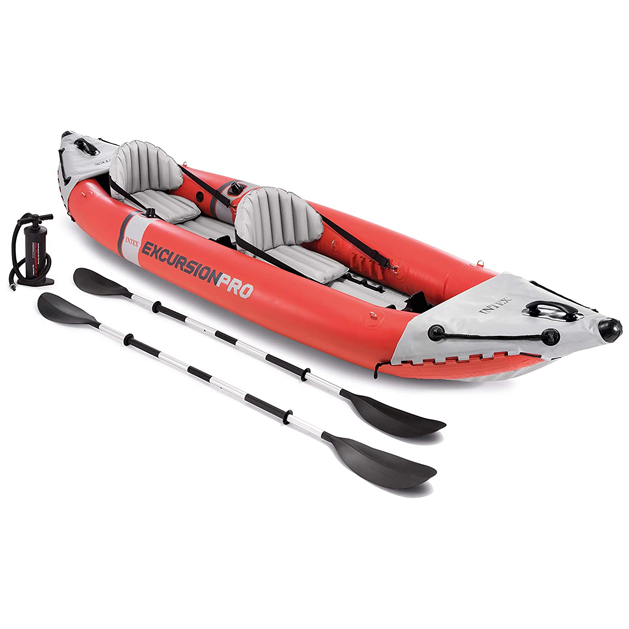 Another superior choice for an inexpensive fishing kayak from Intex is the Intex Excursion Pro Kayak, Professional Series Inflatable Fishing Kayak, which is also an inflatable 2 person fishing kayak that brings a lot to the table, especially at its price point.
For starters, it boasts of a laminate PVC construction that makes for a durable, ultra lightweight, and puncture-resistant kayak that has a weight capacity of 400 pounds. It also features spring-loaded, high-pressure valves that ensure quick inflation and deflation, which is important for inflatable fishing kayaks.
Moreover, it's packed to the brim with lots of onboard features, such as adjustable seats for custom comfort, fishing rod holders to keep your fishing rods in place, steel D-rings that let you secure gear, lots of storage options at the bow and stern, and removable kegs to help you navigate both shallow and deep waters.
Quality construction with adjustable features
Removable mounting bracket for accessories
Comes with paddles, a carry bag, and pump
Lightweight and portable profile
Perception Pescador Pilot 12 Sit on Top Fishing Kayak with Pedal Drive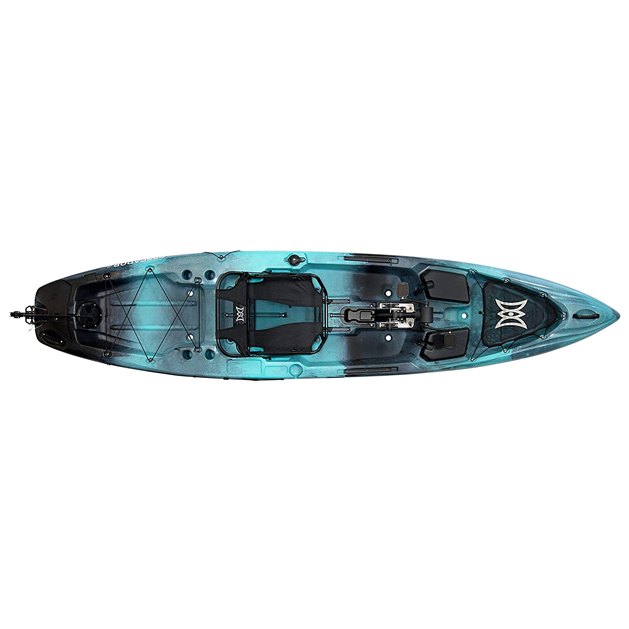 We also highly recommend the Perception Pescador Pilot 12 Sit on Top Fishing Kayak with Pedal Drive, which claims to have everything an angler would need for a great fishing experience- it's versatile, fast, customizable, budget-friendly, and suitable for beginner and professional anglers alike.
For instance, it makes use of the ultra-powerful Pilot Drive pedal system for its propulsion. Meaning, moving through even the trickiest and harshest water environments is easy since you're getting so much control and agility. You also won't be tired as quickly, and your hands will be free to do other things like catching fish, since your feet are doing all the work.
Not only that, it also features a quick and snappy reverse system, a comfortable seat that is very forgiving on your spine and back for those long hours of fishing trips, and a five-year manufacturer's warranty to protect your investment.
Hands-free operation with pedal drive propulsion
Fast, stable, and easy to maneuver
Quieter on water, doesn't scare away fish
Suitable for kayak fishers of all skill levels
Sun Dolphin Aruba SS 8-Foot Sit-in Kayak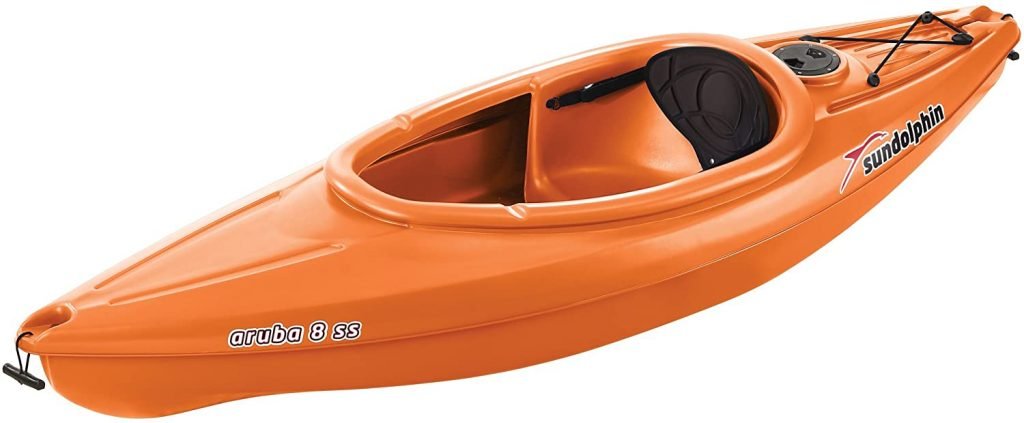 If you prefer the safety and comfort of sit-inside kayaks, check out the Sun Dolphin Aruba SS 8-Foot Sit-in Fishing Kayak. It's incredibly durable and long-lasting since it makes use of UV-stabilized materials that can easily withstand damage caused by the harsh rays of the sun and other outdoor elements.
It also has a pretty great load capacity at 250 pounds, allowing you to haul lots of fishing gear and accessories for the trip. Not to forget, at a mere 40 pounds, it's also quite lightweight for a fishing kayak, especially one that isn't of the inflatable kind.
This affordable fishing kayak's best and most well-known feature, however, is its adjustable seats with padded back support that ensure you won't feel worked up or tired even after long hours (or even an entire day) on the water.
Fortiflex high-density polyethylene construction
Large open cockpit, adjustable foot braces
Plenty of gear storage options with shock cords
Lasts longer than the competition
Vibe Kayaks Skipjack 120T 12 Foot Tandem Angler Sit On Top Fishing Kayak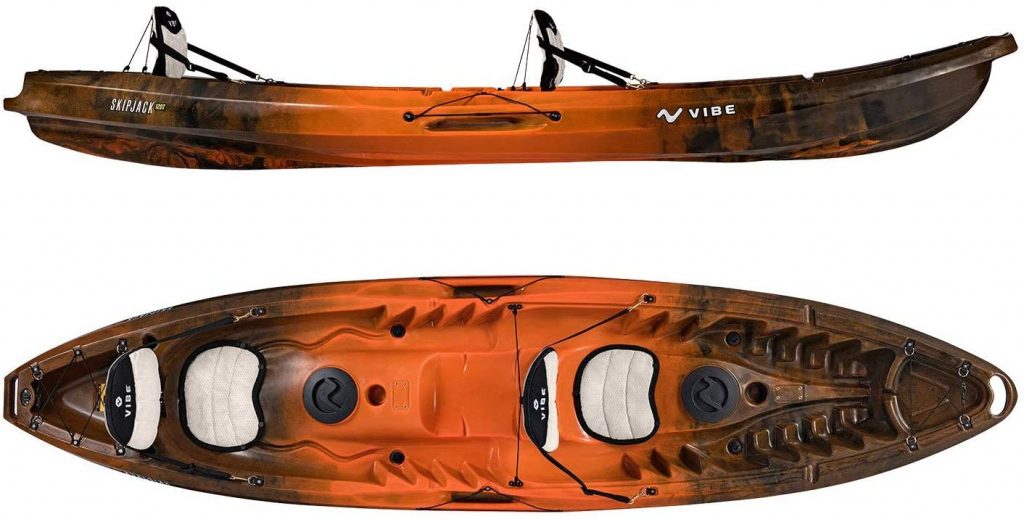 Another exciting option for cheap fishing kayaks is the Vibe Kayaks Skipjack 120T 12 Foot Tandem Angler Sit On Top Fishing Kayak, a surprisingly lightweight watercraft that offers tons of storage options with a huge waterproof hatch located in the hull and other storage compartments on the bow and stern.
With its durable, leak-proof, single-piece construction, you know that this sit on top kayak is engineered for maximum safety, stability, and peace of mind. Its sleek hull design also guarantees nimble and fast tracking, alloying to smoothly cruise on all types of water conditions and quickly reach your intended destination.
Furthermore, it also packs lots of built-in comfort features in the form of the ergonomic cushioned seat, cushioned backrest, and adjustable foot braces that can accommodate any size paddler. There are even two cup holders positioned for easy access, paddle parks for when you want to sit back and relax, and comfort grip handles that are molded into the kayak.
Ultra-stable, performance crafted, rotomolded polyethylene
Durable, leakproof, built-in buoyancy
Slip-resistant deck, multiple scupper holes with plugs
Tackle toss tray, rod holders, and fish finder mount
BKC RA220 11′ 6″ Solo Sit-On-Top Kayak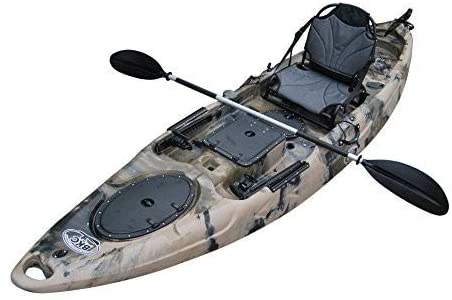 Last but not the least is the BKC RA220 11′ 6″ Solo Sit-On-Top Kayak, which is actually bordering the line between cheap kayaks and high-end kayaks. Now, while it may be on the more expensive side of things, the added cost is definitely worth it due to the sheer number of exceptional features that this kayak offers.
To give you an idea, while it's just a solo kayak, it boasts of an impressive 450 pound weight capacity, making it a great kayak for bigger guys, as well as for those who want to venture on days-long trips and need lots of gear on board. Heck, it can even be used as a paddleboard if you're feeling adventurous.
That's because it's designed for maximum stability, allowing kayakers to sit, stand, or lay down on the kayak without any risk of capsizing. Finally, you'll also enjoy various other features, such as a cut-out fish finder in the kayak hull, bungee paddle rests, watertight storage areas, and flush-mount rod holders.
Solid build with high-end, quality features
Foot-operated rudder system
Waterproof cargo storage options
Available in various colors
How To Find The Best Budget Fishing Kayak
You've seen our fishing kayak reviews above, but the real question is, how should you go about in choosing the right fishing kayak for your needs? To help you find the perfect fishing kayak, here are the most important things you need to consider:
Tandem vs Solo Kayaking
First of all, do you prefer kayaking solo, or would you like a partner to tag along? Solo kayaking is fun, and so is kayaking with a couple of other people, be it an adult friend or a child, or even go kayaking with a dog, so it's really a matter of preference.
What you need to take into account is, first, while you can kayak solo in a tandem fishing kayak for when you don't want the company, tandem kayaking won't work in a small, one-person kayak. Second, buying another kayak for an extra person on the trip isn't always feasible, and it's certainly not budget-friendly.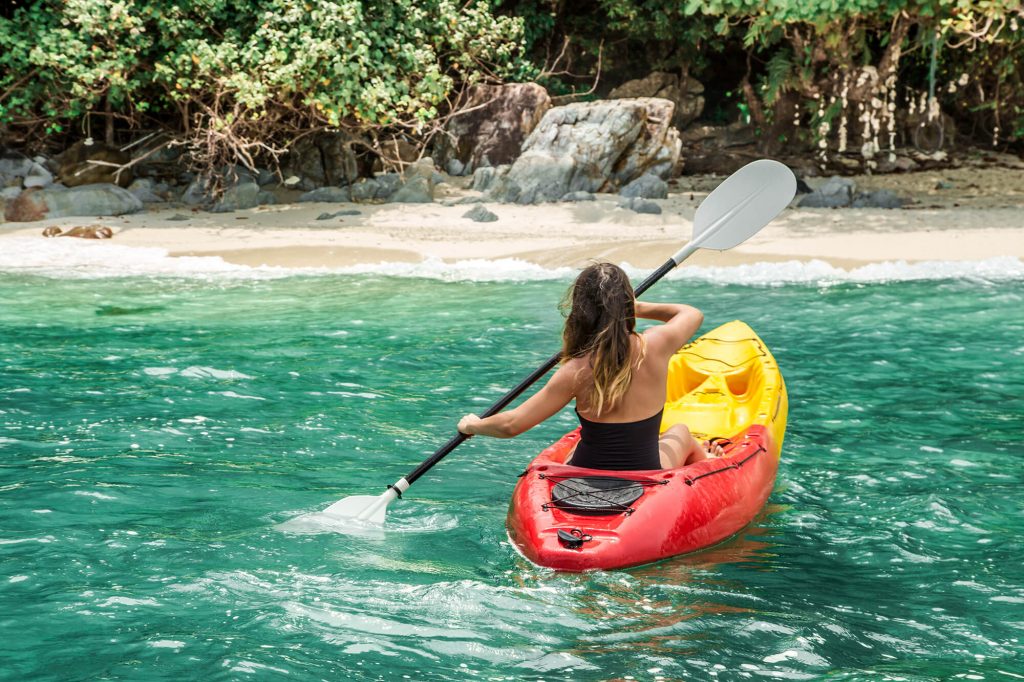 Skill Level
The most important consideration, however, is your skill level when it comes to kayaking- or more specifically, kayak fishing. For instance, if it's your first time casting a line while aboard a kayak, stick to entry-level, beginner fishing kayaks that are a lot more stable, forgiving, user-friendly, and affordable.
A fishing kayak with pedals is a good example. In fact, pedal kayaks also make some of the best kayaks for kids. That's because there's no need to master the art of paddling, and the hands-free operation leaves the kayaker free to do many other things on the water.
On the other hand, if you are a more experienced angler, then feel free to indulge on a higher-end kayak that comes with a better set of features and offer a whole new level of performance, functionality, and versatility.
Comfort
One thing that's super important but often forgotten when it comes to buying kayaks, especially fishing kayaks, is comfort. Think of it this way: you'll be spending hours sitting in the kayak while you're exploring the waters, and as such, it's only right that the kayak be comfortable and accommodating enough so that you won't feel strained and cramped.
This means looking for comfort features, such as adjustable cushioned seats, padded high back support, multi-position footrests, plenty of legroom so you can stretch your legs, and even extra features like accessible cup holders, accessories mounts, and the like.
Kayak Type
When shopping for a kayak, you'll notice that they come in many different designs, styles, shapes, and sizes. To help you better figure out what type of kayak works best for your needs, let's take a look at the most common kayak types below:
Sit in Kayak
Sit-inside kayaks are arguably the most popular option for kayakers since these are designed in such a way that you are sitting inside (rather than on top of) the kayak, with your legs fully stretched in the enclosed space in front of the seat.
This means that you are better protected against the elements, whether it be blowing winds or freeing cold waters. Not to mention, sit-in kayaks are also somewhat more comfortable and offer plenty of space to accommodate the kayaker.
Sit on Top Kayak
Meanwhile, like the name suggests, sit on top kayaks are designed in a way that the kayaker's entire body- torso, legs, and all- rests on top of the kayak, aka the kayak deck. This makes for an easier time getting in and out of the watercraft.
As such, sit-on-top kayaks are user-friendly and great for beginner kayakers. They also typically feature wider hulls that make for enhanced stability, as well as scupper holes for self-bailing capabilities. Unfortunately, the trade off here is reduced speed and storage space.
Check out the best sit on top kayaks of 2021 here.
Inflatable Kayak
There are also inflatable kayaks, which have been taking over the market in the last few years, due to how affordable and portable they are. In fact, try searching for cheap kayaks or lightweight fishing kayaks online, and the first results you'll see are likely inflatable models.
Of course, what inflatable kayaks take away from the hassles of transporting a hard packed kayak, it gives back in the extra effort needed to pump the kayak full of air. That said, all those other features make the effort worth it.
Check out the best inflatable fishing kayaks in 2021 here.
Stability
The stability of a kayak is something that cannot be overlooked. This is especially true if you are just learning how to kayak, or in this case, attempting to fish on a kayak. In these situations, the kayak must be stable enough that it won't tip over or capsize at the slightest movements.
To give you an idea, stable kayaks are those that feature wide hulls and are made with slightly heavy, dense materials. Do keep in mind that these features also make for a slow kayak, so if speed is your priority, expect that your kayak won't be as stable.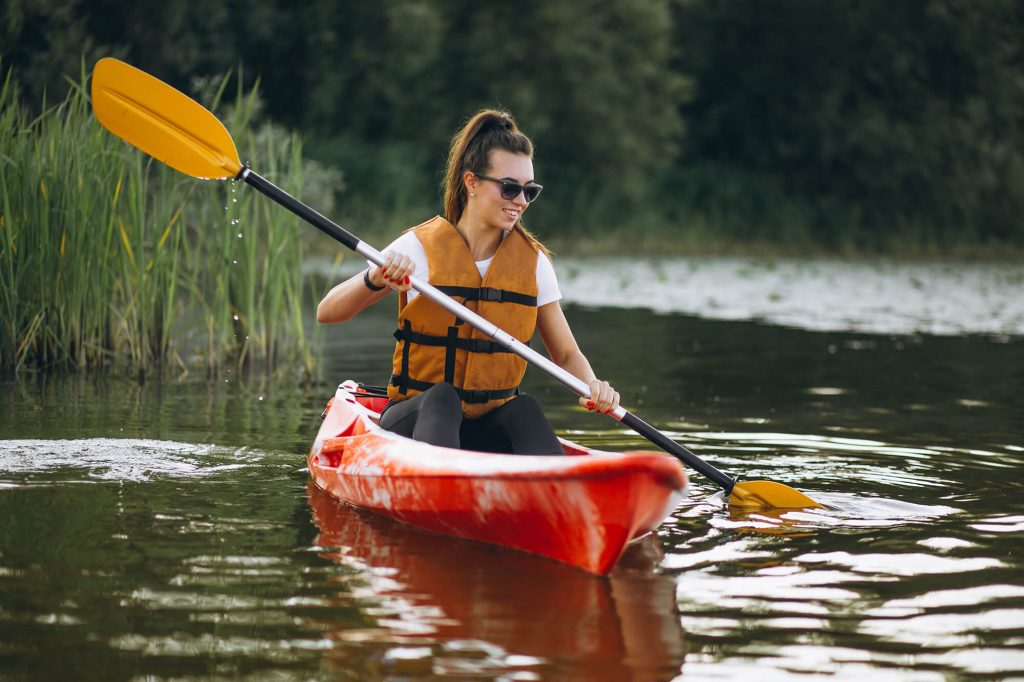 Storage
It's always great to have plenty of storage options on or inside a kayak so you can bring lots of gear and accessories on your fishing trip. Fortunately, despite the limited space on most kayaks, manufacturers still manage to put adequate storage solutions aboard, with different storage options intended for various purposes.
What's important here, aside from the kayak's storage capacity, is that the storage options on the kayak are in-line with your needs. For instance, if you're going fishing, you'll need to bring a cooler to preserve your catch. You'll also need rod holders, mounts for fishfinders and GPS systems, a place to keep your tackle box, and so on.
Other Features
Speaking of rod holders and accessories mounts, these are just some of the many other features you should look for in a fishing kayak. For the best fishing experience, you'll also need and want a couple of other things, like a central console or the option to fit an outboard motor.
Moreover, it's also great if the kayak readily comes with a few must-haves, like a kayak safety flag, life jackets, paddles, and a kayak repair kit. This way, you won't have to buy them separately.
Budget
Sure, you're on this site looking for cheap kayaks, but what exactly is cheap for you? Is it a fishing kayak under 300 dollars? Under a thousand? It's up to you to define your budget.
Now, understand that pricier kayaks come with better features and are a better investment if you will be using the kayak a lot. Otherwise, if you're just starting out and will likely only take up kayak fishing as an occasional hobby, you can settle for a much cheaper kayak.
You also need to factor in other related expenses, like kayaking gear and accessories. Find the best ones on Academy.com
Final Thoughts
Experiencing the fun of paddling on exciting waters and trying your hand at kayak fishing doesn't have to be an expensive hobby. With the best budget fishing kayak, you too can enjoy these challenging yet rewarding water activities.
So, get yourself a nice kayak, get out on the water, and get fishing!