This post contains affiliate links. For more information, visit my disclosure page.
Even if you aren't going to surf in a terribly rocky location, you might still want to consider getting a helmet during your trip. Surf helmets can reduce any potential danger when it comes to surfing. Research shows that head injuries are more commonly caused by bopping your head on your surfboard.
Don't worry though as you can easily find a surf helmet that will suit you. It should fit your head perfectly and protect you and maybe even match your surfboard design or your style to boot. Below are some of the best surf helmets available plus a buying guide.
Top Surf Helmet Picks
You can definitely find dozens of surf helmets but not all may be able to offer the coverage and protection that you need. Here are some of the best surf helmets of 2021:
Tontron Adult Helmet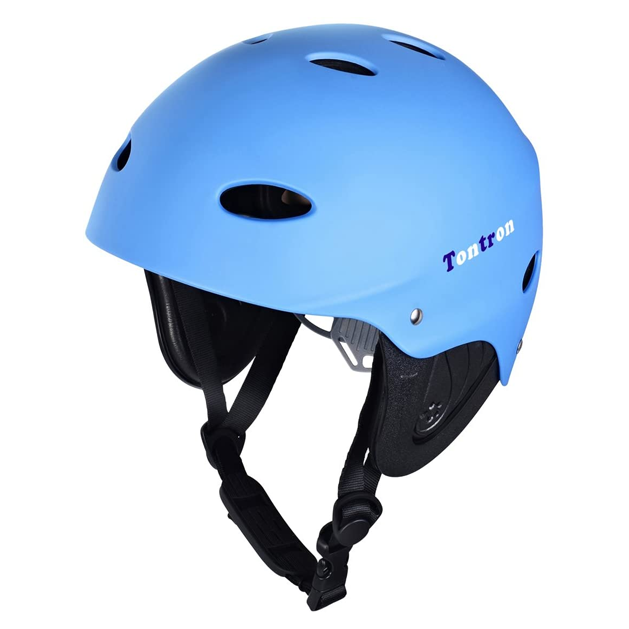 Available in different colors and finishes (glossy and matte) the Tontron Adult Helmet is a standout helmet perfect for surfing. Its ABS exterior is designed for impact protection while its soft EVA liner is for absorption. What's more, the interior is waterproof and quick-drying.
For even more protection, the Tontron Adult Helmet comes with ear protection. You can easily remove and the ear protection pads if needed. Don't worry about your hearing as the ear protection won't affect it.
The head dial on the back of the Tontron Adult Helmet offers a better fit for wearers. There are 11 vents throughout the helmet to keep water out and also to give your head a breather.
Comes with ear protector
Hard exterior, soft liner
Waterproof and quick-drying interior
Breathable air vents
Pro-Tec Ace Water Helmet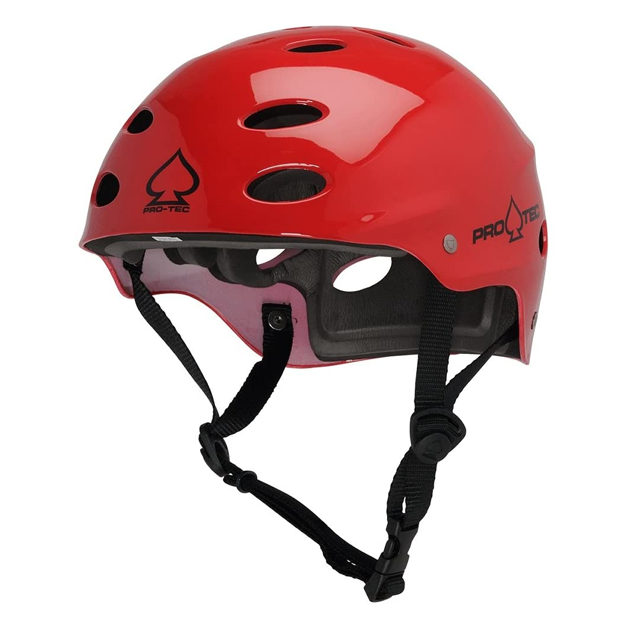 Make waves without a care with the Pro-Tec Ace Water Helmet. This surf helmet offers full surround protection, covering even the back of your head. The dual-density liner, made of EVA, protects you from hard falls.
The Pro-Tec Ace Water Helmet comes with a hard shell that is made of ABS. With this helmet, you are well-protected but also comfortable at the same time, thanks to the interior fit system.
To improve the air ventilation of your head, the Pro-Tec Ace Water Helmet comes with 15 air vents. Aside from being breathable, the air vents can also help with water drainage—you wouldn't want to carry extra water weight on your head.
Full surround protection
15 air vents
Made with ABS shell
Waterproof inner liner
Pro-Tec Full Cut Water Helmet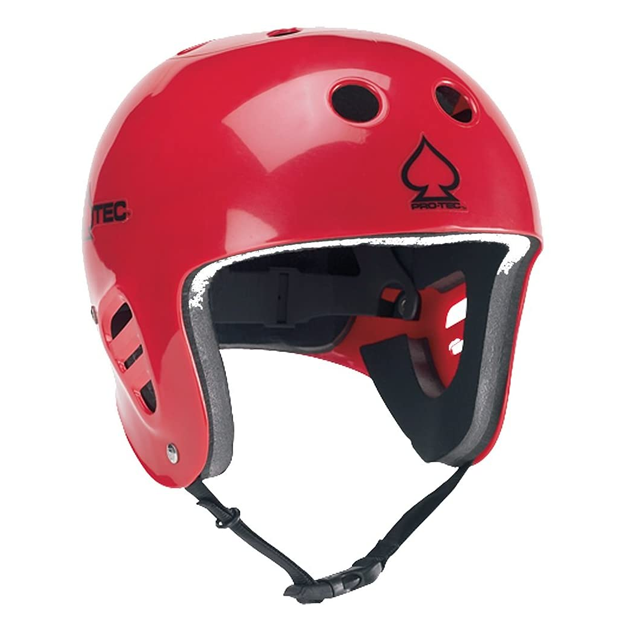 Pro-Tec may have started out in the skateboarding industry but its specialization in protective gear has broadened since its inception in 1973. The Pro-Tec Full Cut Water Helmet is designed specifically for watersports, including surfing.
This full-cut helmet is made by injecting molded PE to offer an excellent fit and better protection to the head. The interior is made with dual-density EVA to absorb impacts yet also offer comfort. The helmet has vents and its interior is waterproof.
The Pro-Tec Full Cut Water Helmet has a stay-tight fit system so that it stays on no matter how gnarly the waves are. Since it is a full-cut helmet, it is also able to offer ear protection.
Made with injection-molded PE
Adjustable helmet
Stay tight fit system
Dual-density EVA
NP Surf Watersports Helmet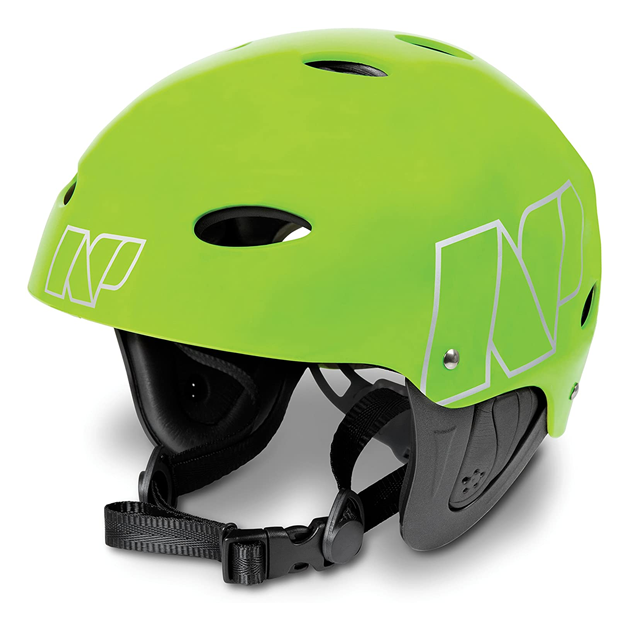 Be seen, even from afar, with the NP Surf Watersports Helmet in fluorescent green. This helmet offers both style and function. With its hard outer shell and soft inner lining, you can get the protection that you need while you are in the water.
For the wearer's comfort, the NP Surf Watersports Helmet comes with an air-vent system. Its interior is also made with EVA. You don't have to worry about straining your neck and shoulders as this surf helmet is only 0.9lbs.
To give you a better fit, the NP Surf Watersports Helmet has an adjustable chin strap with a twist tightening system. This helmet also offers ear protection.
Less than 1lb
Twist-tightening system
Hard outer shell
Air-vent system
NRS Chaos Full-Cut Helmet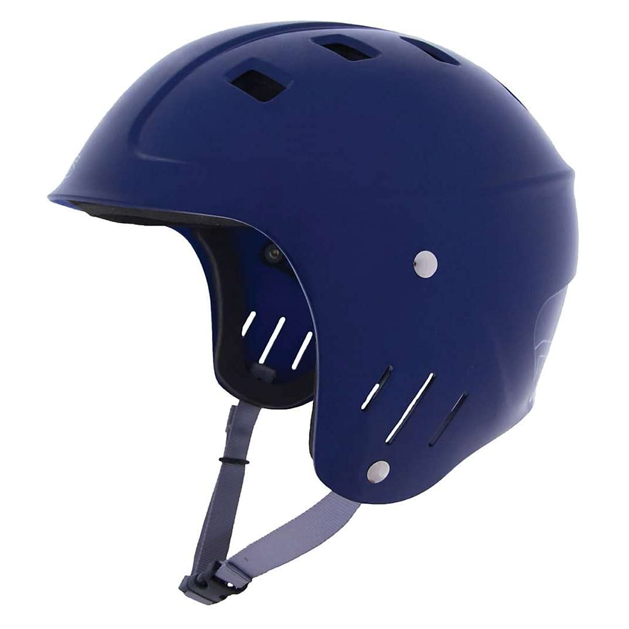 The NRS Chaos Full-Cut Helmet is able to offer protection for your head without breaking the bank. The fully-molded helmet has a durable ABS shell that is made of plastic.
On top, there are 8 ventilation holes to keep your head cool during the hot summer days and also to improve water drainage. The ear coverings are also molded into the helmet, so you don't have to worry about these falling off. You'll be able to hear everything as each covering has 3 ventilation ports.
It's easy to fit into the NRS Chaos Full-Cut Helmet as it comes with a quick-adjust harness. For comfort and protection, the interior is made with dual-density EVA.
Made with durable ABS
Quick-adjust harness
Multiple ventilation ports
Molded ear protection
Gath Gedi Surf Safety Helmet with Peak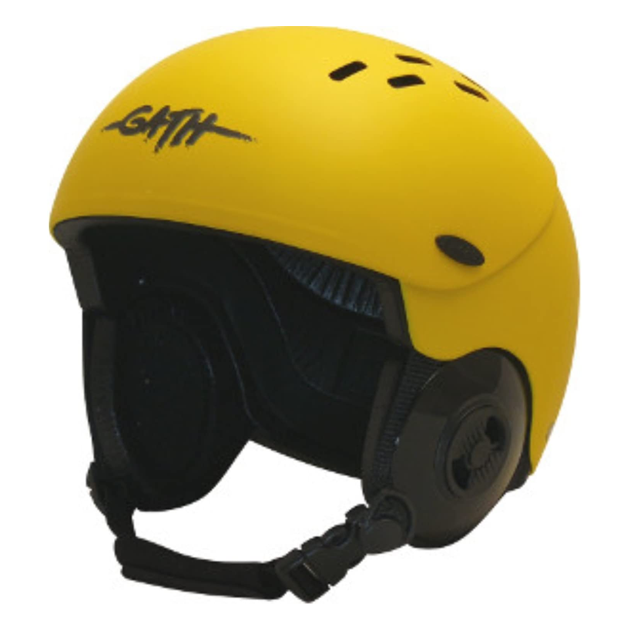 Do you get blinded by the sun during your surfing trips? It's really hard to go paddling and surfing with sunglasses on but not to worry. You can use the Gath Gedi Surf Safety Helmet with Peak instead. This surf helmet not only protects you from impacts but it can also shield your eyes from the sun's rays with its peak.
The Gath Gedi Surf Safety Helmet with Peak is quite comfortable. It protects your entire head, even your ears. This helmet is perfectly safe to use and has a solid construction.
If you need your full vision, the peak on the helmet can actually be flipped by 25 degrees. It can also be removed.
Flexible, flippable peak
With ear protection
Comfortable
Solid construction
Gath Neo Sport Hat Safety Surf Helmet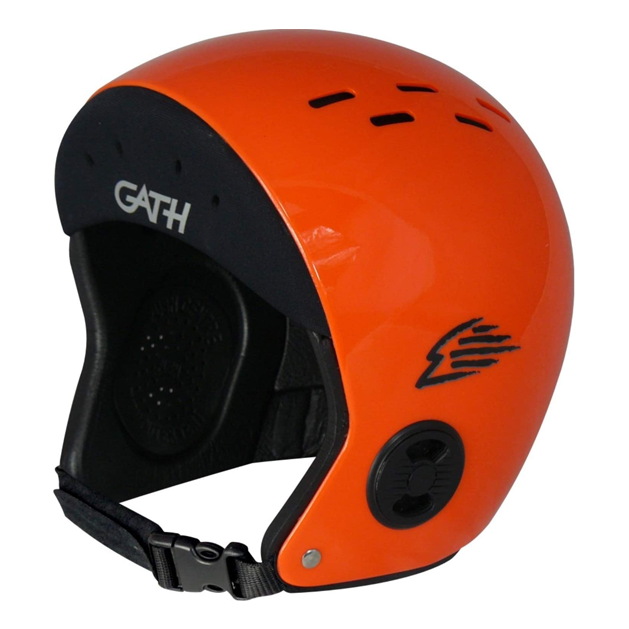 Gath is the leading surf helmet in the market, producing the very first of its kind in 1989. The Gath Neo Sport Hat Safety Surf Helmet offers maximum support, protection, and comfort with its expert construction and high-quality materials. Surprisingly, it weighs less than 400 grams.
The Gath Neo Sport Hat Safety Surf Helmet stands out with its unique shape. The long-lasting shell is made with impact-resistant plastic that is also UV stable. The neoprene headband will automatically adjust to the size of your head, it can help minimize water flow to your eyes.
The non-water absorbent interior is made of foam and is built to stand against multiple impacts. The Gath Neo Sport Hat Safety Surf Helmet has a snug fit and comes with a retention system.
Super lightweight
Unique, expandable headband
Strong and durable
Built-in ear protection
Gath Safety Surf Helmet with Retractable Visor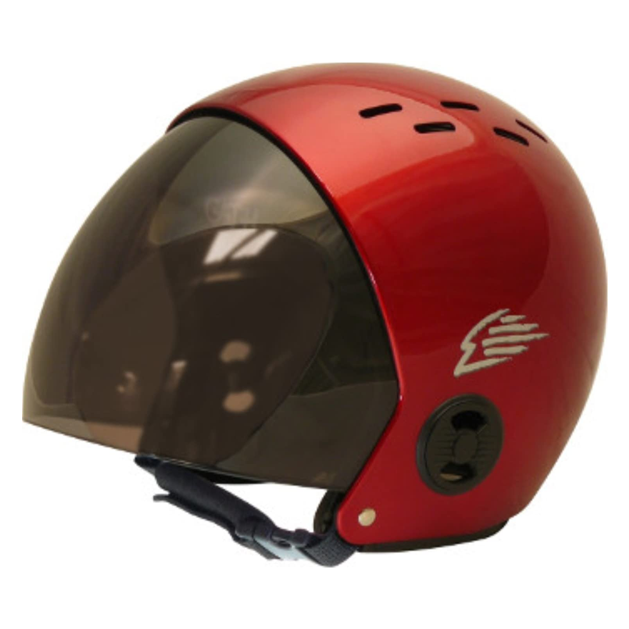 Surfers are highly affected by the sun's rays and are more likely to get melanoma. You may have your sunblock and rashguard but if you want full protection, you should also get the Gath Safety Surf Helmet with Retractable Visor.
This surf helmet has been produced since the 90s and continues to sell out throughout the decades. It is lightweight, weighing around 500 grams, and comes with a shatterproof visor that can offer 98% UV protection made with plastic.
The Gath Safety Surf Helmet with Retractable Visor has a liner and headband that are made with non-absorbent foam. The shell is made with long-lasting plastic that is built to resist high impacts. This helmet also has adjustable audio vents so you can easily hear the waves or the call of fellow surfers.
Lightweight
98% UV protection
Adjustable audio vents
Shatterproof visor
Surf Helmets Buying Guide
If you are looking to get your very own surf helmet, there are several things you need to consider. Check out the following factors below:
Head Size and Shape
Not all surf helmets are built the same, and the same goes for your head. A helmet that fits perfectly on you might not offer the same snugness and protection to your friend. It's best to try on helmets in person or you can also rely on reviews on surf helmets.
Make sure that you know your head size and shape before shopping for a surf helmet.
Helmet Weight
It might not seem like much but when you wear your helmet in the water, it tends to add a bit of weight. Plus, you also have to factor in the length of time that you go surfing. A 1lb helmet can weigh a lot more if you wear it for 4 hours straight.
Surfing Location
Where you usually go surfing is important when choosing a helmet. For starters, if you tend to go surfing where the waves are bigger and brasher, you are going to need extra protection.
You also need to consider the sun's placement where you surf. If you face the sun during your rides, you might want to get a surfing helmet that comes with a visor to help you see better while also protecting your eyes and the rest of your face from UV rays.
Surfboard Type
What kind of surfboard do you use? Perhaps you have a foil surfboard, which will require a lot of pumping. It might be best to get a lighter helmet for this kind of board so as to ease the pressure on your head.
Camera Mount Option
Do you like posting your surf rides on social media? Then you can benefit greatly with a surf helmet that is compatible with a GoPro or other action cameras. Some helmets come with ventilation slots that are designed specifically for camera mounts. Choose that kind if you want a rider's perspective video for your content.
Final Thoughts
When it comes to a surf helmet, it's important that you choose the right one. If not, then it would be useless to wear one. A good surf helmet is something that you can wear comfortably and shouldn't affect the quality of your rides. At the same time, it should also be able to offer you the right amount of protection in case you fall off your board or your board hits you. You can't really wear regular helmets for surfing as they are not designed for use in the water. Surf helmets have unique constructions wherein they are waterproof and have the proper vents for water drainage. The weight of water is highly uncomfortable and is unsafe when it is absorbed by your helmet.