This post contains affiliate links. For more information, visit my disclosure page.
Do you want to live out your lifelong dream of becoming a mermaid? Well, with the perfect mermaid tail and the tops and accessories to match, you can make your dreams come true!
We have found the absolute best mermaid tails for adults this 2021, all in the highest quality fabrics and beautifully realistic designs, so you can swim underwater like a true-blooded creature of the sea.
Take a look at our top picks, and read our buying guide so you can make the best decision on which mermaid tail is right for you.
Our favorite mermaid tails for adults
After careful evaluation, we were able to come up with this list of the top 5 mermaid tails for adults. The sheer quality and design of these mermaid tails make them our all-time favorites! Plus, we've also got a couple of mermaid tails for men at the end of this list, so keep reading!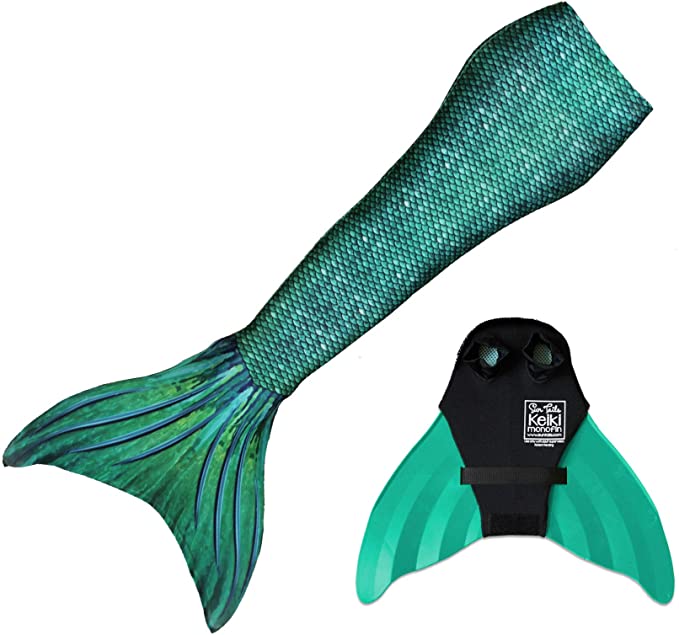 Let's start with our top pick for mermaid tails for women. All of Sun Tail's mermaid tails are made of premium quality materials, from the fade-proof polyester and spandex fabric, down to the fitted monofin, making them a great value for money.
This one ensures a perfect fit through the soft fabric's specialized 4-way stretch, giving you that amazingly realistic mermaid look. It's made with high quality and durable material, along with the patented monofin, which offers you improved function and control for a comfortable underwater swimming experience.
We especially love their siren green tail, which is just the right touch of elegantly vibrant for an underwater sea creature, but you can take your pick from 15 other color and design options for women, from bright pinks to shimmering blacks. Plus, you can throw in matching swimsuits made of the same premium fabrics as the tail!
Simple but realistic designs
4-way stretch machine washable fabric
Patented monofin and neoprene foot pocket
Matching swimwear (purchase separately)
1-year warranty and free replacement
Model & accessory specs
Color: Siren Green – Green Monofin (+15 more options)
Monofin: Patented monofin
Set includes: 1 mermaid tail, 1 monofin
If you're looking for a more affordable option, Fin Fun's mermaid tails are perfect for you. These tails for women come in 9 vivid and bright colors, such as our best be called tidal teal, which is a bright blue tail that looks like a serene reflection of a wavy sea.
The tail is made of swimsuit fabric, so it's stretchable and comfortable to wear underwater. It also doesn't wear easily even when exposed to sunlight and harsh chemicals, and the tail tip is reinforced to prevent tears and rips. If you are worried about the fit, they've got plenty of sizes to choose from 6 to 12 for kids, and extra small to extra large for women.
The only catch is that it doesn't come with a monofin, so you will need to purchase one separately. Or, if you already own one, try and see if it's a perfect fit!
Bright and vivid colors
Wear and tear-resistant fabric
Reinforced tail tips
Highly reviewed bestseller
Model & accessory specs
Color: Tidal Teal (+8 more options)
Monofin: Not applicable (sold separately)
Set includes: 1 mermaid tail
Do you like the quality that Fin Fun delivers, but need both a tail and a monofin for a complete swimming experience? Here's a limited edition mermaid tail set for women by Fin Fun that comes with their patented Fin Fun monofin so you can swim like a true mermaid.
These mermaid tails feature unique designs in shiny, scaly textures on a 4-way stretch fade resistant fabric, and can even be purchased with matching swimwear and accessories for women, including shell bikinis, sarongs, and headwraps, for a complete mermaid getup.
We guarantee you'll fall in love with their lotus moon tail, which is a majestic blend of blue and purple hues. You can also enjoy a pleasant swimming experience with their patented dive-grade monofin fitted in the reinforced tail that's protected against rips and tears.
Colorful and fade resistant fabric
Reinforced tail tips
Patented dive-grade neoprene monofin
Matching swimwear and accessories (purchase separately)
60-day tail tip promise
Model & accessory specs
Color: Lotus Moon (+8 more options)
Monofin: Patented dive-grade monofin
Set includes: 1 mermaid tail, 1 monofin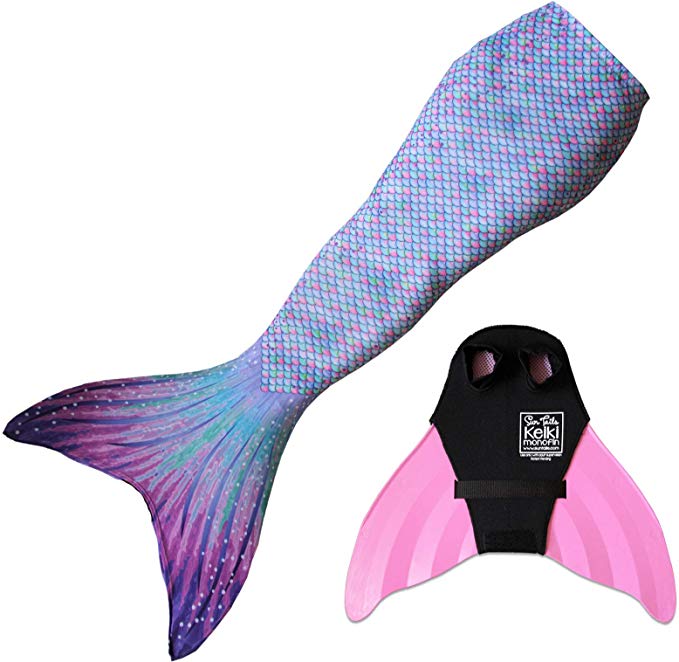 Here's another amazing mermaid tail from Sun Tail, this time in a trendier print for the young-at-heart.
There is a wide range of available sizes for women, from children to teens and adults. You can also choose from 16 different color and design options. They're all simple and realistic, down to the detail on each scale, such as the bright and beautiful aurora borealis, which is wonderfully vibrant in time for the summer.
Plus, the newly designed patented monofin comes in matching colors and fits snugly in the tail's neoprene foot pocket, so you can swim smoothly, comfortably, and in style. To finish off your mermaid look, try out their matching swimsuits for women, which are just as pretty and well-fitting as their tails.
Simple but realistic designs
4-way stretch machine washable fabric
Patented monofin and neoprene foot pocket
Matching swimwear (purchase separately)
1-year warranty and free replacement
Model & accessory specs
Color: Aurora Borealis – Pink Monofin (+15 more options)
Monofin: Patented monofin
Set includes: 1 mermaid tail, 1 monofin
Last but not the last on this list is another mermaid tail by Fin Fun, this time their uber shiny and sparkly sparkle mermaid tails with monofin for women. The designs are much simpler than the other tails we've featured on this list, and the scales are much smaller, but they still retain that realistic feel while maximizing the glam.
For example, their mediterranean sea tail is sure to make you look like a glamorous underwater diva. It's made of a combination of nylon and spandex fabric for the perfect blend of stretchability and comfort for women. Just remember to be careful in washing the tail, or its signature sparkle will fade over time.
Snug-fitting 4-way stretch fabric
Sparkly, shimmery, and reflective
Open bottom for walkability
Patented Fin Fun monofin
Model & accessory specs
Color: Mediterranean Sea (+2 more options)
Monofin: Patented Fin Fun monofin
Included in set: 1 mermaid tail, 1 monofin
Top mermaid tails for men
If you are looking for mermaid tails for men, no need to worry. We've also found a couple of great options from Fin Fun for you to choose from! After all, who says being a mermaid is only for girls?
This mermaid tail for men is in the higher price range, but with its superior quality, it still manages to be one of Amazon's bestsellers. Why? This tail is a beautifully designed, perfectly fitting, and comfortable yet durable merman tail.
What you are paying for here is a fade-resistant swimsuit fabric engineered with a reinforced tail tip to protect your tail from tears, rips, and more, and the patented Fin Fun monofin that comes with a durable fin and neoprene cover, making it easy to glide underwater, then quickly release and remove the fin once it's time for a break.
There are nine color and design options to choose from, but we suggest the barracuda black merman tail, which is the perfect mix of masculine and elegant.
Fade-resistant swimsuit fabric
Reinforced tail tip
Patented monofin and neoprene cover
90-day tail tip warranty
Model & accessory specs
Color: Barracuda Black (+9 more options)
Monofin: Patented Fin Fun monofin and neoprene cover
Set includes: 1 mermaid tail, 1 monofin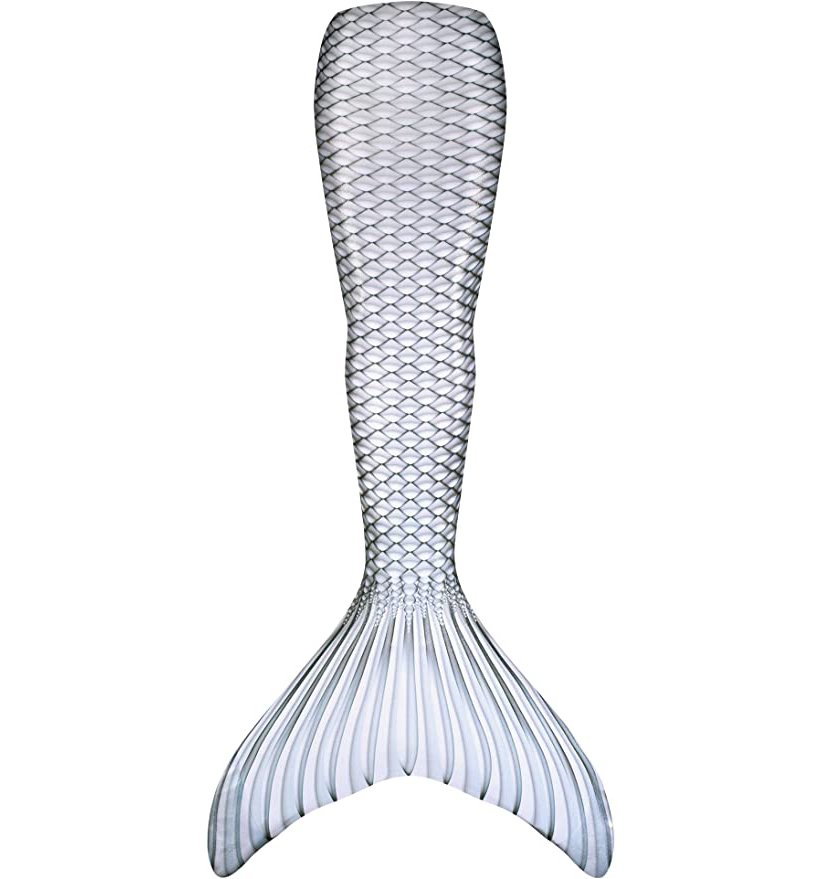 A more affordable yet more vibrant merman tail by Fin Fun is their limited edition reinforced mermaid tail, which comes in a whopping 23 different color and design options. Pro-tip? Try out the silver lightning tail. It's so soft yet so steel-like!
If that's not your thing, well, they've got many more creative and interesting patterns and prints for both mermaid and merman tails. Each one is made of premium swimsuit fabric that is sunlight and chemical resistant and engineered with Fin Fun's reinforced tail tip technology. You can dress up and swim comfortably and safely, without worrying about damaging your tail, from hip to tip.
One thing, however, is that you need to purchase the monofin separately. But, it's great if you want multiple tails to wear on different occasions.
Vibrant designs, creative prints and patterns
Dozens of variations to choose from
Wear and tear-resistant fabric
Reinforced tail tip
Model & accessory specs
Color: Silver Lightning (+22 more options)
Monofin: Not applicable (purchase separately)
Set includes: 1 mermaid tail
Mermaid tails for adults – Buyers Guide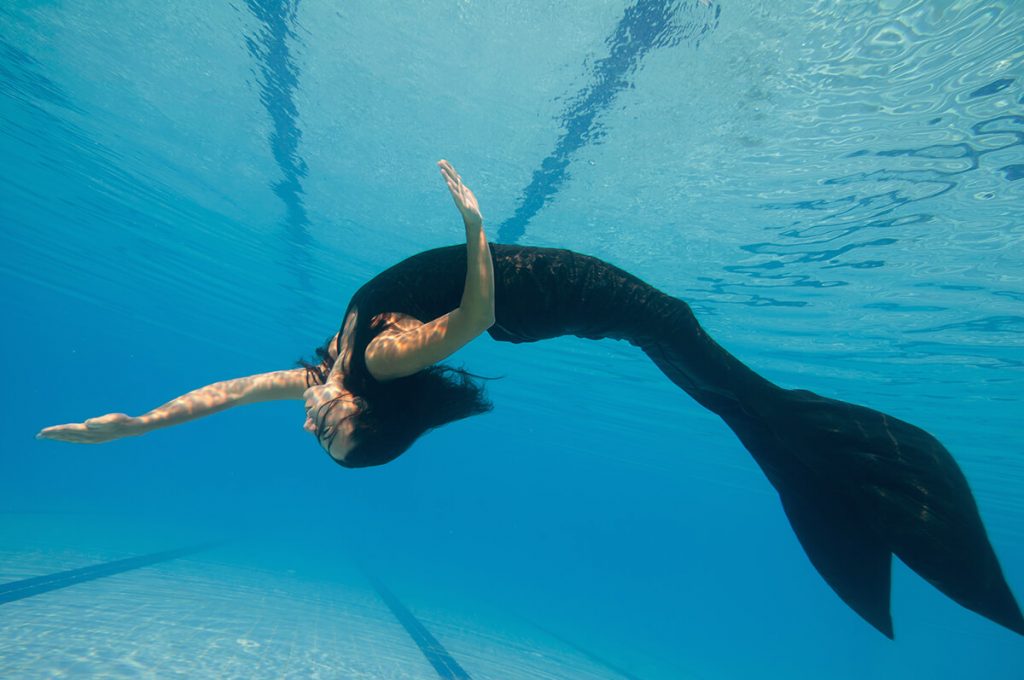 Picking out a mermaid tail is no easy task- trust us, we've been there. There are hundreds, if not thousands, of mermaid tails available online, from the simple and elegant to the unique and bizarre. And, the price range is steep, too!
So, how do you pick the right tail for you? Read this guide and you'll find out! We'll help you understand the basics of swimming with a mermaid tail, the different factors you need to take into account when buying a mermaid tail, and other tips and tricks for the best mermaiding experience.
What's a monofin, and do I need one?
A monofin is the thick, flipper-like insert that fits in a mermaid tail so you can swim safely. It's typically made of plastic, fiberglass, or carbon fiber snugly fits in the fluke part of the tail and may be securely attached to your feet through straps or stretchable holes.
Much like flippers, monofins are designed to help propel you underwater, which is really important since your feet are joined together, making it harder to move around in and out of the water.
Essentially, it's what makes your mermaid tail swimmable. Most mermaid tails automatically come with a monofin upon purchase, although you can also buy one separately.
What is the right material?
Mermaid tails can be made from different materials, some of which are suitable for swimming, and some are purely for costume purposes. The most popular mermaid tail materials are polyester, nylon, and spandex, or a combination of these.
They're pretty much like most swimsuits, so they are lightweight, stretchable, comfortable to wear, and swim around in, easy to take off, and dries easily. So, you're getting a high quality, machine washable mermaid tail that is pretty and affordable.
You'll also find some latex and rubber mermaid tails, although these are less common and are not as great for swimming. Of course, if you just want a tail for a themed photoshoot or a costume party, you can settle for a tail made of cloth fabric.
The best material, however, is silicone, since it's the most realistic looking and most durable. A silicone mermaid tail is a high-quality custom-fitted tail that's a little heavier than others and needs a bit of practice to swim in.
Other mermaid tail materials include waterproof plastic and neoprene, which are mostly used on the tail's monofins.
How much is a fin?
As we've mentioned earlier, mermaid tails and monofins often come as a set. There are many cheap tails and tail + fin sets that are under $50, and some of these are realistic mermaid tails too, like a few included in our list.
You'll also find more expensive mermaid tails that cost upwards of $100 or $200. These are usually professional mermaid tails, many of which are custom made by special tail makers, such as silicone mermaid tails.
When it comes to individual monofins, these can cost anywhere from $20 to $100+. These prices depend on the brand, material, and quality of the product. Here's a tip: if you're a little tight on the budget, you can start by making your own fin for free!
What is the right size?
Just like anything you wear, mermaid tails come in a variety of sizes, from child sizes to adult sizes, including plus size mermaid tails. When it comes to choosing the right fit for you, you need to measure out the length and width of your legs and feet, as well as your waist and hips.
Getting the right fit and size is important, especially if you don't want to end up with a tail that is way too small it won't even ride past your knees, or a tail too big that it slips off while you're swimming.
What you want here is a tail that feels sleek, snug, and comfortable, so it looks realistic on you, and you can move around well in the water.
What color to choose?
Picking out the tail color is most likely what you have been looking forward to all along, and it may also be the most difficult decision you'll have to make, especially since everything looks pretty and dazzling.
The most common mermaid tail colors are blue, green, purple, yellow, and orange, since these resemble the colors of most sea creatures. We suggest picking a color that works well with most of your swimsuits, so you can always look put together and more mermaid-like.
More than color schemes, it's also a must to pick a good design, print, or pattern. Some tails feature plain and simple tails that look realistic and timeless, while some others have trendier and more out-of-this-world designs. Pick one that fits your personality, and you'll still like a couple of years down the road.
What is mermaiding?
To put it simply, mermaiding is pretending to be a mermaid by wearing a mermaid tail and matching accessories, whether for mermaid swimming or simply as a costume for a fun fantasy-filled day ahead. With the right mermaid tail, you can live out your childhood fantasy of being an under-the-sea princess.
If you really want the full mermaiding experience, find a mermaid tail that you can swim in, a good quality monofin to match, and the best accessories to complete your look!
Can anyone swim with a mermaid tail?
Yes! Anyone, young or old, can swim in a mermaid tail, as long as they know how to swim, their mermaid tail has a monofin to propel them in the water, and they do a bit of practice swim wearing the tail to find the right kick and motion.
In fact, even tiny kids can swim like a mermaid! There are plenty of wonderful mermaid tails for kids out there, so you and your little ones can have as much fun as possible. Just pick out a swimmable mermaid tail, make sure it comes with a monofin, and don't leave your child unattended while in the water.
Where can I swim with my mermaid tail?
In theory, you can swim with a mermaid tail anywhere, including the ocean. But, you should only do so if you are an expert swimmer, you are 100% familiar with the area, and you have plenty of company to watch over you.
This is because swimming with a mermaid tail is difficult, and can even be dangerous, since how you swim significantly differs from swimming with two feet. So, it's advisable to only use your mermaid tail for the pool, where you'll still have a lot of fun while being safe and sound.
What are the different types of mermaid tails?
There really is no one way to classify mermaid tails according to type, except for swimmable, non-swimmable, and walkable, all of which are largely determined by the type of fabric the tail is made of, whether it has or can fit a monofin, and whether it has open bottoms.
That said, mermaid tails can be made out of various materials such as fabrics and silicone, feature different designs from simple to quirky, and have different textures, such as matte, silky, or covered in glitter.
How can I look like a mermaid?
Down to the *most important* question of all, how can you look like a mermaid? Well, we've got both good news and bad news for you. The bad news is, a mermaid tail, no matter how realistic and form-fitting, just won't cut it. But, the good news is, with the right accessories, it's easy to pull off a true-blooded mermaid look!
An easy way is to go for a full-on mermaid suit, but if you want something more realistic, and you're willing to exert a bit of extra effort, a mermaid tail and matching swimsuits are your best bet. You can find plenty of mermaid tails that come with tops and (even bottoms) to complete your look.
The next step is to glam it up with the right accessories, such as sea-inspired bracelets and necklaces. Of course, don't forget the hairpiece, whether it's a tiara, a flower crown, or a headwrap.
Finally, if you want to go all the way, you can experiment with temporary hair colors so you can have a mermaid colored dyed hair. If you do this, try to find waterproof options, and always make sure to do a test first to prevent any allergic reactions.
Overview
Choosing a mermaid tail is both an exciting and daunting task, but with the right knowledge, a keen eye, and attention to detail, you can easily find the right mermaid tail that fits your frame, your needs, and your budget.
We hope you loved this comprehensive guide on mermaid tails for adults. If you have any questions or suggestions, let us know in the comments!