This post contains affiliate links. For more information, visit my disclosure page.
If you love kayaking, but are looking for more flexibility and convenience, then an inflatable kayak may just be what you need. It's lightweight, portable, easily transportable, and significantly more affordable than a hardshell one.
Granted, an inflatable kayak won't have the same power and stability that a hardshell vessel does, but with a good quality inflatable kayak, you'll do just fine when it comes to fishing and ocean paddling alike.
Want to know more about inflatable kayaks and where to find the best ones? Here's a comprehensive guide of the best inflatable kayaks we've found, as well as answers to the most commonly asked questions about inflatable kayaks. Let's dive in!
10 Best Inflatable Kayaks
Check out these five inflatable kayak reviews so you can find the best inflatable fishing kayak that is sure to give you the best time out in the water, and the best value for your money:
Sea Eagle 370 Pro 3 Person Inflatable Portable Sport Kayak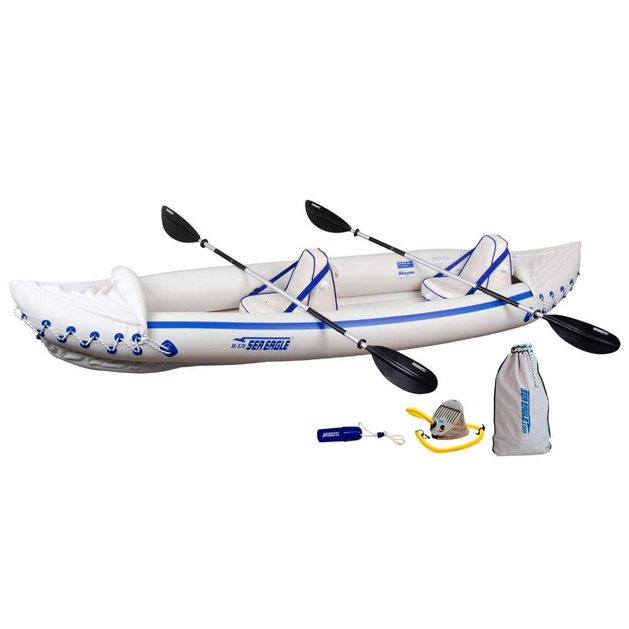 Our best pick is the Sea Eagle 370 Pro inflatable sport kayak, a 3 person kayak that is as portable and lightweight as it gets while remaining remarkably rugged, durable, and stable, and with a maximum weight capacity of 650 pounds.
This Sea Eagle inflatable kayak hails from the brand's original Sea Eagle kayak in 1968, but with the addition of over 50 years' worth of improvements and valuable additions. Like their many other inflatable kayaks, this one packs a punch for a fraction of the size.
It's also designed with an efficient hull shape. And, it's easy to carry and set up, too. As such, this swift paddling kayak is so easy to handle and offers great fun to both beginner and trained paddler alike, young or old.
NMMA Certified inflatable sport kayak
1 self-bailing drain valve and 3 deluxe one-way valves
Tough Rugged PolyKrylar hull and I-beam construction floor
Lashed-down spray skirts, bow & stern grab line
2 bottom skegs for speed and tracking
Comes with repair kit and pressure gauge
Sevylor Quikpak K1 1-Person Kayak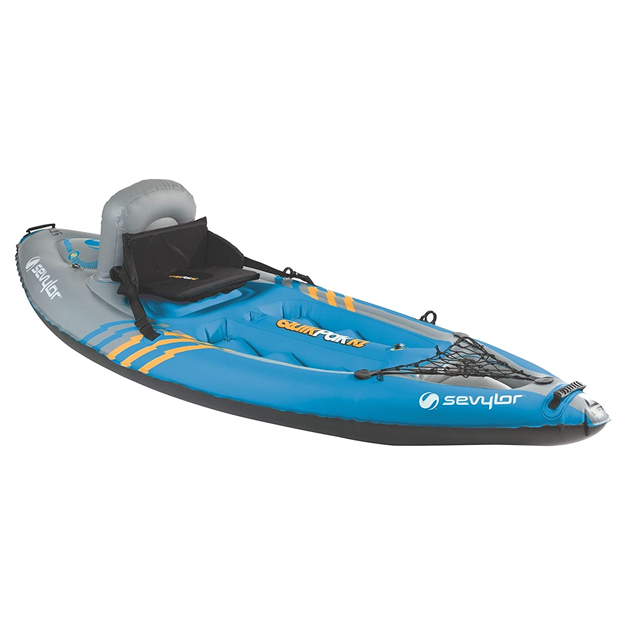 Our second best recommendation is the Sevylor Quikpak K1 1 person inflatable kayak, which lets you jump into the water in as soon as five minutes, thanks to how easy this inflatable kayak is to set up. Trust us, it's as easy as pulling it out of the backpack, unpacking it, and airing it up.
The Sevylor Sevylor kayak boasts of an innovative backpack system that gives you all the space you need to carry all your trip must-haves, before finally folding quite nicely to conveniently fit into the kayak seat.
As for the kayak itself? It's constructed with a 21 gauge PVC, coupled with a rugged tarpaulin bottom, so it's definitely durable enough to tackle the rigors of any lake. And just to keep you safe, it also features multiple air chambers so you can safely get back to the shore. Besides, just the way it's designed, with the comfy back and foot rests, it's an absolute gem!
5-minute setup + easy to carry folding backpack system
Puncture resistant and rugged construction for lake use
Easy inflation and deflation with double lock valves
Priority on comfort with a backrest and a multi-position foot rest
Added safety feature with multiple air chambers against deflation
Advanced Elements AdvancedFrame Convertible Inflatable Kayak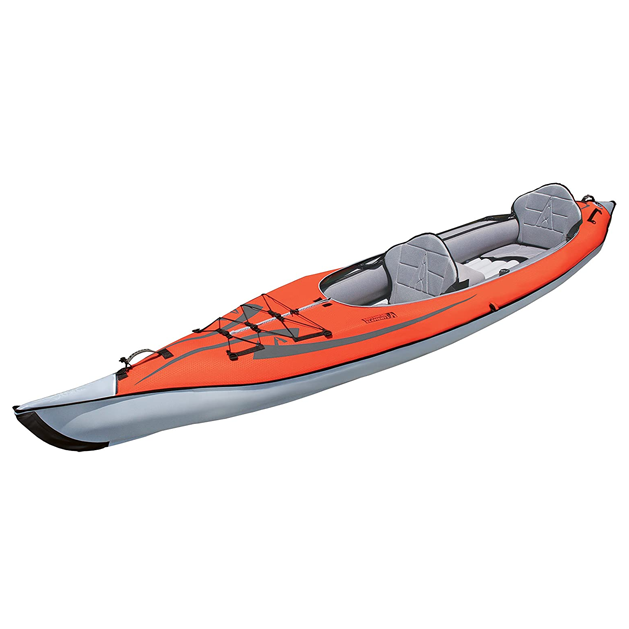 Ranking third is the Advanced Elements AdvancedFrame convertible and inflatable kayak, a massive fifteen foot kayak that is easily the best tandem inflatable kayak, but works just as great as a solo paddle kayak.
It features an open deck design that lets you easily board and alight, as well as make use of the optional single/ double decks whenever you want to convert the kayak to a closed deck one. You can even do it within seconds!
This tandem/ single kayak also boasts of a stern rib frame and rigid bow design, and combines the versatility of variable seating positions along with the interchangeable deck, giving you the best in terms of performance. If you really want to up the ante, however, you can do so by pairing it with the brand's BackBone accessory, or their high pressure floors. Totally up to you!
3 layer material construction + reinforced seams for maximized puncture resistance
Adjustable and removable multi-location padded seats with high back support
Advanced Elements spring valve with integrated pressure relief floor valve
Durable dual coated fabric and low profile molded rubber handles
Well defined bow and stern for better tracking + optional accessories
Sevylor Quikpak K5 1-Person Kayak

Another excellent choice from Sevylor is the Sevylor Quikpak K5 1 person kayak, which, like the K1, is as easy to set up as a simple backpack, unpack, and kayak transformation. It also comes with an easy to carry and innovative backpack system that, well, packs right into the seat.
This way, you get to carry everything you'll need for your excursion, including all your gears, equipment, snacks and drinks, valuables, etc, without having to deal with a bulky mess, which can be a real pain especially with the limited space aboard the kayak.
What's really great about this one, however, is that it comes with bungee storage areas and D-rings, so you can bring along even more gear while remaining accessible. It also comes with spray covers so you don't have to worry about getting splashed with all that water.
Easy set up and pack up design with double lock valves
Durable and rugged construction with polyester cover and tarpaulin bottom
Plenty of storage with the folding backpack, bungee storage, and D-rings
Multi-position footrest + malleable backrest for maximum comfort
Protection against deflation from puncture with the multiple air chambers
Advanced Elements StraitEdge Angler Inflatable Fishing Kayak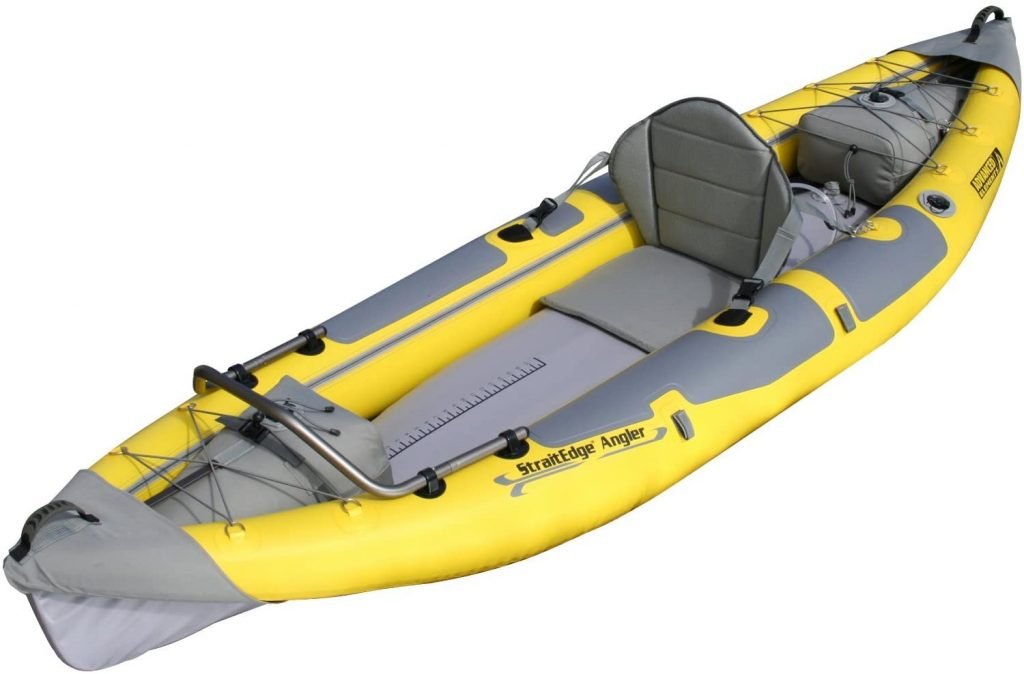 You might also want to try this other Advanced Elements inflatable kayak, the StraitEdge Angler, which is a sit on top inflatable fishing kayak designed with kayak anglers in mind. This shows in the kayak's superior stability thanks to its wide beam design, which lets you focus on catching lots of fish without having to worry about capsizing.
It also boasts of an aluminum rib frame construction that really defines the stern and bow and enhances the kayak's tracking. This, and the heavy duty materials, along with the multiple air chambers and the abrasion pads, make the kayak as durable as possible, even under aggressive conditions.
Finally, this inflatable kayak comes with an innovative removable accessory frame, which is great for customizing the kayak to suit your specific needs and wants, whether that's a fish finder, rod holder, or whatever equipment comes to mind.
Multi-layer material construction with patented frame
Wide beam and abrasion pads for optimized stability and durability
High back seat with inflatable lumbar support and removable mounting rail
2 rod holders and removable accessory system
Plenty of storage space with bungee deck lacing and D-rings
What do you think of these inflatable kayaks so far? If you haven't found your best pick yet, here are some more amazing blow up kayaks we found that you might like:
Sea Eagle 300x Inflatable Explorer Kayak Deluxe Package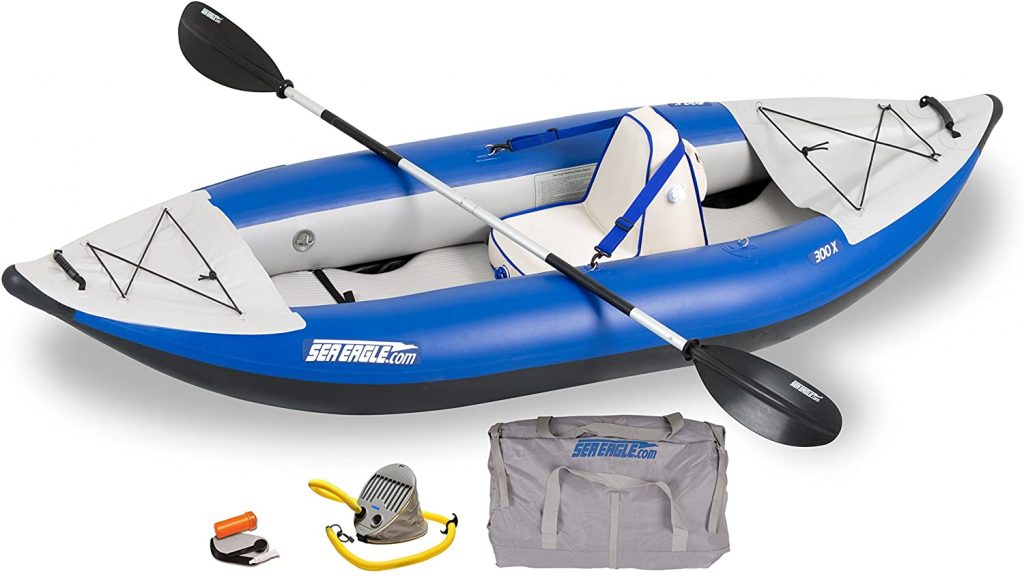 If you like the promise of the Sea Eagle brand, you'll also love their Sea Eagle 300x inflatable explorer kayak in a deluxe page, with its 16 self bailing rapid drain valves that drain water just as fast it enters, so you're always high and dry.
It also features a large rear center fin that you can just as easily remove when the kayak is inflated and when it's deflated. This way, you can enjoy whitewater rapids and other skinny water adventures without worrying about obstacles.
Or, keep it on for added tracking and efficiency when touring flat waters so you don't have to worry about yawing. There's also a separate drop stitch floor, a unique modular design that gives you more rigidity and a more responsive paddling performance.
Dual layer protection from the reinforced outer fabric floor
Easy to remove drop stitch floor for thorough cleaning
Tough reinforced PVC (1000 denier) with overlapped seams
5 minute inflation time, 350lb maximum weight capacity
Hobie Mirage i11S Inflatable Kayak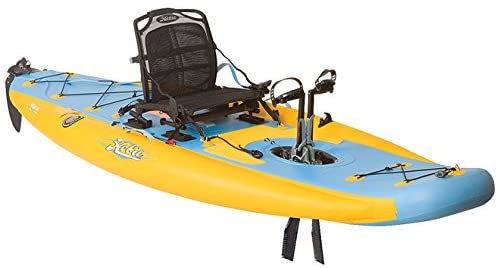 From the original maker of pedal kayaks comes the Hobie Mirage i11S inflatable kayak, an elegantly simple performer with a low profile rigidity thanks to its drop stitch hull. By far, it's the lightest inflatable kayak in the entire Hobie fleet.
This is great for both quick kayaking trips and jettisoning to other countries, since it's so lightweight and portable. There's even an included fin for whenever you need extra tracking. Plus, you also get to enjoy the Hobie MirageDrive 180!
Moreover, this Hobie inflatable kayak features an adjustable seating system that is guaranteed to bring you new levels of comfort. You'll also enjoy the twist and stow rudder with its fingertip controls. All in all, a great kayak for solo paddlers.
Drop stitch floor and PVC hull for optimum structural rigidity
Optional rear H-crate for kayak fishing
Vantage CTi Seating System + twist and stow rudder
Included rolling storage bag for portability
Advanced Elements Attack Pro Inflatable Kayak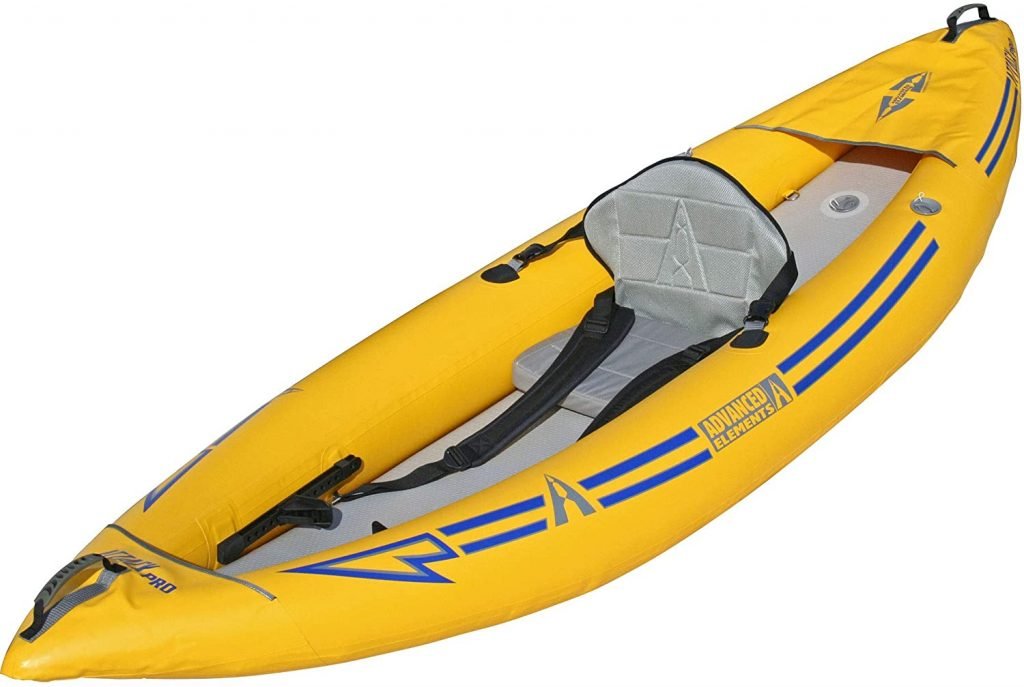 Another superior kayak from Advanced Elements is the Attack Pro inflatable kayak, which, like the Hobie Mirage, incorporates the revolutionary drop stitch technology to give the inflatable kayak the level of rigidity that can face the toughest whitewater conditions.
It's a highly responsive and ultra stable full time self-bailer that weighs like a feather and is great for long portages on the water. This kayak comes in excellent designs with a 9.5 inch tube diameter, a 12 inch rocker, and an overall wide stance for maximum stability.
What's even better is that it features a three chamber construction made of the most durable PVC tarpaulin material, and even comes packed with lots of other features, including a seat with high back support, adjustable foot pegs, hull abrasion rails, and thigh straps.
Puncture resistant PVC tarpaulin construction
Drop stitch technology for superior rigidity
Adjustable seat, foot pegs, and thigh straps
Molded rubber handles and hull abrasion rails
Elkton Outdoors Steelhead Fishing Kayak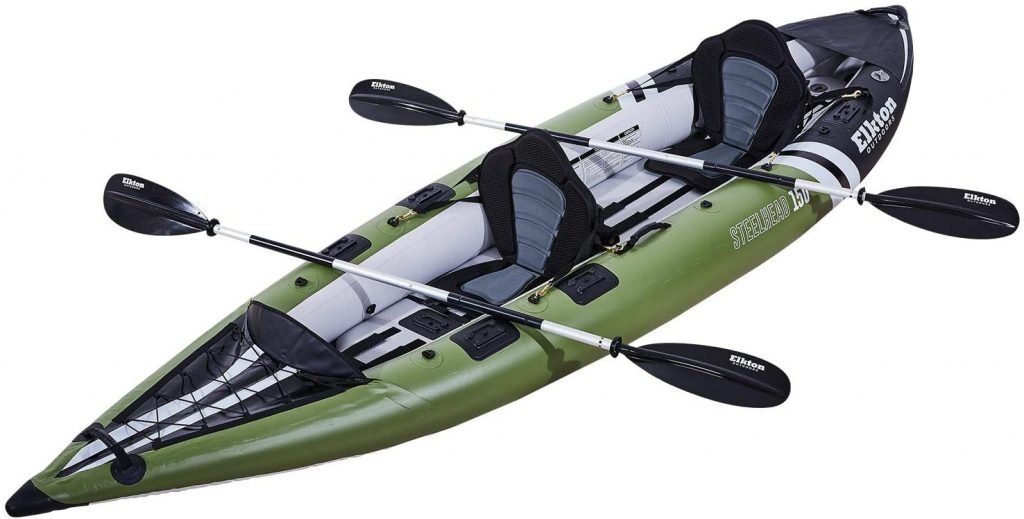 You should also definitely check out the Elkton outdoors steelhead fishing kayak, which also boasts of drop stitch constructed floors that are rigid enough to let you confidently stand on deck just like you would on a fiberglass or rotomolded canoe.
This inflatable kayak comes with high rise EVA seats that can easily accommodate riders of different heights and weights with its forward and backward adjustment options. It even comes with lots of extra storage space at the front and back, plus a spacious bungee cargo area.
Apart from all that, you'll also enjoy the five different hard modular mounts that will let you customize the kayak with your favorite outfittings, such as rod holders, down riggers, bait trays, and even some electronic equipment.
7 hard mounting modular equipment points
Bow and stern cargo storage + bow, stern, and side carrying handles
Halkey Roberts lock valves and front bow spray shield
Can be used as a waterfowl hunting boat
Bonus: Best Cheap Inflatable Kayak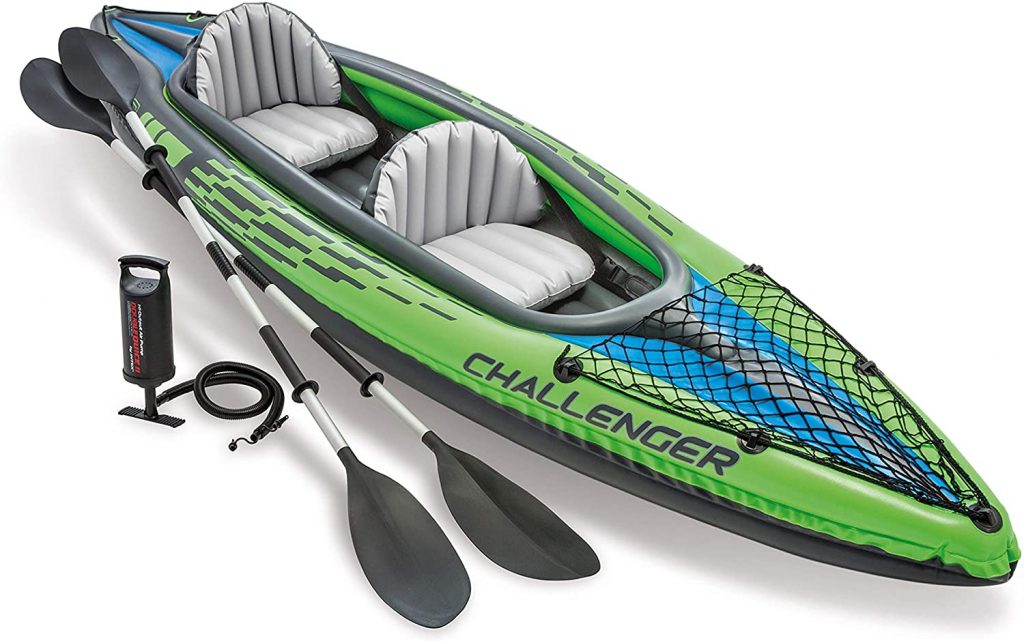 If you're looking for the best cheap inflatable kayak that fits your tight budget, we highly recommend one from the Intex Challenger Kayak Series. The K2 Challenger inflatable kayak comes in a streamlined design that's not only fun and sporty, but also makes for easy paddling.
In fact, this design with the vibrant colors and graphics enhance the kayak's visibility, and in turn, your safety, while you're out in the water. It's also made with super tough and rugged vinyl that is resistant to puncture and UV damage.
All things considered, the Intex inflatable kayak is a great and affordable way to ride the (calm) waves and go see some fish. It comes in fairly spacious sizes and with a decent weight limit, and you'll get two aluminum oars, a pump, and a repair patch kit with every purchase.
Puncture resistant, heavy duty vinyl
Easy to inflate and deflate, easy to maneuver
Rigid inflatable I-beam floor with 2 separate air chambers
400lb maximum weight capacity with plenty of leg room
Inflatable Kayak FAQs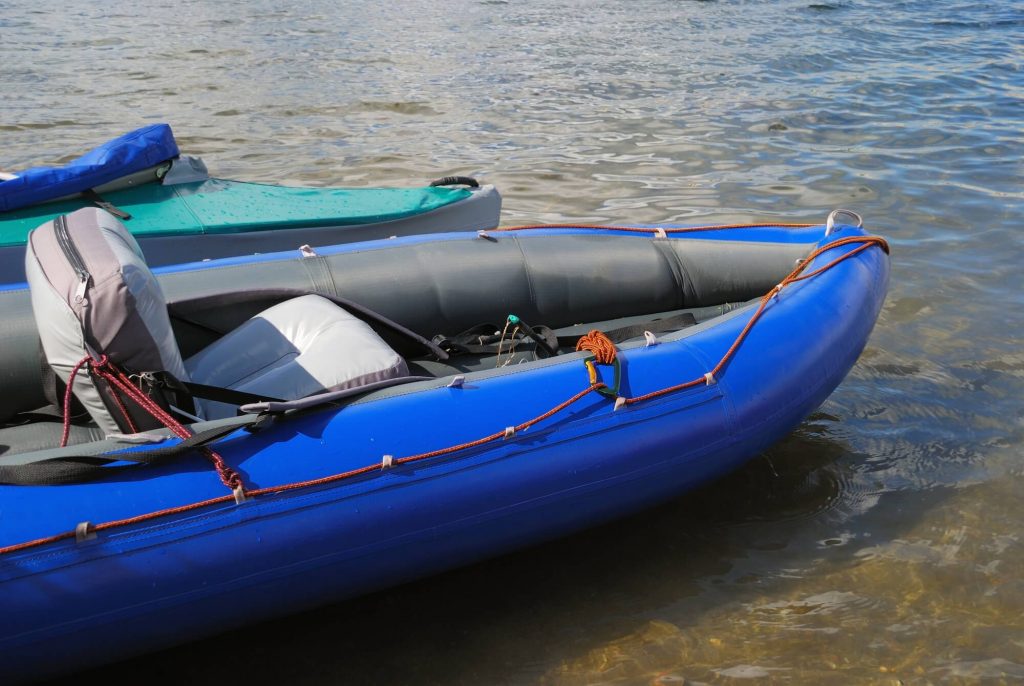 Still not sure if an inflatable kayak is right for you? In order to help you out, we've answered the most frequently asked questions about inflatable kayaks:
Inflatable vs Hardshell Kayak
First things first- let's settle the debate between inflatable kayak vs hardshell kayak. It may not seem like it, but inflatable kayaks can be just as solid and reliable as a hard shell one. As a matter of fact, there are even lots of inflatable pedal kayaks now, and you'll just as easily find an inflatable kayak with motor. That's just how durable and versatile they are.
That said, an inflatable and hard shell kayak are still unique in what sorts of benefits they offer:
Advantages of Inflatable Kayaks
An inflatable kayak's raison d'etre is its portability, feather light weight, and ease of storage. You can simply pack it in a duffel bag, lug it around, and take it anywhere, even on camping and backpacking trips. It will easily fit in your closet, your car trunk, or a plane's overhead bin.
And even though inflatable kayaks are incredibly lightweight, their airy insides make them more buoyant and therefore able to hold more weight without sinking. This is why lots of inflatable kayaks are advertised for 2 person tandem paddlers and families. They are also the best kayaks for big guys, with an average weight capacity of 650 pounds. Plus, they're so much cheaper!
Advantages of Hardshell Kayaks
When it comes to performance, handling, tracking, and speed, hard shell kayaks are still the better option, mainly due to how the kayak's body is firm and rigid by default, and therefore difficult to be swayed by the waves nor the wind, which is also what makes it difficult to paddle.
Although, for inflatable kayaks, this can easily be solved with the addition of high pressure chambers, rudders, and skegs. Still, though, there's no beating hard shell kayaks when it comes to below deck cargo space.
If you end up choosing hard shell kayaks, that's okay. Check out this review of the Best Recreational Kayaks and the Best Pedal Kayaks for Fishing. Or, if you want the most convenient option, try the Best Motorized Kayak we found!
Are Inflatable Kayaks Good?
So… are inflatable kayaks any good?
All things considered? Yes! Inflatable kayaks come in all sorts of shapes and sizes, and you'll find lots of great options in varying price points. See, inflatable kayaks are a whole new level compared to your typical pool toys. These are serious rides that can spell some serious fun.
Are Inflatable Kayaks Stable?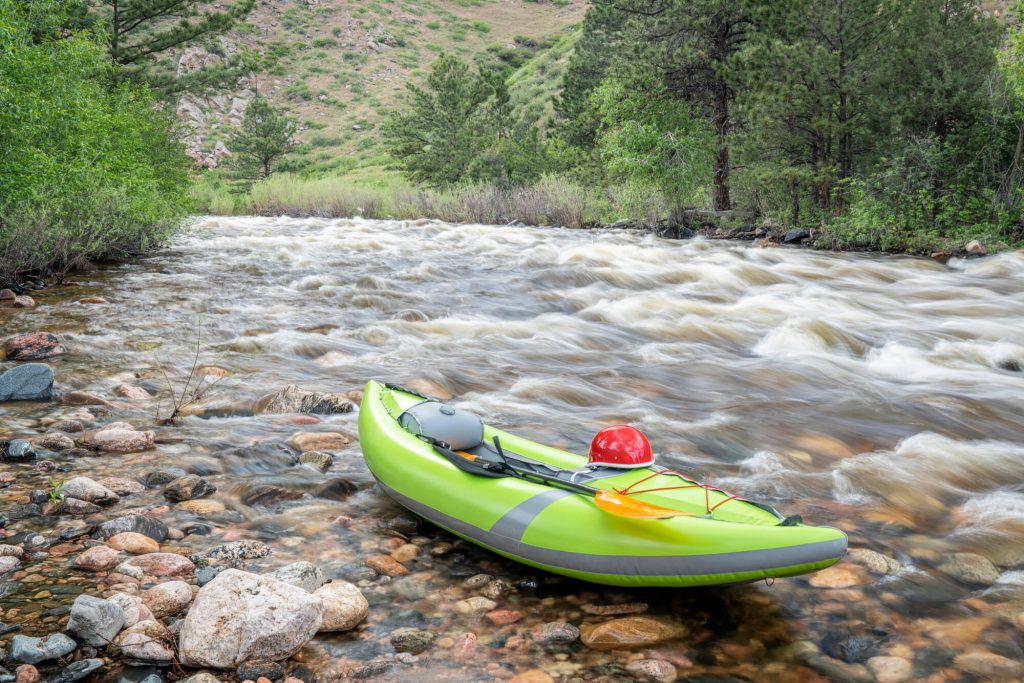 Regardless of what type of kayak you use, stability will always be determined by the beam or width of the kayak. Meaning, a shorter and wider one will be more stable and less prone to capsizing than a long and narrow kayak.
This also goes for inflatable kayaks, especially the ones built for fishing, where the angler can confidently stand up on deck and cast his line.
Are Inflatable Kayaks Durable?
Yes, inflatable kayaks are durable, albeit with varying degrees of durability. For example, cheaper vinyl kayaks are not as great as high quality tarpaulin or PVC, but all of these things are puncture and leak resistant, and will last for many seasons.
You'll even find kayaks with higher end features such as drop stitch construction in high pressure conditions, which is a modern tactic that gives the inflatable kayak the rigidity of a hardshell plastic. Multiple air chambers are another excellent feature.
Are Inflatable Kayaks Safe?
Wondering whether "are inflatable kayaks safe?" We've got news for you.
Inflatable kayaks have really come a long way from how they used to be. These days, inflatable kayaks and blow up canoes are incredibly safe, reliable, and water worthy. In fact, there are even inflatable canoes made for the choppy waves of the sea. With a simple Google search on the best inflatable kayak for oceans, you'll find lots of promising results.
That said, do make sure that the kayak is certified by the NMMA or National Marine Manufacturers Association, and that it's rated for the type of kayaking you're planning to do. For example, you probably can't use an inflatable whitewater kayak for ocean paddling. Most importantly, don't forget to wear a lifejacket and bring a kayak safety kit!
Factors To Consider When Buying An Inflatable Kayak
Finally, how do you find the best solo or best 2 person inflatable kayak?
You'll need to account for certain factors, with the most important one being usage, especially if you're planning to kayak on rougher waters or going on longer cruises. This is because while most inflatable kayaks will do great on inland lakes and slow moving rivers with calm waves, not all kayaks are rated the same.
For example, inflatable fishing kayaks are more focused on storage space for all your fishing gear, whereas inflatable whitewater kayaks are made for river rapids, and as such, they have more rockers and self bailing drain valves. Inflatable ocean kayaks are also a different thing.
There are even inflatable kayaks for dogs, which are much wider and come with more deck space, not to mention made with durable and claw resistant materials like PVC. This is where construction material and quality comes in.
[Read: How to Kayak with a Dog]
Don't forget to also account for the kayak's weight capacity- if you have a lot of gear, will paddle tandem, or are just a heavier person, you'll need a 2 person kayak or a kayak for big guys. Make sure to consider the weight of the kayak itself too, as this determines portability.
Final Thoughts
Since the first inflatable kayak was made, these portable vessels have truly come a long way. Now, they are a familiar favorite of many paddlers, fishers, anglers, and water-loving families, due to the sheer convenience of having a lightweight and portable kayak that you can just prop up anywhere, anytime.
This popularity also stems from the fact that inflatable kayaks are now so technologically advanced that you can easily find an inflatable kayak for whitewater rafting, ocean paddling, and other demanding activities. In fact, you can even fit a trolling motor on an inflatable kayak!
To find the best inflatable kayak, you just need to know what factors you need to consider, which are easy to determine once you establish your needs, wants, and expectations from kayaking.