This post contains affiliate links. For more information, visit my disclosure page.
Taking a trip during the summer is one of the best ways to spend fun quality time with family and friends. Just make sure you have all the essentials with you, such as beach towels, sunscreen, flip flops, and of course, a beach table.
You may not think you'll need it since you have a beach or picnic mat, but a dedicated beach table will be really helpful in keeping your snacks away from the sand. You can even use it for a couple of card games and whatnot.
Plus, the beauty of beach tables is that they're generally lightweight and compact, so transporting them shouldn't be a problem. If you're looking for a nice beach table to take on your next trip, here's a review and buying guide to help you get started:
Our favorite beach tables
Beach tables are a must have on all beach trips as they keep your food safe from the sane and make eating, lounging, and playing much more fun and enjoyable. Here are the ten best beach tables we've found just for you:
Trekology Portable Camping Side Tables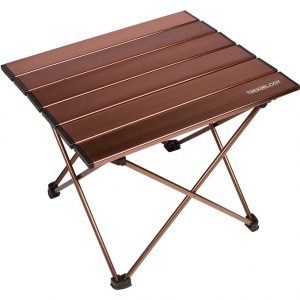 The best beach side table for us is the Trekology portable camping side table, which is sure to help you get your gear off the ground and give you a decent space to drop your stuff, cook a meal, and enjoy your food with friends and family you have with you.
It looks great, works awesome, and is really mobile and practical. It comes in light and compact sizes that will easily fit in your car or even on a motorcycle, making it a great option for an outdoor side table or a beach coffee table. It's even portable and easy to set up too!
Plus, it's also made from high quality aluminum that's waterproof, resistant to weather damage, and is also easy to clean. It even comes in lovely metallic colors, is sturdy and durable while being lightweight, and can be used for a variety of tasks like cutting and cooking food since it's stable and heavy duty.
Amazon best seller
Pop up picnic table with hinges
Available in brown and blue
3 sizes to choose from
Aluminum hard top
Compact, folding design
Outry Lightweight Folding Table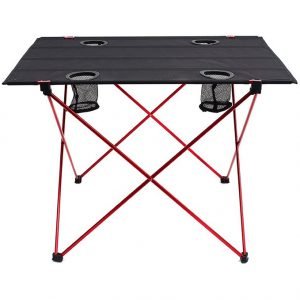 We also especially like the Outry lightweight folding table, which claims to be the perfect choice when it comes to a folding beach table that gives you that comfort, enjoyment, and relaxation during your beach or camping trip. You can even use this for barbecues, picnics, and other outdoor activities and leisure times.
It's made of lightweight materials that allow it to be completely portable, and even makes use of anti-slip rubber feet in order to increase traction and prevent sliding or toppling over, so it's also perfectly stable and reliable.
What's more is that it's designed with four built-in bottle and cup holders so you don't have to worry about accidentally knocking off your drinks. And, everything is easy to set up since both the top and stand are completely foldable and props up in seconds.
Amazon's Choice product
Aluminum and aluminum alloy
Foldable top and stand
Non-slip rubber feet for traction
Built-in cup/ bottle holders
Camco Large Adirondack Outdoor Folding Side Table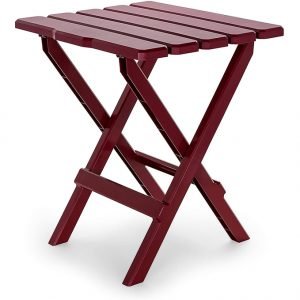 Second runner up is the Camco large adirondack outdoor folding side table, a highly convenient and multifunctional table top beach that's suitable for both outdoor and indoor use. It comes in a classic style that looks great and blends with its surroundings. You can even get it in a color of your choice since there are so many to choose from.
This foldable beach table features a collapsible design that allows for easy and convenient storage since everything folds flat and compact. It also comes in a decent size that can fit a couple of dishes and drinks while still being portable and space saving.
To top it all off, the entire thing is highly durable, waterproof, and resistant to rust, corrosion, fading, cracking, peeling, chipping, splintering, and rotting. That's because it's coated with a UV stabilized resin, which is also what makes it ridiculously easy to clean with just soap and water.
Available in 2 sizes and 7 colors
UV stabilized resin material
Foldable and collapsible
Weatherproof, rust resistant
Easy to set up and maintain
Camp Field Camping Table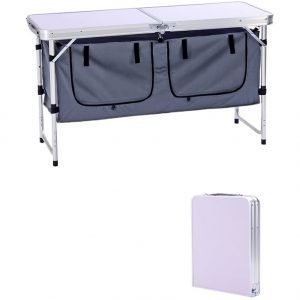 Taking the fourth spot is the Camp Field camping table, which essentially acts as a full sized beach dining table due to its large sized surface when propped up. Although, it's still completely portable and easy to carry since it folds down when not in use.
As such, it's perfect for indoor and outdoor activities such as picnics, beach trips, and hikes. It even features zippered cartons that offer plenty of storage space to protect your food from the elements, especially from bugs and other insects.
It's also built excellently with a wooden table top and metal trimming, not to mention the fully adjustable legs that give you around a ten inch leverage. These legs are even fitted with leveler feet to keep things stable. Plus, everything can be stored in a velcro and canvas storage bag, so you can have a hassle free table in a bag to take with you anywhere.
Available in 2 colors and styles
Easy to assemble
With zippered carton and storage canvas
Adjustable height
Lightweight and sturdy
Trekology Small Folding Camping Table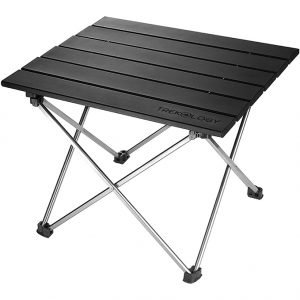 Another excellent outdoor table by Trekology is this small folding camping table that comes in new designs perfect for outdoor trips and activities. With this one, you're getting unparalleled beauty, style, practicality, and mobility in one portable product.
It boasts of a rugged construction with aerospace grade aluminum alloy that comes in enchanting metallic colors. As such, it's heavy duty and can take a beating, and most certainly weather the storm, while still being light enough to bring along with you anywhere. You can even fit in in most cars, RVs, and other vehicles.
The surface is smooth, the legs are stable, and everything folds down and packs neatly into its own carrying bag. Everything also pops up easily with a unique hinge mechanism, so it's totally convenient, requiring zero tools whatsoever.
Amazon's Choice product
Aluminum table top
Reinforced hinge design
Stable rubber feet
Anti-slip leg caps
Trekology Personal Beach Table for Sand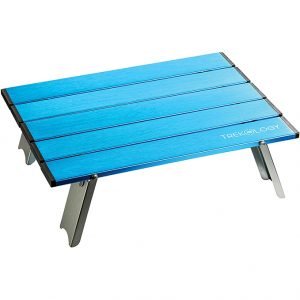 You might also want to check out Trekology's personal beach table for sand, which looks somewhat like a breakfast-in-bed table with its dainty size and short and stubby legs. You can prop it up right on the sand with the help of the somewhat spiked feet, or place it on top of your picnic mat so you can have a fully functional table while still sitting on the beach floor.
It's large enough that you can use it for a couple of snacks and beverages, or for your electronic gadgets and mini speakers so they don't get sanded or drizzled with water. Everything is durable and weather resistant, not to mention easy to clean.
And, it's also perfectly collapsible and easy to store and carry, so if you want a portable mini table to take along with you on your next outdoor trip, this one's a great option. It's even really sturdy and can take on heavy duty tasks like cooking and cutting, so you can be sure it will last you for a long time.
Amazon's Choice product
Aluminum base frame
Lightweight and durable
30 lbs maximum load capacity
Short and spiked legs for sand
Easy set up without tools
Bambusi Portable Picnic Board with Utensils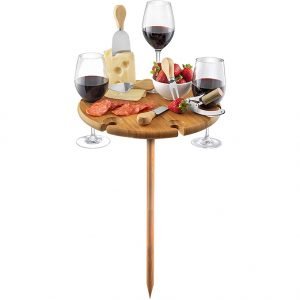 Moving on to other beach table brands, we also have here the Bambusi portable picnic board with utensils, which is a unique option that easily stands out on its own with its looks, appeal, and functionality.
This table is made of natural bamboo, with the tabletop shaped in a circle and with indentations for resting wine glasses. It's also designed with a single spiked leg (think beach umbrella table) to bury into the sand so it's stable and doesn't take up too much space. .
All in all, it looks really awesome and elegant, perfect for hosting a wine and cheese night on the beach. It even comes with a stainless steel cutlery set including cutting knives, a wine opener, and even a cheese board. All of these are conveniently stored in hide-away cut out areas and hanging sections so they don't take up valuable counter space.
Durable bamboo wood construction
Pointed spike bottom leg
Built-in wine glass holders
Easy to assemble and disassemble
Snap and magnetic features
Simple Setup All Purpose Short Table
A more conventional looking small beach table is the Simple Setup all purpose short table, which props up at just the right height of ten inches so you can use it on the beach floor (or just about anywhere, really, including your bed) to hold your food and drinks, electronics, and other gear.
As such, it's highly versatile and can be used both indoors and outdoors. It even looks simple and elegant with a 100% wood craft construction that's highly sturdy and durable, and can withstand pretty heavy loads.
Moreover, this beach table is also easy to set up, since you just need to fold open the table and off you go. After using, you can just as easily fold it down and store it away, or carry it with you to your next destination.
Wooden top and frame
Easy folding design
Well built and easy to use
For indoor and outdoor use
90 day satisfaction guarantee
HangHang Portable Folding Picnic Table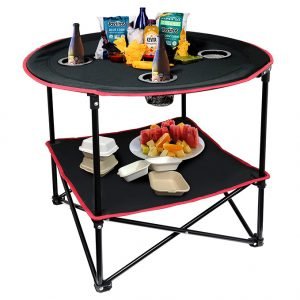 One really adorable and highly functional portable beach table we've found is the HangHang portable folding picnic table, which comes in a two tiered design featuring a nice rounded table top with built-in bottle and cup holders, and a square lower tier for extra storage space.
This way, you have more than plenty of space for all your food, drinks, and other stuff such as cellphones, pocketbooks, speakers, and more. You can even use it for card games. Everything is rugged and durable, as well as waterproof, due to an oxford cloth and stainless steel construction, making it really practical for various outdoor activities.
Furthermore, it's surprisingly lightweight and easy to carry, and it can also quickly fold down and fit into its own storage bag, so it's completely compact and portable as well. You can even fit this on your canoe! And, everything is easy to clean and maintain as well, so you really can't go wrong with this.
Amazon's Choice product
Stainless steel and canvas material
Under table storage area
Built-in cup/bottle holders
Available in black with red highlights
Wakeman Outdoors Camp Table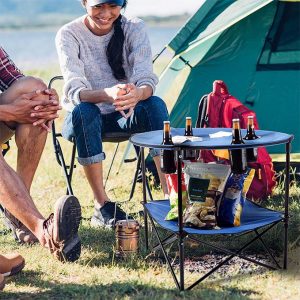 Last but certainly not the least is the Wakeman outdoors camp table, which is actually really similar to the HangHang picnic table since it's also two tiered, has built-in bottle holders, and comes with its own carrying bag.
It's also really stable and durable, is lightweight, easy to carry, and folds down into a compact and portable package when not in use, so it's travel friendly as well, even for backpacking trips. And, it's versatile in so many different ways.
Perhaps one difference is that it's also available in a couple of other styles to choose from. One is a a simple square table top with four drink slots, similar in appearance to the Trekology camping side table, and another one is a more compact and unique looking square table top with two drink slots and four intersecting spider legs.
Available in round and square styles
Built-in cup/ bottle holders
Lower tier for extra storage
Durable and waterproof construction
Carrying bag included
What makes a great beach table?
Owning a beach table can be really beneficial and helpful as it adds comfort and convenience by allowing you to have a safe place for your food and drinks (and other things) without having to worry about getting sand on them. It's also helpful for preparing meals and just enjoying spending time with your friends and family.
But, finding the right beach table can be a difficult task with all the many different variations out there. So, what makes a great beach table? The answer actually depends on a lot of things, such as the type of table, the materials it's made of, how much load it can carry, how easy it is to assemble, its size and weight, and what assortments of features it comes with.
It's made of the right material
One of the first things you need to take into account when buying a beach table is what material you'd prefer it to be made of, as this will affect a lot of other factors, such as weight, portability, ease of cleaning, durability, stability, and even price.
Fabric
You'll find that lots of beach tables are made with fabric table tops. This is great if you want something that's extremely lightweight and portable, or just have some space for playing games, eating light snacks, and whatnot.
But, these are definitely not stable and durable, so they're not a great idea for actual meals with plates and drinks. As such, if you opt for fabric tables, make sure that they at least have built-in cup holders, and are made of high quality polyester canvas.
Aluminum
Another relatively lightweight option is aluminum. It's perfectly sturdy and durable while still being easily portable. As such, you can use them for just about any purpose, such as holding food and drinks, preparing meals, and so on.
There are even aluminum table tops designed with cup holders, and the more common umbrella hole, which is important since aluminum can quite easily heat up when exposed to the sun's blazing heat.
Wood
There are also wood tables, which are your sturdiest and most durable option. They even come in lots of different designs, finishes, colors, and wood materials, so you won't run out of choices. Most wood tables are also foldable and easy to assemble.
The only thing is, wood is generally heavier, even lightweight bamboo, so that might be something you want to take into account. Plus, a wood finish requires more care and maintenance, and needs to be coated to protect it from sun and salt damage.
It's just the right size and height
Ask yourself what you need the beach table for, and how many people will likely be using it often. If it's just for you and your partner, a small table slash stand may be good enough, but if it's for a family or group of friends, you'll need something significantly larger.
In the same sense, if you'll need a table for a couple of stuff like your phones and speaker, a small table would do just fine, but for meals and drinks, as well as for playing games, a much larger space is needed. Just remember that size is generally the opposite of portability.
When it comes to height, again, what kind of table do you need? Are you perfectly fine sitting on the sand? Do you have small stools with you? Or do you want a complete set of beach table and chairs? Perhaps you can find a beach table with height adjustable legs for your convenience.
It's portable
Unless the beach is right outside your residence, you'll need a beach table that is lightweight, compact, and portable, so that it's easy to carry around and bring with you, whether you're walking for half a mile to the beach front, or driving by car down to the beach at the next state.
As such, size is always a factor, but even more so is the building material. You should also consider how it's set up and disassembled. A folding or collapsible table is a great idea, and even better if it has its own carrying bag (or at least a handle). Perhaps you can even manage to find a convenient roll up picnic table.
It's durable
As with any material purchase, a beach table should be durable enough that it can steadily stand and last for a pretty long time. The tabletop should be stable enough that it doesn't pose a huge risk of toppling over once there are items on it. For example, if it's a fabric table top, there should be added straps for an increased tension.
Still, the best ones in terms of stability and durability are aluminum and wood tables, especially those with strong steel frames. Just make sure they have a powder coated finish to help them withstand the elements and last for much longer without looking dilapidated.
It's adjustable
Look for tables with adjustable feet and a leveler if you'd like to have a sturdy table at all times. When the terrain is uneven, the feet can be adjusted independently to find the best position.
Another option is a table with adjustable legs. This is one of the best beach table features when it comes to versatility because it can be low to keep drinks and a book off the sand when you're lying down, or higher to serve as a regular table.
It's easy to assemble
Generally, beach tables are easy to assemble. Most feature folding legs or hinged mechanisms that pop up. There are also some with magnetic slats and insertion points, and some more with spiked legs for mounting on sand. Do try to stay away from those that require screws. While they may be sturdy, it's just way too much of a hassle.
It's waterproof
This one's a no brainer. Since a beach table will be used near a body of water, it's only right that it should be waterproof, especially so if you'll place food and drinks on top of it. Otherwise, it will get dirty, soiled, moldy, and will rot or break apart quickly. If you're getting a wooden table, make sure it's waterproof.
Final tips
Aside from the aforementioned features, it's also nice if your beach table offers you a few more complementary functions and an overall enhanced mobility and practicality. For example, having an open frame design allows you to place chairs anywhere around the table without a hassle.
Or, having extra storage underneath can prove helpful as well, especially if the tabletop surface is on the small side. There are also beach tables with built-in chairs, although they are considerably bigger than a side table- but extremely convenient for eating meals. You'll also find trolley tables that double as a beach cart for your gear, although they can be a bit heavy.
Generally speaking, beach tables are affordable, especially the small and portable ones. After all, they are nowhere near the size, style, and functionality of an indoor coffee or dining table. That said, it's still a good idea to set a budget and try not to overspend on a beach table that you won't be using as much anyway.