Taking your kayak out on the water is almost always a fun and exciting activity, save for one problem: the intense summer heat can instantly turn an enjoyable day into an utter nightmare. Not only are you risking sunburn, the harsh glare from the water is also a massive issue.
Plus, there's the fact that exposing yourself to the heat of the sun is bound to make you sweaty and uncomfortable, and while you can try to solve that by taking a quick dip in the water, that's not always a workable solution.
Moreover, it's not like you can simply restrain yourself to paddling during the winter season where the wind and water are ice cold and downright unpleasant. It can also be annoying to have to put on a full wetsuit, and a two-piece can be just as bad for different reasons.
The answer? Buying the best kayak bimini top or sun shade. It's basically a canopy for kayaks, which is mounted over the cockpit to offer protection from the harsh sun. Using one will greatly improve your summer kayaking experience. There are also hundreds of options available on the market, so finding one that suits your needs is entirely possible. Check them out below:
Our Favorite Kayak Bimini Tops and Sun Shades
Kayak bimini tops are available in various styles, shapes, and sizes to fit different kayaks. To help you narrow down your choices, we compiled a list of the most promising options and reviewed them for you.
This way, you can easily find a great, well-performing kayak bimini top that fits your kayak perfectly, and more importantly, provides adequate shade against the harsh rays of the sun. Ready to take a look at them? Let's start!
Sport-Brella Versa-Brella SPF 50+ Adjustable Umbrella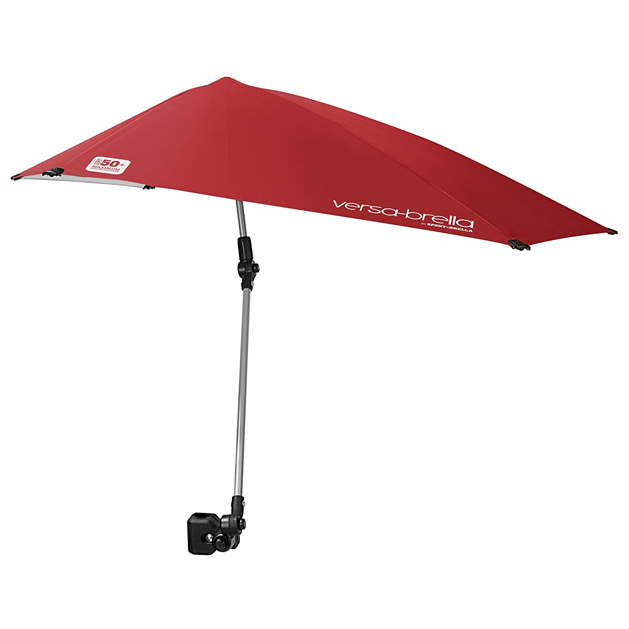 First up is the Sport-Brella Versa-Brella SPF 50+ Adjustable Umbrella, which is a great clamp-on shade canopy umbrella that uniquely offers UPF 50+ protection so your skin stays safe against almost all of the sun's UVA and UVB rays.
This bimini top is made with a rugged canopy cover that's rip and tear resistant. It also features a durable connector in the form of a universal, heavy-duty clamp that's designed to connect to both tubular and square surfaces in order to ensure a secure hold. This means that not only can you use it on a kayak, you can also use the canopy on bleachers, golf bags, strollers, and more.
It's also easily adjustable to any angle with the four way 360-degree swivel, along with the two push button hinges. This allows you to stay covered regardless of which direction you and the sun are facing. All in all, it's a great way to keep yourself protected while paddling!
Lightweight and compact fold-down design
Comprehensive protection with 360 adjustability
Easy to transport and store
Limited 1 year manufacturer's warranty
MSC 3 Bow Bimini Top Boat Cover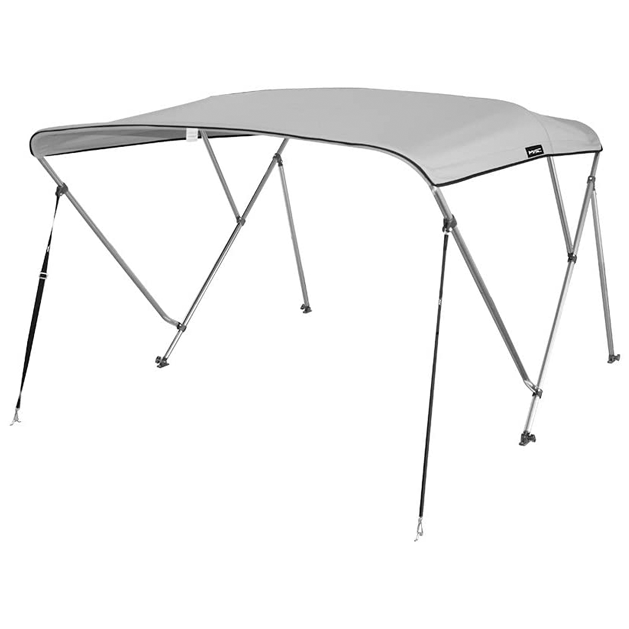 Taking the second spot is the MSC 3 Bow Bimini Top Boat Cover, which promises to protect both you and your both against the sun and rain with the use of a marine grade polyester canvas that's engineered with double PU coating, mounted on a thick, strong, and rust resistant aluminum frame, and coupled with nylon and stainless steel fittings.
This kayak bimini is primarily designed for smaller watercraft, but one limitation is that it's not suitable for inflatable kayaks and canoes. That said, it does come partially assembled, and features a convenient folding design that you can easily deploy when you need and fold back when you don't.
Other amazing features we love about this kayak bimini is that it's resistant to water and rust, which means it's sure to last a long time. It also comes with all the straps and mounting hardware you need, so installing it on your kayak should only take a few minutes.
600D polyester canvas and double PU coating
Rust and water resistant construction
With 1 storage boot and 2 rear support poles
Comes with mounting straps and hardware
Adventure Canopies Kayak Sun Shade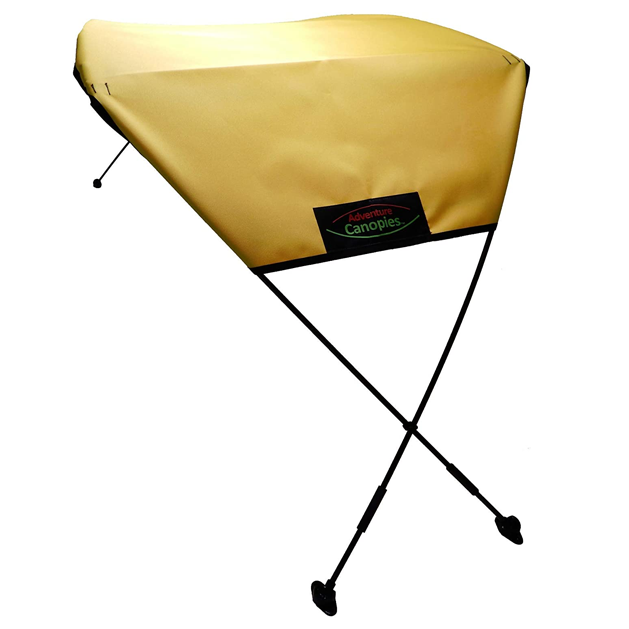 In third place is the Adventure Canopies Kayak Sun Shade, a unique sunshade bimini top that's ideal for single person kayaks at least 10 foot long or bigger. You can get this kayak shade in two sizes- the Barracuda for sit inside and sit on top kayaks with lower seats, or the Tarpon for sit on top kayaks with elevated seats.
Either way, you're getting a reliable sun shade that has a UPF 50+ rating and can effectively block 99% of both UVA and UVB rays. This is all thanks to the 600 Denier polyester fabric that's milder resistant, and the patented frame designed with four quick release connector points that ensure your canopy stays damage-free even in the event of a capsize.
In other words, it's a uniquely designed kayak canopy that keeps the watercraft stable even in rough water and windy conditions. It's equal parts durable and flexible, and it's also really easy to assemble, since the frame simply unfolds in sections, with the shock cord maintaining the alignment of the poles.
Unique, enhanced design for maximum protection and stability
Flexible fiberglass frame to withstand wind and breeze
Adjustable construction, easy to setup and unfold
Comes with drawstring carry bag for easy storage
Hobie Kayak Sun Shade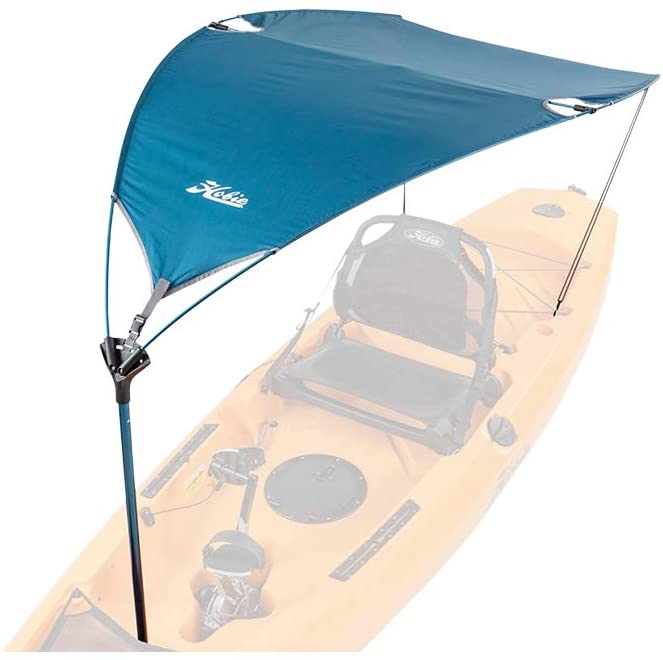 Ranking fourth is the Hobie Kayak Sun Shade, an innovative kayak canopy that can fit just about any single person kayak without any fuss or hassle. It's a beginner-friendly setup that offers great protection from the sun and rain, so you can stay comfortable during your entire paddling trip, no matter how long you plan on staying on the water.
It's all thanks to the ripstop nylon construction that's equal parts lightweight and durable. This material gives the kayak canopy UPF 50+ protection against the powerful rays of the sun. It also features an excellent water resistant coating to protect you against showers and sprays, thereby keeping you safe and dry.
Moreover, the aircraft-grade aluminum poles are designed to seamlessly integrate with the accessory mount base from Hobie, making for an easy, drill-free installation. Not only that, this kayak sun shade also boasts of sliding line adjusters and unique articulation features to better improve adjustability and maximize sun protection.
Unique look and style, comes in various colors
Can be used with or without an existing setup
Efficient against the sun and rain
Comes with a handy carry bag for storage
MOOCY Sun Shade Canopy for Kayaks
If you already have a user-installed attachment component or an existing kayak hardware, one of the best and most affordable kayak canopies you can buy is the MOOCY Sun Shade Canopy for Kayaks. It's a durable sun shade that withstands light wind conditions and is perfectly capable of keeping you cool during the summer.
This kayak bimini sunshade boasts of its durable construction and its universal fit design that makes it suitable for various types and sizes of kayaks. It makes use of a coated sunscreen cloth mounted on a collapsible aluminum rod, making it easy to install, deploy, and use.
More than that, this kayak bimini also offers plenty of coverage square footage. You can use it on a kayak, canoe, or small paddle boat, and it also comes with a handy storage bag. Perhaps the only downside with this canopy is that it's not ideal for windy situations, but other than that, it's a great choice for sun protection while kayaking.
Suitable for most kayaks and paddle boats with existing boat deck hardware
Best used in calm or light wind conditions for maximum shade
Lightweight, durable, and long-lasting construction with 8sq.ft. coverage
Easy to use, deploys quickly
Portable Bimini Top Cover Canopy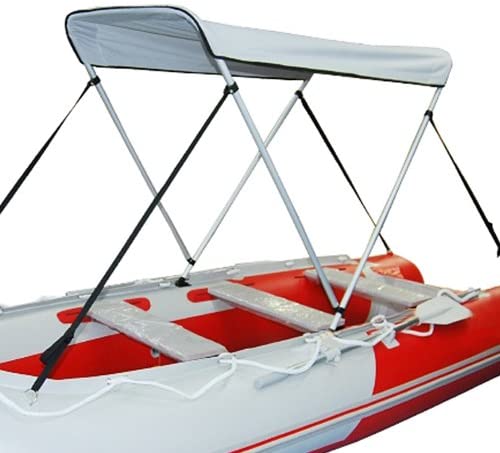 Now, if you are looking for an inflatable kayak sun shade, the Portable Bimini Top Cover Canopy is a great option, as it's designed specifically for inflatable fishing kayaks rather than the standard hardshell kayaks. It's a lightweight and portable option that is easy to use and just as easy to store when not in use.
This portable kayak bimini is made with a marine-grade polyester canvas to offer adequate protection from the elements, especially against the sun rays and the occasional rain. It also features lightweight support poles.
All in all, it's a great choice for a kayak sunshade that offers plenty of protection due to its large size, and once you're done using it, it also packs away neatly into a compact package that is easy and convenient to store.
Good coverage and protection
Lightweight aluminum and marine-grade polyester construction
PU coating for added durability
Ideal for inflatable kayaks
Walmeck- 1 Pair Kayak Canopy Mount Base Hardware Kit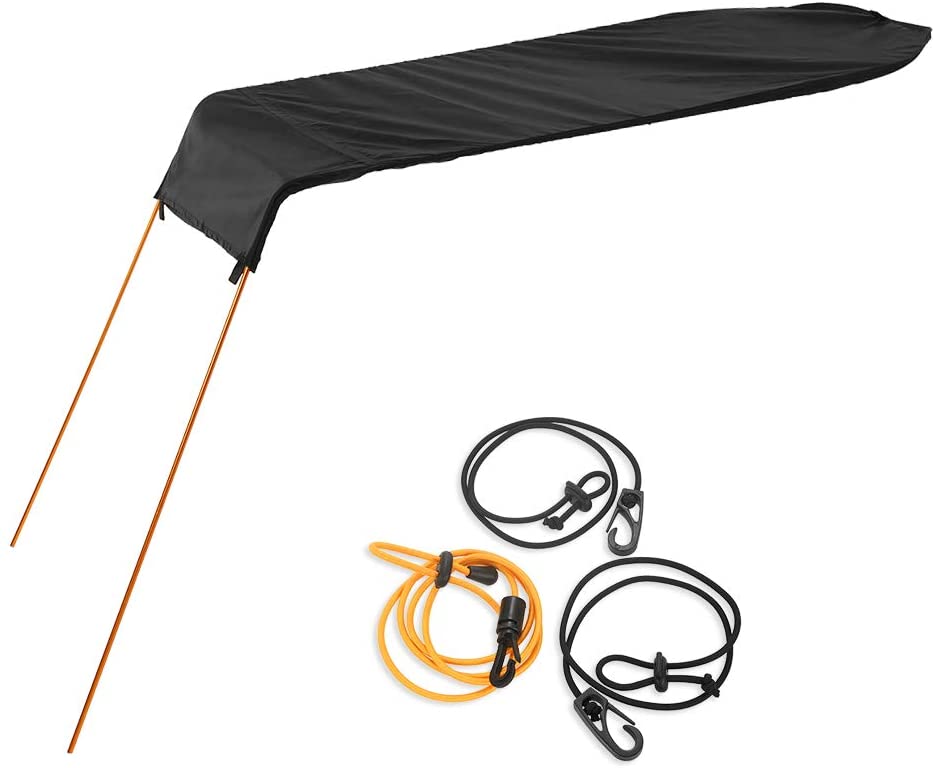 You should also check out the Walmeck- 1 Pair Kayak Canopy Mount Base Hardware Kit, a complete kayak bimini top kit that comes with a sun shade made of oxford cloth that is durable and water resistant.
It's a great choice for single person kayaks so you can protect yourself from sunburn while kayaking. You can use it as a great accessory to mount on your kayak, and it's also suitable for a variety of canoes, boats, and other similar watercraft.
This kayak bimini features a sturdy plastic construction that is durable, lightweight, and resistant to corrosion. Even the stainless steel parts are also resistant to wear and tear. The best part, however, is that it comes with all the mounting hardware you need, and it's easy to install, too. Not to mention, it's lightweight and folds down to a compact size that fits in a carry bag.
Suitable for most single person kayaks
Easy to install and connect to a kayak
Ripstop mesh and oxford cloth construction
Lightweight shock cord aluminum rod for durability
Adventure Canopies Sun Shade for Tandem Kayak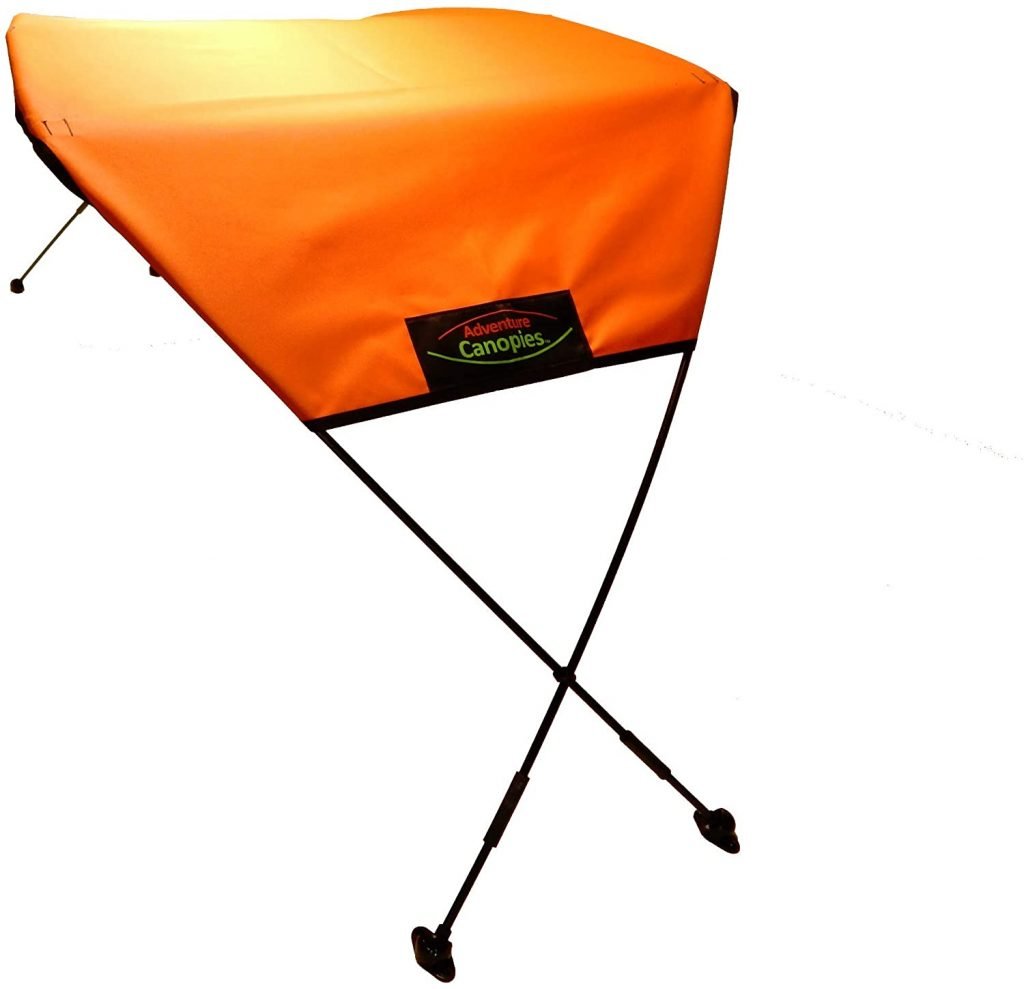 Last but not the least is the Adventure Canopies Sun Shade for Tandem Kayak, which is likely the biggest kayak sun shade on this list, since it's designed for two person kayaks. It feature a simple frame design that most outdoor enthusiasts are familiar with, especially with the way it integrates a basic tent pole concept with typical kayak biminis.
This only means that you get to enjoy plenty of shade with a kayak bimini that is easy to setup for beginner and experienced kayakers alike. You can also adjust it depending on whether you are with a fellow kayaker or are paddling by yourself.
Among its most noteworthy features include the dual configuration for customized shading, the rigid, durable frame, the four point connections for unmatched stability, the overhead cover adjustability, the adaptability for various watercrafts, and the portability with its collapsible construction.
Unique cooling effect and adjustable protection for tandem kayaks
2-part forward and rear canopy material construction
Suitable for both sit-in and sit-on kayaks and other watercrafts
Collapsible, fold down design, comes with a carry bag
Want to accessorize your kayak with other must-have hardware? Check out the CH Smith website to start.
What is a Kayak Bimini Top?
A kayak bimini top is essentially a section of canvas attached to a set of poles. It's a simple contraption that is designed to offer shade and protection from the sun and it's harsh UV rays, as well as shelter from the occasional rain while paddling.
The canvas of a kayak canopy is typically made of either polyester or plastic. Both materials are waterproof, although an acrylic canvas is more durable, while a polyester canvas will remain waterproof for longer.
That said, acrylic canvases are better protected against fungi and mildew, and they also allow for more ventilation, whereas polyesters get a lot of condensation and therefore require more frequent cleaning.
Benefits of a Kayak Bimini Top
A generous amount of sunscreen and a breathable cover-up are two of the many summer staples or essentials. But, once you're out on the open waters,getting a sunburn is more likely to happen since you are more exposed to harsh UV rays bouncing off the water.
And, if you do get exposed to UV radiation, sunburn may be the least of your problems. For one thing, if you leave your burnt spots untreated, you can even develop a variety of skin conditions, and even cancer. UV light can also damage the cornea and lens of the eyes, which can impair your vision.
There's also only so much you can do to protect yourself. Covering up with layers of clothing, wearing a hat and good quality sunglasses may protect you, but they also make kayaking less than ideal, and often uncomfortable.
This is where kayak bimini tops and sun shades come in. They protect paddlers like you from the harsh effects of the sun so you don't have to take drastic measures or hide from the sunlight just to enjoy the water.
How To Find The Best Kayak Bimini Top
Asking yourself "how can I find the right bimini top for my kayak?" there are quite a few things you need to take into consideration before settling on a product. These include the size of and carrying capacity of the kayak you will use on the water, how you want to use the bimini top, its material and construction quality, and so on.
Kayak Size
Kayaks are not made equal, and the same goes for kayak biminis. Each one is unique and comes with their respective specifications, for one thing. This is why it's important to find the right size of kayak bimini, to ensure that it will fit your kayak perfectly.
This means knowing the size, measurements, shape, and design of your kayak. Only then will you be able to find a perfectly fitting kayak canopy. Keep in mind that most kayak bimini tops are made for medium to large size kayaks, so if you have a small kayak, you will likely need a specially adapted canopy to fit your watercraft.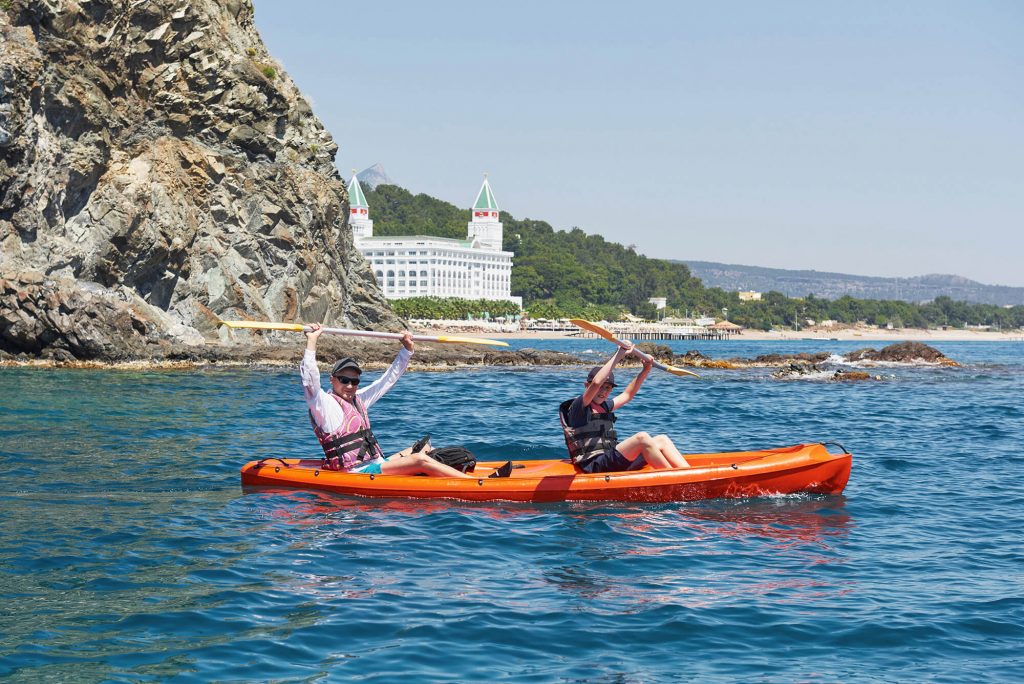 Function
It's always important to ask yourself what you want to use a kayak bimini for. While it may be obvious that a bimini serves as shade and protection from the sun, not all kayaking locations experience the same weather conditions. In some areas, it might be sunnier, in some overcast, in others windy, and in some others a good bit of drizzle.
If you want to make sure that your kayak bimini top protects you from these conditions, accounting for the local climate helps you better prepare and decide on a suitable bimini. For instance, if the air is always humid, you might not want a polyester canvas that is prone to mildew. Or if the winds are strong, you might want a more durable pole material.
Materials and Aesthetics
Speaking of materials, the right kinds of sun shade materials help protect you better from the weather, and also help ensure that the sun shade lasts in good working condition for longer. Some features you need to look for include waterproofing, rust resistance, sturdiness and durability, flexibility, and so on.
That said, there is no "best" material. It all depends on your personal preferences and circumstances. Some materials are more affordable, but degrade faster, while some are pricier but will weather better.
Final Thoughts
Ultimately, the best kayak bimini top or sunshade is one that protects you from the elements, so you don't have to worry about sunburn and focus on enjoying your time on the water. Just remember to choose a bimini based on the factors we listed above so you can find a great bimini that will perfectly suit your needs.