Best Overall
Perception Crank 10
Easy and efficient
Single handed control
2 solo mount recesses
The subject of pedal drive vs motorized kayaks have always been a huge debate in the world of kayaking, not only in terms of which one is a better kayak, but more specifically, which one is better for fishing.
In this article, we'll try to settle this issue for good by highlighting the differences between motor powered kayaks and pedal drive kayaks. We'll also help you find the best fishing kayak with motor and the best pedal drive kayak. Not only that, there's also a list of reasons why you should buy either of these kayak types, and how you can go about in finding the perfect model.
Motorized vs Pedal Drive Kayaks
Pedal drive and motorized kayaks are both modern kayak designs that have plenty of unique features differentiating them from conventional paddle kayaks. These innovative features, such as increased speed, reduced kayaker strain and fatigue, and hands-free propulsion, are designed to make kayak fishing easier.
Speed
When it comes to speed, both kayak types are faster than a paddle kayak, although a fishing kayak with trolling motor can reach much higher speeds and cover longer distances since the electric motor is the one doing all the work.
Effort
This is the same reason why electric fishing kayaks are better in terms of rider exertion, since you don't have to use your legs to pedal the kayak. In any case, there are ways you can ease tension and reduce fatigue when using a pedal drive kayak, like using comfortable and adjustable padded seats.
Stealth
In terms of noise, pedal kayaks have the advantage, since the mechanical motion of the pedals and rudder are quieter than the shrill noise of a trolling motor. This means not only can you enjoy a more pleasant and relaxing time on the water, you also have the advantage of catching more fish since they won't scare and flee from the buzz and hum of the motor.
Kayaking Location
Both pedal and motor powered kayaks are intended for deep waters, since the pedal system and the kayak trolling motor can easily get tangled in weeds and other objects by the river or sea floor. That said, kayak manufacturers have incorporated solutions to get around shallow waters, tough situations, and emergencies, including single or double blade paddle boards.
Top 8 Pedal Drive and Motorized Fishing Kayaks
If you're interested in buying a pedal drive kayak or a fishing kayak with trolling motor, check out our reviews of the eight most promising options available on the market today:
Perception Crank 10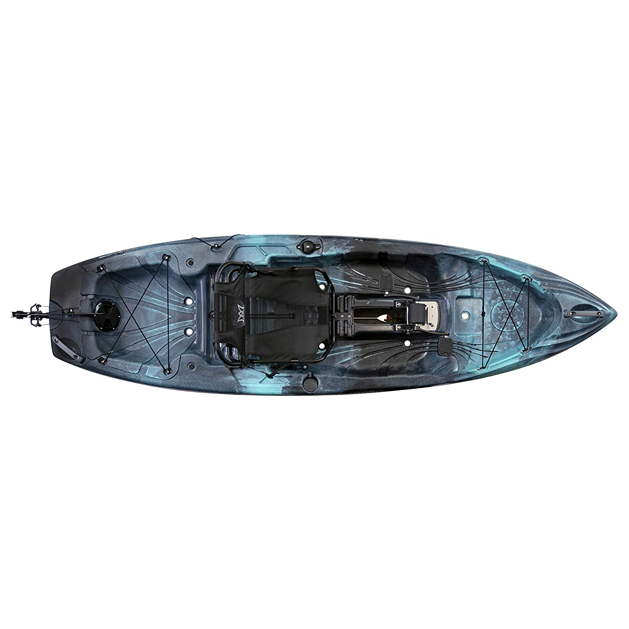 Our top pick for the best pedal drive kayak is the Perception Crank 10, which comes from a whole new generation of fun, fast, and easy to use kayaks that are perfect for calm waters such as ponds, lakes, and coastal areas. This kayak boasts of fresh aesthetics, functional design, and comfortable ergonomics to make for easy yet powerful pedaling.
The pedal drive system alone is commendable, as it makes for effortless pedaling both forward and back without having to nitpick the system. This way, you can reach longer distances easily and conveniently. The kayak also features a crank that makes handling the waters easily manageable, stable, and fun.
Not only that, the Pescador Crank 10 comes with a sizable rear tankwell that can easily fit a cooler, tackle box, or kayak crate. It also features lots of available spots for customization and installing aftermarket accessories.
Easy and efficient pedal drive
Adjustable and removable folding Captain's chair
Single handed control of the rudder
Hull mounted transducer scupper for depth and fish finders
2 solo mount recesses molded-in for accessories
Bow and stern storage spots with bungee lashing
Old Town Sportsman AutoPilot 136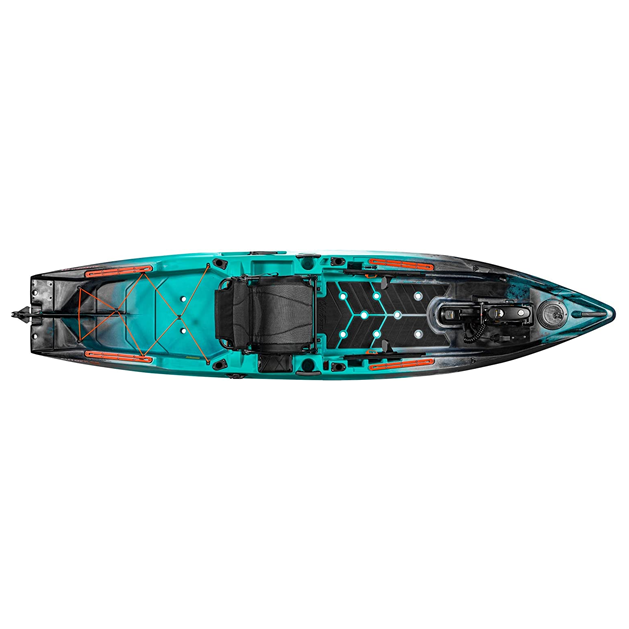 When it comes to the best motorized kayak, nothing beats the Old Town Sportsman AutoPilot 136, which allows kayakers to maneuver and propel the watercraft with the use of the i-Pilot remote that's bluetooth connected, and of course, the 12-volt Minn Kota motor that features Spot-Lock technology.
This Old Town kayak with trolling motor is GPS-enabled and saltwater-ready with its superior hull design that can easily handle the tolls of large waves. It also boasts of a large, open, and spacious cockpit, as well as a huge tankwell for an easy-to-organize platform that offers so much room for fishing.
It even comes with four each of flush-mounted rod holders and accessory tracks, along with various other features that let you keep all your fishing gear within reach and keep you comfortable while you're out on the water. Simply put, the AutoPilot 136 is a high-tech, fancy, and ultra-comfy fishing machine.
Minn Kota motor (12V, 45lb thrust)
Flush-mount rod holders (2 facing forward, 2 facing back)
Breathable and comfortable seat with low-high positioning
Impressive 660lb maximum weight capacity
Vibe Kayaks Sea Ghost 110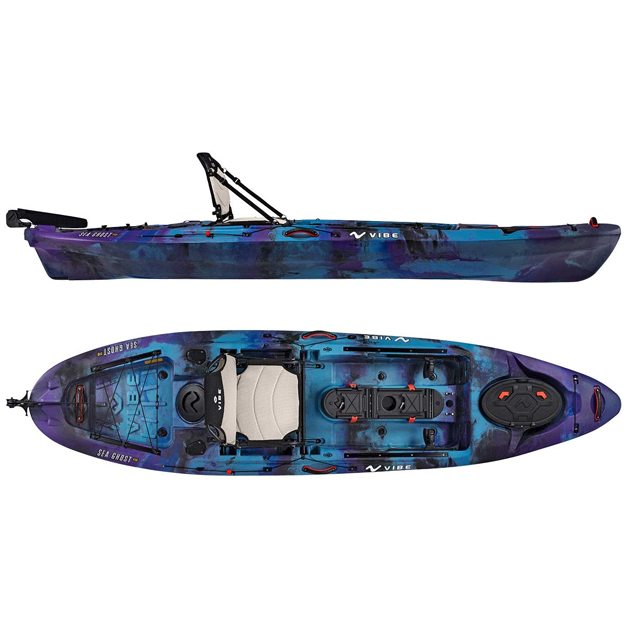 Taking the third spot is another amazing kayak, the Vibe Kayaks Sea Ghost 110. It offers the perfect balance of engineered stability and speed, making it ideal for anglers who want to reach their destination with the least possible effort so they can enjoy the journey getting there. This blend of features makes the kayak perfect for long paddles, strong currents, and windy days.
You can sit or stand on the slip-resistant deck and rest easy knowing that your kayak has your back. It also features a sleek hull design to guarantee nimble and fast tracking. And, the integrated rudder system and the storage and rigging options, along with the top-notch assortment of premium features, make this kayak way more advanced than any angling kayak.
Moreover, if you want a work deck that is highly customizable, the Sea Ghost 110 is the best in the category. It also boasts of a spacious gear space and 425 pounds of total haul capacity, allowing you to bring just about any gear and cargo you can think of, including your fishing life vest and PFD.
Toe-controlled rudder system
Dual-hinged watertight console
Rod holders, accessories and fish finder mount
Premium seat, cargo bags, and magnetic tackle tray
Plenty of storage with 6 gear tacks tracks
425lb maximum weight capacity
Fissot 1-Person Folding Fishing Kayak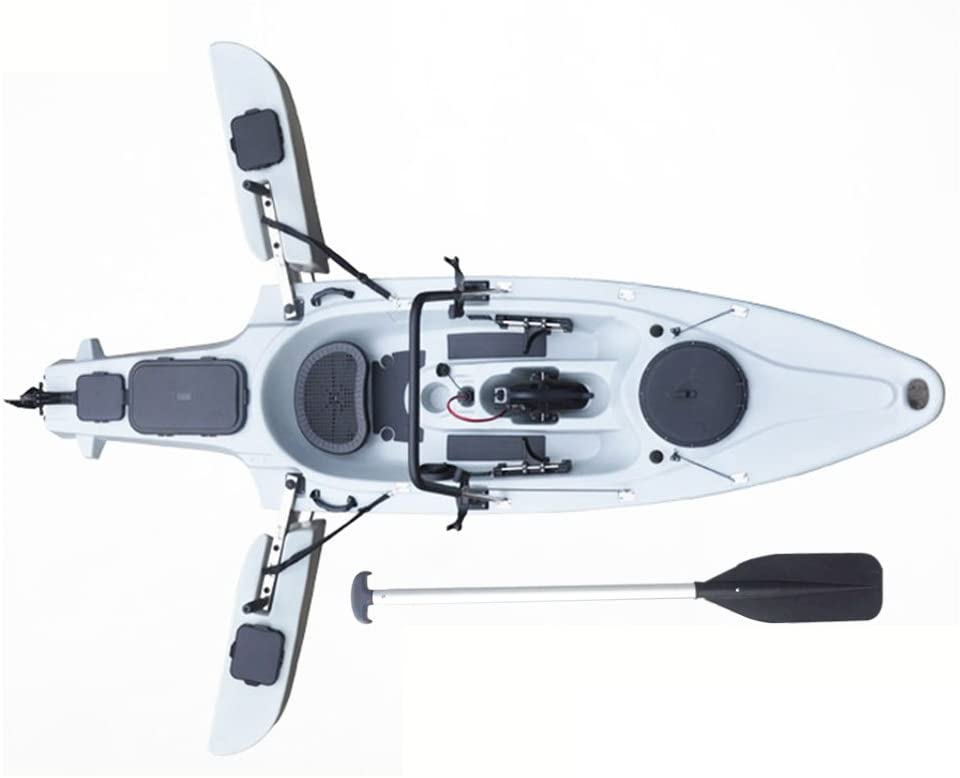 A unique option is the Fissot 1-Person Folding Fishing Kayak, a solo kayak that has an outstanding 552 pound carrying capacity, making it an ideal kayak for bigger guys. It also has a large, sealed front hatch that lets you bring anything from a change of clothes to your valuables like wallets and phones, and keep them from getting wet or damaged.
Aside from that, the kayak also features an attached rod holder in one side of the fishing kayak, which is really all you need for solo kayaking and kayak fishing. Sure, there's a lack of storage pockets and consoles, but you can view that as a good thing if you want a simpler, no-frills, back-to-basics kayaking experience.
What we really like about this kayak, however, is that it comes with lots of amazing features designed to keep you as stable and steady on the water. These include the side-mounted retractable stabilizers that enhance the kayak's buoyancy and keep it from capsizing, and the balancing bar that you can hold on to or lean on while standing on the deck.
Stand-up support and retractable stabilizers
Sealed storage area to keep items dry
Fixed position built-in stool
Single molded-in rod holder
Old Town Predator PDL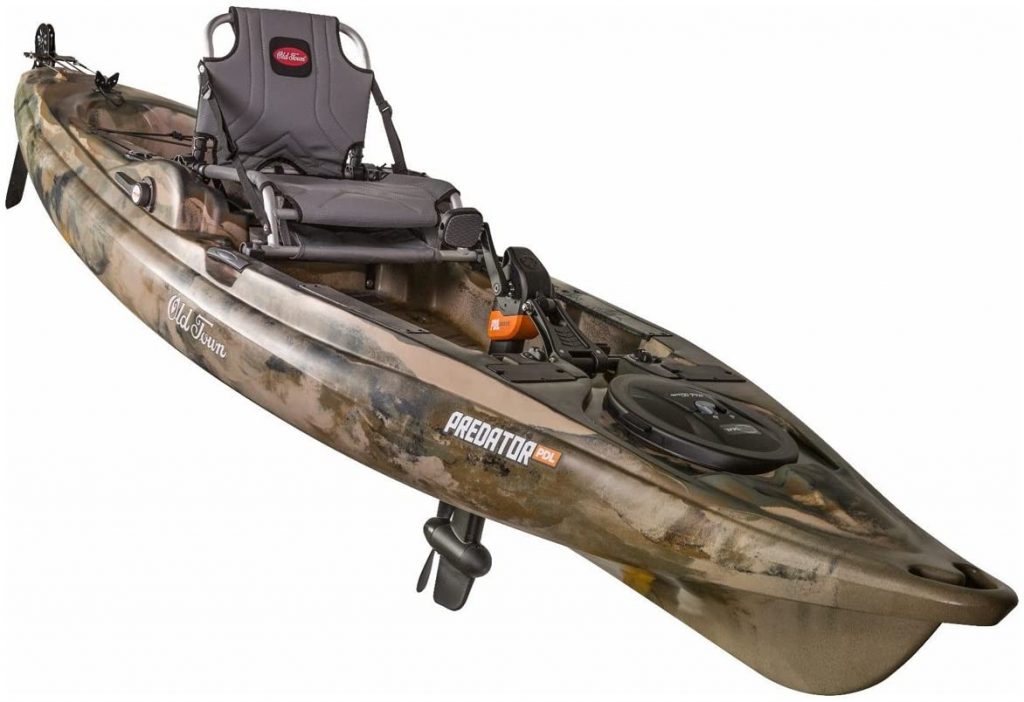 Ranking fifth is a great pedal fishing kayak from a reputable brand, the Old Town Predator PDL. With a 500 pound storage capacity, two hatches (under the seat and in the bow) equipped with sealed covers, one exo-ridge tankwell for gearboxes or coolers, and various accessory mounts located in the hull, you can be certain that this kayak is more than ready for fishing.
Among other beneficial features are the seating system that's adjustable to allow for custom comfort for any kayaker, and the pedal drive system that's removable to let you safely navigate shallow waters and dock the watercraft easily.
Furthermore, this kayak also features scupper holes and an integrated transducer scupper that drains any water inside the kayak as quickly as they enter in order to avoid sinking or slipping. The kayak even comes in various attractive designs to match your personality and style.
Adjustable seats for custom comfort of any user
Adjustable and removable pedal drive system
500lb maximum weight capacity
Comes in various designs and colors
Hobie Mirage Pro Angler 14 Olive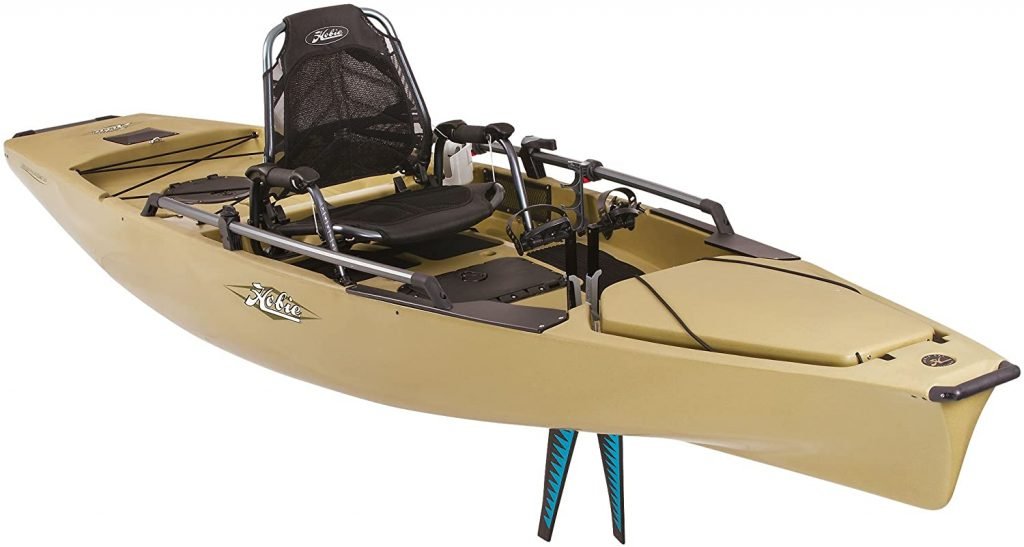 You might not know this, but the first ever pedal drive kayaks were introduced by Hobie way back in the late 1990s. And until today, the brand's Mirage Drive kayaks remain to be the most popular and reliable option for recreational kayak fishing.
Take the Hobie Mirage Pro Angler 14, for example. It comes with all the right features that one would need to safely, comfortably, and efficiently fish in their favorite spots. These include a large storage space, lots of accessories for fishing, horizontal and vertical fishing rod storage, a cutting board for your catch, accessible tacklers, and more.
It also comes with an adjustable padded vantage seat that's built into the kayak. Not to mention, with a 600 pound weight capacity, you can carry plenty of stuff on board, including an ice box, without having to worry about overloading or capsizing.
Plenty of storage for fishing accessories and gear
Can be installed with a sail kit for better control
600lb maximum weight capacity
Bonafide SS127 Ultimate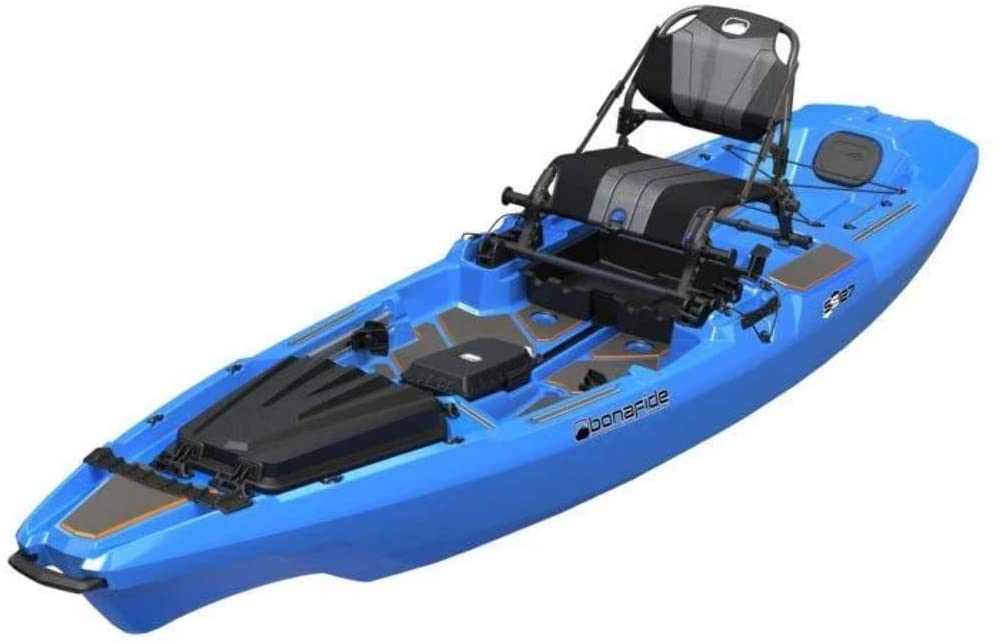 You might also want to check out the Bonafide SS127 Ultimate, a great kayak that's comfortable and incredibly durable. It's designed to withstand a lot of abuse- you can pedal at high speeds and ram into shore, drag the kayak over long distances on rock or concrete surfaces, stand on either the bow or stern while the kayak is on water, and it will come out unscathed.
In other words, it's incredibly safe and virtually indestructible, so you don't have to worry about damage and breakage. It's also quite a monster in terms of size. In fact, even the storage area is so large that it can fit another person. This ample size may or may not be an advantage, depending on how you look at it.
On one hand, it does allow you to haul just about anything aboard, but on the other hand, you'll likely need help lifting and carrying the kayak. This means that roof racks aren't a suitable transport option. Tracking is also somewhat affected since the large kayak size catches stray currents and wind easily.
Premium fishability and comfort features
Can be installed with a pedal drive or kayak motor
HiRise seat in ultra-high position
Junk drawer under the seat, doubleheader hinges
Traction pads, gear tracs, DryPod with transducer
Excellent stability, efficiency, turning power, and glide
ClearYup Electric Kayak with Remote Control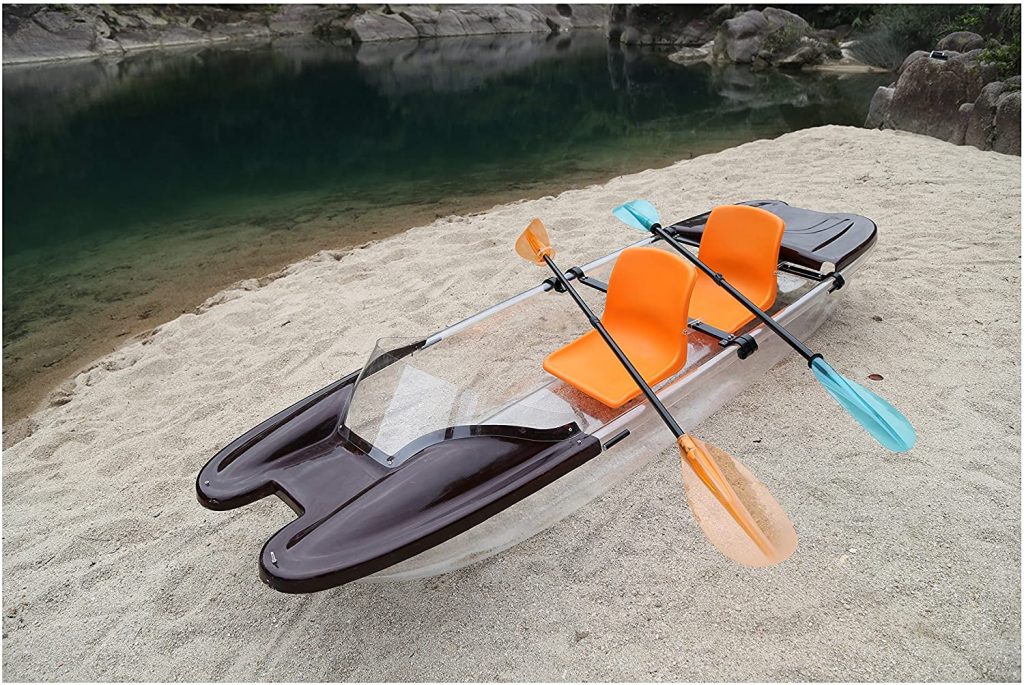 Last but not the least is the ClearYup Electric Kayak with Remote Control, a 2 person fishing kayak with trolling motor that features a unique see-through hull made of transparent, UV-protected, low-maintenance polycarbonate with anti-yellowing properties. It may look flimsy, but trust us, it won't shatter due to impact, cold weather, or extreme heat.
It's a noteworthy feature that lets kayakers enjoy the view under the water, which should be a huge hit for kids on-board, and a definite plus for kayak fishers as they will be able to see exactly where the fish are.
Of course, the kayak electric motor is also a big advantage as it allows you to explore more areas. The motor lasts long, is powered by a rechargeable battery, and controlled by a handy remote control that also displays information as to the status of the battery and motor. And, in the event that your motor dies on water, you can us the included paddles to get back to shore.
Shatter, corrosion, and yellow-resistant fiberglass hull
Rechargeable motor battery with 2-4 hours of juice
2 double bladed paddles
440lb maximum weight capacity
Looking for the best sit-in fishing kayaks? Check out this article.
Why You Should Buy a Motorized or Pedal Drive Fishing Kayak
If you're not yet convinced whether electric fishing kayaks and pedal drive kayaks are a good investment, here's a list of the many reasons why these kayaks are worth your time and money:
Stability
Pedal driven kayaks and motor powered kayaks are designed to be incredibly stable. On a motor kayak, the electric motor for kayak fishing helps balance the weight on-board, and on a pedal kayak, the propeller unit is the one that does the balancing act. Typically, both these kayaks are also designed with wider beams to allow anglers to sight-cast while standing. This feature also makes pedal and motor kayaks great for big guys.
Energy Saving
When using a pedal kayak, you're working your legs rather than your arms, and since the legs are stronger muscles, you won't feel as tired or fatigued even when covering longer distances, thereby allowing you to save your energy for other activities. This is all the more true for motor powered kayaks, where the trolling motor is the one doing all the work.
Speed
Pedaling instead of paddling also allows you to reach higher speeds on a kayak. And, not only are you using stronger muscles, the kayak also helps by doing the bulk of the job for you. Then again, no matter how hard you work your muscles, a kayak trolling motor will typically outrun a pedal kayak, so if you're looking for speed, a fishing kayak with trolling motor is the way to go.
Tracking
The side-to-side movement that paddling creates not only makes you lose speed, it also rocks the boat. Whereas, pedal kayaks use a propeller that's centered underneath the kayak and is guided with a rudder that you can operate with your hand. This allows the kayak to stay on-course. Motorized kayaks follow the same principle, allowing them to track better.
What to look for in a…
Motorized Fishing Kayak
There are two distinct parts that differentiate motorized kayaks from other types of kayak: the tiller system and the electric motor.
Trolling Motor
Also called a kayak trolling motor, a kayak motor generally moves slowly and imitates the paddler's average speed on water, although it can also go much faster and cover longer distances in a shorter amount of time.
Nowadays, trolling motors are, for the most part, silent and stealthy. There's little noise, smoke emissions, and gas leaks, so they won't scare off the fish or damage the water and surrounding flora and fauna. Kayak electric motors come in two main types: mounted and built-in.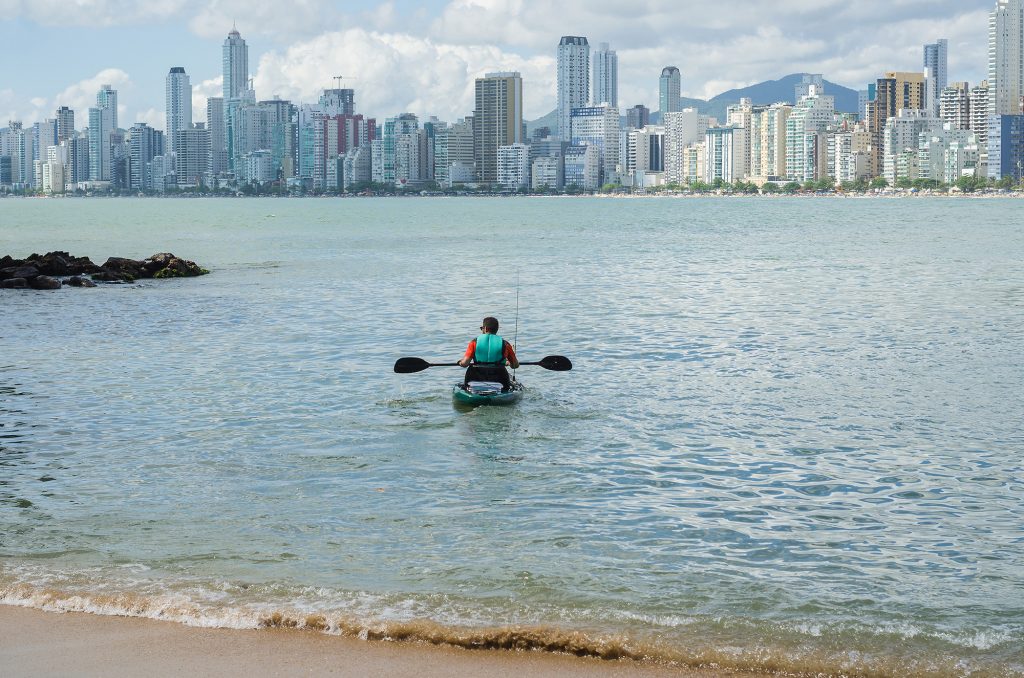 Mounted Motor
Many kayakers prefer mounted motors, which can be manually added to and removed from a kayak, since the removable feature reduces the risk of the motor getting damaged by objects under the water, which is a serious problem in shallow waters.
Built-in motor
Built-in or integrated motors, on the other hand, are permanently fixed on the bottom of a kayak. This is an advantage in the sense that you don't have to mount and unmount the motor everytime you head out, but a drawback in that you have to steer clear of shallow waters.
Tiller System
The best motorized kayak should have an easily accessible tiller system to help you navigate the waters. Keep in mind that moving through waters closer to shore increases the likelihood of getting the rudders tangled in seaweed, plastic, wood drift, and other things floating about.
Once this happens, it's hard to untangle your rudders while the kayak is on water, so it's best to prevent it from happening in the first place. Keeping a paddle within reach lets you get through sticky situations and avoid damage.
Pedal Drive Kayak
What makes pedal drive kayaks great is that they allow for hands-free navigation. Since your legs are doing all the work, you can use your hands for other tasks, like setting up your gear, casting lines, and catching fish.
Ever since pedal drive kayaks were first introduced on the market by the Hobie company, there have been lots of innovations and variations to the design, both from Hobie with their Mirage Drive kayaks, and from other brands, such as Native Watercraft. Now, two distinct types of pedal kayaks are available on the market: pedals with fins, and rotational pedals with propellers.
Rotational Pedal Drive
In this form of pedal drive, the pedals' movement powers the driveshaft, which in turn powers and spins the propeller located underneath the kayak. Pedaling forward will move the kayak forward, and pedaling in reverse will push it backward. The problem with using propellers is that they are a risk for tangling on weeds in shallow waters.
Pedal Drive with Fins
To address this situation, some pedal driven fishing kayaks make use of fins instead, which act similarly to propellers, but offer the advantage of allowing anglers to safely pass through shallow, weed infested waters. Plus, to some extent, fin pedal drives are stealthier and less likely to scare away the fish.
Pro-tip: focus on…
Purpose: does the kayak do the job it's supposed to do?
Performance: does the kayak do its job well?
Features: do you want a simple, glammed up, or geared up kayak?
Fit: is it the right size, width, length, and weight capacity for your needs?
Price: is it affordable? If not, do the performance and features justify the cost?
Brand: does it come from a reputable manufacturer?
Warranty: are you getting good coverage to protect your investment?
Reviews: are other customers satisfied with the kayak's performance?
Final Thoughts
At the end of the day, whether you want the best fishing kayak with motor or the best pedal drive kayak, you have to make your decision based on your specific needs and requirements. This way, you can find the perfect watercraft that meets your needs and demands.