This post contains affiliate links. For more information, visit my disclosure page.
One of the most fun and exciting activities you can do in the summer months, aside from soaking up the sun and dipping your toes in the pool, is none other than to surf in the sea and feel the waves of the ocean. Nothing quite beats that feeling.
And, what better way to do that than with a special watch that's made for surfing? Not only to tell the time for you so you don't accidentally spend the entire day in the water, but also to let you know about lots of important information that you'll need as you surf.
Yes, a surf watch can do just that. They don't only tell the time, but also inform you of tide patterns, wave counters, moon phases, and sunset times. These realistic surf watches look like any other watch, but can do so much more.
Best surf and tide watches
After careful review of the hundreds of different surf and tide watches out on the market, we managed to come up with this list of the 8 best surf watches that are sure to give you the most enjoyable time (pun intended) in the water.
These watches are all equipped with the amazing and must have features you'll come to expect on a surf and tide watch, and are all also designed as beautifully elegant as possible.
Casio men's G-Shock classic watch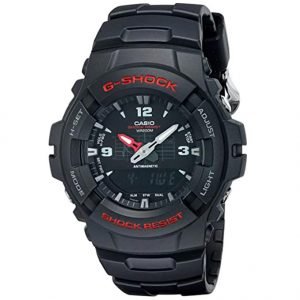 Our first pick is the Casio men's G-shock watch, which is an Amazon's Choice product when it comes to surf watches. It's a classic analog-digital watch that is durable, sports ready, and comes with a lot of exciting features.
This watch is equipped with shock, vibration, and impact resistance, an impressive 20-bar water resistance for showering, swimming, surfing, and scuba diving, an EL backlight for timekeeping in low light environments, a dual time display, and a chronograph.
Plus, it features a stopwatch that operates at 1/100th of a second, a pre-programmed automatic calendar, and a 15 second timekeeping accuracy. The material is made of high quality resin, while the crystal is a protective mineral dial, guaranteeing that the watch lasts you a long time.
Classic sports watch design in a streamlined black with red highlights
Water resistant diving watch for up to 200 meters
Powered with a long lasting battery that lasts for up to 3 years
Comes with a limited one year warranty
Apple GPS watch series 5- space gray aluminum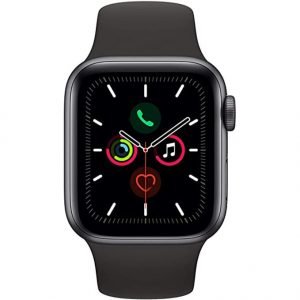 For all the lovers and fans of Apple products, our second best pick is this digital swimproof sports watch that comes from Apple's watch series 5. It's a sleek and stylish space gray aluminum watch with a matte black sport band that goes well with everything.
It's main feature is an always-on retina display that allows you to easily know the time and more, whenever, wherever. You can even choose from hundreds of watch faces, and personalize them, so your watch can tell the time just the way you like it.
And, as a true sports watch, this one is equipped with a lot of amazing features, such as an ECG app for your heart rate, a noise alert so you can protect your ears, a tracker for your menstrual cycle, workout metrics and activity rings for your fitness goals, and so much more.
Minimalist and sleek watch design in black, and two other color options
Water resistant all-around sports watch for up to 50 meters
Rechargeable digital screen with a battery life of up to 18 hours
Multipurpose usage and special features for a women's watch
Freestyle USA shark clip watch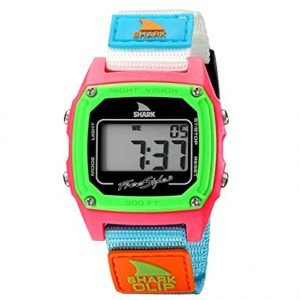 Ranking third is a cute, colorful, and vibrant tide watch that is simply perfect for the summer. It's a great option for those looking for time and tide watches that don't break the bank, since this one's just a little over 50 dollars, and is sure to give you a great value for your money.
This brightly colored watch is excellently designed with hydro pushers, a screw down bezel, a 33 millimeter plastic case that is shock resistant and paired with a mineral crystal dial window, and a strong nylon band with a knuckle closure.
What's more is that it has a lot of additional functions and features, including a chronograph, a heat timer, a night vision backlight, alarms, various settings for local time and date as well as for 24 world cities, and most importantly, swim-ready water resistance.
Multicolored tide watch with a pink and green frame and a white and blue band
Water resistant swimming watch for up to 100 meters
Easy to wear snug-fitting clip with a velcro leash and buckle
Highly durable and long lasting retro style digital tide watch
Rip curl men's rifles digital tide surf watch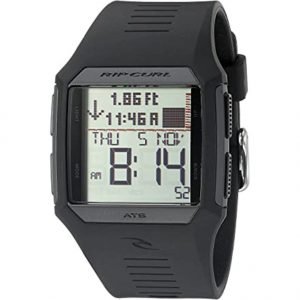 Next up is a sleek yet simple digital tide surf watch that's especially designed for men. The Rip Curl tide surf watch is a casual sports watch that's simply perfect for various sports and activities like swimming, hiking, climbing, snowboarding, skiing, surfing and more.
It's a multifunctional digital surf watch with quartz movement that meets your surfing needs, yet it's sleek and lightweight, so you won't even notice you're wearing it while splashing in the waves or engaging in other types of sports.
What makes it really standout is that it can keep track of tides with its display containing 500 pre-programmed tide locations. Of course, it also comes with a digital display with time and date, as well as stopwatch and tide tracking.
Elegant tide surf watch in black and seven other color options
Water resistant digital sports watch for up to 330 feet
Designed with big numbers display and ample backlight
Built with a locking keeper and stainless steel watch buckle
Nixon unisex unit surf watch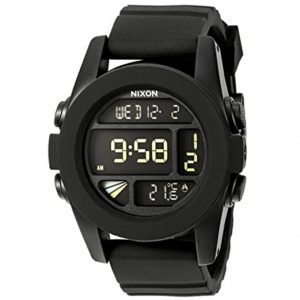 Another great choice for a surf watch is the Nixon Unisex Surf Wach. This one's a heavy hitter, packed with features that make it perfect for the street, and of course, for various land and water sports, all in a tiny 44 millimeter stainless steel case.
This custom-built watch offers digital movement with positive and negative display, and is water resistant up to 100 meters. This is a watch that is built for preparedness and has all the essentials and more, including a thermometer and countdown timer.
All in all, this is a great option for a versatile street and sports watch that works well for men and women, and is sure to deliver everyone's needs and expectations, both in and out of the water.
Sporty black surf watch with a silicone band and locking loopers & buckle
Water resistant digital watch for up to 100 meters
Made of high quality materials including steel, plastic, and mineral crystal
Designed to function through digital movement
Rip curl black water resistant watch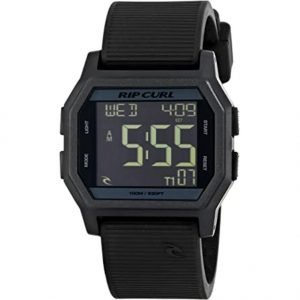 Another designer mermaid tail and monofin set by Sun Tail is their dragon tail, which is a thick and luscious carpet of green and purple scales giving you a unique under-the-sea dragon appearance, and comes with a matching green monofin.
This is a great option for mermaid tails that you can swim in, since the fabric is a premium 4-way stretch polyester and spandex. It even comes with a 1 year warranty and free replacement guarantee as a testament to the product's quality!
And, the patented monofin you're getting gives you an assurance of comfort, maximized control for underwater swimming, and improved overall functionality. It's made of superior quality materials, so you know it's durable and will last you for a long time.
Fade and wear resistant swimsuit fabric in 17 design options
1 year warranty with free replacement in case of tears, rips, and breaks
Machine washable with cool water (not suitable with bleach)
Can be purchased with matching swimsuits
Nixon base tide pro surf ready smart watch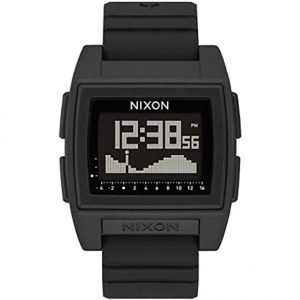 This sleek yet smart stuff is perhaps the toughest in this list. Aside from basic functions such as time telling, this one comes with unique features, such as pre-programmed information on tide waves from 550 beaches worldwide.
The Nixon base tide pro is a futuristic smartwatch with a lot of modern capabilities, which means you can find the date, time, and other essential information quickly. Plus, it also boasts of excellent water-resistant capabilities, perfect for an active lifestyle.
Though smaller than the Nixon Unisex Surf Watch, the Base Tide Pro doesn't compromise on the essentials and the add ons. At only 42 millimeters, it is a versatile, multi-purpose, and durable smartwatch that you are sure to love.
Heavy duty tide watch in basic black, also comes in 10 different colors
Water resistant smart watch for up to 100 meters
Equipped with unique features such as pre-programed tide info
Intuitive, reliable, and versatile smart watch for water sports and more
Rip curl men's search GPS quartz sport watch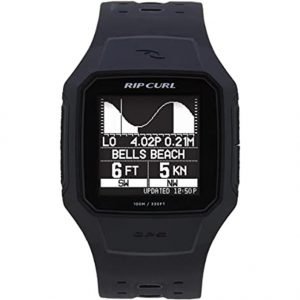 Last but not the least is the Rip Curl men's search GPS quartz sport watch. This smartwatch has GPS tracking for all of your activities, and lets you connect your GPS watch to the Search App, which is equipped with lots of amazing functions.
Built to be multifunctional for indoor and outdoor sports, it is waterproof and durable, making it a great choice not just for water sports, but a lot of other fun activities as well, such as running, biking, and so on.
Plus, you can even record your performance out in the ocean or up the mountain, including your speed, distance, duration, and more, as well as track your stats in real time, and even calculate how much more you need to go to meet your goals.
Simple sports watch in a cool blue strap and four other color options
Water resistant digital smartwatch up for to 100 meters
Powered by a rechargeable battery with a long running life
Equipped with smart features such as recording and tracking
Surf watches buying guide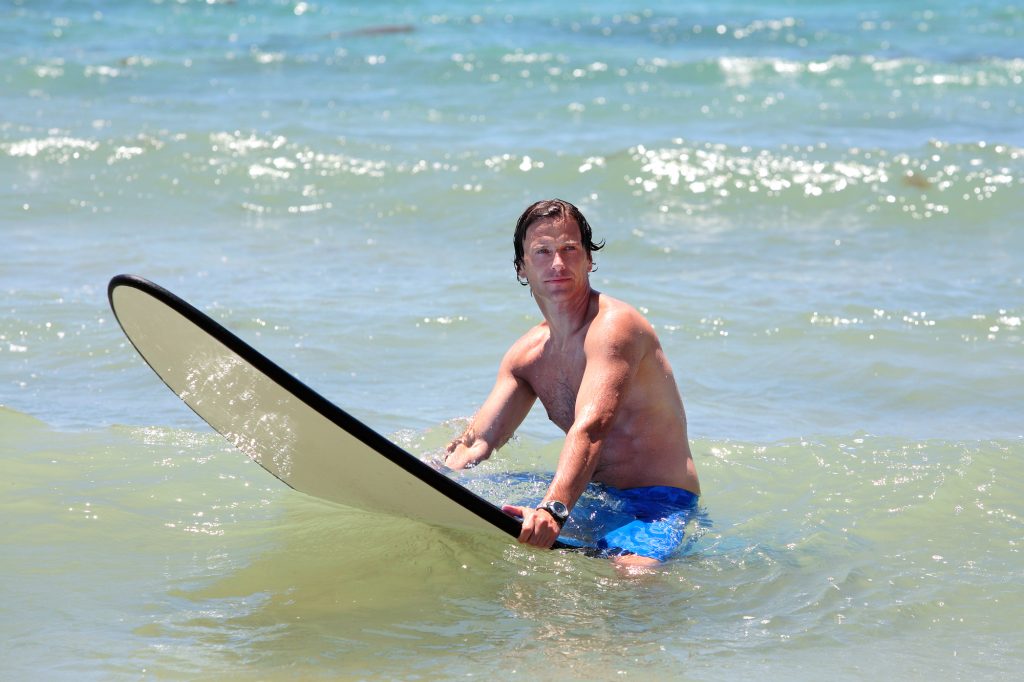 It can certainly be exciting and thrilling to go shopping for a dedicated surf watch that will accompany you out in the open ocean as you battle the waves and simply have the best time of your life.
But with all these amazing features, various designs, and a wide range in prices, how do you make the decision on which time and tide watch is the right one for you?
Of course, you can simply take your pick from the lineup of the most popular surf watch brands, but will that be enough? Is brand really all there is to a testament of quality? To help you out, here is a simple buying guide when it comes to surf watches.
We will talk about some of the most important features that you need to watch out for when you are buying a surf watch that will meet your needs and demands.
Waterproof vs water resistant
If you are looking for a watch that you can wear for water activities, or even just in the shower, an important feature should be the water resistant capabilities of the watch. But, that said, let's differentiate between a couple of terms, so you know exactly what to look for.
Water repellent
There are generally three levels of water resistance, with the first one being water repellent, meaning, its surface has a protective coating that keeps the water out, but once that's gone or damaged, the inside of that object is fair game.
Waterproof
Meanwhile, the best is waterproof, which means that the object is completely impervious to water, no matter what happens. This is rare, and is, at least for now, not applicable to even the most sophisticated diving watches.
Water resistant
This is mostly because of the volume and depth of the water, which factors in the water pressure that the watch receives. As such, most surf watches are advertised as water resistant up to a certain depth. The higher this number is, the better.
Strap material
Another important factor when it comes to tide watches, or all types of watches for that matter, is the material that the strap is made of. This is because it affects how the watch will fit, weigh, feel on your skin, and when it comes to surf watches, how it handles water.
As such, metal is definitely out of the question. Even the best ones still have the tendency to rust, and besides, metal watches are heavy, and they don't fit as perfectly, as, say, velcro straps that you can adjust to the perfect fit.
Suitable materials
Most sports watches are made of some type of rubber or plastic, sometimes nylon, or as we've mentioned, velcro. This ensures that the watch is lightweight and fits snugly, lessening the risk of it coming off as you engage in demanding physical activities. They're water resistant, too.
Analog vs digital
Finally, it's also a must to consider whether you want an analog or a digital watch. This distinction isn't only about style, but about features and functions as well, so it's essential that you don't make your decision solely off of that.
Analog
An analog tide watch is simple, classic, and generally has a high water resistance. However, it often lacks in the modern features that digital watches have, since, well, it's analog. What's great is that it's often cheaper than a digital watch.
Digital
Digital watches, on the other hand, are packed with lots of excellent features that you'll need for surfing, diving, and various other sports and activities. A surf smart watch can even act as a mini smartphone. The only drawback is that the battery needs to be charged quite often.
Functions and features
As you've come to realize by now, surf and tide watches come with a variety of amazing features apart from telling the time. Of course, there are the basics, which include setting alarms, functioning as a stopwatch, and backlighting.
What truly makes a surf watch great, however, are the sports related features and capabilities, which can be anywhere from tracking your location via GPS, recording your heart beat and general physical condition, and making sure you meet your fitness goals.
Specific surfing related features commonly include predicting and tracking wave and tide patterns, dawn and sunset times, and so on. And then there are lots of nice extras, such as doubling as a mini cellphone, being able to be installed with apps, and so on.
Conclusion
A surf watch can do so much more for you than just tell the time and day. In the recent years, and with all the unique features that these realistic surf watches feature, they have largely become invaluable to the surfing community.
Having a surf and tide watch on you simply makes you surf better and safer, with all the knowledge that it arms you with. Plus, buying one is not even anywhere near as costly as it was before. Nowadays, top quality surf watches are insanely affordable.
Whether you are casual or a professional surfer, or even if you simply like to swim and play in the sea, or you just want an all-around sports watch, a surf watch is certainly a great option for you, and you deserve the best one that's made right for you.