Kayaking is a fun way to spend quality time with your kids while enjoying nature. You can explore the outdoors as a family and make some awesome memories together.
However, to do that, you need a kayak that is safe and stable, so your child can enjoy kayaking as much as you do. It should also be affordable, since your kid will eventually grow out of it and want an adult kayak of his own.
The good news is, there are many different kids kayaks out there, from kids fishing kayaks, sit-in kayaks, sit on top kayaks, and even whitewater kayaks for older kids and teenagers. Here's a handy review and buying guide to help you find the best kayak for kids based on your child's size, age, and kayaking experience.
Our Favorite Kid's Kayaks
While a 4-year-old should be in mom and dad's kayak, your older kids may want to have their own watercraft. Here, we'll talk about some of the best child kayaks for 6-year-olds to teenagers, so you can find the perfect kayak that your children will enjoy.
Sit on Top Kayak: Yes or No?
Yes! Sit on top kayaks are actually so much better for kids than the traditional sit-in kayak, since this type of kayak is a lot simpler and more durable, as well as easier to get into since your kid doesn't have to wiggle his way inside the cockpit while the kayak is on the water.
Sit on top kayaks are typically made from single-piece molded plastic with the kayak seat resting on top of the kayak's deck. These kayaks are stable and reliable, and really difficult to tip over, flip, or capsize.
Moreover, a kids' sit on top kayak will also normally feature self-draining scupper holes to get rid of water as soon as they enter the kayak. You can even attach spray skirts to prevent your child from getting splashed with water.
That said, there are also sit inside kayaks built for kids, although they are a lot less common.
Weight Rating
One of the most important factors when it comes to buying a kids' kayak is the weight rating since this is the primary way of determining whether the kayak is suitable for your child. It's less about your kid's age and height, really.
You'll see that junior kayaks come with minimum and maximum recommended weight ratings to help you determine if your child will properly fit in the kayak. You should allow for plenty of room to grow so your kid can use the kayak for many years.
That said, it might be difficult to find appropriate kayaks for older kids and teenagers, so you might have to start looking at adult kayaks instead.
Kayak Length
One common feature of kids' kayaks is that they are generally shorter in length as compared to adult kayaks. That's primarily because these kayaks are only intended for milder and calmer waters such as slow rivers and lakes.
There are many benefits to short and lightweight kayaks, too. They turn better,they're easier to carry or transport, and they usually feature wider hulls, which make the kayak more stable.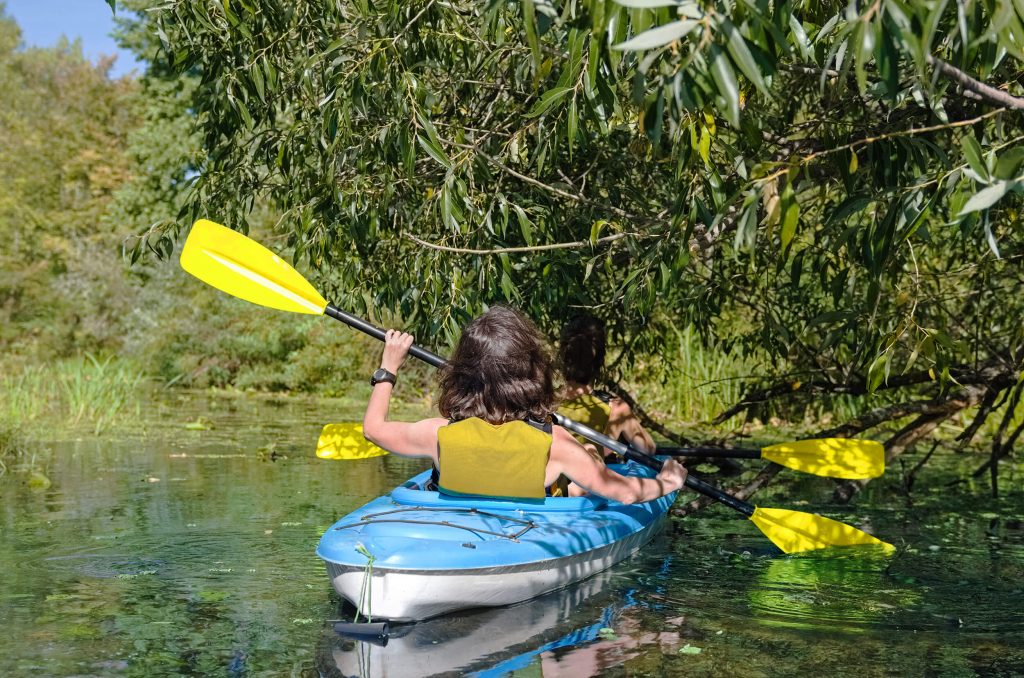 Kayak Width
A child kayak is also measured in terms of width. One thing you have to understand is, regardless of the type of kayak you are buying or who it's for, a wider kayak always means better stability and reduced risk of flipping.
This is why wider kayaks are ideal for kids, especially those who are unsure of their skills in entering and exiting the kayak or even keeping it afloat on the water. A wider kayak may not be as efficient, but that's not really a priority for a kid who just wants to have fun (and stay safe).
Along with this, the kayak should also have a rounded double or pontoon-style hull, which also makes for increased stability. Fortunately, this is a common design trend on sit on top kayaks.
Stability
Remember, stability is one of the most important things for a kids' kayak, so you should always be on the lookout for various features that further enhance the stability of the kayak. These include reverse chines or fins which jut out to improve lateral stability while also making for better tracking.
You might also find removable skegs on the kayak. Even better, a kayak that combines a pontoon hull design with a reverse chine and a removable skeg will offer the best in terms of stability, tracking, and overall performance.
Paddle Holder
It's also smart to check for other convenient features, such as paddle holders, which are basically just depressions in the kayak and feature a shock cord lashing that is meant to go over your paddle when it's not in use.
This seemingly simple design is really valuable since it offers a safe and secure spot to store the paddle so it doesn't roll off into the water.
Tow Rope
Another excellent feature of kids' kayaks is tow ropes or other similar towing systems which allow you to attach your child's kayak to your own, thereby letting you "pull" or tow him along once he gets tired of paddling.
This is important in long kayaking trips, getting out of difficult situations, or just making sure that your child safely gets back to shore especially when he's throwing a fit and is refusing to paddle. It's also beneficial for pulling the kayak out of brushes, off of river banks, and so on.
Overview
As you have seen above, there are tons of amazing options when it comes to the best kayak for kids. You just need to know what things you need to look for and prioritize so you can find a kayak that works for your child's age, height, weight, kayaking skills, and other specific needs.
Keep in mind that toddlers need to stay in the adults' boat. Meanwhile, smaller kids, say, 5 or 7 year olds, need a kayak that is super stable and is absolutely simple and easy to use, and older kids, along with teenagers, would want something that comes with extra features and allows for a more thrilling (but safe) adventure.