This post contains affiliate links. For more information, visit my disclosure page.
Sit-on-top kayaks are amazing. They're comfortable, easy to use, and made for beginner kayakers in mind. The Perception Tribe 9.5 kayak is no different. In fact, it's probably the best in the category, and we'll tell you why.
The Perception Tribe kayak is easy to maneuver, offers great tracking, and is on the affordable side. It's also perfect for worry-free weekends and lazy afternoons. Trust us, you can do just about anything with the Perception Tribe.
To be fair, that's likely because Perception has been around for decades and they definitely know their craft when it comes to paddling. The Tribe is a solid proof of that.
And, we're not the only ones who love this kayak- novice and expert kayakers do too! Just check it out on Amazon and you'll see lots of raving Perception kayak reviews. Or, if you don't have time for that, well, here's ours:
At a Glimpse: Pros, Cons, and Specs
In a hurry? Here's a quick glimpse as to what makes this kayak great, what can be improved, and what it's made of.
Pros:
Extremely stable wide open profile, ideal for children, pet, and coolers
Easy to use and maneuver with excellent tracking
Versatile applications (moving rivers, flatwater, surf and waves)
Adjustable and foldable Comfort Seating System
Multiple foot wells to accommodate any size paddler
Molded carry handles for easy carrying and lockable security
Stackable lightweight design for easy transport and storage
Affordable price point
Did you know that canoes are better for calm waters? Here's a guide on Kayak VS Canoe: 7 Differences You Should Know
Cons:
Tracking is not as great as the Tribe 13.5 and 11.5
No watertighting design for the central dry storage hatch
Strapping wears out fast due to attached carry handles
Paddle needs to be purchased separately
Want to do away with exhausting paddles? Go for the best motorized kayak instead.
Specs:
Type: sit-on-top recreational kayak
Paddlers: solo with room for kid/ pet
Dimensions: 9'5" x 31.25"

Cockpit: 53" x 20.5"
Deck height: 16.25"

Kayak weight: 46 lbs
Maximum capacity: 300 lbs
Hull material: high-density polyethylene
Warranty: 3 years
Perception Tribe 9.5 Features
Here's a summary of all the Perception Tribe 9.5's key features, which we'll talk about more in-depth below:
One-piece, leak-proof construction optimized for saltwater and open ocean
Stackable design with fold-down seat for easy multi-kayak storage
Comfort Seating System with adjustable seat back positioning and lumbar support
Multiple footrest positions to accommodate all paddler sizes
Large open storage for coolers and gear (with bungee cord lashes for security)
Center hatch with protective lid and built-in bag
Side molded-in carry handles for lockable security and easy transport
Replaceable skid plates for damage-free dragging
Lightweight package (46 lbs)
Comes with built-in drink holder
Ease of Use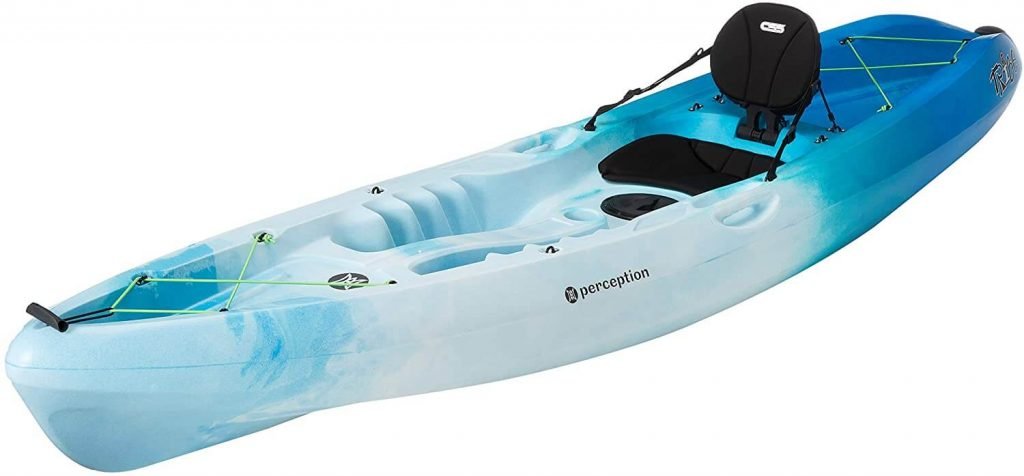 The Perception Tribe 9.5 is actually the smallest among the Tribe family, and this size translates to accessibility for beginners and petite paddlers. It's not as fast or well tracking as the Tribe 11.5 and 13.5, which are bigger and better for ocean fishing, but it's certainly great for slow rivers and lakes.
The Tribe 9.5 is highly stable, easy to maneuver, and versatile enough for light turf, making it great for spontaneous adventures. You can also rely on it to stay balanced when you're going diving, swimming, fishing, or any other flatwater activity.
Can't think of where to go? Check out the AllTrails website for outdoor adventure ideas.
Convenient Storage
One of the many things we really like about the Perception Tribe 9.5 is its portability and light watercraft weight at just 46 pounds, and the way it allows for convenient stackable storage for when you own a few Tribe kayaks, aka one for each member of the family.
A single person can lift, carry, and haul this kayak onto their kayak rack or inside the garage for transport and winter storage. Though, since this kayak is small enough, you might not even need a kayak rack as it can sit nicely in the back of your pickup.
It even features durable molded-in side handles which make carrying easier, not to mention allowing you to use bike locks and ropes for added safekeeping. Plus, it comes with a replaceable skid plate that lets you drag the kayak to the water without causing damage.
Wide Open Space
The stable and wide open beck is a great feature of the Perception Tribe 9.5, as it lets you enjoy the benefits of using a sit-on-top kayak without the unfamiliarity of getting on it. Besides, this wide and well-balanced deck also allows you to have your child or your dog to tag along. It even has a dedicated space for a second seat complete with attachment points.
That also means that you get plenty of room for a cooler and other stuff you'd like in tow. This comes in the form of the deep stern tankwell, along with the quality bungee strapping which helps secure your gear. There's also a cup holder for your beverage.
Want to bring your furry friend along? Here's a short guide on How to kayak with a dog
Flexibility and Comfort
Not all kayaks come with comfortable seats. Thankfully, the Perception Tribe 9.5 is an exemption to the rule as it features a high-back padded seat that's foldable for stackable storage, and adjustable for variety in seating positions (and to accommodate your PFD).
This seat is built into the kayak so you can enjoy better back support while going on day-long paddling trips. It's supported by bungee cables with pressure-strength to offer a rigid feel that's similar to high quality seats with metal frames.
To further enhance comfort, the Perception Tribe kayak also makes use of molded-in multi-channel foot wells that make room for paddlers of all heights and offer customized comfort in pretty much any seating position.
Check out this list of the best fishing kayaks with comfy seats.
Self-bailing Abilities
Finally, the Perception Tribe 9.5 also boasts of self-bailing capabilities in the form of several scupper holes to help you keep most of the water out of the kayak. Then again, that's a benefit you get to enjoy with most sit-on-top kayaks- the kayak bails the water out for you, which isn't something you really get with a sit-inside kayak.
For added protection, especially for your precious electronic gear and equipment, the Tribe 9.5 is also equipped with a 6 inch center hatch that comes with a lock. Now, it's not exactly watertight, but it does a good job at keeping water out and your electronics safe.
Final Thoughts
To sum things up, the Perception Tribe 9.5 is an ingeniously designed and well-built sit-on-top kayak which offers stability and performance for beginner kayakers and smaller paddlers who are on a budget but would like a great and versatile kayak.
It's suitable for use on calm flatwater and surf alike, making it a good choice for fishing, swimming, diving, and other water activities. It's also easy to maneuver, tracks well, easy to enter and exit on the water, and remains stable all throughout.
Moreover, it's portable and easy to carry/ store as well, thanks to its lightweight construction, molded-in carry handles, and stackable design. The Perception Tribe 9.5 is also available in several design and color options.
All in all, a solid performance for the price.