This post contains affiliate links. For more information, visit my disclosure page.
Best Overall
Sevylor Colorado
D-rings and mesh pockets
No-leak airtight system
Durable and lightweight
There's nothing quite like fishing on a kayak that can easily reach the best fishing spots that most boats simply cannot get to. That said, fishing on your own can be lonely. You're bound to get bored as you sit by yourself and stare at the water for hours.
So, why not bring a friend with you? Whether it's to have someone witness your impressive catch, benefit from a helping hand when it comes to paddling, get competitive and make it into a fishing competition, or just spend quality time with another person, having someone with you is a great idea.
And with the best 2 person fishing kayak, you can totally do that!
Top Picks For Tandem Fishing Kayaks
Tandem fishing kayaks are always in high demand, and as such, you'll easily find lots of options on the market. However, not all of them are great, and it's the little things that really make a difference. To help you find the best tandem fishing kayak for you, we've reviewed dozens of models and came up with this list of the 8 best fishing kayaks for two:
Sevylor Coleman Colorado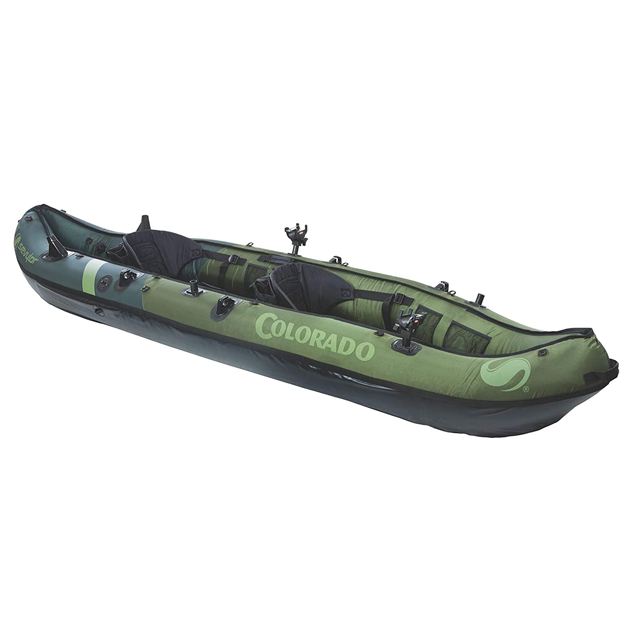 Let's start off strong with the Sevylor Coleman Colorado 2 person fishing kayak, a tough and durable watercraft that's guaranteed to get you to your favorite fishing hole and back on land. It's NMMA certified, so you can rest assured that it's perfectly safe on the water.
It also boasts of a rugged 18-gauge PVC construction with a tough nylon cover and thick tarpaulin bottom, all of which are puncture resistant materials, making this kayak ideal for lake use. Though, as an added precaution, the kayak features multiple air chambers as well.
Moreover, it also comes with adjustable seats that are guaranteed to make your trip comfortable. And if you ever get tired of paddling, no worries. This kayak can be transformed into a motorized kayak by adding the Sevylor trolling motor that you can purchase online.
Quick set Berkley rod holders for pole angle adjustments
D-rings and mesh pockets for gear storage
No-leak airtight system and construction
Optional Sevylor trolling motor
Durable and lightweight
Lifetime 10 Foot, Two Person Tandem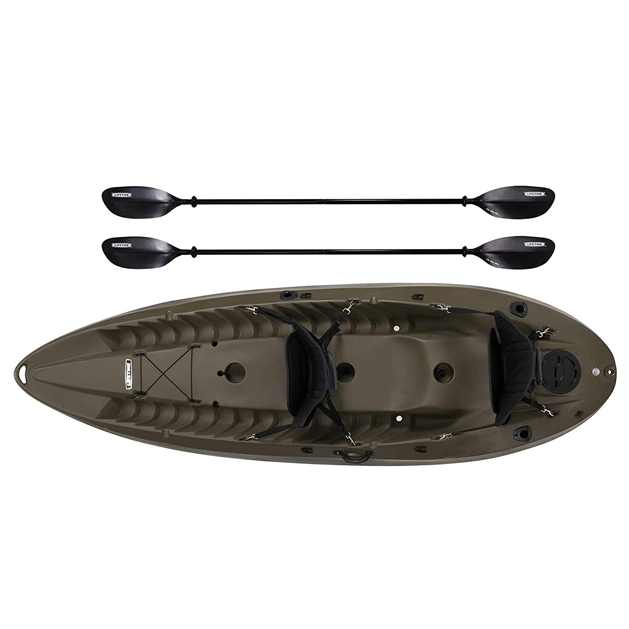 Another amazing option is the Lifetime 10-foot two person tandem kayak that boasts of blow molded, high density, UV-protected polyethylene construction to make for superior durability and strength that's resistant to cracking, fading, and peeling.
And even though it's technically a two man kayak, there's plenty of space for three. Really, with a 500 pound weight capacity, this kayak can take on three adults for a fun fishing experience. Besides, its hull design is extremely stable, too, not to mention offers great tracking.
It even offers multiple footrest positions to accommodate different size kayakers, and it comes with two dual sided paddles along with paddle clips, three fishing pole holders, two padded backrests, and a six foot storage hatch.
500lb capacity, can fit 3 people
Stable and easy to maneuver
Great value for money
5 year limited warranty
Available in 2 colors
Intex Explorer K2 Kayak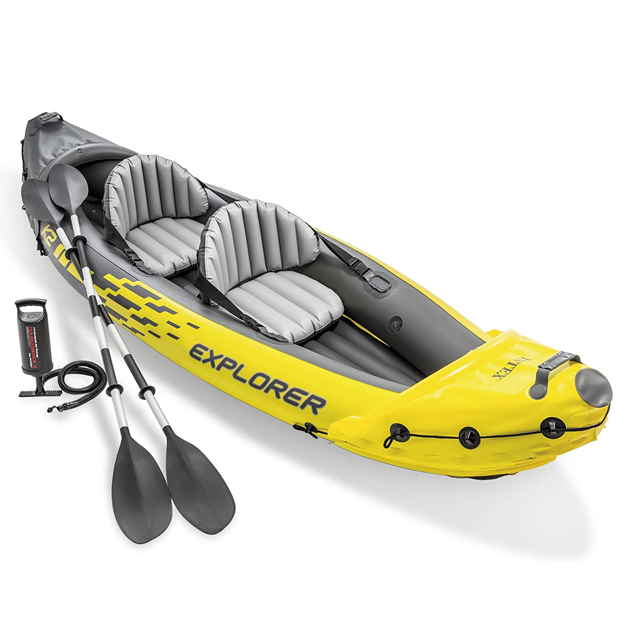 We also really like the Intex Explorer K2 kayak, which is a fun and sporty kayak that features a streamlined design to ensure easy paddling. It comes in a vibrant yellow color with sporty graphics for a show stopping look that's highly visible (and therefore safe) in the open water.
It's easily one of the best 2 man fishing kayak for experiencing mild rivers and lakes. It's compact, lightweight, portable, easy to assemble, and really lets you take the fun wherever you want to go.
This kayak features a rugged vinyl construction along with an inflatable I-beam flooring to give it that sturdiness, rigidity, and comfort. It also comes with a removable skeg for directional stability, as well as two inflatable and adjustable seats with backrests for your total kayaking comfort.
Boston valve for easy inflation/ deflation
Built-in grab handles and lines
Repair patch kit and pump included
Comes with 2pc 86" aluminum oars
400lb capacity, spacious cockpit
BKC TK181 12′ 8″ Sit-on-top Kayak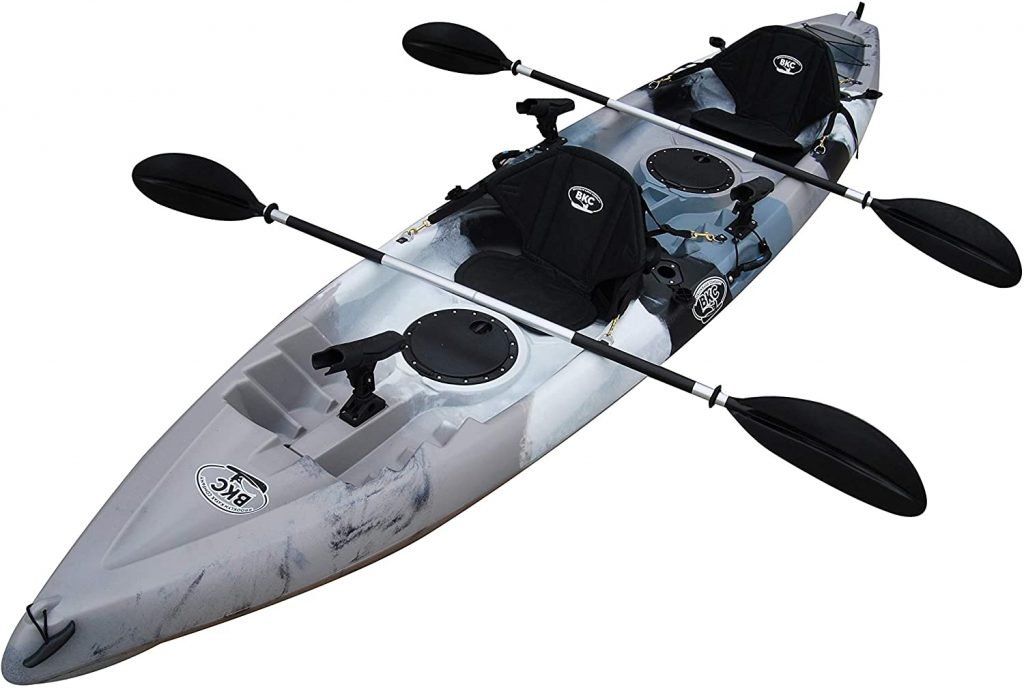 Taking the fourth spot is the BKC TK181 tandem sit on top kayak that can fit two to three people with its 12 foot, eight inch size and soft padded seats. This is one of the best options if you want to go paddling and take on epic fishing trips with your family and kids.
This one's fully loaded with accessories and features to make your fishing trip as comfortable as possible. These include two aluminum paddles that are adjustable, two waterproof hatches for your gear, six built-in holders, a bungee cargo tie-down, and two paddle parks.
Furthermore, you can tell that it's really crafted for stability thanks to its single piece, roto molded high-density polyethylene construction. In fact, it's durable and stable enough for sea fishing, so you can go beyond lakes and rivers.
3 articulating and 4 flush mounted rod holders
Double watertight storage hatches
Plenty of secured rear cargo space
Stable 34" beam for ocean fishing
595lb capacity, fits 2-3 people
Ocean Kayak Malibu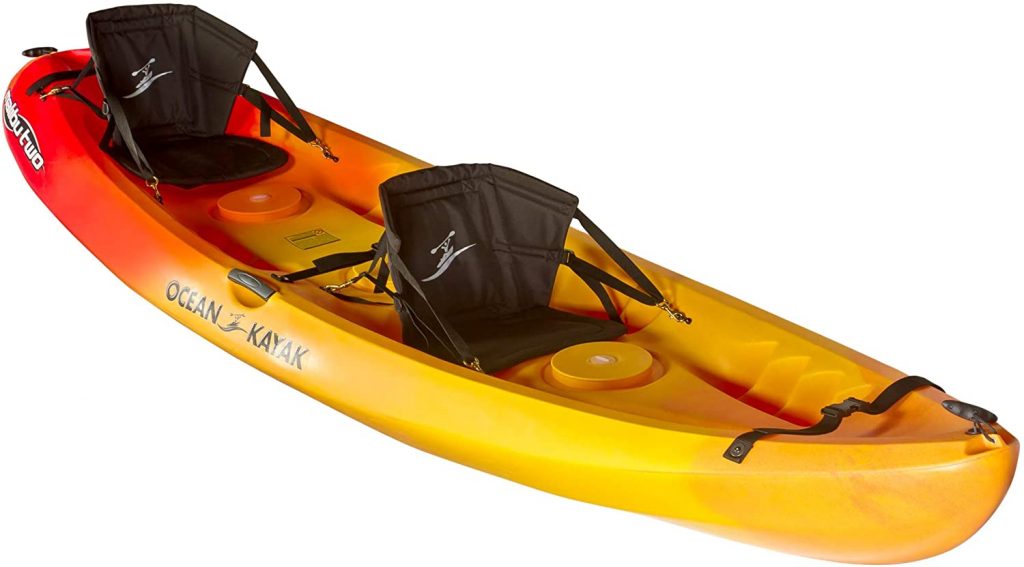 In fifth place is the Ocean Kayak Malibu 2 seater tandem sit on top kayak, a highly popular recreational watercraft for friends, couples, and families who like to go on water adventures while enjoying the surf and sun.
As a matter of fact, with its three seating positions, you not only have the option between solo or tandem paddling, but you can also bring along a pet or a child for the trip. The Comfort Plus seating also offers a custom fit with greater slip prevention thanks to its four-way adjustability.
To top it all off, it's designed with overlapping foot wells that let you settle in comfortably with plenty of remaining space for your gear and other items. And, its stable open hull makes getting on and off the kayak super easy.
Comfort Plus seats with 3 seating positions
With skid plate and molded-in handles
425lb capacity, fits 2-3 people
Measures 12' x 34"
Lifetime hull warranty
Vanhunks Voyager Deluxe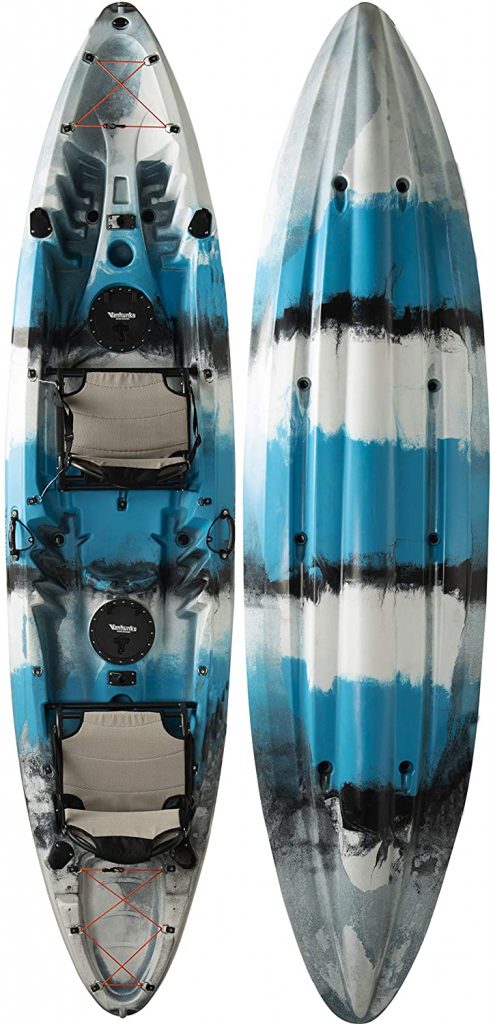 Ranking sixth is the Vanhunks Voyager Deluxe 2 kayak, which really goes all in with its 5 millimeter rotomolded polyethylene construction that's durable, stable, and makes for a great time out on the water.
This fishing/ touring kayak comes with everything you'll need to go on river, lake, and ocean adventures with your friend, pal, and pet, thanks to its ingenious two plus one setup that allows you to add a deluxe seat with foam padding.
What we really like about this kayak, however, is that it gives you so much space and multiple storage solutions with lots of compartments, hatches, bungee spaces, and more. This means you can bring all the food, supplies, and gears you want. It even has space for a tent!
Easy to paddle, stable, and comfortable
Removable and adjustable padded beach chair
Molded-in swivel rod holders
77lb weight with comfortable side carry handles
550lb capacity
BKC TK181 12.5′ Tandem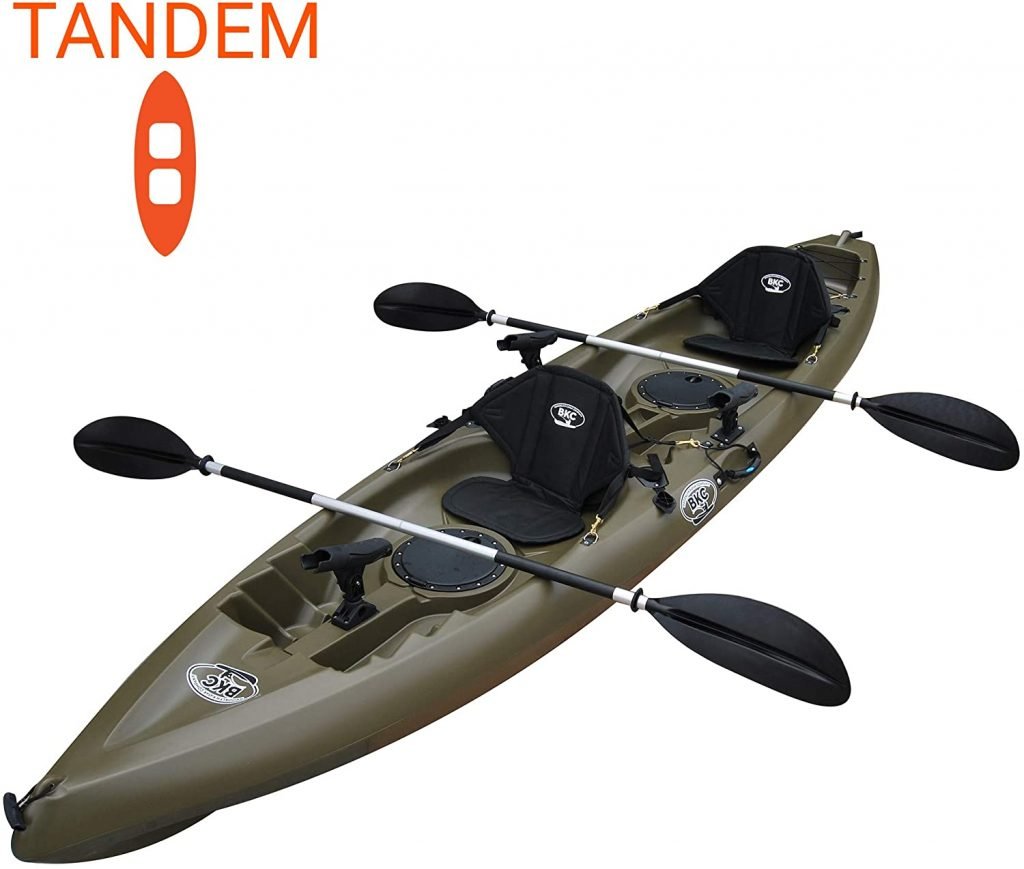 You should also check out the BKC TK181 12.5 tandem sit on top kayak, a slightly different version of the 12 foot, eight inch kayak we reviewed earlier. Although, this one's also a 2 man kayak that comes with two soft padded seats and paddles.
One thing we really like about this one is that it features seven rod holders to let you cast several lines in the water all at the same time, which means more fish for you and the family. You can even take it to rivers, lakes, and the open ocean to catch more fish.
And, it offers a plethora of storage options with its waterproof storage hatches, twin watertight storage compartments, and a rear inset cargo area that's secured by a tie-down bungee system for all your extra gear and supplies.
Abrasion, impact, and UV resistant construction
Easily adjustable seats and backrests
Secure twin paddle rests
4 carry handles for easy transport
Stable and steady for choppy waters
Elkton Outdoors Tandem Fishing Kayak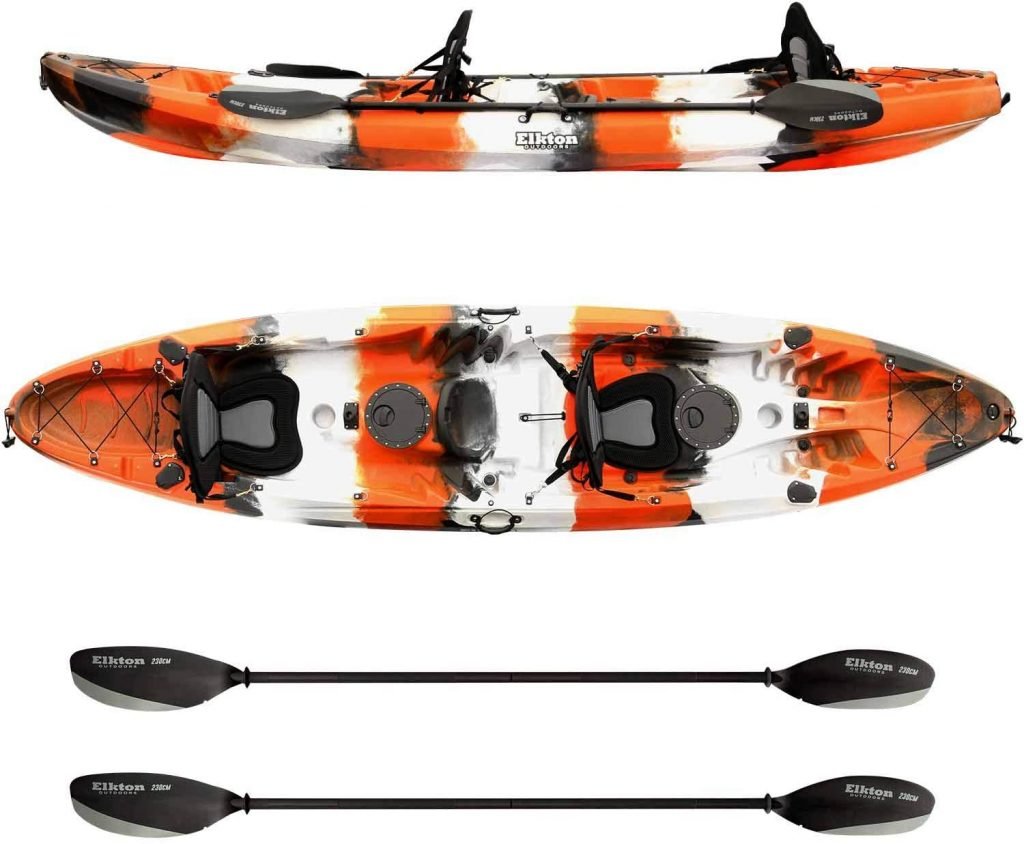 Last but not the least is the Elkton Outdoors tandem fishing kayak, a superior choice for a two seater angler kayak that's designed with anglers in mind. It's ideal for lake, river, and ocean fishing, and its optimized design is proof of that.
Among its many amazing features are the adjustable rod holders that make for a fun and versatile fishing experience in any weather or water condition. It also ensures that you're comfortable all throughout with its premium EVA padded seats and cup holders.
Of course, it also comes with lots of storage spots, such as airtight internal cargo compartments for your valuables, a central platform for ice chests and coolers, and plenty of extra space at the front and rear for your fishing gear.
Premium upgraded aluminum seats
Comes with double sided aluminum paddles
1 swivel and 4 inset rod holders
Built-in dry storage, center platform, and extra cargo space
Measures 12.2' x 36"
Want more options on tandem fishing kayaks? Check here for lots of affordable finds or head on to the Brooklyn Kayak Company to see their selections.
Tandem Fishing Kayak Buying Guide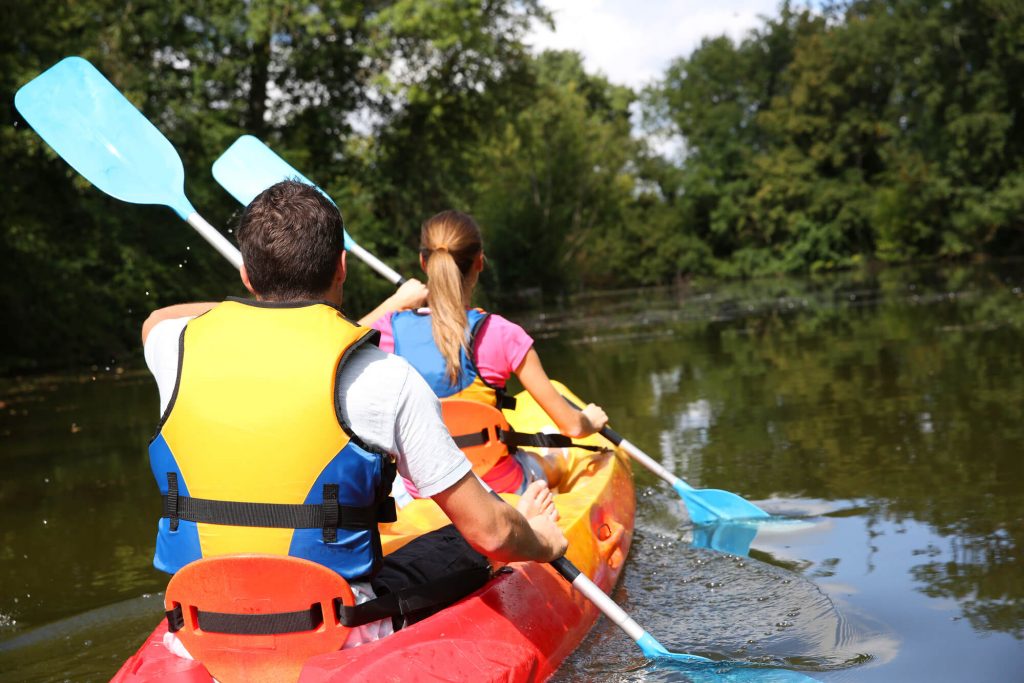 Buying a two person fishing kayak isn't as easy as buying a solo kayak, since you're not only making this decision for yourself. Instead, you need to account for the needs of the other person who will come aboard with you.
This means that the kayak should come with the right set of features that make tandem kayaking fun, easy, and comfortable. Here's a buying guide to help you find the best 2 person fishing kayak:
Type of Kayak
The first thing you need to decide on is what type of kayak you prefer. On one hand, sit on top kayaks offer more space and mobility. These are easy to get in and out of and are more suitable for beginner kayakers. On the other hand, sit in kayaks better protect you from splashes, and also come with more storage space for your gear and other items.
You also have to decide whether you want a traditional paddle kayak, a pedal kayak for fishing that works your lower body instead, or a convenient motorized kayak that doesn't require much physical effort while also offering enhanced convenience and stability. Maybe you can even opt for something totally different, like a canoe for shallow waters.
Kayak Size
Another very important consideration is the kayak's dimensions, as will affect many things, including how much space there is in the kayak and for how many people, along with how stable, fast, easily maneuverable, and well-tracking the kayak is.
For instance, longer kayaks have better tracking and speed, while wider kayaks are significantly more stable. Size is also an important factor when you're going ocean fishing as you wouldn't want to capsize from the constant barrage of waves.
Moreover, while a bigger kayak generally makes for a bigger storage space, it also makes the kayak less portable, which can be an issue if you don't have a kayak rack nor storage space in your garage.
Weight Capacity
It's not enough that the kayak is advertised as a two person kayak. What really determines whether the kayak would work for you and your pal, aside from the presence of two seats, is the kayak's load capacity. To give you an idea, it usually falls in the 400 to 600 pound range.
This is essential for many reasons. First, if the kayakers are on the bigger side, weight capacity must be accounted for to make sure that the kayak can safely accommodate them. Second, it tells you whether you can have a kid or a pet tag along. Third, it affects how much cargo, gear, and supplies you can haul in the kayak.
As such, knowing who and what you'll have in the kayak with you tells you better what weight capacity you need, and whether you have to look for a bigger kayak. Keep in mind, the kayak's construction also plays a part in its weight capacity and overall durability. You'll also want to make sure that the kayak has built-in storage, but we'll get to that later.
Quality and Durability
Speaking of the kayak's construction, this really means what material/s the kayak is built with, which determines its quality and durability, among other factors such as stability, watertighting, puncture resistance, and so on.
For example, PVC, tarpaulin, and vinyl with strong frames make for stable and rigid kayaks. Thicker and better materials offer better wear and tear resistance, meaning the kayak is better shielded from damage when transitioning from land to water.
That said, even the best kayaks are not indestructible, so it's always a smart idea to have a kayak repair kit on board for emergencies, so you can get back to shore safely.
Comfort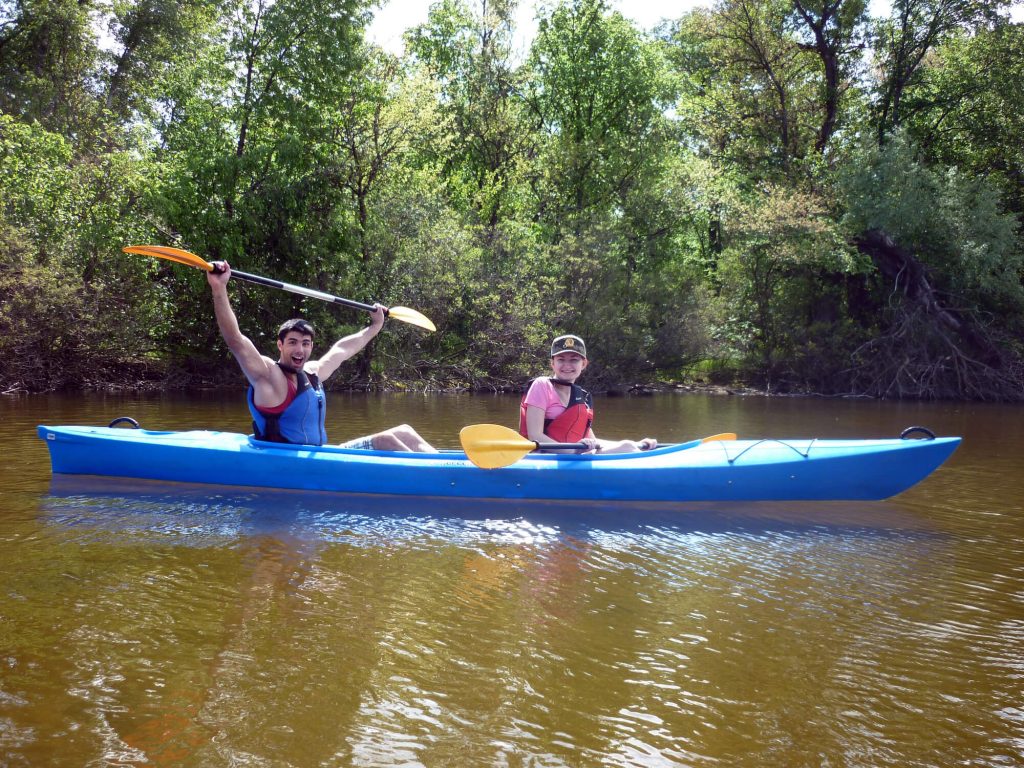 The one thing that really determines your comfort level inside the kayak is the seat- or in this case, seats. The best kayak seats are ones that are easily adjustable, come with lots of padding, offer excellent back and rear support, and come with multiple positioning.
To add to that, the kayak should also feature several adjustable footrests so you can find the best and most comfortable resting position for your legs as you focus on reeling in your catch.
Storage
When it comes to fishing, storage should be one of your top priorities, as you need space for your fishing gear and other supplies, as well as a catchall for all the fish you'll catch. Some of the things you'll need are fishing rods, tackle boxes, bait, coolers, ice chests, food and beverage for you and your fellow kayaker, and so on.
Storage should also come in three parts- dry, watertight storage for your valuables and electronics, secure storage for your gear, and easy access storage for anything you might need on the go. Paddle holders are also ideal.
Fishing Accessories
If you really want to enjoy the best kayak fishing experience, try to opt for a kayak that comes with lots of built-in fishing accessories, such as mounts for a fish finder, GPS, scupper transducer, etc. and of course, don't forget multiple rod holders.
Final Tips
Kayaking with a buddy is fun and interactive, but for that to happen, you need the best 2 person fishing kayak. As for which of the hundreds out there is the best? That's really up to you and your specific needs and requirements.
Just make sure that you know all the important things you need to account for, and you're sure to buy the best kayak that fits your needs in and out of the water. For example, if you want to bring your furry friend along, the kayak should be spacious and have a paw-resistant surface. Or, if you don't have a kayak rack, an inflatable kayak may be best.