This post contains affiliate links. For more information, visit my disclosure page.
Kayaking is a fun water activity, but no one wants to suffer in pain after sitting for hours on a poor quality kayak seat that hurts your back, shoulders, neck, spine, and bottom. This can really cut down on your time on the water. It's time for a replacement.
The good news is, there's an easy solution! With the best kayak seats, you can say goodbye to pain and say hello to a fun and comfortable kayaking experience. Let's get started!
Best Kayak Seats In 2020
Check out these top six most comfortable kayak seats with excellent back support so you can say goodbye to bad backs and focus on paddling with your tandem fishing kayak:
Pactrade Marine Adjustable Padded Deluxe Kayak Seat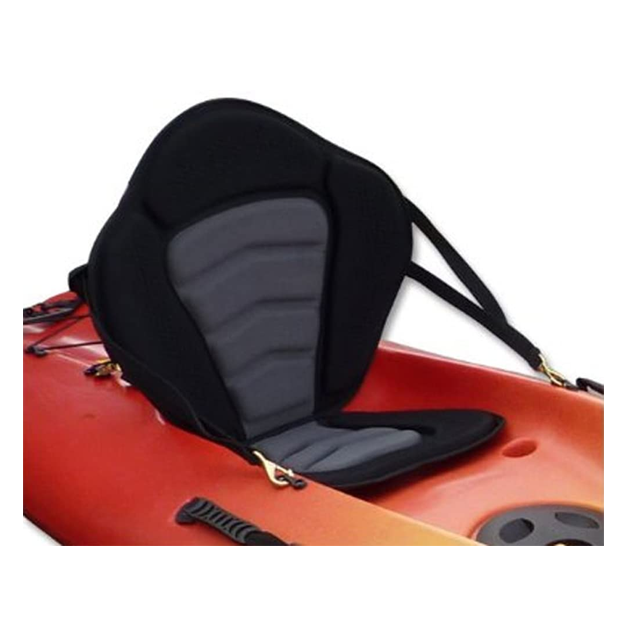 Our top pick is the deluxe kayak seat by Pactrade Marine, which is a detachable canoe backrest that comes in a convenient backpack that you can use to store your kayak accessories and other stuff.
It features a contoured and padded non-slip surface, adjustable straps on the front and rear, snap hooks that let you secure the seat onto the kayak, and a superior neoprene construction with an inner polyester layer and EVA foam padding.
All in all, it's a great choice for a comfortable padded kayak seat that offers plenty of back support so you can focus on enjoying your kayaking experience. It not only meets your needs for a comfortable seat, but even gives you extra storage options.
Excellent support and comfort
Great value for money
Measures 17×14.5×12"
With 10x14x4.5" bag
Ocean Kayak Comfort Plus Seat Back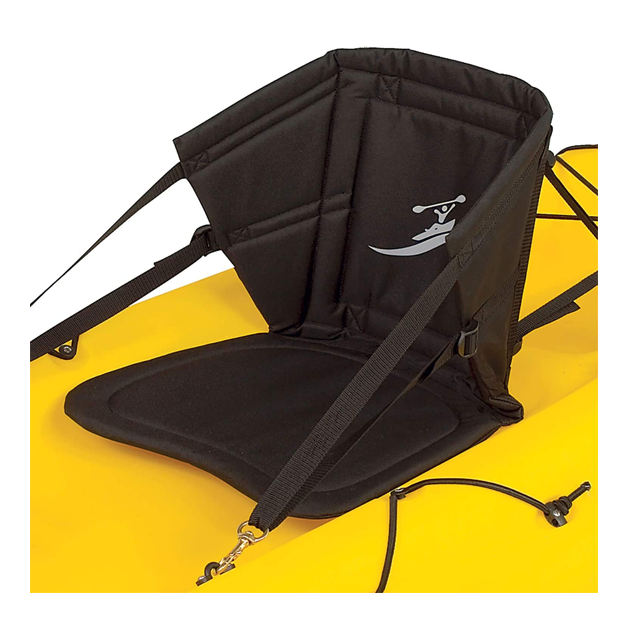 Second best is the Ocean Kayak comfort plus seat back, which is safe and built to last. It's perfect for Ocean Kayak's spacious beginner sit on top kayaks and makes for a more comfortable journey out on the water.
This high back seat offers plenty of back support, making it great for big guys and tall kayakers. The seat also features extra padding and cushioning, while the adjustable side straps lets you fine-tune the seat to your desired comfort level.
Moreover, it boasts of a tough,durable, and UV-resistant nylon construction featuring built-in ventilation so you can stay cool and dry under the hot summer sun. There are also brass swivel buckles as attachment points.
Excellent support and comfort
Great pain relief capabilities
UV-resistant cloth nylon pack construction
Adjustable 4-way mounting straps
GTS Expedition Molded Foam Kayak Seat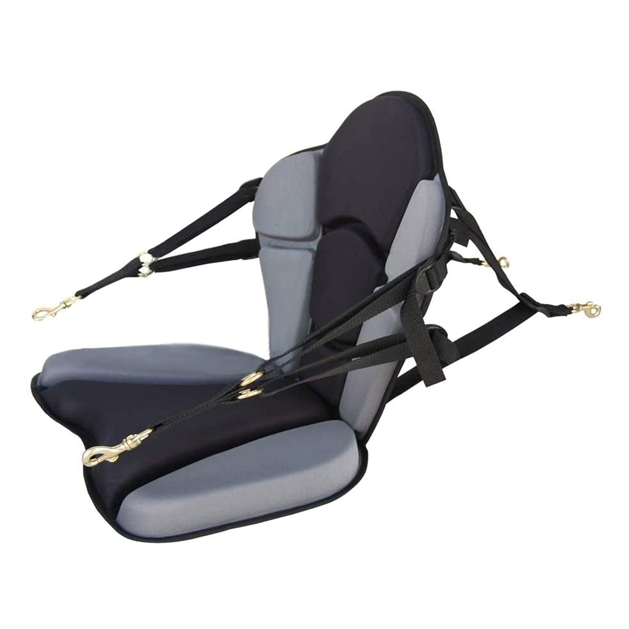 Another top-of-the-line option is the GTS Expedition molded foam kayak seat that's designed for sitting all day long, meaning it's made with maximum comfort in mind. It features an 18 inch tall molded backrest made of thermoformed foam with spine hugging grooves.
It's also geared for lumbar stability, and has a two inch thick seat bottom that's designed with deep comfort channels to allow for ventilation and cockpit water drainage. And, it makes use of a rear triangulated strapping system for custom comfort.
What we like the most, however, is the combination of hard and soft elements in its construction with the flexible polyethylene, EVA foam, and laminate back. This makes for a long lasting, high quality kayak seat that's great for hours of paddling.
6-point attachment design
Adjustable lock down system
Comfortable and supportive rear plane
Supple padding thickness
Skwoosh High Back Kayak Seat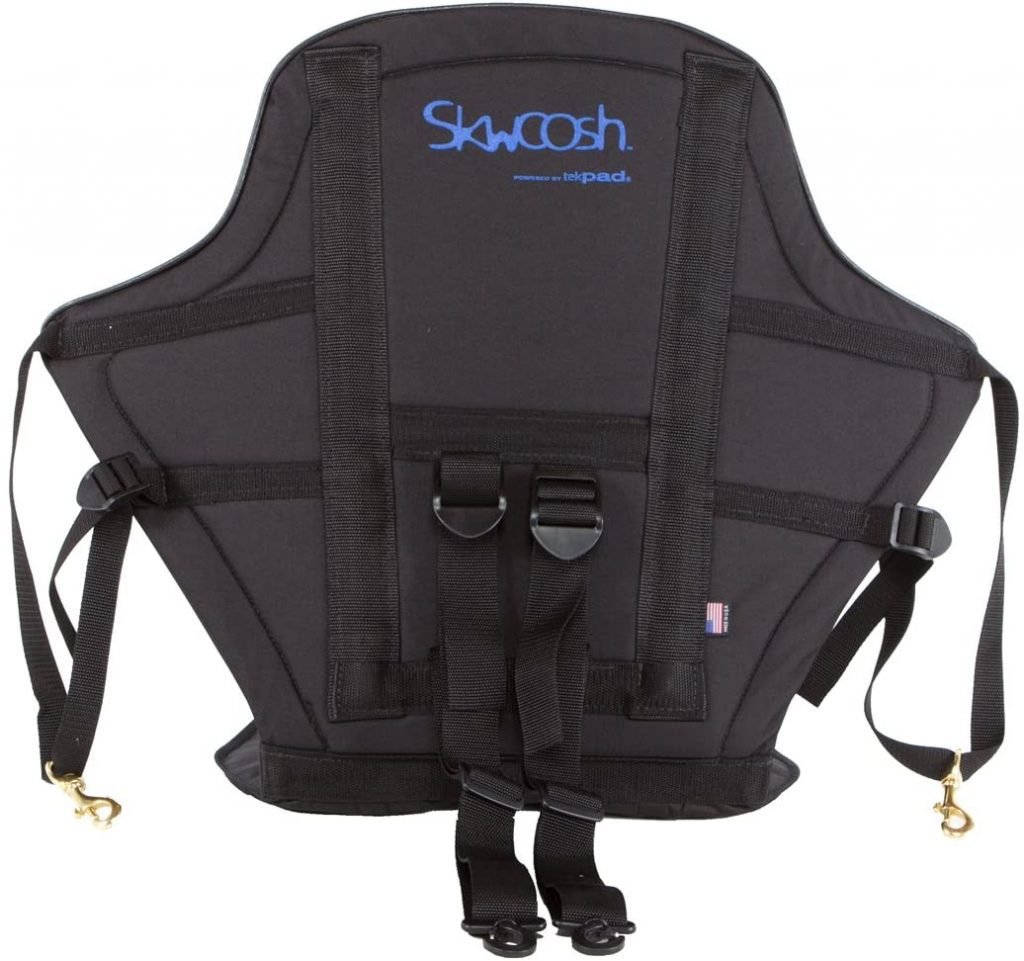 The Skwoosh high back kayak seat is somewhat unique in the sense that its seat cushion is filled with nylon fluidized gel so you get to enjoy more comfort. It also features welded construction for added durability.
Along with this, it also features a contoured, fully battened, 20 inch high fiberglass back that is reinforced for all day support, high strength, and rigid structure. Not to mention, the entire seat is waterproof as well.
This one's engineered for total convenience, comfort, and performance, and this is why it's ideal for long fishing and paddling trips. It's made with great heavy duty fabrics, and comes with adjustable straps that are resistant to corrosion.
Measures 13x16x1"
4 adjustable mounting straps
Swivel chips with corrosion resistance
Comfortable, offers great back support
Sea Eagle Deluxe Inflatable Kayak Seat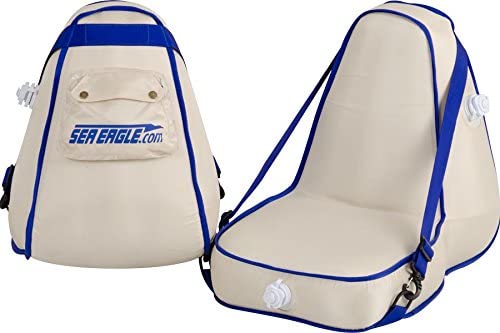 From the looks alone, this one's a doozy. It's fluffy, chunky, and plush. The Sea Eagle deluxe inflatable kayak seat is a highly portable option that offers superior back support and even comes with storage options.
This inflatable kayak chair is ideal for fishing, paddling, and rowing for hours on the water. It works with various sit in kayaks, sit on top kayaks, and inflatable kayaks such as the Explorer and FastTrack inflatable kayaks.
When inflated, the seat measures 14 by 21 by 19 inches with a 14 by 12 by 5 inch seat base so you can enjoy a more freeing raised position. And, it packs tightly to a meek 14 by 9 by 4 inch package for easy storage.
Sturdy and comfortable
Lightweight and portable
5" elevation from the kayak floor
Skwoosh Kayak Gel Pad for Kayaks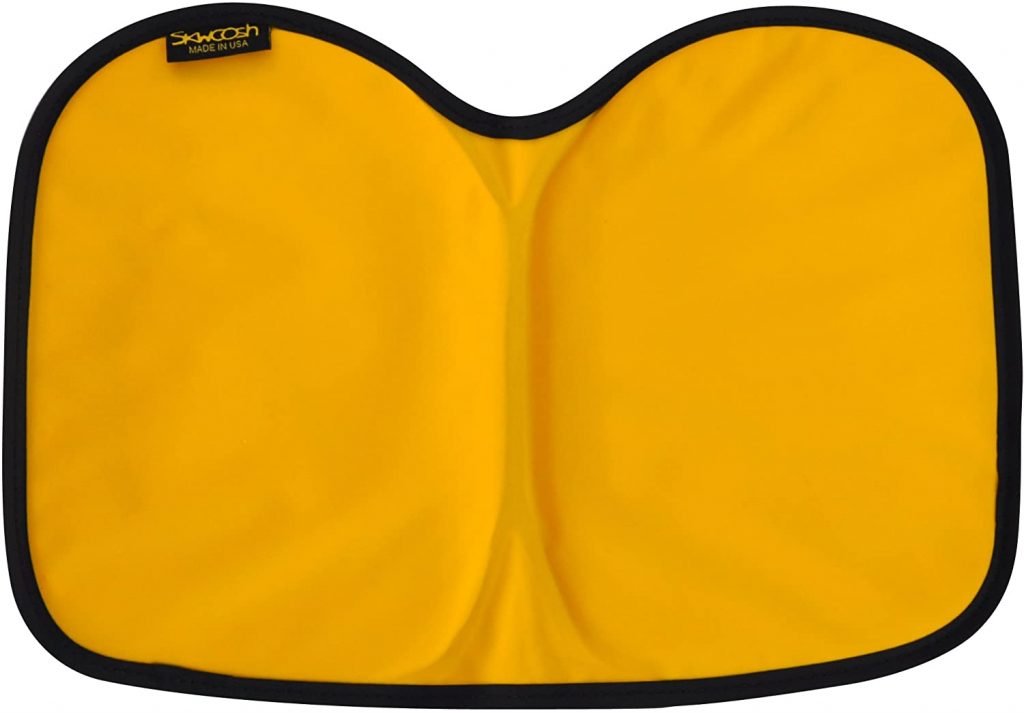 Finally, there's also the Skwoosh kayak gel pad, which isn't really a full seat but a seat pad that you add on top of your existing kayak seat so you can upgrade its cushioning abilities. This low profile cushion is great for many reasons.
For one, it may not seem like much, but your pelvic area and lower back will thank you for the extra bit of padding, especially if you're planning to kayak for hours on end, since it's designed to relieve pressure on your sitz bones and legs.
It's also made with the brand's patented pressure-relieving gel inserts called TekPad, and feature rugged cushions that can withstand the rigors of fresh and salt water without needing extensive maintenance.
Portable and easy to maintain
Tie-down loop with non-skid bottom
Lightweight and comfortable
Great value for money
Want more options? Click here.
Things To Consider When Buying A Kayak Seat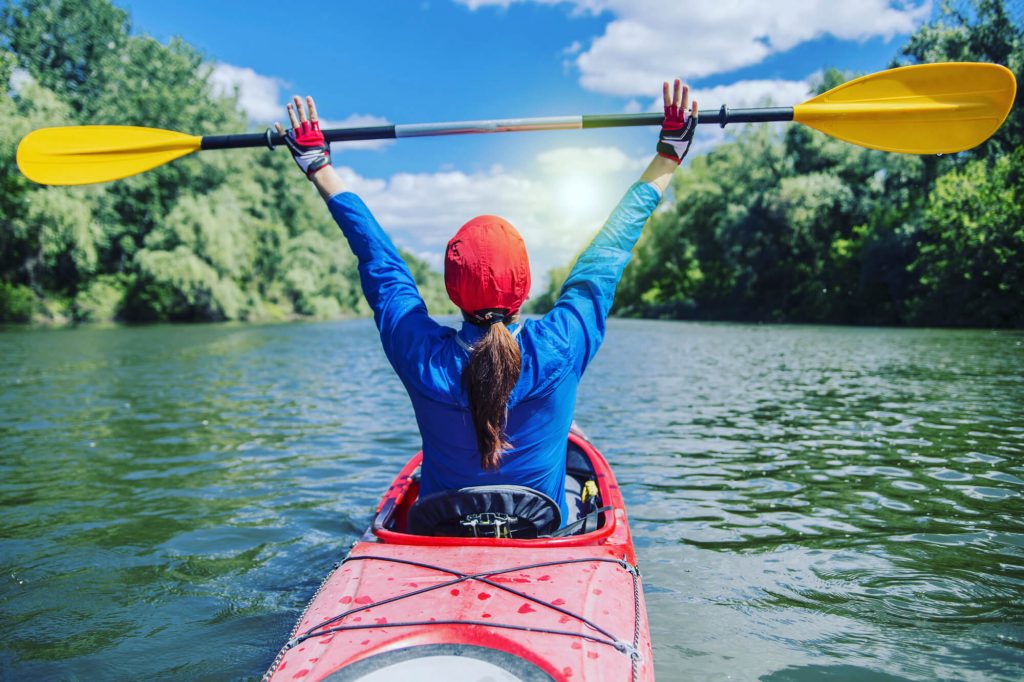 Want to find a comfortable kayak seat? Here's a list of important factors you need to take into account before you buy:
Type Of Kayak Seat
There's no single kayak seat design, whether you're looking at built-in models for short and lightweight kayaks or seat upgrades like the ones we listed above. Below is a rundown of the most common kayak seat types:
Basic kayak seats are used for brief kayaking sessions and other recreational purposes. They offer little comfort but help you with your posture.
Tall back kayak seats are designed for tall kayakers who need excellent back and neck support. These range in 38 to 50 cm sizes.
Fishing kayak seats are raised seats that let you move freely since the seat can swivel in all directions to help you cast your line.
Inflatable kayak seats are lightweight and portable options for kayakers with storage issues. They are best paired with hard packed kayaks for stability.
Deluxe kayak seats are the best in terms of comfort, ergonomics, and versatility of sitting positions, which also makes them more expensive than others.
Back Support
The best kayak seat is one that supports not only your rear, but also your back, shoulders, and thighs, as one sore body part affects the rest. As such, padding should be supple in these areas. The seat should also conform to your weight and body shape, meaning:
Tall people need extended full-sized seats
Heavier people need durable pressure molded foam seats
People with back problems need thick padding to alleviate pain
Gel cushioning offers great support for everyone
Comfort
Unless your kayak has a stadium seat, chances are, the seat isn't comfortable, so if you're going to upgrade it, might as well go for something that offers comfort and back support, even when you're moving around, shifting your weight, and sitting for a long time.
Intended Use
A simple mesh seat may be fine if you're going fishing and will stand on the kayak for the most part, but the more time you spend sitting on your kayak, like when paddling in open waters, the more comfortable and durable the seat needs to be.
Seat Construction
Replacement kayak seats are made of different materials. There's no universal construction material used for them, but there are popular ones like molded foam, neoprene fabric, tekpad, and polyester, each of which has different properties and capabilities such as strength, flexibility, moisture wicking, ventilation, and water UV resistance.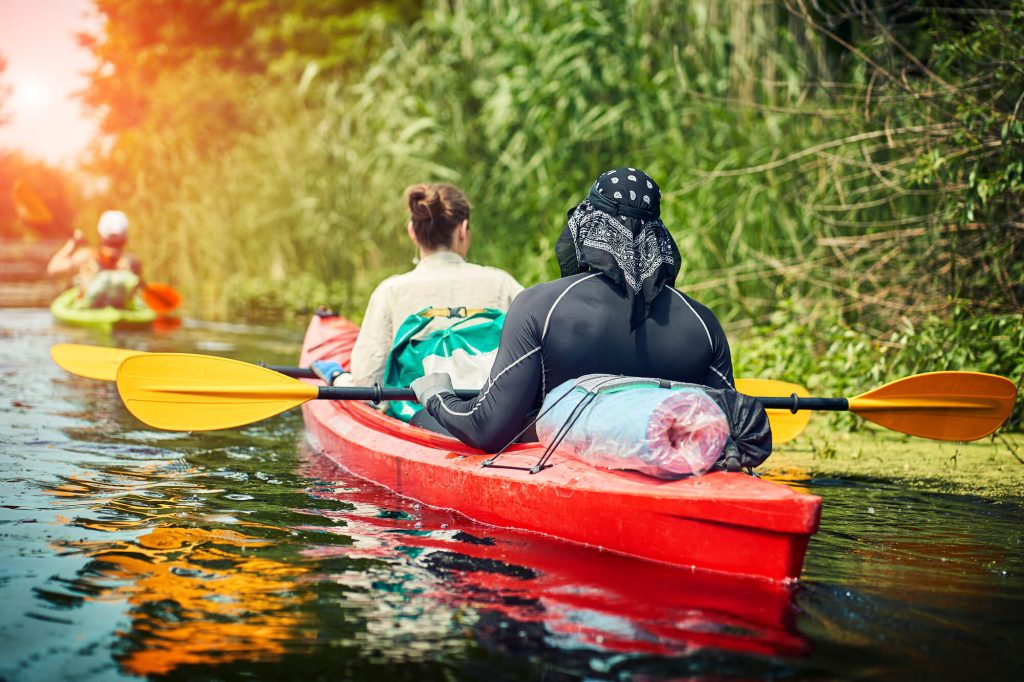 Stability
It may not be obvious, the kayak seat should also be stable and firmly keep you in the cockpit as it will help keep you afloat, and an unsecure seat can have you toppled over. Ideally, the seat should come with durable and adjustable securing straps along with a broad base and back.
Quality and Durability
You want your kayak seat to last you a lifetime. This means, quality and durability are important, and you can achieve this with the use of heavy duty materials and fabrics which are melded nicely and have the ability to resist wear and tear.
Storage
It's also nice if the kayak seat allows for extra storage options so you can have easy access to your essentials. This extra storage is a must if you're going fishing, but it can also be helpful for packing safety gear, lunch and snacks, and kayaking equipment.
Features
A nice thing about replacement kayak seats is that they come with extra features that really elevate your comfort. This can be in the form of water channels that displace water from the cockpit, contours that conform to your back, holders for rods and water bottles, and so on.
Budget
To give you an idea, kayak seats can cost anywhere between $30 to $250, with the semi-decent options starting at around $50. The higher the price point, the better the padding material and overall durability and service life.
Final Thoughts
The best kayak seat is one that offers the best in terms of comfort and support. It should be durable, made of quality materials, and long lasting. It should also match all your specific needs when kayaking. As long as you keep these things in mind, you're sure to find the most comfortable kayak seat for you.