This post contains affiliate links. For more information, visit my disclosure page.
If you're an angler or paddler, you know that fishing can be so fun and relaxing at the same time. But, do you know what can make a fishing kayak better? The addition of a motor!
It's not just a new thing, either. Motorized kayaks have grown in popularity for many reasons. First, they come with all the best parts of a conventional kayak, including a certain degree of maneuverability that bigger boats can't give you, and of course, style.
And then you get lots of extra speed since you don't have to work on paddling your way to the fishing spot. You also save your energy and your poor arms from exhaustion, and without those paddles, you free up more space for other things. A fishing kayak with a motor is just so much more efficient… and fun.
Our Favorite Motorized Kayaks
Looking for the best-motorized kayak? There are lots of amazing options on the market, some of them with built-in motors, and some can be outfitted with motor mounts or used with a standard pedal drive, such as the ones from brands like Hobie, Old Town, and Wilderness Systems.
Here's a list of the five best motorized fishing kayaks we've found that are sure to add a bit of oomph to your typical kayak fishing trip. We've included great options for outfitted kayaks that make installing a motor an absolute breeze, as well as ready-to-go motorized kayaks, so you can take your pick.
Wilderness Systems ATAK 120 Sit-on-top Fishing Kayak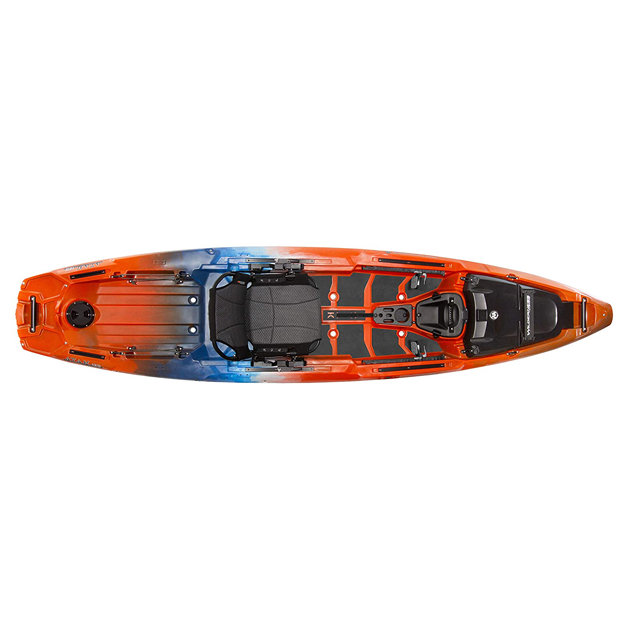 Our top pick for the best motorized fishing kayak is the A.T.A.K. 120 by Wilderness Systems. It's a more compact and more manageable version of the award-winning A.T.A.K. 140, both in and out of the water.
Among its many features are an open customizable platform, a wind-shielding deck, and unmatched stability, along with all the core attributes of the 140, all to bring you a special kind of performance that adjusts to your needs.
This powered kayak even comes with a quick-release cam lever to let you easily adjust the ultra-comfortable and ergonomic Phase 3 AirPro MAX seat with 3D foam, an increased rocker that makes for more negotiating power in the water, and an extra secondary transducer scupper to accommodate all your electronics.
Best motorized kayak/ fishing platform
Compatible with the new Helix MD motor drive
Better seat airflow and lower back support
Large stern accessory mount space and easy access storage
Removable pod with FlexPod OS flexibility
Available in 5 designs
Intex Challenger Kayak Series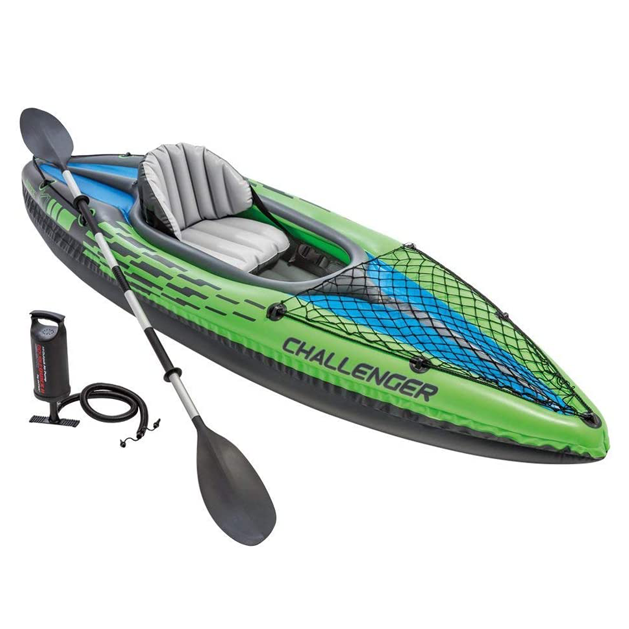 We also fell in love with the Intex Challenger Kayak Series, a nimble and durable motorized kayak that's made of all the highest quality welded materials and is finished with some eye-catching graphics that not only elevate the kayak's style but also increase your safety and visibility while you're on the lake.
It features a cockpit that is specially designed to maximize your comfort and space, along with stable and reliable inflatable beam floors, extra gear cargo nets, grabs lines on the front and rear, and an inflatable seat with a backrest.
Actually, what you're getting here is a complete package that comes with all the tools and accessories you'll need, such as collapsible aluminum oars, a skeg, repair patch and kit, and output manual hand pump, a carry bag, and even a measuring tape.
Best inflatable kayak, available in 2 styles
Compatible with the Watersnake trolling motor
Easy to inflate and maneuver plus plenty of legroom
Lightweight kayak with a 220lb maximum load capacity
Safe and sturdy rugged vinyl construction
Easy to inflate and deflate, compact storage
Classic Accessories Colorado XT Inflatable Pontoon Boat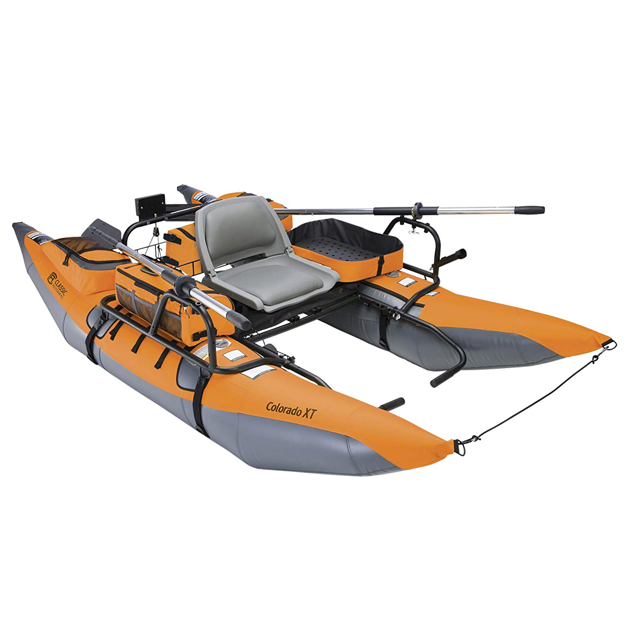 There's also the Colorado XT inflatable pontoon boat by Classic Accessories, a 9-foot high capacity pontoon boat that comes with a transport wheel, motor mount, gear bags, and a removable stripping basket, so you can fish with confidence.
This heavy-duty powered kayak is built with classic, abrasion-resistant materials, including a PVC bottom and durable tough nylon tops. The plastic seats are padded for your comfort, and the kayak comes with a micro slit foam fly patch that's detachable. And, it's built to meet the standards of the American Boat and Yacht Council.
Moreover, you also get to enjoy easy access to all your usual fishing spots thanks to the transport wheel, as well as carry lots of gear and snacks in the rear storage platform, the insulated drink holders, and the twenty different pockets scattered around the kayak.
Compatible with any kayak trolling motor
400lb maximum weight capacity with customizable storage
Improved visibility and other safety features
Available in 2 colors, can be purchased with a pump
Limited 2-year warranty
ClearYup Electric Kayak with Remote Control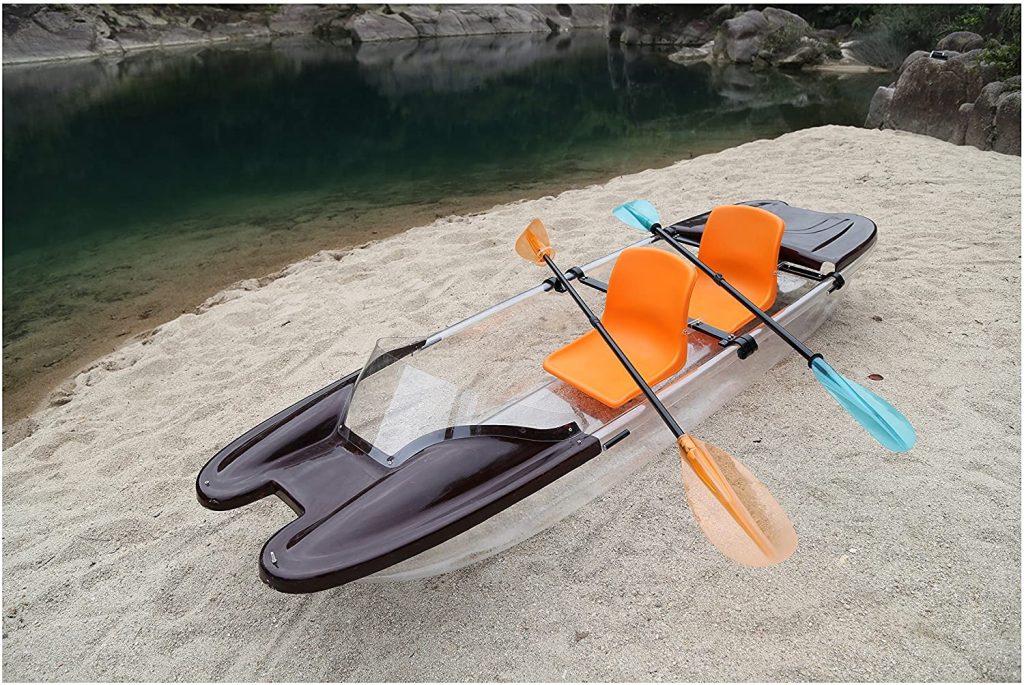 You might also want to check out the ClearYup electric kayak with remote control. This jet-powered kayak has a trolling motor, a clear, see-through bottom, spacious two-person seats, and a durable fiberglass and polycarbonate construction.
If you want the luxury of an electric motor, but with the elegance of a yacht, this powered kayak boasts of a crystal clear hull that guarantees a unique visual experience. You'll be able to see all that marine life underwater, plus you'll get better navigation and more promising fishing results.
And, since it's made with lightweight yet durable materials that are UV and corrosion resistant, you can use it anywhere. Fish in the lake, drift through the river, enjoy the open ocean, it's all up to you.
Unique jet kayak with a clear fiberglass bottom
Short-Shaft 55 pounds trolling motor included
Virtually unbreakable 100% virgin Bayer polycarbonate construction
Impact and shatter resistant with total UV blockage
Crystal clear hull with marine-grade coated alloy hardware
Suitable for both calm and wild waters
Lifetime Tamarack Angler 100 Fishing Kayak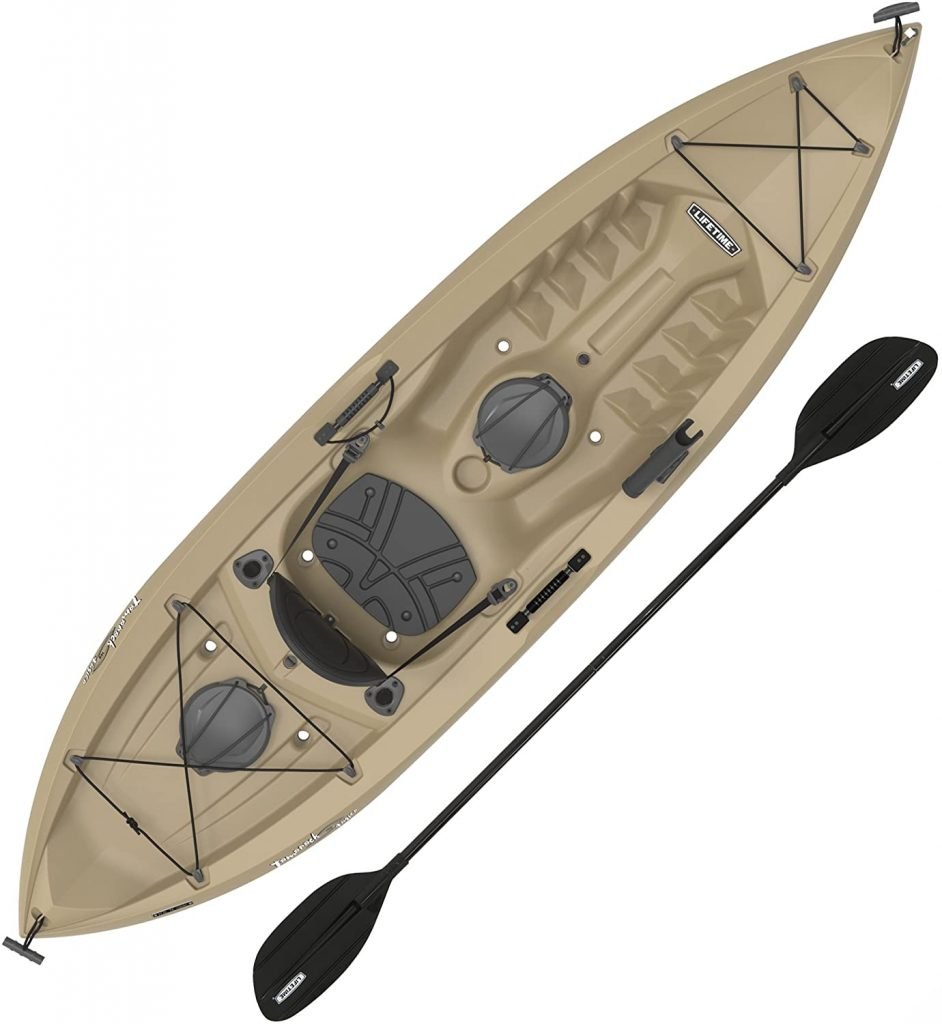 Finally, another worthy finalist when it comes to the best motorized kayak is the Lifetime Tamarack Angler 100 fishing kayak, which is one of the best beginner kayaks for novices. It's affordable, it's made with high-density polyethylene with matching UV protection, and it guarantees a flat and stable bottom for windy days and turbulent waters.
Among the many amazing features of this powered kayak include the way it accommodates different rider sizes with its multiple footrest positions, an adjustable seat that comes with padding and an extra seat pad for your comfort, and three mounted holders for your fishing rods (one at the top and two flushes).
It also comes with a rear and center storage compartment, shock cord straps and t-handles on the front and rear, a paddle keeper, deep hull tracking channels, an adult black paddle, and stability chine rails. All in all, a comfortable ride that gives you the best value for your money.
Best stand up kayak/ fast kayak
Compatible with standard kayak trolling motors
High density and durable polyethylene construction
Fast, lightweight, stable, and easy to maneuver
Plenty of storage space to hold all your gear and tackle
Can be purchased with a paddle
The Best Kayak Motors
What if you just want to buy a convertible pedal kayak with an outfitted mount and DIY your way into making the best motorized kayak the world has seen? Or maybe you're just looking for the best kayak electric motor to use with your newly bought electric kayak. Well, here's a review of the best kayak trolling motors we've found:
Minn Kota Endura Transom Mount Trolling Motor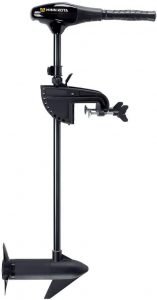 The best kayak electric motor that we found is the Minn Kota kayak motor- Endura Transom mount trolling motor, which features a solid 10 position lever lock bracket with a reinforced composite material and a quick-release lock that effectively resists warping, flexing, and UV damage.
This kayak motor also boasts of a telescoping titler that ensures an intuitive operation so you can get easy and comfortable on the kayak, as well as an indestructible composite shaft at the kayak motor's core, so it lasts for a lifetime.
Plus, there are five forward speed and three reverse speed settings to power you up and give you a longer run time for every charge. This also allows you to dial in the exact speed you want while delivering the exact amount of power you require. A power prop also gives you extra power so you can power through heavy vegetation.
Reliable kayak motor
Plenty of power
Lightweight and easy to use
Affordable option
Comes in 3 sizes and 6 styles
Watersnake – ASP 18 and 24 Pound Thrust 12V Saltwater Transom Mount Trolling Motor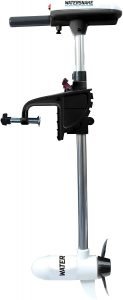 Another excellent option for a kayak electric motor is the Watersnake Saltwater Transom mount trolling motor. Now, this kayak motor boasts of a lightweight, simple, and portable design and lets you power not only motorized kayaks, but also inflatable boats, small dinghies, and canoes.
It comes packed with awesome control features, such as high and low controls for speed, a switch for going forward and reverse, a clip system in the mount that prevents impact, a weedless two-blade propeller, and an extendable handle that allows for easy steering.
This kayak motor comes in a universal design that makes it versatile and suitable for different types of kayaks. It can even be fitted with a bracket so you can enjoy more mounting options. And, it's available in two sizes with variable thrust. A great kayak motor all around.
Small trolling motor for kayak
Lightweight and easy to install
High speed and great trolling
Comes with a 24lb thrust and a 24in shaft
U-BCOO 8 Speed Saltwater Transom Mounted Electric Trolling Motor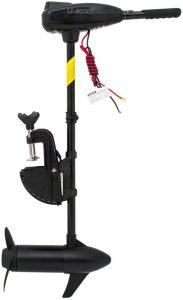 You should also consider the U-BCOO Saltwater Transom mounted electric trolling motor, an eight-speed multi-purpose kayak electric motor that offers the best in terms of quality, performance, weight, size, and easy installation.
It's a highly adjustable and customizable kayak motor, so you can personalize it to your preferences. It also features a four-inch extended telescopic handle that gives you a better adjustment and control angle.
Other notable features of this kayak motor include excellent corrosion resistance that lets you use your motorized kayak in saltwater, a thruster with real-time power detection and a LED display, a copper wire motor with excellent magnetic permeability and heat dissipation, a stable and reliable performance, and an overall long service life.
Long lasting trolling motor
Excellent speed and thrust
Easy to operate controls
Best value for money
Comes in 3 styles
LOYALHEARTDY 2 Stroke Outboard Motor Boat Engine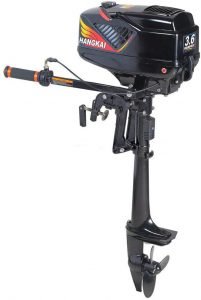 Last but not the least is the LOYALHEARTDY 2 Stroke outboard motorboat engine, a heavy-duty boat machine fitting for only the best motorized kayak or a standard fishing boat. With this kayak electric motor, you get 2 stroke 3.6HP 55cc power.
This kayak motor lets you reverse without having to shift gears thanks to its 360-degree steering rotation. It has a clutch feature with start-in-gear protection so you don't have to worry about prop rotation when you're idling. It also has a lift and tilt features so you can operate in shallow waters without a hassle.
Furthermore, this kayak motor guarantees an improved overall performance with easy starts and instant motor access thanks to its standard ignition system and easy-pull-off engine cover. It even has a vertical mount design and a superior carbonation system to give you increased power, efficiency, and durability.
Lightweight but heavy duty engine
Improved performance with easy starts
Allows for instant motor access
Meets CE certification standards
Excellent customer service
Benefits Of Motorized Kayaks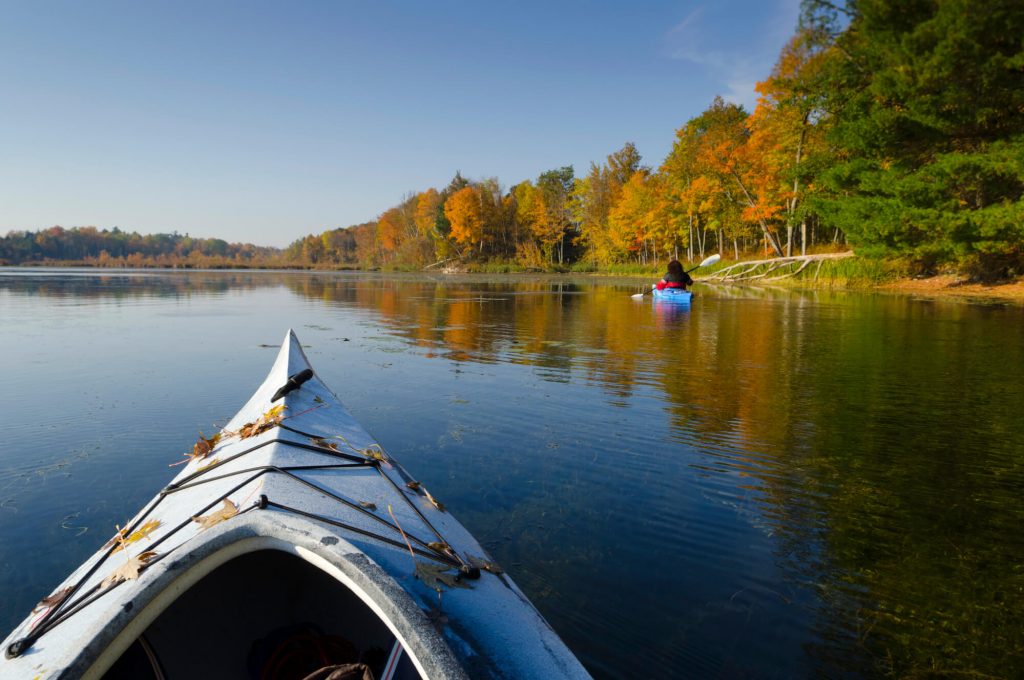 Not quite convinced if motorized kayaks are for you? Maybe you're thinking you'll be fine with a conventional small kayak, or even a tiny boat with a gas motor. Sure, you can do that. You can also go for a fishing boat that has an outboard engine if you're really looking for muscle and raw power. Before you decide, though, let us tell you why powered kayaks are so great.
See, the thing is, a motorized kayak will tow you around the lake without the effort of paddling, so you'll get to your destination faster without being exhausted, and your hands will be free and available for fishing. You'll even be able to reach great fishing spots that may be difficult to get to or are restricted from manual paddle kayaks.
The kayak motor is also great in helping you precisely position your kayak, as well as propel you back whenever necessary.
Factors To Consider When Buying A Motorized Kayak
Once you're ready to buy a motorized kayak, you should know that there are many different things you'll need to take into account before you can make the best decision on which kayak and kayak motor will best suit your needs.
For example, where do you want to deploy your kayak? If it's in the sea, you'll need a powered kayak and a matching motor that has excellent corrosion and UV resistance so the entire thing doesn't degrade easily. Or, if you'll deploy in the river, you'll likely need some protection from shallow waters and heavy vegetation.
Below is a guide on how to pick the best motorized kayak for you:
Motor
Powered kayaks are referred to as such because they make use of electric motors more commonly referred to as trolling motors. The beauty of this type of motor is that it doesn't speed up your kayak too fast and it's mostly silent, so you still get to enjoy the tranquil scene and not disturb the fish.
And unlike gas motors, trolling motors are more eco-friendly since there are zero smoke emissions and gas fumes.
If your powered kayak does not readily come with a built-in motor, you'll need to find a great mounted motor that ensures a reduced likelihood of damage from any obstacle under the water. You'll also need to consider where the motor will be installed. Usually, it's at the stern, but some motorized kayaks allow for the motor to be mounted at the bow.
Size and Stability
When buying any mode of transportation, you always have to take into account how many passengers you're planning to take with you, if any. The same goes for powered kayaks. A small one may be fine if you're going solo, but if you want some company, you'll need at least a 2 person fishing kayak with a motor.
More than that, however, size is also important in determining the agility and stability of the kayak. Generally, a larger motorized kayak makes for a more stable ride, which is ideal for beginners. That said, the larger the powered kayak, the higher the motor rating.
Stability is also important if you want to be able to stand in the kayak, whether it's to cast your fishing line or just stretch your legs.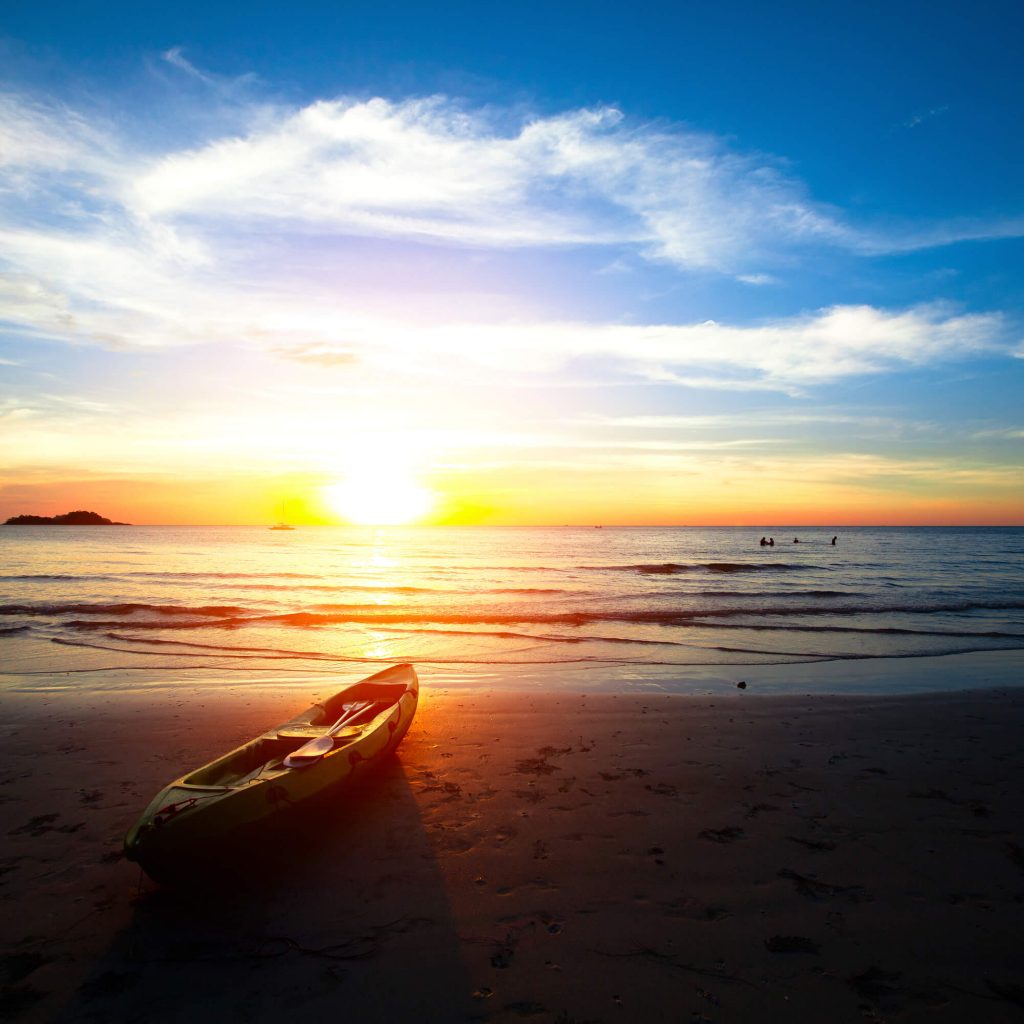 Seat Comfort and Adjustability
Kayak seats are nowhere near the comfort level of a Lazyboy, but even so, you should still aim to find the most comfortable kayak so your fishing trip doesn't get cut short by an aching butt, back, or spine.
This means that aside from plenty of padding and a generally ergonomic design, the kayak seat should also be adjustable, meaning, it can move back and forth (or at least, there should be multiple footrest placements) and allow for upright and recumbent positioning. This way, you get to maintain a good posture while the seat conforms to your body shape.
Storage Space
For any type of travel, including boating trips on motorized kayaks, storage space is always important. After all, you'll need to bring some gear, along with a few snacks and drinks. For a powered kayak, the storage space should not only be big enough, it should also be positioned properly.
On most kayaks, you'll find a dry hatch and a bungee system storage, though, on sit-on-top kayaks, there will be a little more storage to compensate for the flat deck space. The dry hatch is perfect for your electronics as it's waterproof. Ideally, it should be near the paddler. As for the bungee system, you can use it to strap down a bag for your essentials, or even a tent.
Kayak Accessories
Aside from the powered kayak itself and the trolling motor, you'll also need a few essential accessories so you can enjoy the best motorized kayak experience. These include a good quality battery for the motor, which should ideally have a high-grade cover for protection.
Speaking of protection, a hoist for your kayak is also nice to have, while kayak flags, and bilge pumps, and anchors are an absolute must-have. You should also consider investing in great quality kayak gloves, kayak shoes, life jackets, and safety helmets.
In fact, these things are all important even if you're fishing on a normal pedal kayak or even a portable inflatable kayak.
Cost
This one's a no brainer. Whenever you're planning to make a big purchase, such as when buying a powered kayak, you should always start with determining your budget, and sticking with it.
One thing you should understand is that how much a motorized kayak costs largely depends on their build quality and whatever set of features they come with. This is why you shouldn't just settle for the cheapest ones you find. In any case, the best kayaks for beginners are typically at the low to middle price range.
That said, once you have more experience with powered kayaks, you should think about trading up to a more high-end kayak that gives you smoother handling and higher speeds. Alternatively, purchase an affordable pedal kayak and transform it with a good kayak trolling motor setup.
Final Thoughts
Using a motorized kayak when going out on the water is just so much more fun and enjoyable, not to mention thrilling, liberating, and exhilarating, especially with all that extra thrust. The best part? You have virtually unlimited options when it comes to finding the best motorized kayak. So, if you don't own a powered kayak yet, well, now is the time to buy one!
You just need to know exactly what you're looking for, and from there, base your decision on your specific needs, as well as your budget. It's also a good idea to shop around before settling on a brand and model, and even ask the opinion of a few regular kayakers. This way, you are sure to find the best motorized kayak that will fit all your needs.