This post contains affiliate links. For more information, visit my disclosure page.
When pedal kayaks were first introduced way back in 1988 with the launch of the Hobie kayak, they really revolutionized the way anglers get to enjoy kayak fishing. More than thirty years later, pedal kayaks continue to be a fun way to spend a leisurely day at the lake.
Here's a complete guide to pedal drive kayaks to answer all your questions about this sport:
What Is A Pedal Kayak?
Simply put, foot pedal kayaks are a certain type of kayak that is powered by a foot pedal. Fishing kayak with pedals is a great alternative to a regular paddle kayak as it offers lots of serious advantages that can totally transform any fishing trip.
There are many different types of kayaks in varying designs, weights, sizes, and features. But, what really differentiates one kayak from another is its propulsion. A pedal kayak is foot-powered, meaning it utilizes your legs and feet to operate the boat's mechanisms. In that sense, it's quite similar to gas and electric powered kayaks.
10 Best Pedal Kayaks For Fishing
A fishing kayak with foot pedals is great for safely and economically traversing open waters. Pedal kayaks let you enjoy a fun and exciting trip while allowing you to focus on fishing and other water activities, as well as giving you a healthy dose of exercise.
It also comes in technologically advanced designs and with lots of functional add-ons, such as generous storage space for all your gear and supplies, which is why all sorts of water sports enthusiasts love it.
Here are our top picks for the best fishing kayak with pedals:
Old Town Topwater 106 PDL Angler Fishing Kayak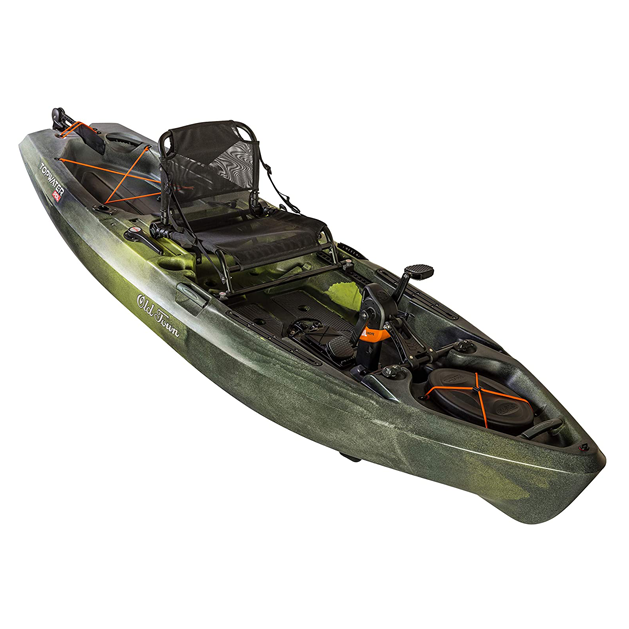 The best pedal drive kayak that we've found is the Old Town Topwater angler fishing kayak, a total package that guarantees a stable, compact, comfortable, and easy to maneuver fishing platform. It's packed with all the most amazing features you'll ever see in a kayak.
First, it makes use of a low maintenance pedal drive along with an easy docking system that ensures a well-performing hands-free fishing experience. It also boasts of an element Air seat that's 100% adjustable, and an oversized stern tank that can easily hold all your gear. It's even designed with foam deck pads that allow for added comfort and traction.
What's more, is that the Old Town pedal kayak comes in an ultra-compact and stable double hull design that makes it easy to transport. There's even a universal system for transducer mounting that lets you conveniently mount any fishfinder- truly revolutionary.
Rudder control knob (trucker style) for easy turns
Instant forward and reverse system
Universal transducer mounting system
Breathable air seat and EVA padded floor pads
Plenty of storage in the tank well plus rod holders
[Related: Check out our Old Town Predator MX Review]
Perception Crank 10 Sit on Top Pedal Kayak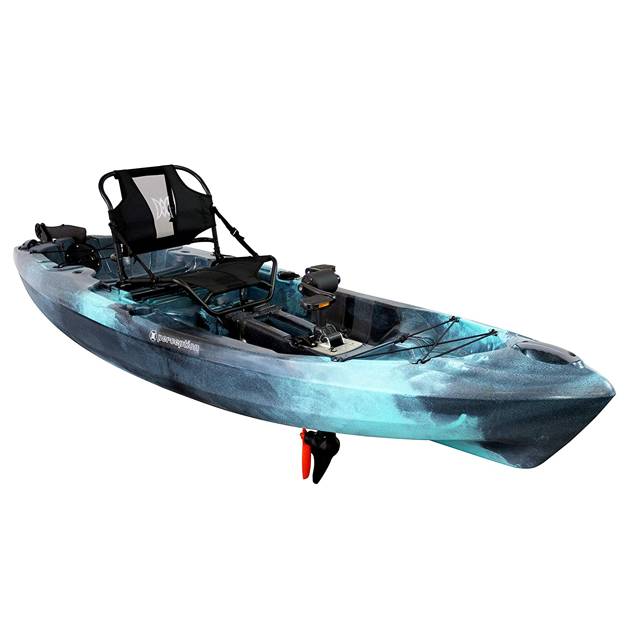 The first runner-up is the Perception Crank sit-on-top pedal kayak, a new generation pedal drive kayak that's fun and easy to use, and promises incredible pedal performance despite its punchy ten-foot package. This is the perfect kayak for calm waters such as lakes, ponds, and coasts.
Aside from the undeniably fresh aesthetic, this Perception pedal kayak boasts with comfortable ergonomics with a guarantee on easy yet powerful pedaling. It's also highly versatile and gives you plenty of surface area to rig whatever aftermarket accessories you want. In fact, there are even two mount recesses for this specific purpose!
The reason it's so manageable and easy to handle is that you don't have to remove the drive whenever you need to switch from forward to reverse and back. Plus, you're sure to love the foldable and removable Captain's chair that offers incredibly comfy and breathable seating. All in all, this pedal kayak is definitely fast and fun and packs a punch.
Lightweight and easy to stow with rigid carry handles
One hand rudder control for easy maneuverability
Hull transducer scupper for installing fish and depth finders
Front storage, large rear tankwell, and bungee lash
2 solo mount recesses for fish and play versatility
Wilderness Systems Radar 135 Sit on Top Fishing Kayak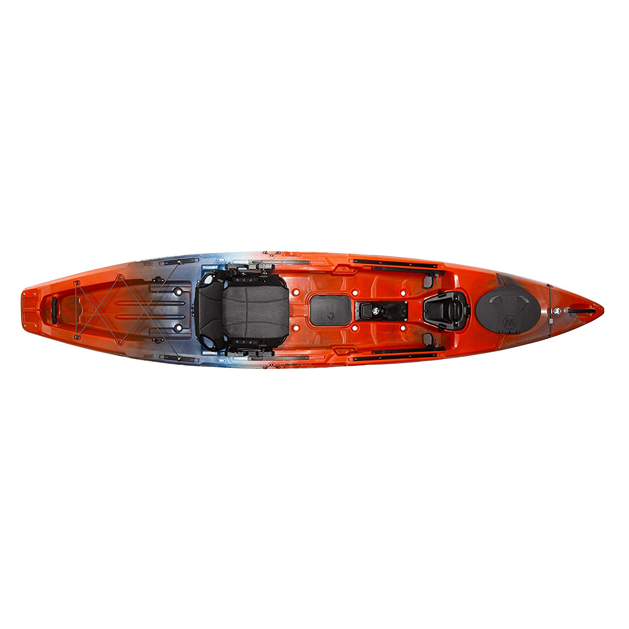 In third place is the Wilderness Systems Radar 135 sit on top fishing kayak, a tri-powered kayak that gives you pedal, paddle, and power capabilities in one single kayak. This is all thanks to its SMART hull technology that ensures stability, responsiveness, maneuverability, acceleration, and tracking, so you can enjoy the ultimate performance on the water.
This premium angler kayak features state of the art functions and outfitting to give you the most ideal freedom of motion including a flat standing platform. It's got expansive rails, multiple storage opportunities, various options on how to deploy the motor drive, and allotment for multiple electronics such as side scanning and down imaging.
As if that weren't enough, this pedal kayak also ensures easy navigation with its built-in steering system. There's also an AirPro Max seat that is comfortable and easy to adjust, and makes sure you're always optimally positioned.
Tri-power capabilities for use as paddle, pedal, and powered kayak
Works with the Helix MD motor drive/ Helix PAD pedal drive
SMART hull technology and FlexPod OS flexibility
Spacious stern mount area for accessories and electronics
Ergonomic Phase 3 AirPro seat with 3D foam and honeycomb vents
Ocean Kayak Malibu Pedal Recreational Kayak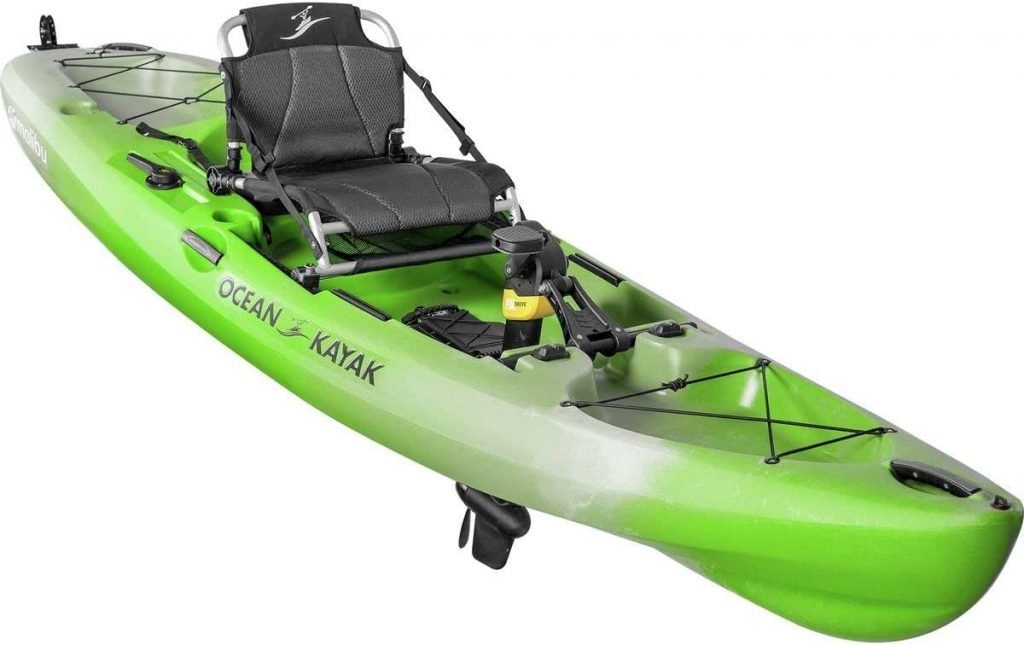 Taking the fourth spot is the Ocean Malibu pedal recreational kayak, which is designed from top to bottom in such a way that makes for an easy and carefree kayaking experience. This means quick and easy mounting of the PDL drive that is essentially maintenance-free, and easy navigation of shallow waters with a docking station that lets you conveniently tip up the drive.
This pedal kayak completely relies on pedal power to glide you across the water. Meaning, it's a fun, fresh, stable, and zippy experience, even for those with little skill or ability in kayaking. It even has a kid's jump seat and room for the family pet, making it perfect for family outings.
[Read: Best Kayaks for beginners, How to Kayak with a Dog]
Given all that, it's clear that the Ocean pedal kayak is an excellent choice for sit-on-top kayaking. It's sturdy, it's capable of turning on the fly, it's virtually maintenance-free, and it carries the brand's legacy of innovation everywhere it goes.
Advanced pedal system with 5.5mph maximum speed
Element Beach seat with storage mesh for comfort and accessibility
3 molded-in cup holders and under-seat Click Seal hatch
Removable bungees and bow tankwell that is pet friendly
Pet-friendly bow tankwell with removable bungees
BKC PK14 14′ Tandem Sit On Top Pedal Drive Kayak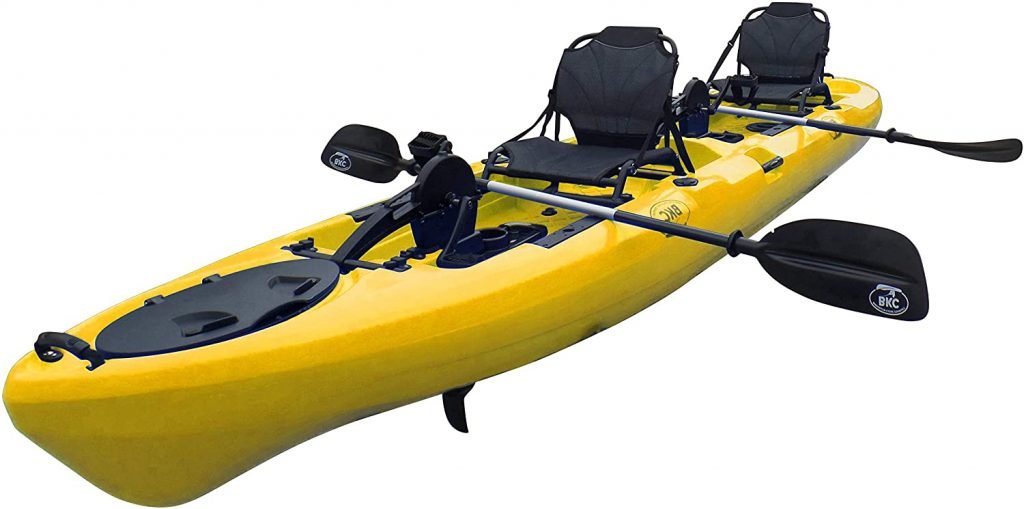 Our fifth choice is the Tandem fishing kayak with pedals, a sit-on-top pedal drive kayak that is designed with a hand-operated rudder system with instant reverse that lets you track, steer, and make sharp turns, and a high-efficiency propeller that lets you enjoy a hands-free kayaking experience with the use of the bicycle-style pedals.
This 2 person pedal kayak is fully loaded with accessories, including ergonomic seats made with lightweight aluminum frames, adjustable aluminum paddles and matching paddle parks, built-in rod holders, waterproof hatches, accessory plates, and even a bungee cargo tie-down- everything you'll ever need for your next excursion.
The Tandem pedal kayak also features a dual-drive propeller system that lets you move faster, as well as an optional upgrade to a trolling motor should you wish to enjoy a more effortless cruise. Made for stability, this pedal kayak can ride through choppy waters and strong currents.
Pedal driven propeller with optional upgrade to trolling motor kayak
High-density polyethylene construction for stability
Watertight front hatch and rear cargo space with bungees
Upright back support seats and built-in rod holders
Effortless, graceful, and exciting ride with priority on convenience
Hobie 2020 Mirage Pro Angler 14- Camo Package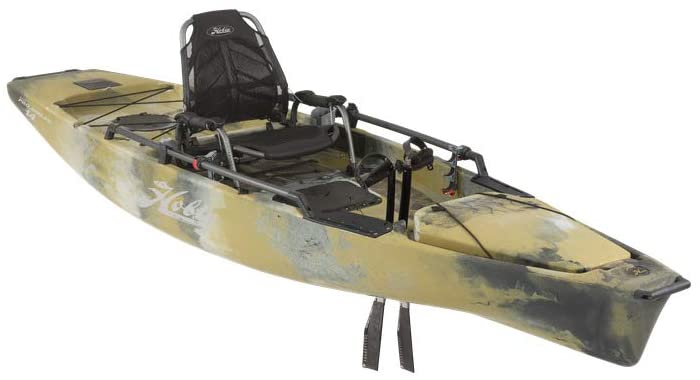 Coming from the maker of the first-ever pedal kayak in the world, the Hobie 2020 Mirage Pro Angler 14 is the latest in Hobie's expansive line of pedal kayaks. With all its legacy and flair, no wonder it's a familiar favorite of kayakers, anglers, and paddlers alike.
You can get this as a regular Pro Angler with a 180 drive and kick-up turbo fin technology, or the newer and more advanced Pro Angler 360 with an impressive 360 drive. Either way, you won't regret it. It's a little heavier than the Angler 12, but it's a total upgrade.
This Hobie pedal kayak features a built-in reverse-pull cord that allows you to easily and conveniently rotate the fins a full 180 degrees so you can move backward without pedaling in reverse. It comes in a sleek and outdoorsy camo package, too!
Upgraded version of the Hobie Pro Angler 12
Easy reverse mechanism for effortless pedaling
Can be purchased with the Angler 360 drive
Also available as a Hobie 2 person kayak
Riot Mako 10′ ft Kayak with Impulse Pedal Drive

Another superb pedal kayak we've found is the Riot Marko kayak with impulse pedal drive, which frees you up for more fun and adventure thanks to the extra-wide hull that offers an unmatched level of stability, so you can ride on calm rivers and huge surf waves.
As a matter of fact, this wide and spacious deck and the stable ride is what makes this pedal kayak so popular. That, and the kayak's decent weight capacity especially when compared to its surprisingly lightweight of just around 60lbs, easy enough to lift up to your car's roof rack.
[Read: Best Kayak Racks for Trucks]
What's also great about this pedal kayak is that the rudder control system can easily be moved from the right to the left side depending on what you're more comfortable with when it comes to steering and casting. The pedals are a little stiff due to water resistance, so they take some getting used to, but aside from that, this is a great choice for a cheap pedal kayak.
Straightforward assembly with room for customization
Wide, short, and flat profile perfect for average sized peddlers
Easy transport with the ergonomic front handle
Durable build with superior stability and excellent handling
With rudder for tracking + 5 year hull integrity
[Read: Kayaks for Big Guys]
BKC PK13 Angler 13′ Solo Sit-On-Top Fishing Kayak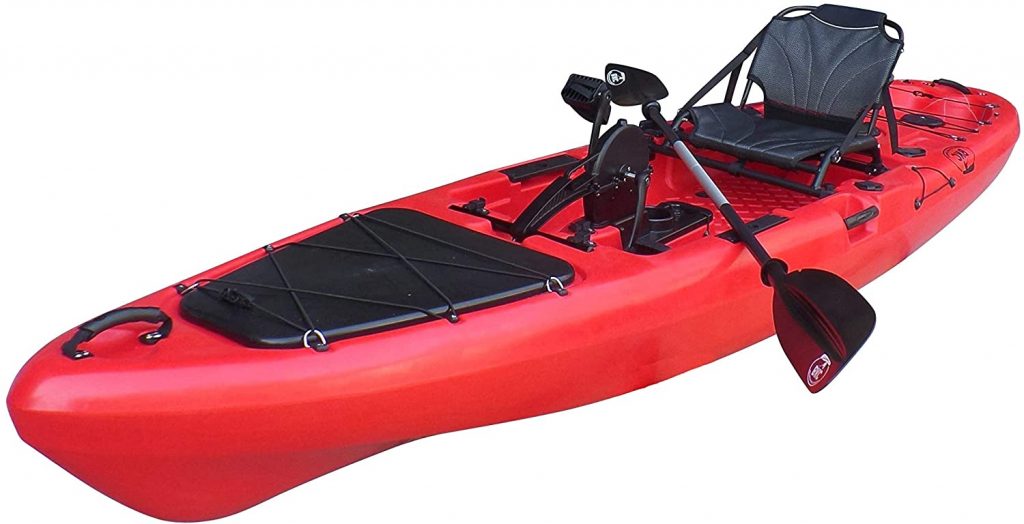 One more promising pedal kayak from BKC is the PK13 Angler solo sit-on-top fishing kayak with foot pedal, a highly stable and ergonomic pedal kayak that can successfully traverse lakes, rivers, and the open ocean.
It's made with a single piece of high-density roto-molded HDPE that is abrasion and impact-resistant and comes with excellent UV protection. It's also shaped with a wide and flat bottom to further increase stability and protect against flipping. Meanwhile, the ergonomic seats are made with aluminum and are designed in such a way to offer superior support and comfort.
And with the pedal-driven propeller system, you get to enjoy superior speed and control with this pedal kayak as you stop and go in a dime, as well as go in reverse with simple backward peddling. Or, if you really want an effortless cruise, you can even add on a customized trolling motor, and enjoy the feeling of freed up hands and feet as you glide over the water.
High-efficiency propeller and hand-operated rudder controls
Suitable for various water conditions and with excellent tracking
Watertight front hatch with rear cargo and bungees
Flush mount rod holders for convenient fishing and cruising
With aluminum paddle and paddle park
Hobie 2019 Mirage Outback Kayak

Last but not the least, and another one from the legendary Hobie brand, we have the Hobie 2019 Mirage Outback kayak, the newest and most exciting design of the Outback that comes as a technologically advanced fishing machine fully loaded with all the tools and accessories you'll need for any kind of fishing expedition both in fresh and salt waters.
It features an extra-wide and spacious standing deck that gives you a better casting platform, as well as a more convenient vantage point whenever you want to do sight fishing. It also boasts of the innovative Guardian Transducer Shield that offers a multidimensional underwater view.
Furthermore, you'll also get to enjoy the wide Vantage CTW seat that frees up extra room for your ultimate comfort. There are even several deluxe H-Track mounts, molded-in rod holders, and large storage compartments, all for your convenience.
Fast, versatile, nimble, and noiseless angling vessel
Sit-on-top style with polyethylene construction
MirageDrive 180 turbo drive with turbo fins and ARC cranks
Kick up rudder with dual steering for easy navigation
Multi-point adjustable chair, storage pockets, and shield
Advantages Of A Pedal Kayak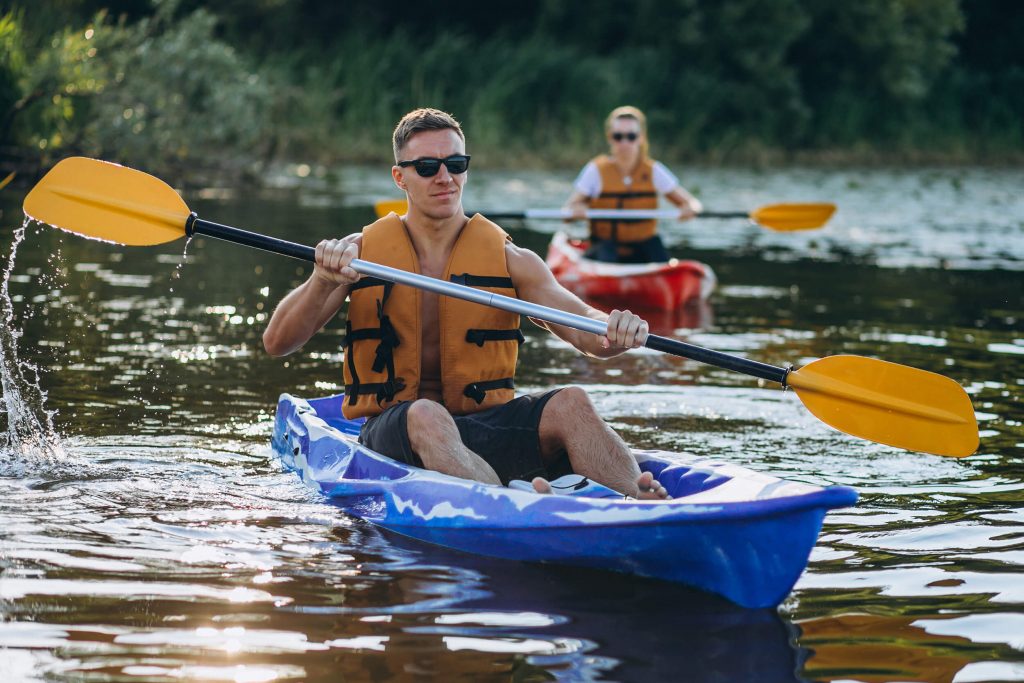 Before you decide which pedal kayak is best for you, let us first convince you further why a fishing kayak with the pedal drive is a great investment. Below are all the reasons that make pedal kayaks so awesome:
Enhanced Stability
Pedal kayaks are incredibly stable, especially as compared to an inflatable kayak. This is because the kayak itself is designed with a wider beam so you can stand and sight cast without worrying about capsizing. The propeller unit also helps in balancing the vessel.
Stability isn't something you get to enjoy as much when you're using a paddle kayak since the paddling motion alone requires you to lean around and sway from side to side. With a strictly forward motion of your body, you'll be able to maintain your balance better. You also won't have to worry about getting yourself, your electronics, and the boat itself splashed with water.
Faster Speed
As opposed to paddle kayaks, a pedal kayak requires the use of your legs and feet, which are made of bigger and stronger muscles, thereby giving you more power to exert on pedaling, and for a longer period of time, too, before you experience any strain.
This extra kick helps you build momentum, especially since the boat does the bulk of the work. It then translates to increased speeds over the water, which is not only an advantage but also incredibly important in many cases, like in more turbulent waters.
More Energy Saving
Like we mentioned above, using your legs for pedaling power not only lets you pick up speed. It's less straining on your muscles as well, so you won't tire as quickly. This is especially true if you're using rotational pedals.
Plus, as you build momentum, you'll easily glide on the water, allowing you to relax and focus on other tasks. You'll also be able to reach longer distances.
Better Tracking
Moreover, since pedal kayaks don't experience much side-to-side movement as paddle kayaks do, the boat is better able to stay on track, thanks to the underwater propeller and the hand-operated rudder.
This means that you won't have to deal with straying off course too often, and with that better tracking from the foot-powered propeller, the pedal kayak also won't lose energy, momentum, and speed.
Less Noise
Think of it this way- paddles create so much splash and wave every time they hit the water. Aside from getting you wet, the sound alone can be tiring after a while. Plus, too much movement and noise, and you'll scare away the fish.
Actually, it's even worse for even the best electric powered kayaks, since the motors aren't really known for being hush. While they may be great for lots of other water sports and activities, when it comes to fishing, not so much.
Easier Usage
The real beauty of pedal kayaks is that they allow for easy, hands-free operation. This way, you get to hold your equipment better, focus on catching fish, or do lots of other tasks while you're on the boat.
And since peddling is a lot akin to cycling, you don't really need any practice on how to hold and maneuver a paddle. You just have to move your feet back and forth, and that's it. Much less concentration needed, so you'll have more time to relax on the water.
How To Choose A Pedal Kayak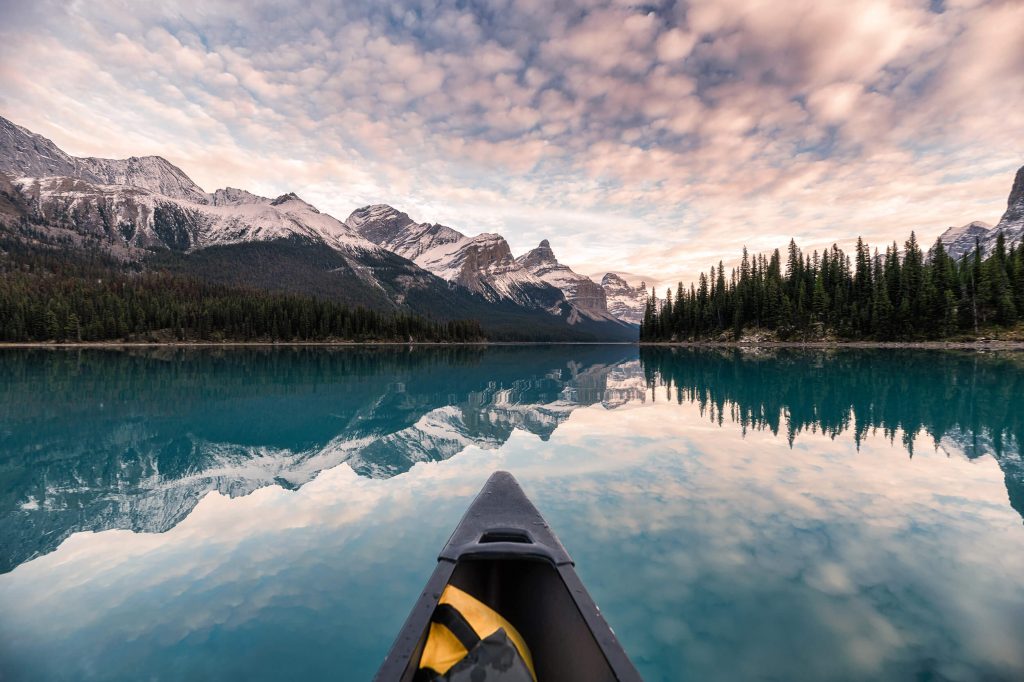 Now that you know what you're in for when you ride a pedal kayak, let's talk about the most important factors you need to consider to find the best pedal kayak for the money, whether you're looking for an affordable pedal kayak under 1000 dollars or a top-of-the-line vessel.
For one thing, the kayak should have handles to make it more portable and easier to carry, especially since the propeller makes the kayak heavier than its paddle counterparts. It should also feature a wide beam and low, flat profile for increased stability.
Pedal Type
Pedal kayaks come in two basic designs:
First, there are push pedal kayaks that work by pushing your feet down the pedal in order to propel the underwater flaps to move the boat forward. While they're not the fastest, they require less space to move around, so the kayaks are generally smaller and more portable. And, since you don't need to move as much, the kayak remains stable.
There are also rotational pedal kayaks that are more akin to riding a bicycle, in the sense that you have to utilize your legs, feet, and ankles in order to pedal the mechanism that drives the propeller underneath. This type of kayak requires more space in the cabin, but it's much faster and less exhausting, so you can reach longer distances and stay in the water for much longer.
Most pedal kayaks today are designed with rotational pedals However, there are still many pedal kayaks that feature push pedals with fin powered systems, which are also great in their own way as they have stronger propulsion. That said, bicycle-style pedals are arguably better since they are easy to use and require less energy.
Rudder Control
In place of a paddle, pedal kayaks operate with a rudder for steering purposes. This is a hand-controlled mechanism that uses an adjustable fin at the stern to set your direction and give you better control over the kayak. The best rudders are intuitive and make use of easy push levers that may be locked in place. The rudder should also leave your dominant hand free for casting.
Propeller Docking
The thing with pedal kayaks is that they're generally made for deep waters, which is where propeller systems work best. But since you'll have to go through shallow waters, you'll need an option to reach and remove this system so you don't get stuck in weeds or sand. As such, you'll need a propeller docker, ideally an intuitive one that operates with a simple switch or lifts.
Although, it can also be beneficial if you can remove the propeller and turn your pedal kayak into a paddleboat, or a motor-powered, self-propelled kayak.
Conclusion
Pedal drive fishing kayaks allow you to focus on maneuvering the kayak and cast your line, since you only have to use your feet, rather than your hands, to paddle. This gives you a better range of motion, not to mention greater kayak speeds. Plus, pedal kayaks offer so much comfort, stability, and storage space for all your knick-knacks.
Paddle vs Pedal Kayak: Which Is Better?
Each type of fishing kayak comes with its pros and cons, but the reason why anglers often prefer pedal kayaks is that these offer more speed, control, and maneuverability, while reducing strain on your upper body.
Ultimately, however, the "right" answer depends on your specific needs. For example, while pedal kayaks are great for vast lakes, slow rivers, and open seas, they're not ideal for rocky rifts and shallow waters. Also, even the cheapest pedal kayak will likely cost more than a paddle one, especially with maintenance costs.
You'll need to account for all these things before you decide if a pedal kayak is right for you.