This post contains affiliate links. For more information, visit my disclosure page.
Best Overall
Sea Eagle 370 Pro
Best-in-class kayak
650 lb weight capacity
Class III whitewater rated
Great Value
Advanced Elements
Added stiffness protection
Quick inflating Twistlok
350 lb weight capacity
We know that kayaking is fun for everyone, young and old. No matter your lifestyle, you're sure to enjoy the serenity of sitting on a boat in calm waters and the thrill of careening down whitewater. And, kayaking isn't only fun for us humans. Even your dog will love it too!
Think about it. All that splashing, all the new sounds, and exciting sights? It's basically doggy heaven!
What better way to enjoy the fun of kayaking than with your furry friend? If this is something you want to do, here's a complete guide on how to kayak with a dog, so you can safely paddle with your pet and make sure both of you will have a fun day. At the end, there's also a list of the best dog kayaks in 2021!
First Things First: Does your dog love water?
All that said, at the end of the day, it all boils down to your canine companion whether kayaking with him is a good idea since not all dogs are fond of water, unlikely as it may seem. Of course, most dogs take to water as if they are fish born in the wrong body.
If this sounds like your dog, read on further! Or, if your pup seems a bit skittish, try taking him to the beach first to see how he acts, then goes from there.
How to Kayak with a Dog
Kayaking with your dog can be fun and easy, as long as you take proper precautions. All it takes is a few steps:
1. Introduce your dog to the kayak
The first step is to get your pup accustomed to the kayak while it's still on land. The more he gets to know the watercraft, the less scared and antsy he will be on the water. Let your dog sniff the kayak, climb aboard, lay down inside, etc. Just let him have fun on your watch.
Of course, this is under the assumption that your furry friend is fond of water. If he's normally too energetic, tends to do sudden movements, or displays over-the-top reactions to new environments, kayaking may not be the best idea unless he receives proper training first.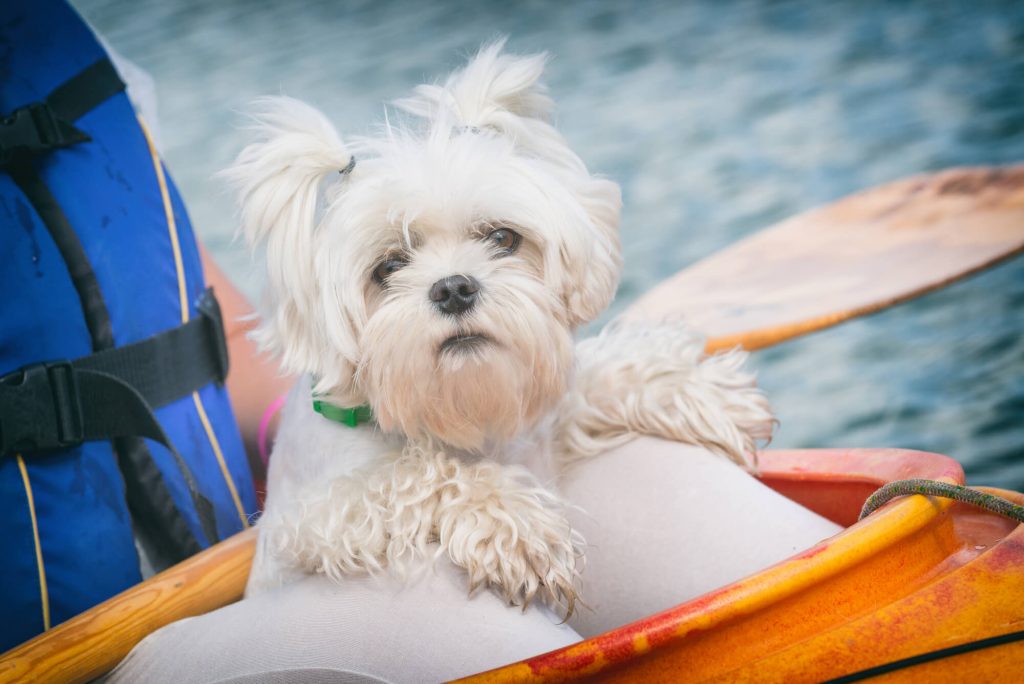 2. Don't forget proper training
Training is an important step to prevent a disaster on the water with a capsized boat, and a human-and-dog tandem swimming to shore. It's all the more important if your dog loves the water a bit too much and has plenty of energy to go around.
He needs to know how to come on command, stay, sit, and just listen to you, especially in distracting and stressful situations. He also needs to obey when you say "leave it", since he'll be exposed to lots of exciting new things that he will want to explore or play with. Your canine companion needs to learn all these before he becomes kayak-ready.
For more dog training tips, click here.
3. Suit-up with the right kayak gear for dogs
Gearing up your pet is also important. Here are the most important equipment you need:
Dog life jacket– make sure to get a life vest specially designed for dogs so he's always safe especially in case of emergency. Whether or not he can swim well, it's important that your dog wears a PFD. Get him used to wear it before you go on the water so he isn't tempted to take it off.
Harness– this is a nice safety measure that will help you pull your pup out of the water if he decides to jump in to swim or chase some fish. Not all life jackets come with a top handle, so getting a separate harness is a good idea.
Leash– your dog likely already has one, so just bring it along for the trip. You'll need it to keep your dog reeled in while you're on land, but once you're out in the water, remove the leash, and never tie your pet to the kayak.
First aid kit– this is for you and your puppy both, so you can address emergencies immediately. Your kit should include peroxide or Neosporin for injuries. And while you're at it, don't forget your kayak repair kit, too.
Drinking water– don't let your dog drink water from the lake or river, since you don't know what's in that water, and your dog might easily get sick from it.
Dog treats– it's always a failsafe solution to get your furry friend's attention and make him listen to your commands. But, don't rely on it too much; use it as a last resort.
Other dog essentials, like sunscreen, doggie bags, a toy that will calm him down, etc.
4. Launch the kayak with the dog
This step will probably take a few attempts before you hit success, so be patient with your dog since he's not used to the floaty feeling of a kayak on the water, which means he'll need plenty of reassurance.
Get your kayak as close to the water while still being able to sit on solid ground.
Coax the dog to climb aboard and lie down on the kayak.
Climb aboard as well and push away from the shore using your paddle.
Once you're on the water, just float aimlessly for a while to help get your dog acclimated.
Make sure you are both comfortable and act as you normally would around your dog.
Remember, it's a must you are on the kayak when you're launching it, as your dog might get spooked and jump out if he's alone. You may even let him splash on the water first to get him more comfortable and tire him out a bit so he'll appreciate getting to lie down on the kayak after.
5. Calm, open waters are key
Dogs are not meant for dangerous waters like whitewater rapids, nor are they meant to accompany you in open ocean fishing. Rather, you should kayak on calm, open waters.
As much as possible, stay away from possible distractions, like other kayaks, fishermen, so your dog will be less tempted to jump out of the kayak. The same goes for slow rivers where the shore is too visible.
That's not to say that you should prevent your dog from swimming. It's actually a good idea to let him expend all that energy on the water rather than on the boat. Just don't forget to make him wear his PFD, and pull him back onboard when he's done, or let him swim back to shore with you paddling after.
Top 6 Kayaks for Dogs
If you don't own a dog kayak yet, it's best to buy (or rent) one that's meant for dogs, meaning, large cockpits or decks. Here's a list of your best options:
Sea Eagle 370 Pro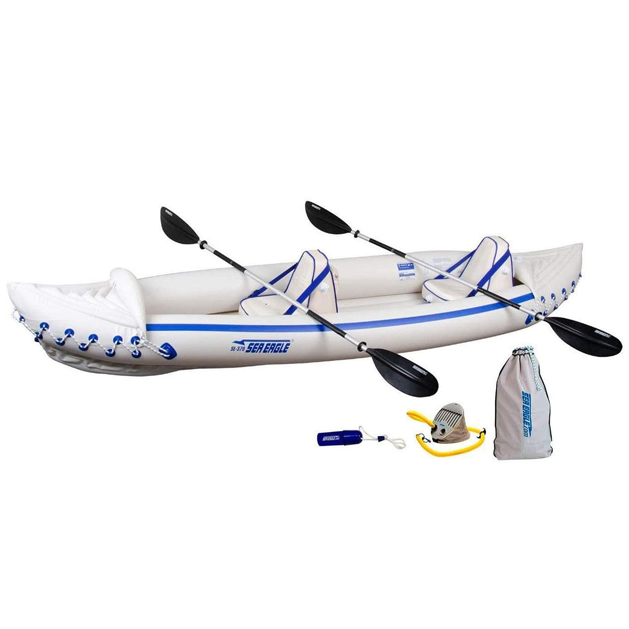 Our first pick is the Sea Eagle 370 Pro 3 Person Inflatable Portable Sport Kayak, a highly affordable option for a dog kayak that is portable and lightweight, while also being remarkably durable and stable.
This is a rugged kayak that can easily hold three people, so not only can you bring your dog, you can also take a friend along. It's also a great option for beginners and expert paddlers due to its efficient hull design.
Plus, it's also quick and easy to set up, and just as easy to use, so you'll have more quality time enjoying the fun and adventure of kayaking. And once you're done, this kayak packs into a tiny package that fits in a bag.
Best-in-class inflatable kayak
Class III whitewater rated
650 lb weight capacity
2 4-part aluminum paddles
Lifetime Tandem Fishing Kayak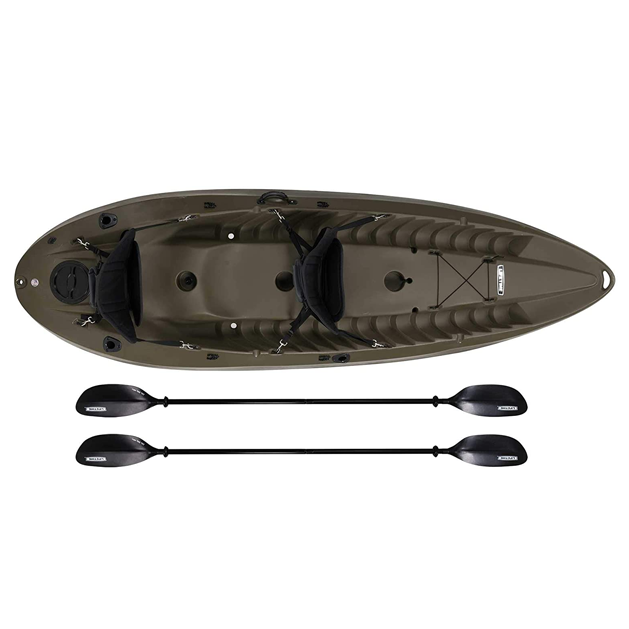 Taking the second spot is the Lifetime 10 Foot Two Person Tandem Fishing Kayak, which is one of the strongest and most durable kayaks we found thanks to its blow-molded high-density polyethylene construction.
What's more, this kayak features a hull design that guarantees great tracking and superior stability. The construction material is even resistant to peeling, cracking, and fading caused by the harsh UV rays of the sun.
This all means that it's perfect for dogs and humans alike since it's virtually impenetrable by your dog's sharp claws. It even comes with an impressive five-year warranty so you know that your investment is protected.
2 padded backrests for comfort
Multiple footrest positions
Designed to accommodate fishing gear
500 lb weight capacity
Advanced Elements Lagoon 2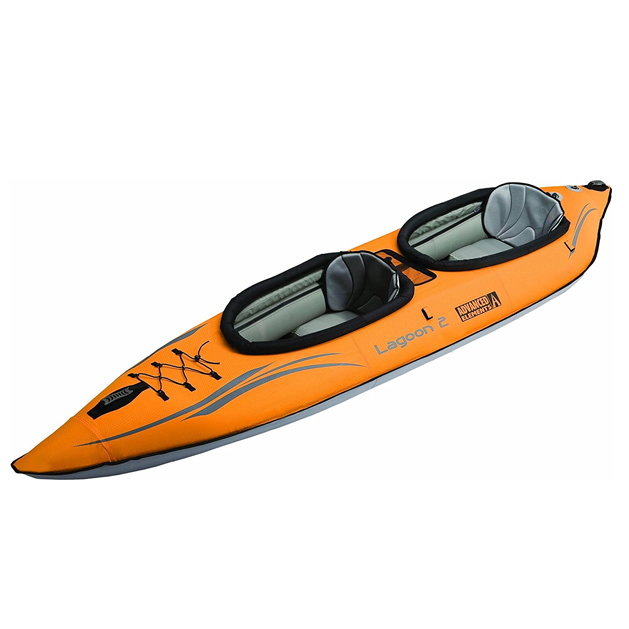 Taking the third spot is the Advanced Elements Lagoon 2 Inflatable Kayak, a multi-use tandem kayak that's ideal for mild rivers, estuaries, bays, and lakes. This kayak promises easy set-up, improved tracking, and great fun on the water.
That's because it features a two-material outside cover construction with PVC laminate plus a polyester rip-stop on the topside, and durable PVC tarpaulin on the hull. It also features a high-density fabric cover on the inner tube.
What this gives you is superior durability and performance, especially from the built-in rigid forms of the bow and stern. The kayak also offers superior comfort with the high-support padded seats that also keep you in the best paddling position.
Added stiffness with abrasion protection
Quick inflating Twistlok for easy setup
Molded-in rubber grip handles
350 lb weight capacity
Sevylor Coleman Colorado

In fourth place is the Sevylor Coleman Colorado 2-Person Fishing Kayak, which boasts of a tough nylon cover, thick tarpaulin bottom, and 18-gauge PVC construction to give you the level of durability that you need.
It's strong enough to let you reach faraway fishing holes, though of course, you shouldn't attempt that if you're kayaking with your dog. Anyway, this kayak features multiple air chambers that will always get you back ashore.
It also features adjustable seats to let you comfortably paddle for longer. You can also modify this kayak by adding a Sevylor trolling motor so you can focus on your canine companion and save your arms from exhaustion.
NMMA certified for lake use
Berkley quick-set rod holders
D-rings and mesh pockets
Airtight, leak-proof system
Wilderness Systems ATAK 120

Ranking fifth is the award-winning Wilderness Systems ATAK 120 sit-on-top Fishing Kayak, a compact kayak that delivers increased manageability. It's a great fishing kayak that offers all the features that a kayak fisher would want.
These include wind-shedding decks, customizable platforms, and unmatched stability, with specialized performance as a cherry on top. As such, it's particularly great in efficiently navigating moving water.
Plus, it also features a Helix MD motor drive, a second transducer scupper, a quick-release cam lever, an adjustable seat, and plenty of other amazing features that let you kayak in comfort while bringing all your fishing gear along.
Advanced tactical angling kayak
Compact and customizable design
400 lb weight capacity
Multiple SlideTrax for your gears
Old Town Vapor 10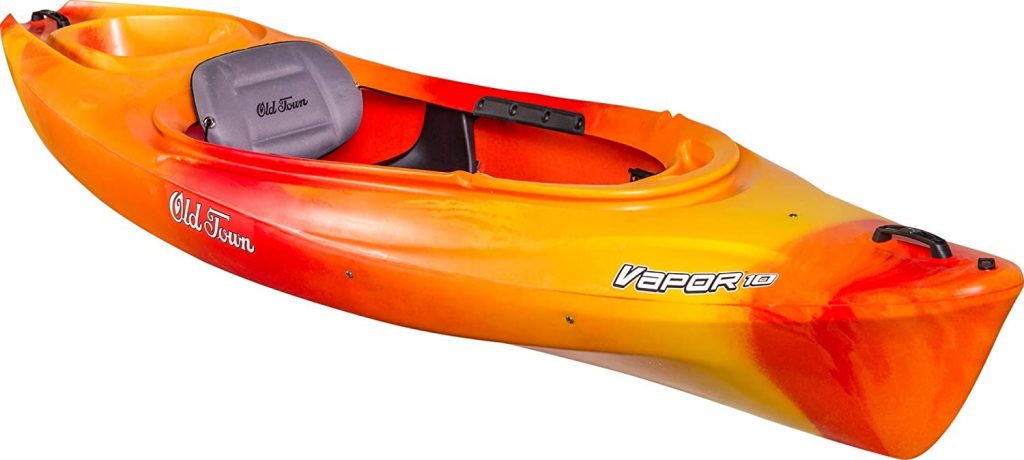 Finally, there's also the Old Town Vapor 10 Recreational Kayak, which is perfect for recreational paddlers, anglers, and sportsmen, thanks to the way it offers a reassuring and comfortable ride that even your dog is sure to appreciate.
This sit-in kayak features a large cockpit opening and a single-layered polyethylene hull construction for maximum durability, ease of entering and exiting the kayak, and better performance on the water.
Furthermore, it also boasts of a Comfort Flex seat that's adjustable and comes with easy-grip thigh pads, making it suitable for long kayaking trips. Other features include a molded cockpit track, stern day-well, etc.
Best-in-class recreational kayak
Efficient and stable with great control
Skid plate and drain plug
Glide Track foot brace system
Also check out the Perception Tribe 9.5 kayak review.
Overview
As you can see, kayaking with a dog is easier than you think. You might not even need to buy a new dog kayak- just modify your sit-in kayak with dog-friendly features like adding a kayak dog deck.