This post contains affiliate links. For more information, visit my disclosure page.
If you want to be able to go out on the water and explore, have fun, maybe even work out your arms and legs a little, kayaking is one of the best ways to do that. However, many kayaks are big and bulky, and difficult to transport from your garage to the open waters.
The answer? A small kayak that lets you enjoy kayaking without the hassle of large kayaks. And to help you out, we reviewed the best lightweight kayaks on the market this 2021. There's also a buying guide at the end to help you decide which small kayak is right for you.
Short Kayaks vs Long kayaks
There are many benefits to short and lightweight kayaks, the best ones being that they are portable and easy to store. For instance, if you want to do solo kayaking, you shouldn't have a problem hauling and carrying a lightweight kayak, even if you only have a compact vehicle like a Prius rather than a full-size SUV.
You'll still be able to bring your kayak and all your kayaking gear along. It will also be easier to find a storage spot for the kayak when it's out of the water. A small 6-foot kayak will easily fit in a tiny apartment with no parking garage, as opposed to a large and heavy 14-foot kayak that you'll have so much difficulty lugging up and down the stairs, or even to the roof of your car.
That said, longer and bigger kayaks do come with their own advantages, including increased kayak speed, better kayak tracking, enhanced aerodynamics, less wagging from side to side, straighter paddling, and versatility of use. Although, small kayaks turn better and make for easier maneuvering in small channels and waterways.
To summarize,
| | |
| --- | --- |
| SHORT KAYAKS | LONG KAYAKS |
| Lightweight | Heavy |
| Slower | Faster |
| Easier to transport | Not as portable |
| Easier to turn | More versatile |
All that said, whether you want a smaller or bigger kayak is all up to you. As you can see, each kayak size comes with its advantages and disadvantages, so it really all boils down to your specific needs and personal choice as to what you are more comfortable with, as well as your body build, where you want to kayak, and how you want to use the watercraft.
But, more on that later.
You can read more about the different types of kayaks here.
Our Favorite Short and Lightweight Kayaks
Here are the top ten best short and lightweight kayaks we found that are sure to give you the best value for your money and let you have tons of fun on the water:
Intex Challenger Kayak Series K1 Kayak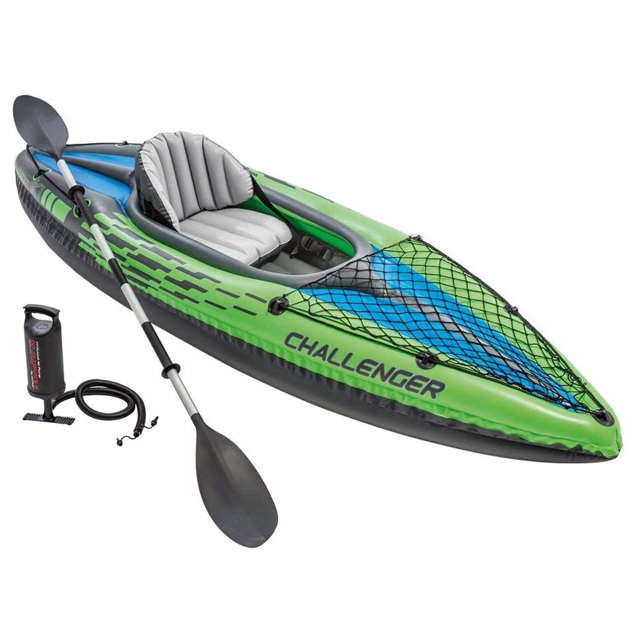 Our top pick is the Intex Challenger K1 Kayak, which performs outstandingly on water, thanks to its aluminum core that measures 84 inches, its streamlined design, ergonomics, and overall stability. This is a kayak that makes for an exciting time on slow rivers and calm lakes.
It boasts of a 220-pound weight capacity, absolute ease of steering even for beginner kayakers, inflatable I-beam flooring, strong vinyl construction, penetration and puncture resistance, comfortable padded seats that are adjustable and removable, and a spacious cockpit that offers plenty of space for you to move around.
Moreover, this 9-foot kayak features side grab lines that offer emergency support, a Boston valve that lets you conveniently inflate or deflate the floor, a unique cargo net that lets you store your essentials, and of course, a serene design with sporty graphics that not only look great but also enhance your visibility out on the water.
Streamlined design for easier paddling
Spacious and comfortable cockpit
Adjustable inflatable padded seat with backrest
Comfortable and rigid inflatable I-beam floor
Rugged vinyl construction
TUV approved and US coast guard certified
Find other 9 foot kayaks here.
Sea Eagle 370 Pro 3 Person Sport Kayak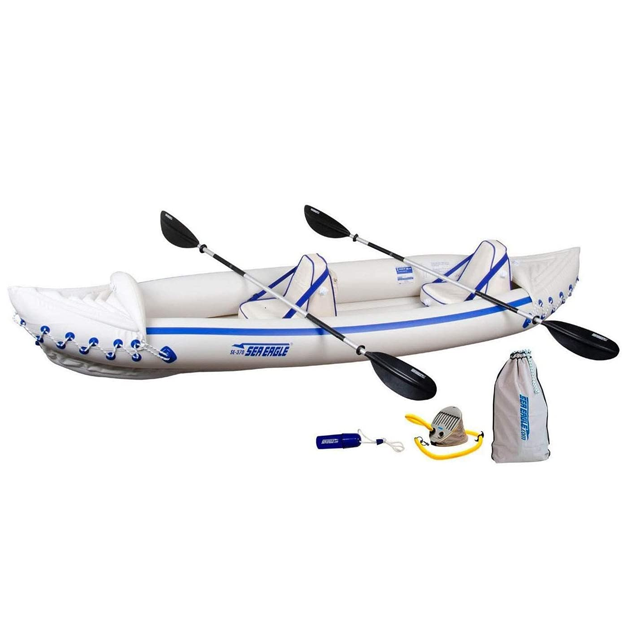 If you want a lightweight yet spacious kayak that fits you, your partner, and another friend/ kid/ pet, the Sea Eagle 370 Pro 3 Person Sport Kayak lets you take kayaking to the next level by allowing you to explore class 3 whitewater. This is a versatile kayak that lets you go skin diving, fishing, paddling, and so much more.
Now, it's on the bigger side as a 12ft kayak, but that's because it seats three persons with a 650-pound capacity (and it's inflatable, so size doesn't really matter). It also comes with two aluminum paddles with asymmetrical blades to give you unique capabilities in easily steering through waters. And, the kayak itself is easy to maneuver thanks to the two bottom skegs.
What's more, it features two installed seats that are not only comfortable but adjustable as well. Even the I-beam floor that's inflatable offers superior comfort. We also like the fact that it comes with plenty of storage space for your accessories and camping gear, and once you reach your destination, you can conveniently pack the kayak inside a compact carry bag.
Inflatable design for portable trunk storage
Hull material resistant to sun and saltwater
Inflatable lashed down spray kits
Self-bailing drain valve to expel water
Grab lines on the bow and stern
Carry bag, storage bag, and foot pump included
Lifetime Lotus Sit-On-Top Kayak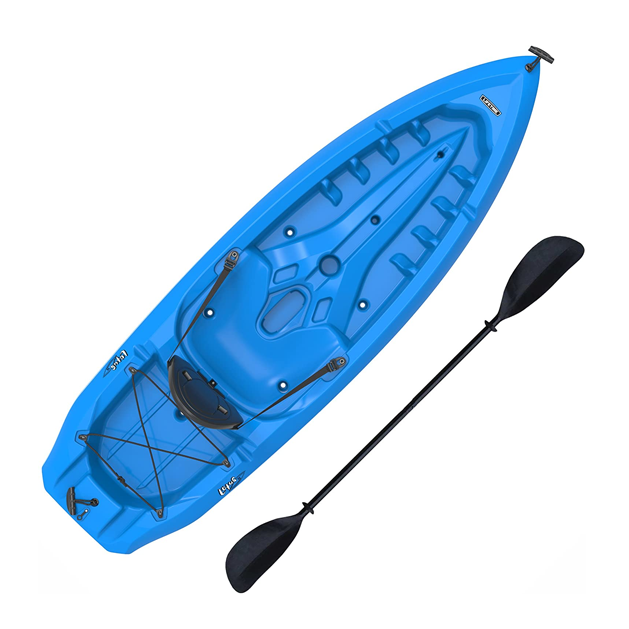 A true versatile kayak that beginner and advanced kayakers all swear by is the Lifetime Lotus Sit-On-Top Kayak, which is an incredibly lightweight and easy to use 8-foot kayak that weighs a mere 38 pounds, thanks to its high-density polyethylene construction, which makes it weigh like a feather while also being extremely durable.
This material also means that the kayak is resistant to damage, rust, and general wear and tear, so you can use your kayak in some pretty demanding situations then store it in the shed for a long time without worrying about coming back to a dingy, worn-out watercraft.
Furthermore, it features a cockpit with scupper holes to get rid of water as soon as they enter the boat, along with a spacious rear end that offers plenty of storage space for your gear and luggage, which you can secure with the included bungee cords.
Easy to maneuver in slow waters
Ideal for long kayaking trips
Smooth and light molded paddle cradle
Storage space in the spacious tankwell
Scupper holes for efficient and rapid water drainage
Lifetime 6 Foot Yellow Youth Kayak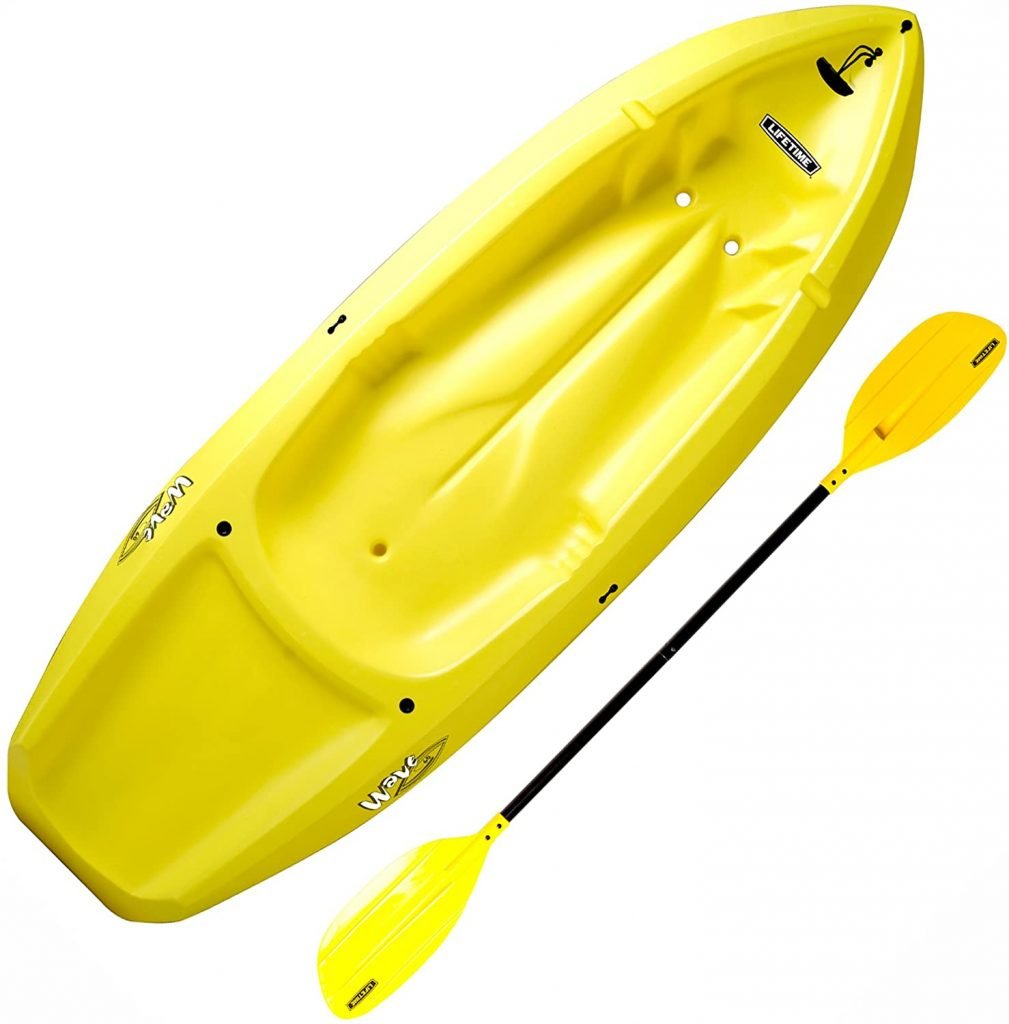 The smallest kayak we found that's also lightweight and easy to balance is the Lifetime Yellow Youth 6ft Kayak, which features a uniquely designed cockpit with a low profile and sturdy overall design that makes for easy maneuvering and effortless cruising. It's a kids kayak that's so well-balanced you're sure it won't capsize with an energetic child or pet on it.
One of the many things this kayak prides itself on is comfort. You'll experience it with the backrest that feels great even on long tours, the multiple footrests that allow adjustability for different heights of kayakers, the swim-up steps designed with a sloped back that makes getting on the kayak easy, and a rear bottom twin-fin design that makes steering more comfortable.
And, this kayak also features scupper holes in the cockpit, large straps that can be tied to a shorter size, ample storage and seating space that can fit lots of pool toys for your child or furry friend, and a compact, lightweight construction that lets you haul the kayak in a small vehicle.
Durable construction with UV resistance
Side molded-in finger handles
High-density polyethylene material
Easy to enter the swim-up deck
5 year limited warranty
ADVANCED ELEMENTS AdvancedFrame Sport Kayak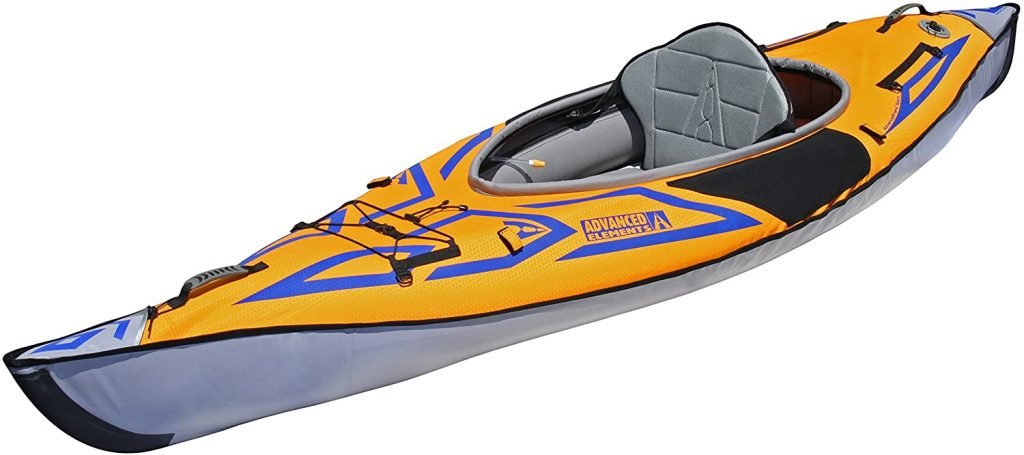 We also really like the ADVANCED ELEMENTS AdvancedFrame Sport Kayak, which boasts of an aluminum rib frame technology in its bow and stern in order to provide superior maneuverability. The stern is also reinforced with an aluminum frame to increase the kayak's tracking performance.
In fact, even some ribs feature aluminum construction to offer a level of strength and performance that you normally get from a hard kayak. This kayak also features a three-layered construction to offer extreme durability and puncture resistance, as well as a design that increases efficiency and allows for easy setup.
In terms of comfort, this 10-foot single person inflatable kayak for adults also boasts of an open cockpit for easy entering and exiting, plus lots of legroom and excellent back support for your sitting comfort. The best part? It's easy to carry, set up, use, pack, haul, and store.
Improved design for maximum efficiency
Increased performance and superior puncture resistance
Aluminum frame with a reinforced stern and low-profile handles
Sizable onboard storage with D-ring bungee attachments
Twistlok valves for maximum pump compatibility
Pelican Maxim 100X Sit-in Recreational Kayak

If you are a beginner kayaker who wants a stable and easy to use watercraft, we highly recommend the Pelican Maxim 100X Sit-in Recreational Kayak, which offers a strong all-around performance. It may not be a short kayak, per se, with its 10-foot long profile, but it's definitely lightweight, stable, and agile, which makes for easy turns and maneuvers.
It's also really responsive and offers excellent speed and performance for recreational kayakers. And, it's super comfortable thanks to the padded seat cushion and backrest that ensure you're always comfortable while sitting in the kayak. There are also molded footrests that give you a spot to rest your feet while paddling.
More than that, this kayak offers plenty of storage solutions with the storage platform on the mesh deck, the storage hatch that comes with a bungee cord, and even the bottle holder on the cockpit, so you'll definitely be able to carry all your gear, accessories, snacks, and drinks.
Excellent maneuverability and stability
V Chine hull design in yellow with black seats
Molded-in side handles for easy carrying
Drain plug for water infiltration prevention
Cockpit table and mesh deck cover
Limited lifetime warranty
Perception Flash 9.5 Sit Inside Kayak

Another versatile and well-performing kayak that's suitable for both newbies and seasoned kayakers is the Perception Flash 9.5 Sit Inside Kayak, which promises true tracking and a stable hull, along with quick maneuverability, so you can stay safe on the open waters. This kayak is simple and easy to use, fun, versatile, and low maintenance, too.
It's not just excellent for leisurely voyages, it's also ideal for fishing trips since it features a sizable storage hatch and molded rod holders. This kayak offers a smooth paddling experience with unmatched stability that a beginner kayaker needs.
Of course, the short 9.5-foot length makes this kayak easy to maneuver, and its lightweight construction allows for easy transport and storage. It also features a wide and flat base that lets you easily get in and alight from the kayak.
Simple, stable, and versatile design
Exceptionally maneuverable profile
Ideal for slow rivers, calm lakes, and ponds
With rear storage bin and side molded-in handles
Comfortable seat with an adjustable backrest
Dual tracking channels to maintain course
Want more Perception kayaks? Check out our detailed Perception Tribe 9.5 review
Old Town Vapor 10 Recreational Kayak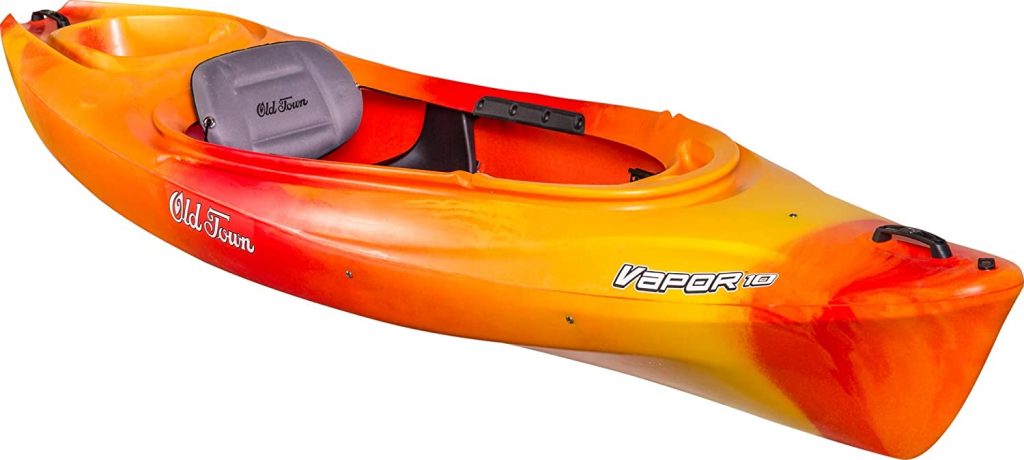 Whether you're a recreational paddler or a skilled angler, you will love the Old Town Vapor 10 Recreational Kayak with its large cockpit opening and single-layered polyethylene hull that makes for a reassuring and comfortable ride.
As a matter of fact, this 10-foot kayak comes packed with lots of amazing features, such as the molded paddle rest, the molded cockpit tray that features a cup holder, a stern day-well that lets you store gear, the built-in carrying handles, a skid plate for protection, a drain plug, and more.
What we're trying to say is that this is a reliable and easy to use lightweight kayak that makes for a stable, comfortable, and efficient ride. Even sportsmen are sure to like what it brings to the table, so we are sure you would, too.
Superior control and comfort
Comfort flex seat is adjustable
Easy-grip thigh pads
Glide Track foot brace system
Limited lifetime warranty
Vanhunks Voyager Deluxe Kayak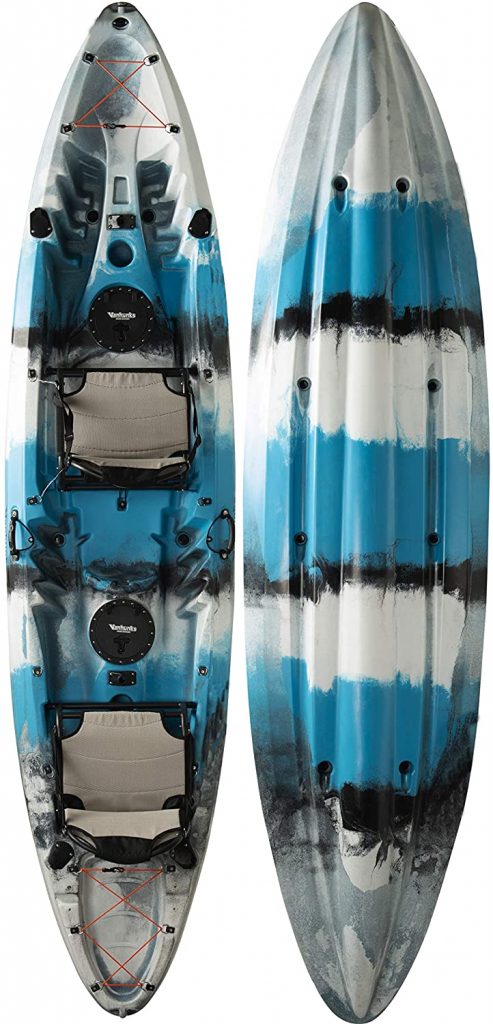 If you're looking for a complete package that lets you get right to experience the joys of kayaking without having to worry about buying lots of different gear, one of the best options is the Vanhunks Voyager Deluxe Kayak, a two-person sit on top kayak that comes with everything you'll need to go out on the water.
It's a massive yet lightweight touring kayak that can be used for fishing, fun outing trips, and relaxing journeys on rivers, lakes, and oceans. You can use it to paddle solo or go out with a friend or two by taking your friend, pal, or pet along for the ride.
What we really love about this kayak is that it's customizable based on your needs. For instance, you can add a foam padded seat to make for deluxe single person paddling comfort. You can also carry plenty of gear, supplies, food, and even a tent with all the different storage compartments, hatches, and bungee spaces.
Stable, easy to paddle, and comfortable profile
Durable construction with UV and impact resistance
Removable and adjustable padded beach chair
Premium quality molded-in swivel rod holders
Built-in side carry handles for easy carrying
Pelican Sit-on-Top Kayak – Sentinel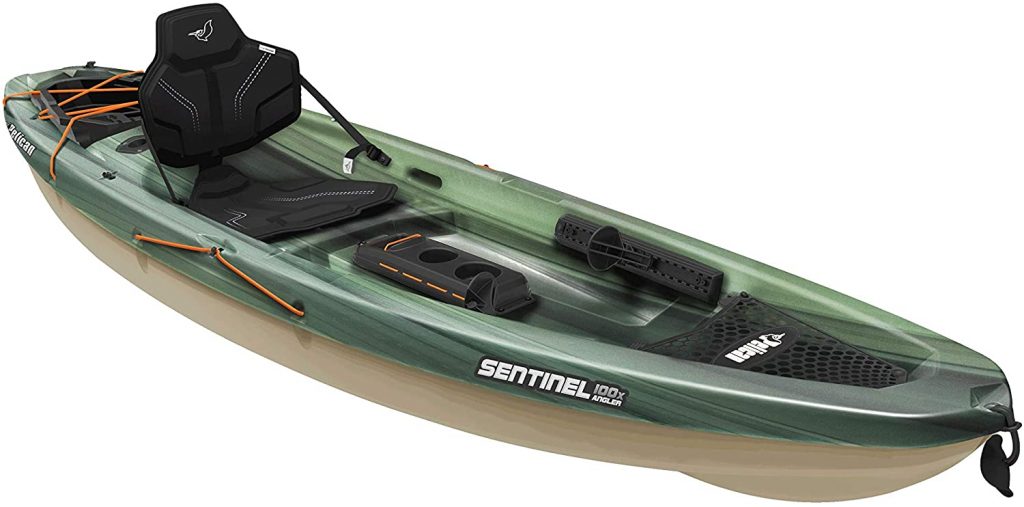 Finally, you should check out the Pelican Sit-on-Top Kayak – Sentinel 100X angler, which makes for a relaxing and stable kayaking experience on calm, slow-moving waters during the warm and cool seasons alike.
This 9 ft sit on top kayak features a twin arched, multi Chine flat hull construction to offer excellent stability, while its spacious cockpit allows you to easily get in and out of the kayak. In fact, this kayak is a great choice for fishing, since you can conveniently stand on the deck while casting lines or reeling in your catch without worrying about capsizing.
Besides, it also features extra flotation in the hull to make it more buoyant while remaining solid and durable. There's also plenty of storage solutions with the vertical rod holders and removable storage compartments, and your comfort is never compromised with the adjustable footrests.
Lightweight profile with comfortable footrests
Molded-in carry handles and 2 paddle holders
EXOPAK storage compartments
Flush-mount rod holders with rod tie-downs
2 accessory eyelets and 1 smartphone holder
Short and Lightweight Kayak Buying Guide
Buying the best short kayak or lightweight kayak means accounting for all the important factors so you can find a kayak that works for your needs and preferences, whether that's a portable and inflatable kayak that fits in a backpack, a tiny kayak that you can haul on your car then ride on calm waters, a bigger but lightweight kayak that's great for fishing, and so on.
One thing you need to keep in mind is that short and lightweight kayaks for solo kayaking should be less than 10 feet long and weigh 45 pounds at most. Also, don't forget to measure your intended storage space and see whether the kayak you're planning to buy will fit.
What this means for you is that you'll be able to carry the kayak by yourself, which is important if you're doing solo kayaking. Fortunately, there are plenty of suitable options available, including 7-foot kayaks for adults and 5-foot kayaks for kids.
Construction Materials
Kayaks are typically made with polyethylene plastic, which is the most common, or composite materials like carbon fiber and fiberglass, or even hard-wearing ABS plastics.
Generally, the stiffer the material, the better the kayak's performance, and the more durable and long-lasting the kayak will be especially in terms of holding their shape without developing dents, warping, or scratching.
On the other hand, plastic kayaks offer better resistance to damage caused by dropping the kayak on land or hitting rocks. That said, they don't offer as much responsiveness and stiffness.
Hull Shape
In terms of hull design, kayaks can either feature a flat and rounded hull for kayaking on coastal flat waters, lakes, and calm rivers, or it can be a V-shaped hull that effectively cuts through turbulent waters, such as open oceans and whitewater.
You'll also need to consider the beam width, which should be narrow enough to give you the speed that you're aiming for. Alternatively, it could be as wide as possible to offer the best in terms of stability.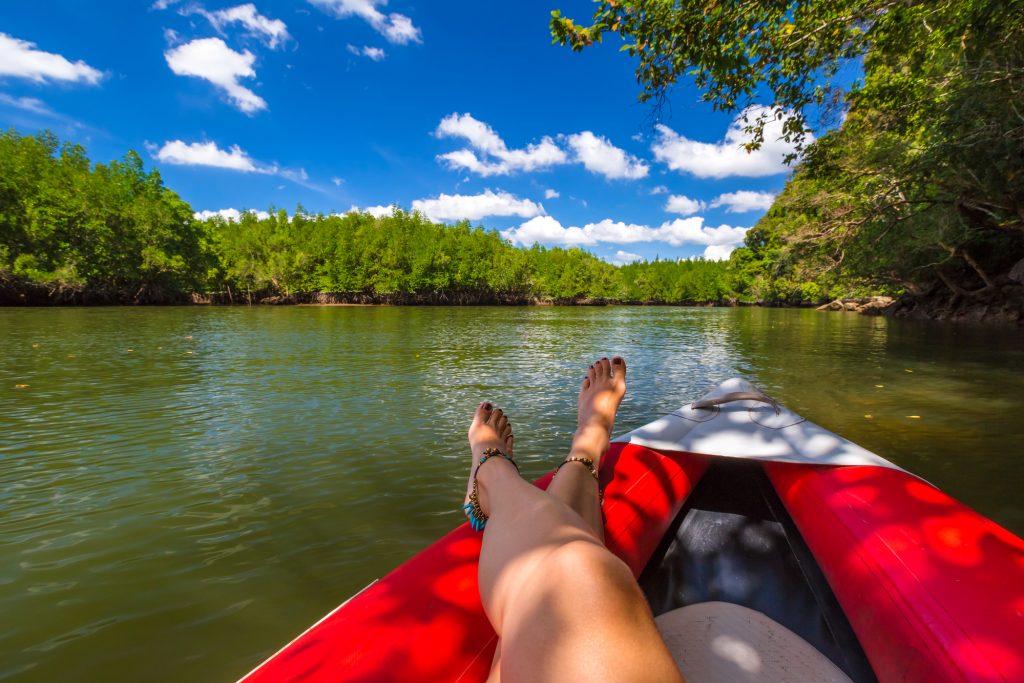 Puncture Resistance
If you are buying an inflatable kayak for its portability, you should be mindful of its puncture resistance. That's not to say that inflatable kayaks are prone to damage, in fact, these kayaks are now, in a way, even stronger than hard kayaks. Still, you should opt for inflatable kayaks that feature triple-layer external skins for your safety and peace of mind.
Comfort
One of your main priorities when buying any kayak should be your comfort since you'll be stuck inside that kayak for long periods of time unless you want to swim on the water or head back to shore early. In terms of comfort, it's really all about adjustability, meaning, how easily you can customize the kayak to fit your profile.
These include adjustable seats, multiple footrests, thigh braces, and the like. If your kayak is comfortable, not only can you stay longer out on the water, you'll also be able to control the kayak easier. If your kayak seat is uncomfortable, you should upgrade with the best kayak seats in 2021.
Storage
It's also important that you get a kayak with plenty of storage space, especially if you are planning to be out on the open waters for several days, in which case you'll need to bring lots of gear, supplies, and food.
The best kayaks for this purpose are those with front and rear storage hatches, watertight cargo compartments, rod and paddle holders, and bungee cords that let you tie down some extra cargo and luggage.
Folding Kayaks
If you're all about portability and ease of storage, you might want to think about folding kayaks, which typically feature solid inner ribs and inflatable outer skins. These "origami kayaks" are flexible yet offer a rigid hull once laid out. There are also a couple of different types of folding kayaks that you can choose from depending on your preferences.
Inflatable Kayaks
You'll also want to consider buying an inflatable kayak, which is easy to transport and store, and are also pretty great on the water. Most inflatable kayaks today are sturdy enough and puncture-resistant, and even feature multiple air chambers as a safety net against tears and perforations while you're out on the water.
A good inflatable kayak should be rigid when it's inflated or allows for adding a rudder for better steering. It should feature a somewhat solid hull provided by its construction, in which case a polyethylene material is best for maneuverability and tracking. It should also pack down to a tiny size that fits in a backpack.
The Sea Eagle 370 Pro 3 Person Inflatable Kayak that we reviewed above is a great example.
Check out this review and buying guide of the best inflatable kayaks
Overview
The best short and lightweight kayaks are those that offer the best in terms of easy storage, transport, and portability when it's out of the water, but it should also offer excellent and reliable performance when you are paddling out on the water. We hope this guide has helped you find the right kayak for you!