This post contains affiliate links. For more information, visit my disclosure page.
Some people might think of recreational kayaks as traditional sit-in recreational kayaks, while others consider sit-on-top kayaks as recreational as well. For us, as long as the watercraft lets you have fun on the water without too much fuss, it's recreational enough.
Why?
That's because a recreational kayak is designed for casual paddlers who want to enjoy a leisurely weekend on the water. This type of kayak is ideal for calm, flat waters like slow rivers, lakes, and protected bays. It's the total opposite of performance-geared ocean kayaks, touring kayaks, fishing kayaks, and whitewater kayaks.
Regardless of how you define recreational kayaks, we've got you covered. Here's a detailed article on the best recreational kayaks, as well as a recreational kayak buying guide to help you find the best watercraft for the money.
Top 10 Recreational Kayaks
Without further ado, here's our comprehensive kayak reviews on the best recreational kayaks in 2021, which include both sit inside and sit-on-top kayaks:
Intex Explorer K2 Kayak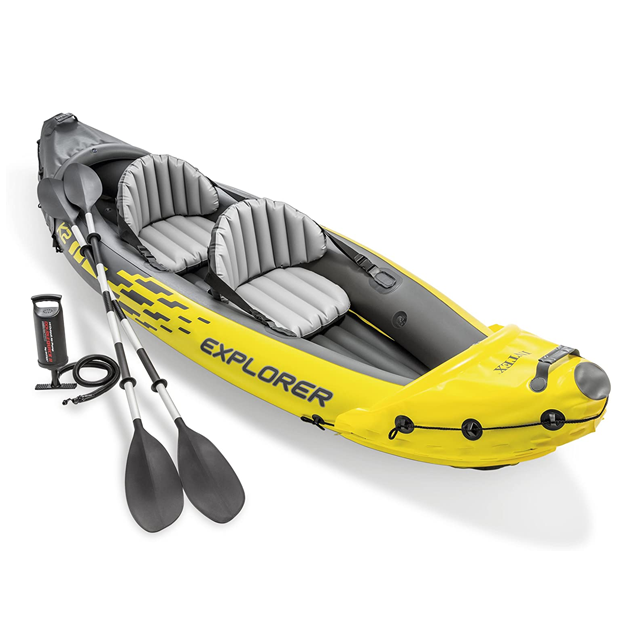 Our first pick is the Intex Explorer K2 Kayak, which is arguably the most comfortable kayak you'll ever find with its inflatable seat that features a nice backrest. It's a spacious kayak that offers plenty of space for two people to use.
The spacious cockpit makes it easy to get in and out of the kayak, and you'll also enjoy added comfort for your legs and feet. It's also easy to maneuver thanks to its removable skeg that makes for great control and directional stability.
Plus, there are also grab handles on either end for your convenience. All in all, this is the best all-around kayak that's comfortable, portable, easy to set up, and ideal for use by the entire family, even the youngsters.
Portable, comfortable, and lightweight
Bright yellow color for safety and visibility
Aluminum oars and Intex pump included
Durably vinyl construction
Great value for money
400 lb weight capacity
Ocean Kayak Malibu Two Tandem Sit-On-Top Kayak
We also really like the Ocean Kayak Malibu Two Tandem Sit-On-Top Kayak, a versatile and stable kayak designed for tandem kayakers. It's a top-rated recreational kayak on paddling magazines that features a traditional style and construction made for unmatched versatility.
It also features comfortable, multi-position high-back seats, along with a basic design that lets you go anywhere, from small surf waves to lakes, rivers, mountain fishing spots, and more, so you'll never run out of places to explore.
What we (and everyone else) really love about this is that it's not a new model, but still manages to withstand the test of time, and that's how you know that it's good quality and a reliable kayak that will last you for the years to come.
2 person kayak with space for a child
Multiple seat positions and molded footwells
Skid plate and molded handles for portability
Self-bailing scupper holes
425 lb weight capacity
ADVANCED ELEMENTS AdvancedFrame Inflatable Kayak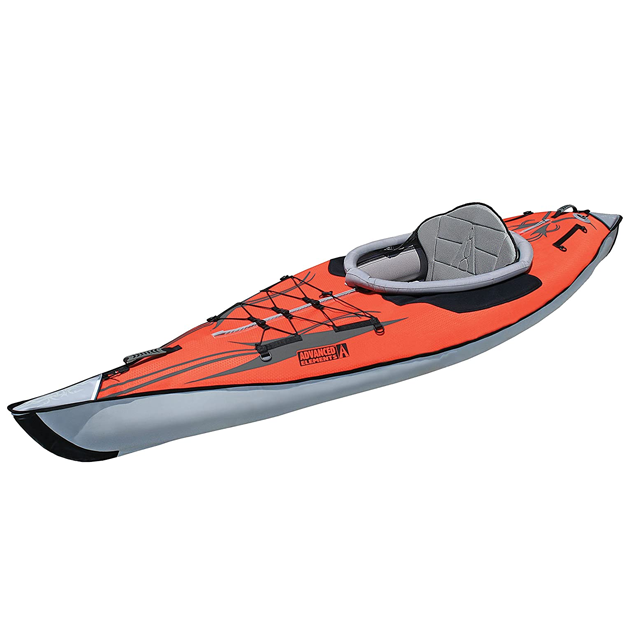 If you're looking for a budget-friendly option so you can enjoy kayaking like everyone else, we highly recommend the ADVANCED ELEMENTS AdvancedFrame Inflatable Kayak, which is perhaps the best kayak under 500 dollars.
As an inflatable recreational kayak, it's also unique on its own. And, its three-layered construction is sure to eliminate your worries about puncturing and capsizing. Trust, us, this one's as durable as it gets.
It also helps that this kayak features an aluminum rib frame that keeps the kayak stiff and able to hold its shape over time, while also offering improved tracking. Not to mention, it also offers superior comfort and plenty of storage space for your gear.
Comfortable padded seat
Bungee cord rigging for storage
Decent sized 29×18" cockpit
3 material-layer construction
Improved tracking with aluminum ribs
Easy to set up and inflate
Sun Dolphin Aruba 10-Foot Sit-in Kayak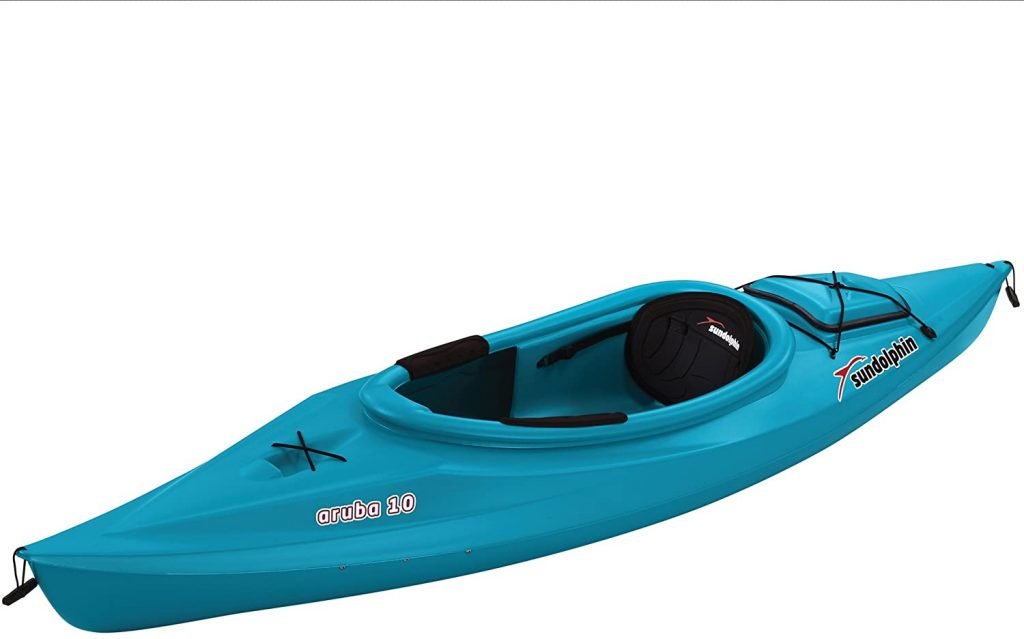 Another excellent choice for a budget kayak is the Sun Dolphin Aruba 10-Foot Sit-in Kayak, which is a highly popular, lightweight, comfortable, and easy to transport kayak that is capable of holding its own on lakes and rivers.
This means it's the best kayak for beginners and intermediate paddlers alike. It even features a UV-protected, high-density polyethylene material construction, so it's bright color won't fade, peel, or crack over time.
In other words, it's an excellent choice for a recreational kayak if you just want to spend a few hours of fun on the water. You'll even get to enjoy the rear storage well along with the water bottle holder to store your things for the day ahead.
Small and lightweight design for portability
Stable construction with a large and open cockpit
Adjustable seat, thigh guards, and foot braces
Easy to use, transport, and store
Comfortable for new paddlers
Lifetime 10 Foot, Two Person Tandem Fishing Kayak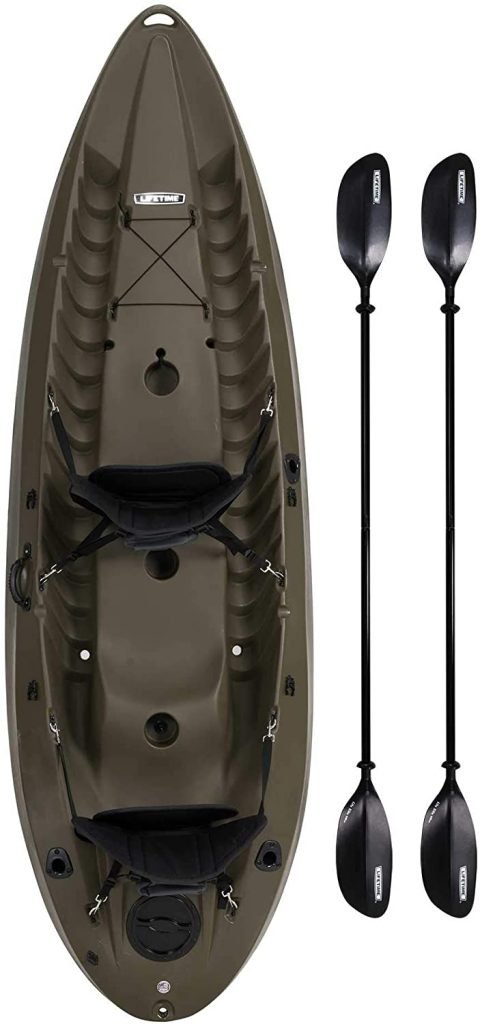 Taking the fifth spot is the Lifetime 10ft, Two Person Tandem Fishing Kayak, which is one of the best fishing kayaks that are great for couples, friends, and families who are looking for a stable and safe kayak that allows for a fun day out on the water.
This 10-foot kayak has a 500-pound weight capacity that lets you bring plenty of gear between you and your kayaking buddy, or perhaps a small child or a pet, so you can make the day a full-on family outing.
Among its many excellent features are three molded-in seats (two come with backrests), multiple footrest positions, a bow-end storage area for fishing equipment, or food and drinks, shock straps for fastening your gear, and more.
Tandem kayak for 2-3 people
Comfortable seats with backrest
Spacious front cargo area
500 lb weight capacity
2 paddles included
Old Town Vapor 10 Recreational Kayak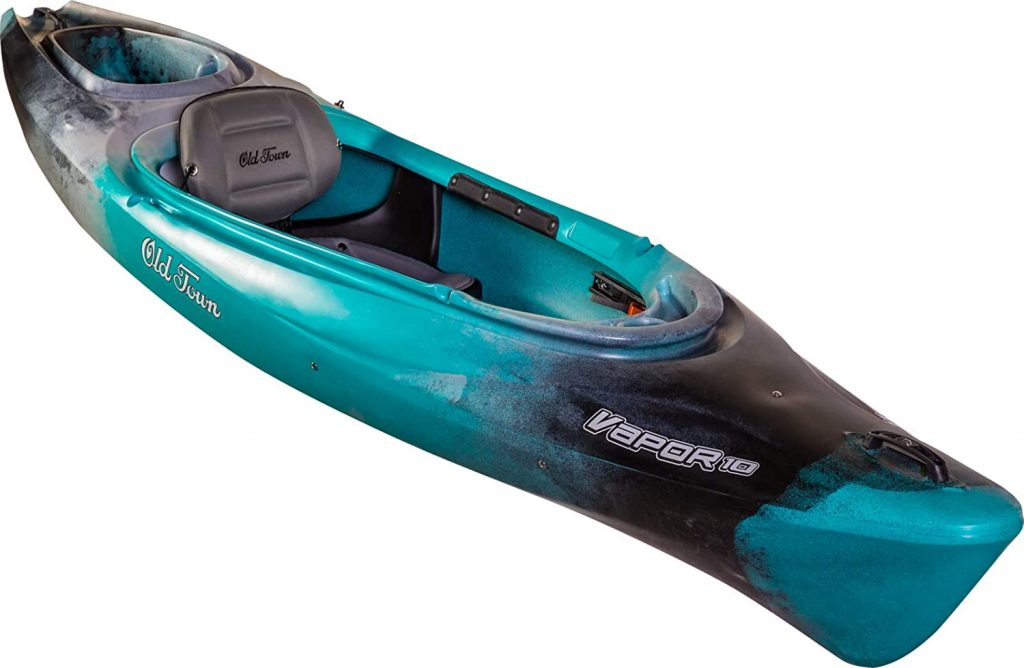 One of the best sit inside kayaks on this list is the Old Town Vapor 10 Recreational Kayak, which is also a highly affordable option for a recreational kayak. It comes from a well-known and reputable brand and boasts of a few amazing features.
For one, this kayak is comfortable and accessible thanks to its large and open cockpit with a roomy interior that offers plenty of space for tall paddlers, making getting in and out of the kayak easy and convenient.
This lake kayak is even great for medium-sized dogs, so you can bring your furry friend along for a fun and exciting trip on slow rivers and calm lakes. That said, one downside is that it's not suitable for choppy waters and open ocean fishing.
Stable and maneuverable with great tracking
Small and lightweight profile for easy transport
Easily accessible with the large, open cockpit
Quick cargo access from the open rear gear well
Suitable for kayaking with a dog
Sevylor Quikpak K5 1-Person Kayak

If you want the best lightweight recreational kayak, there's no other way to go than with an inflatable kayak such as the Sevylor Quikpak K5 1-Person Kayak, which is also really quick and easy to set up so you can hit the water ASAP.
All it takes is unpacking the kayak from the included backpack, then inflating it so you can launch it onto the water, all of which takes five minutes, tops. The innovative backpack even folds out into the kayak seat!
Of course, it also offers plenty of space to let you carry all the stuff you need. And as for the kayak itself, well, you'll love the rugged tarpaulin bottom, 24-gauge PVC construction, and thick polyester cover, which all means that your boat can handle lake rigors.
Puncture resistance and multiple air chambers for safety
Spray covers help you stay dry from water splashes
Bungee storage areas and D-rings for accessible storage
Easy-to-carry backpack transforms into the kayak seat
Double lock valves for easy inflating/ deflating
Lifetime Youth Wave Kayak
One of the best choices for kids' kayaks is the Lifetime Youth Wave Kayak, which offers amazing stability, superior comfort, and easy carrying, among other features. It's also easy to use, lightweight and guarantees great tracking.
This kayak is built with a polyethylene material to prevent fading and cracking, and features side molded-in finger handles for easier transports- even a child can haul this kayak from the car to shore without a problem.
Moreover, there are also multiple footrest positions that ensure comfort for any kayaker height and foot size, so your kid can grow with it and enjoy his or her kayak for years. In other words, it's a great recreational kids' kayak!
Ideal for children
Lightweight 18 lb construction
130 lb weight capacity
Limited 5-year warranty
Paddle included
eMotion Spitfire Tandem Sit-On-Top Kayak
At the other end of the spectrum, here's a kayak for bigger and heavier paddlers- the eMotion Spitfire Tandem Sit-On-Top Kayak is a spacious and stable hard-shell kayak that offers plenty of space and a hefty 500-pound weight capacity.
And, even though it's a tandem kayak, you can just as easily use it for solo kayaking. That's because it offers excellent performance and stability, even considering that it's a sit-on-top kayak. Plus, it comes with lots of exciting features, too.
These include a rear cargo hold with a mesh cover, a center storage hatch, a comfortable high-back seat, an easy-roll skeg wheel that makes for stress-free transports, and a versatile front seat that you can use to carry more gear, or your dog.
Hard-shell kayak ideal for tall and heavy kayakers
Large and wide deck with high-back seat
Highly stable with plenty of legroom
Easy transportation with the skeg wheel
Rare sit-on-top dry storage solutions
500 lb weight capacity
Ocean Kayak Frenzy Sit-On-Top Recreational Kayak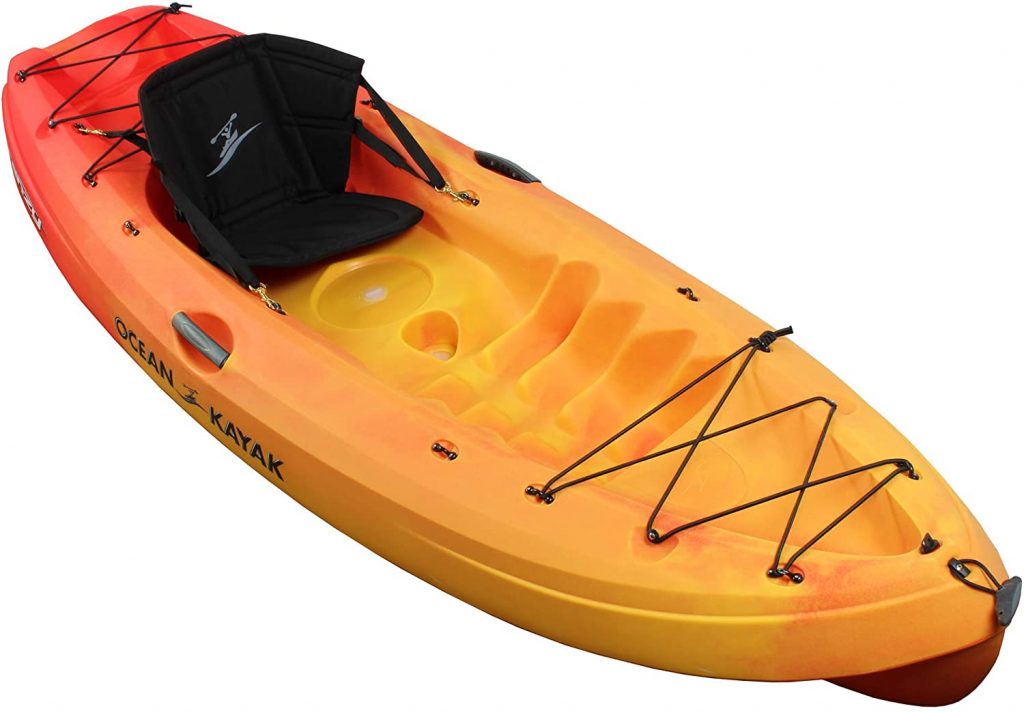 Last but not the least, among the best recreational kayaks, is the Ocean Kayak Frenzy Sit-On-Top Recreational Kayak, which is a short kayak that surprisingly offers lots of legroom and gear storage thanks to its sit-on-top design.
This kayak features a 4-way adjustable Comfort Plus seat that is easy to configure to whichever position perfectly fits your body. It also comes with safe storage in the form of a stern day well and bungee coverings, plus extra bow deck storage.
What's more, is that this kayak also features a replaceable rear skid plate that protects the hull from damage caused by rocks and rough sand when you're bringing the kayak back ashore and carrying it to your car.
Adjustable Comfort Plus seatback
Stern day well and bow deck bungee storage
Removable and replaceable skid plate
Convenient cup holder in the design
Ideal for tall kayakers
Also check out: the Perception Tribe 9.5 kayak review
Things To Consider When Buying A Recreational Kayak
Buying the best recreational kayak means taking into account some important factors, including the kayak's construction material and quality, comfort features, performance, storage options, kayak size and weight capacity, portability, and price. We'll discuss each of these below.
Sit On Top vs Sit In Kayak
Sit in recreational kayaks is a more traditional option that keeps your legs fully enclosed within the cockpit, whereas sit-on-top kayaks offer more spacious seating on top of the deck. As such, sit-on-top kayaks are better suited for beginners, since they are easier to get in and out of, and are also more stable.
However, a sit-on-top kayak exposes you to more water splashes, so you and your gear are more prone to getting wet. On the other hand, a sit-inside kayak will offer plenty of safer storage space for your things and will do a better job of keeping you dry.
Construction
Kayaks can be made from a wide variety of materials, from cheap but puncture and leak-resistant PVCs that are used for inflatable kayaks, to mid-range high density polyethylene, and high-end fiberglass, carbon fiber, or Kevlar.
Polyethylene, for one, is the most common due to its accessibility and durability. It's a hard-shell plastic that lasts for a pretty long time, and when coupled with UV-protection, it withstands the harsh effects of sunlight, so it won't fade or break down.
However, polyethylene isn't the lightest kayak material, so if you're looking for the best lightweight recreational kayak, you can either choose from inexpensive inflatables or top-of-the-line performance kayaks which can cost thousands of dollars.
Number of Users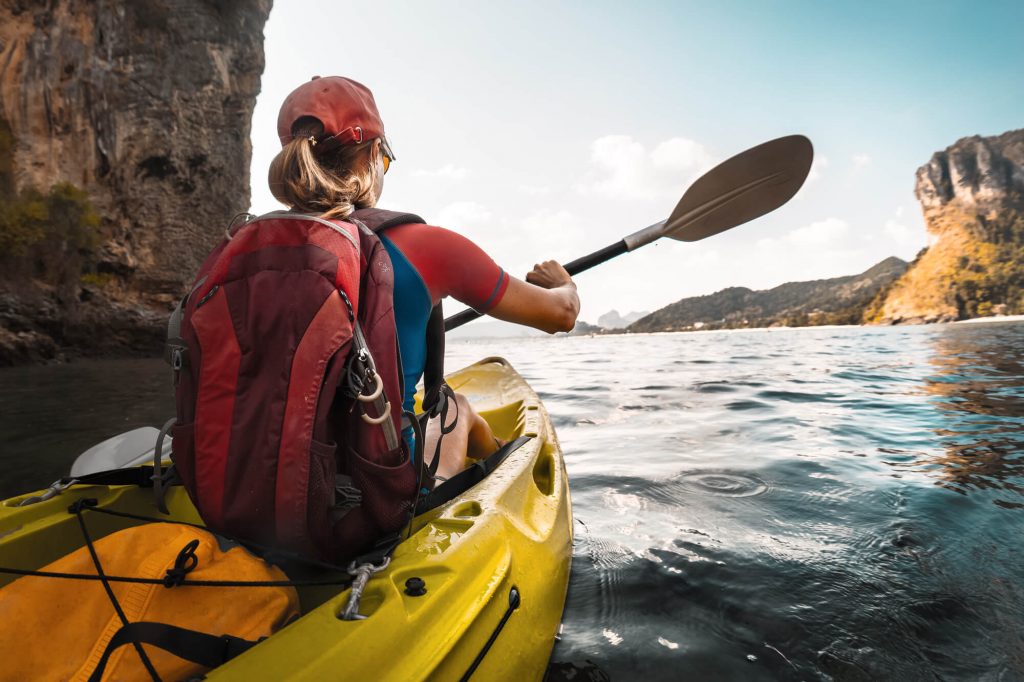 If you want to go kayaking with a friend or two, you should look for tandem or 3 person kayaks that let you bring a kayaking partner, a child, or a pet onboard. Many of these multi-purpose kayaks will also let you go solo kayaking if you wish, so they are arguably a better investment than an actual single person kayak.
Weight Capacity
There are many reasons why you need to consider the weight capacity of a kayak. Maybe you want to go fishing, in which case you'll need to bring plenty of fishing gear, and haul your catch back to shore. Maybe you want to spend days away from the shoreline, and will need lots of food, drinks, and luggage.
Or maybe you're just on the taller and heavier side and want to make sure that your kayak won't capsize once you get inside it. Whatever the reason, make sure that your kayak can accommodate you and everything (or everyone) you plan on bringing along.
Cockpit Size
The kayak's cockpit size is also an important consideration since this determines how comfortable you can sit inside the kayak, plus how much extra gear you can bring that won't fit in the designated storage areas. In any case, you'll want the cockpit to offer plenty of legroom so you don't feel cramped during a long kayaking trip.
Beam Width
The beam of the kayak is an essential factor that affects the kayak's stability on the water. For recreational kayaks, the beam width should be at least 28 inches, preferably higher, so you don't risk tipping or capsizing. If you want to go fishing or go kayaking with your dog, the beam should be wider to offer more stability.
Kayak Length
Meanwhile, the length of the kayak is what primarily influences the speed of the kayak (aside from your paddling or the trolling motor, of course). Generally, longer kayaks can go much faster than shorter ones.
So, if speed is your priority, you should opt for a longer kayak. Alternatively, a shorter kayak will give you better stability and allow you to make easier turns and maneuvers.
Comfort
One common mistake that beginner paddlers make is not making sure that their kayak seats are comfortable, so they end up not enjoying the experience as much as they could. Don't fall for this mistake.
You can avoid this by making sure that you have the best and most comfortable kayak seat, whether that's achieved through lots of padding, adjustable positioning, high backrests, multiple footrest positions, thigh braces, and rolling skeg wheels.
Other comfort features include lightweight paddles that impose less strain on your arms, conveniently located cup and water bottle holders, dry storage for your phone and wallet, gear wells, dry storage hatches, and other customizable storage options for your safety equipment, fishing gear, and coolers.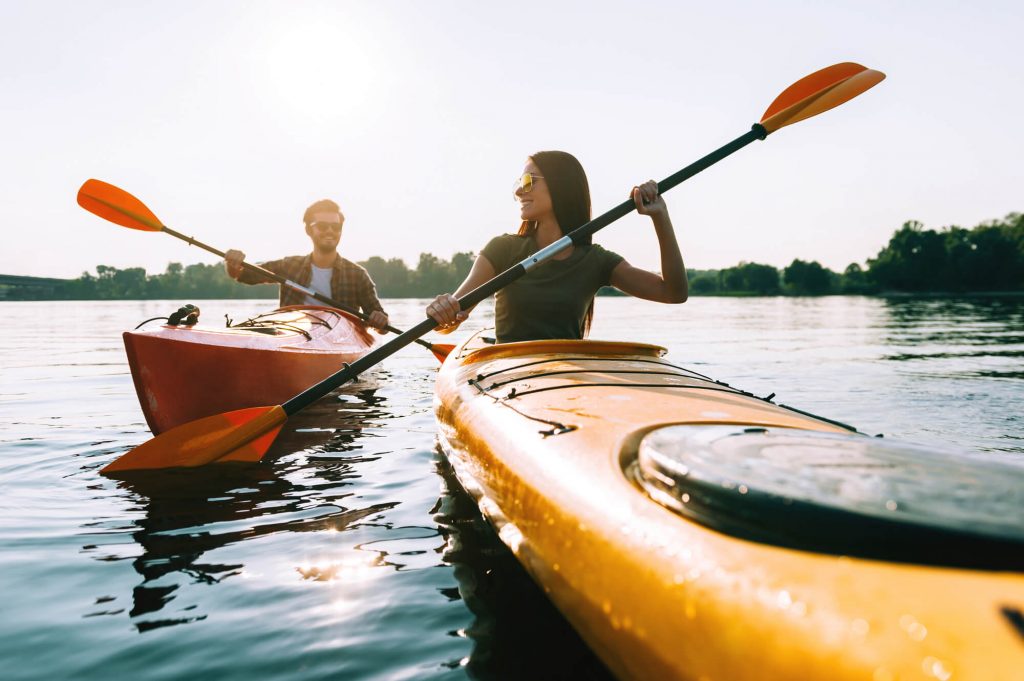 Performance
Kayaks come in various shapes, sizes, and designs, and all these factors affect the kayak's performance on the water. Like we mentioned earlier, wider kayaks are more stable but are more difficult to paddle, while longer kayaks are harder to steer but can reach higher speeds.
The rocker and the shape of the hull also influence performance, along with additional features such as pedal drives on pedal fishing kayaks, skegs, and rudders. However, it's worth noting that these add-ons increase the price of the kayak.
One thing you need to keep in mind is that cheaper kayaks are typically more difficult to keep on a straight line while paddling, whereas pricier kayaks offer better tracking, which in turn makes for easier paddling.
Portability
If you live far from a body of water or don't have plenty of space in your car for transporting the kayak, nor your garage for storing the kayak when you're not using it, you'll need a portable solution that lets you enjoy kayaking without worrying about transportation and storage issues.
After all, not everyone can invest in a great kayak rack for SUVs, or even have a car in the first place, but these shouldn't be reasons that prevent you from kayaking. There are lots of suitable solutions available, from short and lightweight kayaks that fit on small cars, to the best inflatable kayaks that fit inside a backpack. You just need to find one that works for you.
Storage
Here, we are talking about kayak storage in the sense of how much space you have inside the kayak to store your gear and other belongings that you will need while you're out on the water. You need to ensure that you'll have ample space so you can have a safe and fun experience.
For sit-in recreational kayaks, storage options often come in watertight stern wells located below deck to keep your gear safe and dry. In some kayaks, this well may not be big or accessible enough, so it's worth checking.
The best recreational kayak should also come with a self-contained below-deck bulkhead, which is an airtight stand-alone compartment that keeps your belongings dry even when you capsize or the kayak gets filled with water.
Meanwhile, a sit-on-top kayak will usually offer storage in the form of shock-cord bungee straps that let you tie down a gear and other cargo on the deck, although many will also come with dry storage pods that you can use for your valuables.
Final Thoughts
The best sit on top or sit in recreational kayak is one that meets all your specific needs and preferences and one that fits your budget. This is why it's more important that you know what you want and what to look for in a kayak, rather than just buying from a big brand name or getting the same kayak as your friend. Feel free to use our buying guide to help you find the perfect kayak for you.