For all you water sport enthusiasts out there, you've probably taken to heart the importance of safety and protection when you're out in the water. As amazing as being out there in the water feels, we are all too aware of the potential dangers it possesses. And so, it is incredibly important to be well-equipped and prepared for even the worst scenarios.
Life vests or Personal Flotation Devices (PFD) are not just optional. They are a must. In fact, several states impose a strict policy of wearing a PFD when engaging in water sports so as to keep your head above water. But how can you ensure that the life vest you are getting is the absolute best option for your safety?
Well, lucky for you, we're here to help you pick out the best kayak fishing life vest or kayak fishing PFD for you. We've reviewed seven of the best kayak fishing PFD in today's market. And we've even thrown in a kayak fishing vest buying guide to further help you in your decision.
What is a Fishing Life Vest / PFD?
If you've ever ridden a boat or a plane or even just seen them in movies, then you're probably familiar with the life vest or the Personal Flotation Device (PFD). Basically, it is a piece of attire that helps keep you afloat when there is a sudden danger of being in the water.
It is the most crucial piece of equipment you should have when you're on a kayak fishing trip. As safety is the most important thing when you're out in the open water, you must make sure that your kayak fishing life vest fits you just right and that it is in good condition.
There are many different kinds of kayak life vests you can use, and they mostly depend on the type of activity you plan to engage in. The functionality, buoyancy, and overall performance level of each type differs to cater to particular boating activities. For this list, we'll be looking at PFDs that are able to sufficiently answer the needs of kayak fishing.
Top 7 Best Life Vests and PFDs
Take a look at the seven best PFDs we found:
Onyx MoveVent Dynamic Paddle Sports Life Vest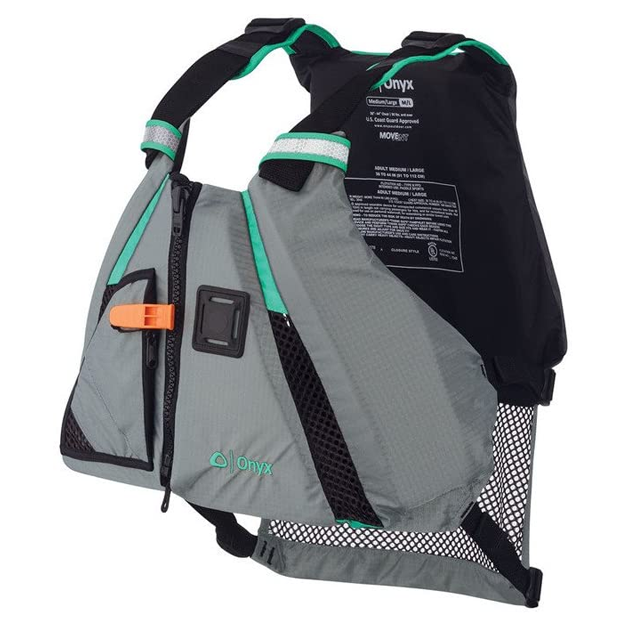 What makes the Onyx MoveVent a great kayak fishing life vest is its comfortability and ease of maneuver. Since you'll be paddling a lot, you'd want a PFD fishing vest that would not get in your way. This is a kayak fishing PFD that allows you to move freely and it also allows for maximum breathability.
This is a Type III PFD, which means it was designed for activities such as boating and offers a lot of comfort when wearing. There's no need to worry about its ability to perform since this kayak fishing vest has gained the approval and guarantee of the United States Coast Guard.
It's super easy to wear as well. It's got great padding since the inside of the vest's back is made of floatation and bubble foams. There are even additional Neoprene-padded shoulder straps and other adjustments that allow for a better fit and comfort. Breathability is also accounted for since the vest's lower back is made of mesh that will provide better ventilation.
Allows user to move freely without restricted movements
Maximum comfort and breathability
Floatation foam is lightweight, soft, and buoyant
SOLAS-grade reflective material construction
Onyx Kayak Fishing Life Jacket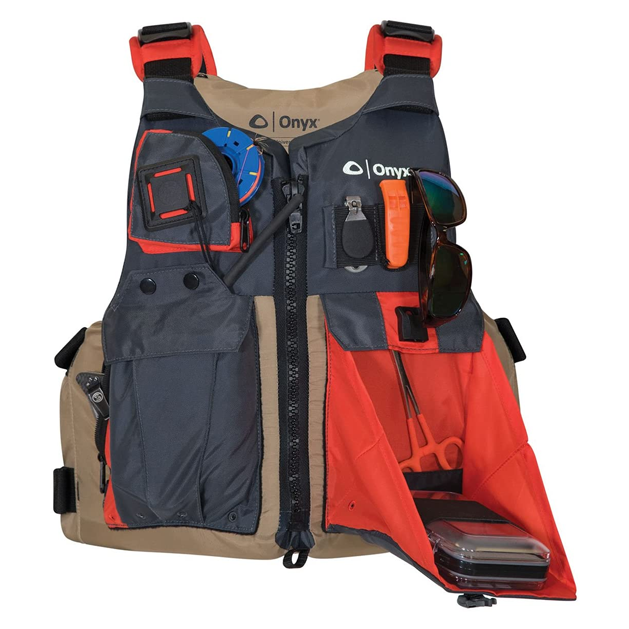 This Onyx kayak fishing PFD not only considers safety, but also convenience. Its 4-pocket zipped design can come in pretty handy, especially if you need somewhere to store your fishing accessories and other small gear.
This PFD also accounts for comfort since it has six straps that allows you to adjust the vest to better fit you. It also offers adequate ventilation thanks to the mesh at the back of the vest. The vest comes in two sizes: a universal size that can fit chests that are 30 to 50 inches in size, and a larger version for those in the 40-60-inch range.
For those living in colder climates, you'll be glad to know that this life vest has fleece-lined hand warmer pockets that your fingers can take refuge in. It's also got a fold-out-pocket where you can store additional small items. Although it might not be as well-built or cleverly designed compared to other PFDs, this Onyx kayak fishing vest sure does offer great value for its price.
Storage for fishing tools, accessories, and other small items
Mesh back provides optimum breathability
Available in two sizes
Ideal for organizing tackle and gear
Onyx Curve MOVEVENT Paddle Sports PFD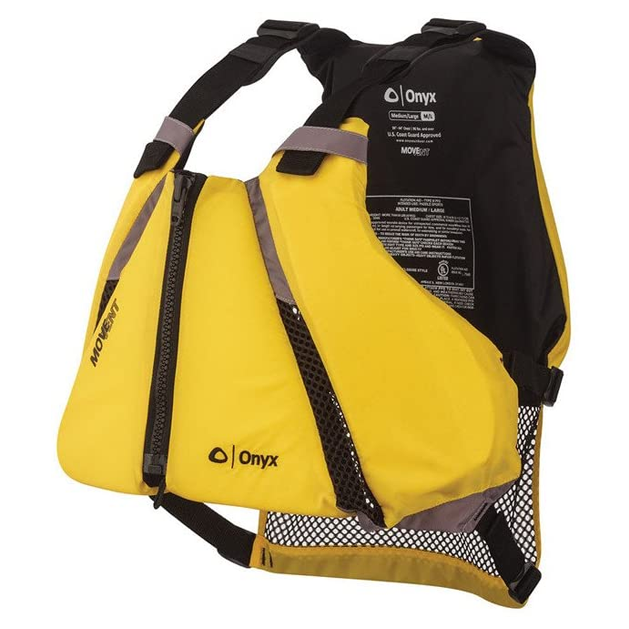 If freedom of motion is a priority for you, then this Onyx PFD is just right up your alley. It also provides users remarkable comfort for an affordable price. The design of this kayak fishing life vest considers the movements you make while paddling, ensuring that the vest won't restrict your motions as much as possible.
It's got adjustments that allow for a snug fit around your body. Plus, the ventilation it provides will definitely help cool down your body when you're exerting effort. To add to its comfort, this PFD uses floatation and bubble foam, as well as neoprene pads.
There's really not much to complain about this PFD fishing vest. But weight is something to consider as it can only cater up to 90 pounds of body weight. If you do, however, fit that range, then you should absolutely consider this life vest for its comfort and ventilation.
Type III PFD
Lightweight 200-Denier nylon construction
Mesh provides proper ventilation for the lower back
Comfortable fit for unrestricted movements
NRS Chinook Fishing PFD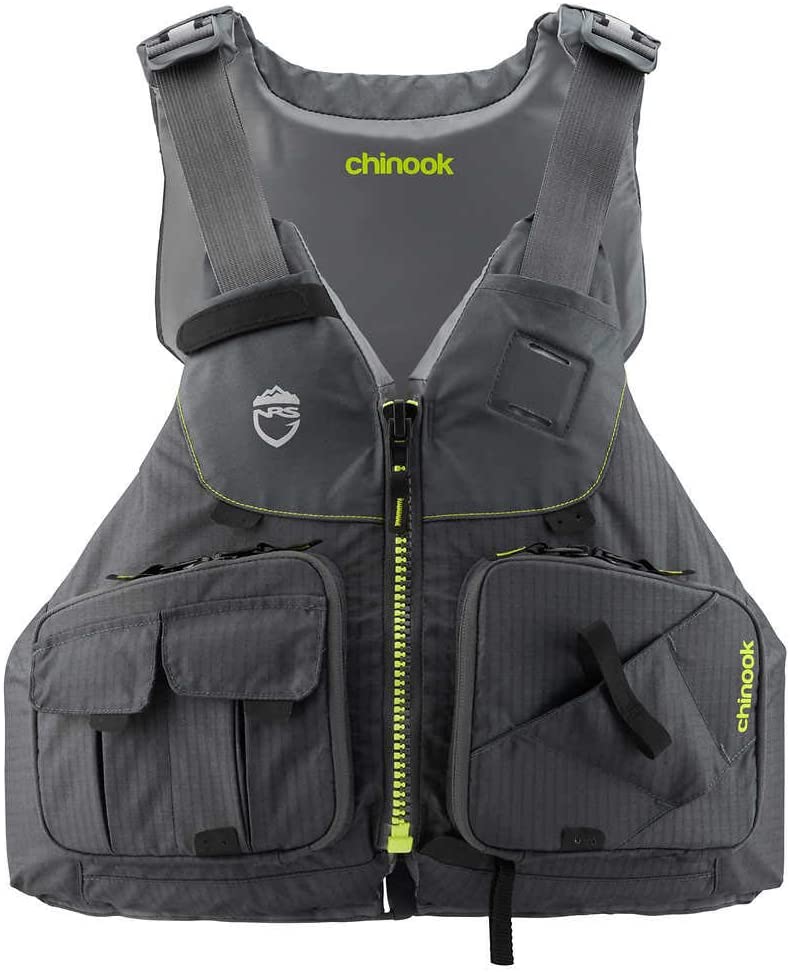 Storage won't be an issue for the NRS Chinook Fishing PFD. It's got several pockets where you can store an assortment of small items, such as snacks, fishing accessories, and a small tackle box, among others.
Aside from pockets, this kayak fishing PFD also has some gear attachment points where you can clip on some gear. And thanks to the eight adjustable straps on this vest, you'll be able to secure it snugly around you while still feeling comfortable.
Ventilation is no problem since the vest has some black mesh that allows your body to breathe, especially in warmer climates. It's super easy to wear, with a spacious front-entry and a zip closure. And with the way it fits, it won't get in the way of your paddling.
Seven front pockets provide sufficient storage
Eight adjustable straps make for a comfortable fit
Breathable material and construction
D-rings and attachment loops
Ideal for storage and organization
Stearns Child Watersport Classic Series Vest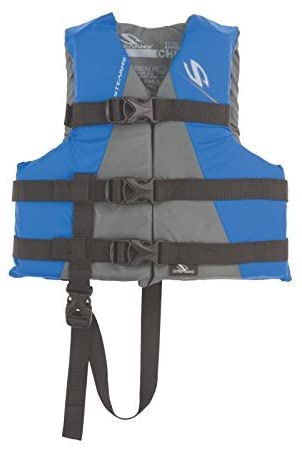 Sometimes, you just want to bring another person along on a nice tandem fishing kayak. And sometimes, that person you'd want to bond with on this trip is your kid. Kayak fishing is a fun bonding experience to share with your child. But parents know that the safety of their kids matter above all else.
For your child, you'd only want to get the best kayak fishing life vest for kids. Thankfully, the Stearns Child Watersport Classic Series Vest will ensure the safety of your child while keeping them comfortable. It's US Coast Guard-approved and it's got three chest belts that you can adjust to make sure it fits snugly and comfortably on your child.
Aside from the chest belt, this vest also has a crotch strap that you can easily adjust. You won't have to worry about the life vest staying in place in the unfortunate event of your child going overboard thanks to its clever design. To further ensure the safety of your kid, this life vest also has a durable 200 denier nylon shell, one-inch webbing, and PE foam.
Secure 1-inch webbing
Comfortable fit
Crotch strap ensures vest stays in place
Made from durable nylon over PE foam
Designed for kids weighing 30 to 50 pounds
Stohlquist Fisherman Personal Floatation Device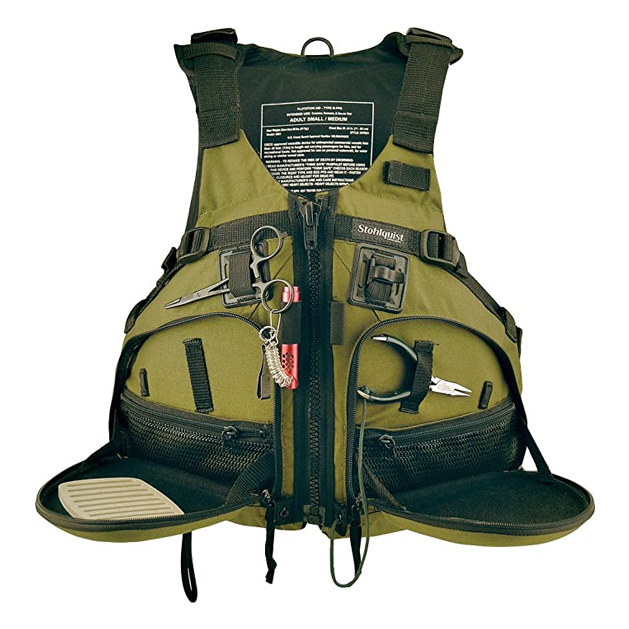 With its popularity among kayak anglers, many would argue that the Stohlquist Fisherman is the best kayak fishing life vest and for good reason. For one thing, it offers plenty of storage space. It's got D-rings, two large pockets, and elastic bands that can hold some handy tools such as pliers or a knife.
The amazing thing about this life vest's zipper pockets is that they're made out of molded EVA and can be used as a fold-down work surface when you open it. This feature is especially helpful when you're juggling tackle or tying lines.
Aside from storage, the level of comfort it gives is also a major plus. It's got an ergonomic design that uses contoured foam to provide a much better fit. And you won't even have to worry about the PFD riding up since its cross-chest cinch harness helps prevent that. It also doesn't miss out on breathability thanks to its mesh lower back.
Ample storage space
Easily adjustable straps
Ventilation on the sides and lower back
Ergonomic design using contoured foam
Stohlquist Fisherman Fishing Kayak Life Jacket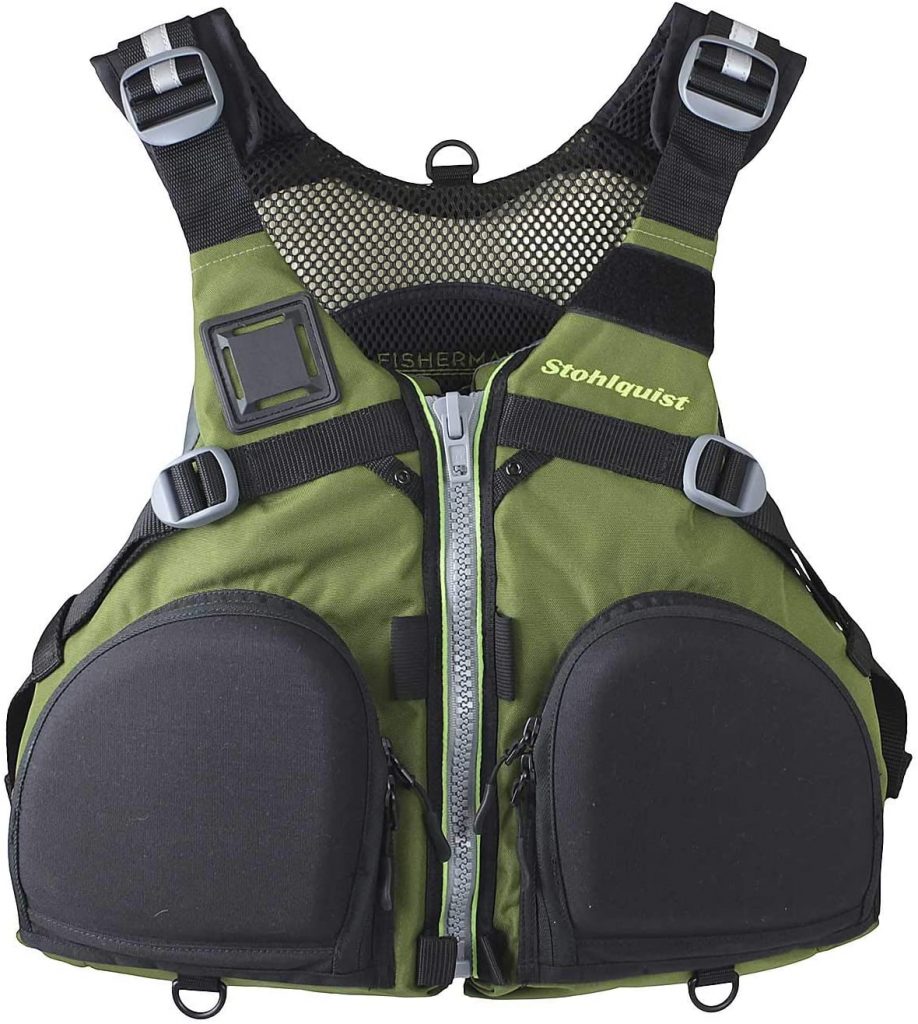 The Stohlquist Fisherman Fishing Kayak Life Jacket is made from a 500-denier Cordura shell and a 200-denier oxford liner, making it lightweight and waterproof. Its construction and the materials used ensure the durability of this life vest.
This kayak fishing vest is comfortable in many ways. For one, it's got neoprene-padded shoulders for extra cushioning. It also offers sufficient ventilation, allowing the body to properly cool. You'll also be able to paddle freely with the life vest on since it won't restrict your movements that much.
Storage is also not an issue thanks to the multiple pockets that come with this PFD. You'll be able to safely store some fishing equipment and also a couple of valuables. All in all, the Stohlquist Fisherman Fishing Kayak Life Jacket makes a great contender for the best kayak fishing life vest.
Type III PFD
25-pound floatation rating
Multiple D-rings and pockets for storage
Made of high-quality, durable, and eco-friendly material
High-back floatation, offers good ventilation
Why You Need A Kayak PFD
As we all know, both kayaking and fishing take place in the water. And water is quite often an unpredictable element, shifting from calm stillness to raging rapids and waves. So, when you're engaging in such water sports, safety is the top priority.
Thus, a lot of states strictly impose the use of Personal Flotation Devices (PFD) for the safety and well-being of water sport enthusiasts. It is never uncool to wear a life vest or PFD when you're on a boat or any other water vehicle. With the volatility of nature, a PFD could be the deciding factor between life and death.
Not to scare any of you off, but accidents do tend to happen, and when they do you'd want to be prepared. In the instance of a capsized boat, you'd want to have a life vest on you to keep you afloat and prevent you from drowning.
Life vests not only help you, but they can also help other people with you. In the instance that a victim is knocked out unconscious or perhaps in shock, putting a life vest on them will help them stay afloat until rescue comes. PFDs are often essential equipment for rescue operations in the water.
And aside from the safety they provide, they also make for great storage. With the many pockets and rings that come with most life vests, you'll be able to store not only your fishing tools but also some valuable belongings. It's a very convenient way to store small items, since you won't be needing to rummage around your kayak to get what you need.
Life vests and PFDs are definitely not just for beginners. No matter how skilled you are at kayaking or fishing, you will never be able to control the weather and the water. So, it's always best to be prepared and make safety your top priority, whether you're just starting off or have been kayak fishing for years.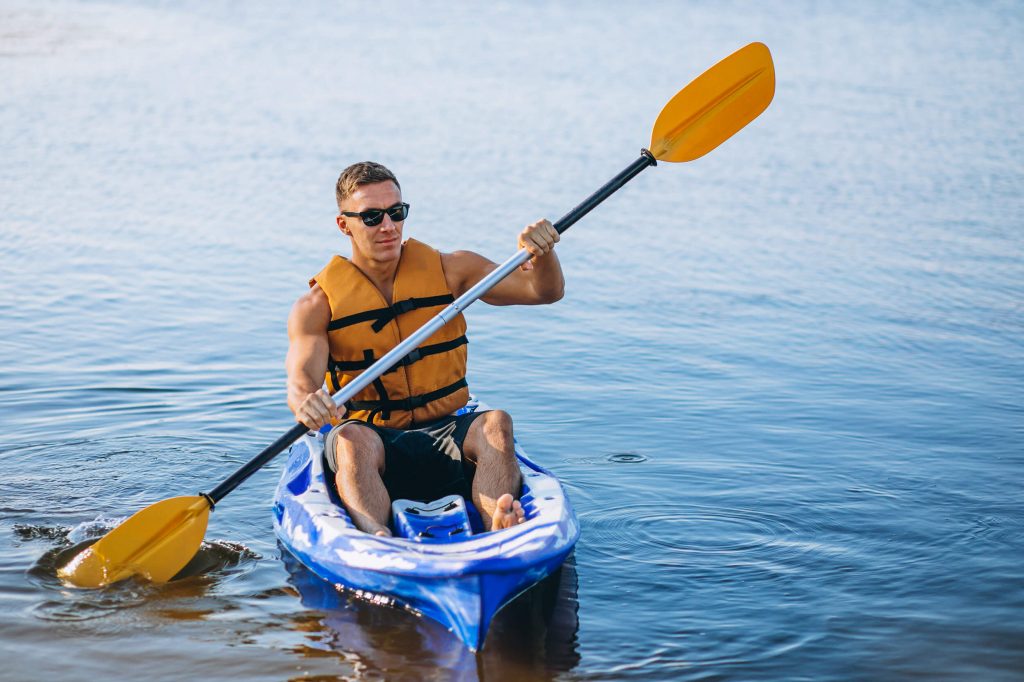 Are life vests comfortable to wear while fishing?
Whether you're kayak fishing or doing some other activity on a recreational kayak, you must wear a PFD as capsizing can happen at any given moment. But what exactly is the difference between a life vest and a PFD? Well, a life vest is actually a type of PFD. But there are also other noticeable differences between the two.
For starters, a PFD is generally more comfortable and it's something you can wear for a prolonged period of time. Life vests, on the other hand, tend to be bulkier. Typically, life vests are what you'd find on larger boats or other sailing vessels.
In terms of buoyancy, life vests usually have the buoyancy materials located in its front. This makes it somewhat uncomfortable if you're fishing. So, experienced swimmers tend to go for the PFD instead, choosing comfort over buoyancy.
But the design of the life vest is intended to turn unconscious individuals face-up to avoid drowning, making it a better choice for children and non-swimmers.
Kayak Fishing Life Vest Buying Guide
We've narrowed our list down to the seven best kayak fishing life vests, but sometimes it could still be difficult to choose. If you are still undecided, hopefully this kayak fishing life vest buying guide will help with your decision.
Type of PFD
Earlier, we've mentioned the Type III PFD. But there are actually a total of five different types of PFDs and they are as follows:
Type I PFD
The Type I PFD are often known as the offshore life jackets. Among the five types, they offer the most buoyancy. These are meant for all waters but are best used in the open sea, remote water, and the rough seas. This type is available in both adult and child size, with the adult size providing a minimum of 22 pounds of buoyancy, while the child size provides 11 pounds.
Type II PFD
Also known as the near-shore vest, this type of PFD is equipped to handle calm waters or inland waters where a quick rescue can be expected. It comes in three sizes: adult, medium child, and small child. For reference, the adult size provides 15.5 pounds of buoyancy, the medium child provides 11 pounds, and the small child provides at least 7 pounds.
Type III PFD
Similar to the Type II PFD, this type of PFD is best used for calm waters. However, unlike the Type II PFD, the Type III won't be able to turn an unconscious person from a face-down to a face-up position. They offer the same floatation for both types, but kayakers wearing a Type III might need to tilt their head back to keep themselves in a face-up position. There are, however, inflatable Type III PFD which are more comfortable and offer higher floatation.
Type IV PFD
Unlike the previous types, this is not a wearable PFD. Instead, the Type IV is thrown to someone in the water as a backup to a life vest. Type IV includes buoyant cushions, horseshoe buoys, and ring buoys. They are best used for calm and inland waters with heavy boat traffic.
Type V PFD
The Type V PFD is a special-use device. These are mostly designed for water activities such as kayaking, windsurfing, and water skiing. The Type V is also used as a work vest, deck suit, and board-sailing vest. It has an inflatable chamber but provides less buoyancy in comparison to the four other types.
The Best Type of PFD is…
Typically, what you'd find in the market are PFDs that are standard and non-inflatable. However, in terms of kayak fishing, well-seasoned kayakers and anglers tend to prefer the inflatable PFD.
The standard PFD, on the other hand, is usually worn by canoers, recreational kayakers, and stand-up paddle boarders. The preference for inflatable PFDs in kayak fishing mostly lies on the comfort it offers despite wearing it for a long time.
The kayak fishing PFD is often categorized by the USCG as Type III or Type V. They may be inflated manually or automatically. The automatic type immediately starts to inflate once submerged in water. In the case for the manual inflatable PFD, you'll need to pull a cord to inflate it.
For kayak fishing, the manually inflatable PFD is best due to the likelihood of getting wet.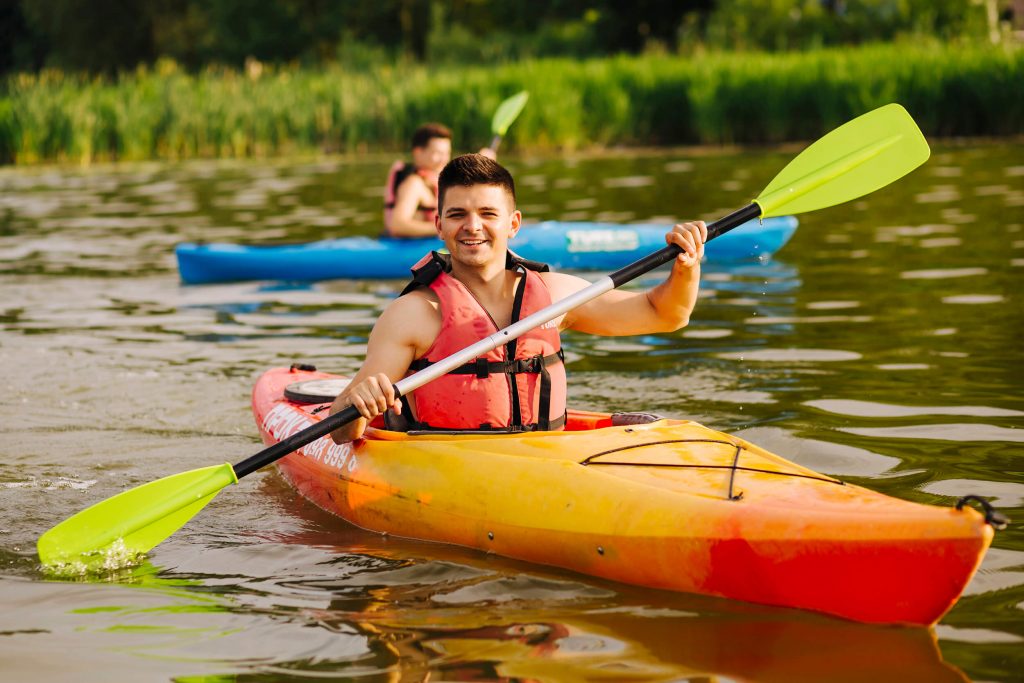 Standard vs Inflatable
We've briefly discussed how the inflatable PFD is the preferred choice for experienced kayak fishers. But let's further look into the standard vs inflatable PFD debate to see which one is the better fit depending on your priorities.
Foam (Standard) PFDs
As you can probably tell from the name, the standard PFD or foam PFD is the more common type that is used. For the standard PFD, the panels are shaped from foam and sometimes even contoured to provide additional comfort.
Pros:
Automatic buoyancy
More storage
Low maintenance
Cons:
As standard PFDs are inherently buoyant, floatation is provided immediately without the need to deploy. Considering they are the standard, non-inflatable PFDs are expected to be quite reliable.
Not much is needed to maintain them other than drying them before storage and keeping them out of the sun. An additional advantage for this type is the larger storage they provide in comparison to the inflatable ones.
Inflatable PFDs
These are a newer type of PFD. The main advantages for inflatable PFDs are its slim profile and the greater freedom of motion they offer.
They can either be inflated automatically or manually. The automatic types inflate when submerged in the water, while the manual ones require pulling a cord. Typically, kayak anglers prefer the manual ones since there is a risk of accidental activation for the automatic ones.
Pros:
Cons:
Higher maintenance
Not ideal for children or weak swimmers
The biggest downside for this type of PFD is that it requires more maintenance. You'll have to regularly test it to make sure that it is still functioning correctly. Plus, you'll have to replace the CO2 cartridge after every use. It is also not recommended for children or non-swimmers as they do not provide immediate floatation compared to the standard.
Approved Standards
As safety is the immediate concern when it comes to life vests and PFDs, authenticity is a must. Before getting a PFD, you must first confirm that the PFD has met the set standards and has been approved by the concerned regulatory bodies.
Ending up with a defective PFD will only worsen matters when involved in unfortunate accidents in the water. Thus, you have to check whether the PFD has been approved by one or more of the standards listed below:
United States Coast Guard (US Standards)
ISO (International Standards)
CE (European Standards)
SOLAS (Commercial Standards)
Material
PFDs commonly employ these three materials: Gaia, Kapok, and PVC. Gaia is environmentally friendly. Its major features include resistance to temperature changes and its ability to reduce the weight without compromising function.
The name Kapok comes from the tree seed fibers with the same name. This material is buoyant and durable, which is definitely what you need to look for in a PFD. However, it is a flammable and combustible material.
Polyvinyl-chloride foam or PVC foam is the most common material for PFDs. It is greatly preferred due to its resistance to heat, chemicals, and flames.
Size and Fit
Weight is not the only thing to consider when it comes to choosing the size of a kayak fishing life vest. Since the vest is worn on the torso, you have to make sure that it fits your chest size. You also have to consider the number of straps present, since these allow you to adjust the vest to create a more snug fit.
Life Vest Maintenance Tips
Taking proper care of your life vest is a must to avoid destroying and eventually discarding the PFD. You'll have to clean them every so often to ensure that they remain in a good and serviceable condition.
Here are the steps to maintaining your PFD:
After every use, rinse it gently using water or a hose.
Get a bucket and fill it up with three gallons of cold water. Add clean-rinsing detergent to the bucket of water.
For dirty spots, apply the cleaner directly and scrub gently using a soft brush. Do not apply too much pressure when scrubbing to avoid damage.
Once this is done, dip the entire PFD into the bucket and clean (including the straps) with a soft sponge.
Take it out of the bucket and rinse gently with a hose or water.
Let the PFD air dry, making sure to avoid direct sunlight as this might damage the PFD.
Once dried, apply some UV Protestant on the PFD, protecting it from sun damage.
Store it safely where it is not exposed to direct sunlight.
Final Tips
We cannot stress enough the importance of wearing a life vest when you're out kayak fishing. But what's even more important is finding the best kayak fishing life vest for you. The trick for this is knowing what type of activity you'll engage in and choosing the PFD that meets those particular needs.
When you're wearing a PFD you feel more safe and secure, which in turn, allows you to have more fun as there is now less to worry about. Aside from emphasizing the importance of safety, we hope you were able to gain valuable information that will help you make the right choice. We also hope that you now have a better understanding of life vests and PFDs.
There is no room for compromise when purchasing a life vest. Your life and safety deserves the utmost quality. Although having fun is a huge factor when it comes to water sports such as kayaking, safety must always come above that.