Ask any outdoor sports enthusiast and they'll tell you how much fun kayaking is. But, you probably already did that, which is why you're here looking for the best sit on top kayak for beginners, so you can experience the fun and excitement yourself.
That's great!
Just be mindful of a few things. You'll want a nice and stable kayak that allows for easy entry and exit, and also one where you don't have to worry about capsizing as soon as you set foot on the kayak.
In this article, you will find out the differences between sit on top and sit inside kayaks (and why sit-on-top kayaks are better for beginners), reviews of the best sit on top kayaks you can buy, and a list of things you need to consider before buying a kayak. Let's start!
Sit on Top vs Sit Inside Kayaks
First things first: why do you need a sit on top kayak and not a sit in kayak?
Advantages of a sit-on-top kayak
Easy entry and exit- you can get on and off the kayak whenever and wherever, which makes it ideal for kayakers who want to explore ashore, paddle with kids, or jump in the water and swim then climb back aboard
Self-bailing capabilities– the scupper holes on a sit on top kayak ensure that the kayak never fills up with water that splash over the deck, since the holes automatically drain the water out as soon as it enters the kayak
Stable profile– sit on top kayaks have a wider beam, which enhances stability and makes the kayak less prone to tipping over, making them ideal for beginners who are just trying to find their balance on the water
Open cockpit– finally, the open cockpit design makes the kayak ideal for warm waters and weathers, since your legs are not closed off and therefore get more ventilation
Advantages of a sit inside kayak
Warm and dry profile– sit inside kayaks have enclosed cockpits which help make sure that you don't get wet from water splashes or shiver from being exposed to cold air during the winter months or particularly windy days
Increased speed– the skinnier and narrower profile of sit inside kayaks enable them to go faster on the water, which allows kayakers to cover longer distances in a shorter period of time, hence their popularity as touring kayaks
More storage space– aside from keeping you warm and dry, the enclosed cockpit and overall design of a sit inside kayak also offers lots of watertight compartments where you can store extra gear that will stay safe and secure
Simply put, sit inside kayaks are a much better choice as beginner or recreational kayaks, whereas sit inside kayaks are more suited for kayakers who want to go far and carry more gear on board.
Again, sit on top kayaks offer more stability and ease of use. They don't require as much aerobic workout, making them better for families who just want to relax and enjoy the water. There are also lots of sit on top kayaks for big guys who don't want to feel too cramped in a sit inside kayak, since the open profile allows for more room and comfort.
Our Favorite Sit-on-top Kayaks for Beginners
Now, let's talk about the best sit on top or open kayaks for beginners available today:
Sun Dolphin Bali SS 10-Foot Sit-on top Kayak
Our top pick for the best kayak is the Sun Dolphin Bali SS 10-Foot Sit-on top Kayak, a best-selling entry level kayak that is sold at an attractive price point. It's made with high density polyethylene, giving it a reasonable 44 pound weight that is still easy enough to lift and transport from your vehicle to the shore and back.
It's a sturdy, durable, and stable kayak that has a 250 pound weight capacity, making it great for most individuals. This one measures 10 feet long, but it's also available in a 12-foot version, which is more suited for bigger and taller kayakers.
What really makes it stand out, however, is that it's available in a wide range of colors for you to choose from (including bright pink!), which is, surprisingly enough, not something that many kayak manufacturers make the effort of offering.
10 to 12 foot long profile
250 to 400 pound weight capacity
Comfortable molded seat
With hatch, PAC carrier, and cup holder
Comes in 6 different colors
Lifetime Manta Tandem Sit on Top Kayak
What better way to enjoy sit on top kayaking for beginners than with your family or friends? One of the best ways you can do that is by buying the Lifetime Manta Tandem Sit on Top Kayak, which is a hardshell tandem kayak that has a 500 pound weight capacity and lots of strength to offer, all in a 60 pound profile that comes in bright yellow.
It's a spacious two-person kayak that offers lots of room for a third person, which means you can bring along a kid or a furry friend- or just use it for extra storage, although the bow end of the kayak also offers a dedicated storage space with shock straps to keep your gear safe.
One thing we really like about this kayak is that it readily comes with backrests and paddles, so you don't need to buy them separately. It also comes with built-in rod holders and cup or bottle holders, making it great for chilling out on the water or going fishing.
10 foot long profile
Wide 36 inch beam for stability
500 pound weight capacity
With backrests and paddles
Perception Pescador 10 Sit on Top Fishing Kayak
Finally, the Perception Pescador 10 Sit on Top Fishing Kayak is another amazing option for the simple fact that it remains stable under most conditions, and it tracks well, too, so you won't have a problem steering the kayak along the right path.
It's primarily designed for light lakes and rivers, and it's lightweight profile makes it easy to carry around. Don't be fooled by that weight, though, since this kayak has an impressive 325 to 500 pound weight capacity, meaning you can bring lots and lots of gear on board.
Furthermore, this sit on kayak also offers lots of storage compartments. The bow end has a dry, covered storage area, and the rear has an open space equipped with shock cords, along with an extra covered hatch for small items. It also comes with straps to secure your paddles. All in all, it's a solid, reliable molded kayak that is sure to last for a long time.
13 foot long profile for plenty of legroom
Molded seat with adjustable backrest
With shock cords, 2 hatches, and 1 cup holder
325 to 500 pound weight capacity
For more kayak options, check out sit on top kayaks on Amazon.
How To Choose The Best Beginner's Sit On Top Kayak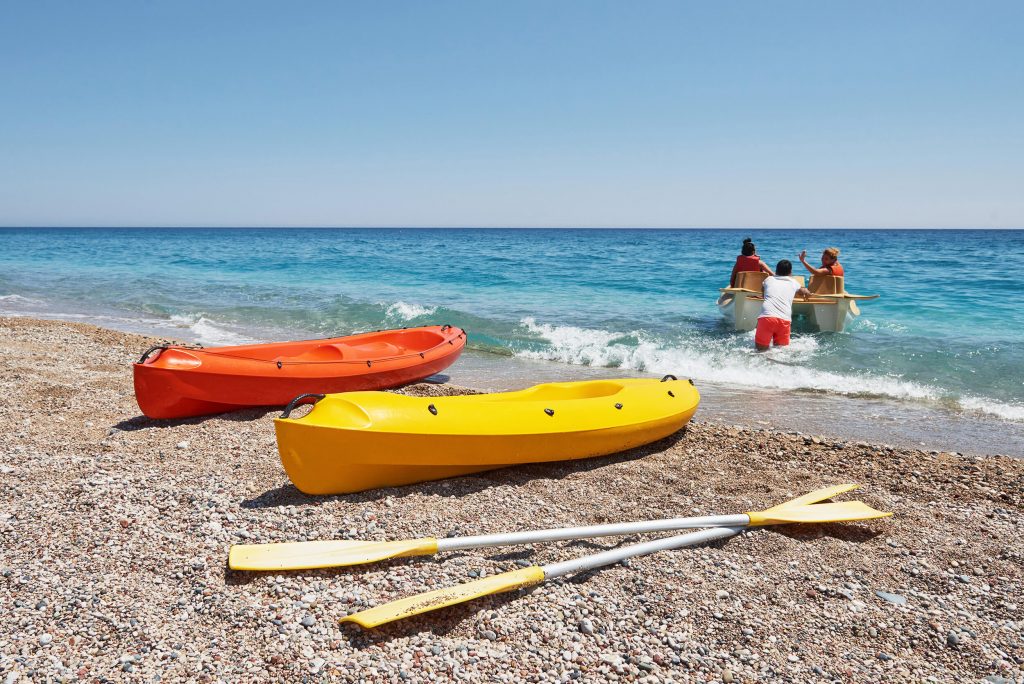 In order to find the best sit on kayak, here is a list of the most important things you need to consider so you can find the right direction and make the best decision as to which kayak works best for your needs, requirements, and budget.
Paddling Location
The first step is to figure out where you are likely to do most of your kayaking, since kayaks come in many different forms and shapes. For instance, a river kayak won't be suitable for the open ocean. Here's a list of the most common bodies of water where people go kayaking:
Small Rivers
The thing with small rivers is that the water moves much faster than it does on large rivers, so you need to find sit on kayaks that are rated for Class II rapids (which are plenty). These kayaks will be stable and easy to use, and also easy to recover in case you flip over. The scupper holes with self-bailing capabilities are also helpful against small rapids that wash over your deck.
Large Rivers
Slow moving, easy going lakes and rivers are the best bodies of water for a beginner to practice kayaking on. They also offer versatility in terms of what you can do, ranging from day trips to touring, overnight camping, and even fishing. The best part? You can use any kayak.
Lakes
The general rule is that the larger the size of a lake, the bigger your kayak should be, since open waters require more stability. That said, most sit on top kayaks can easily handle the rigors of average sized lakes, especially fishing kayaks that are specifically designed for stability, as well as lots of storage space. Just avoid lakes with waves that produce whitecaps.
Coast
Sit on top kayaks aren't really suitable for open waters. That said, you can still kayak in warmer waters, especially around coastal inlets where the water is much calmer than it is farther into the horizon. Otherwise, it's safest to invest in an open ocean kayak.
Kayak Type
While sit-on-top kayaks are already a specific kayak category, there are still various subtypes of sit-on kayaks with key differences that set one apart from the other. Each subtype is also intended for specific purposes.
Recreational Kayak
If you are a beginner or casual paddler, or if you want a versatile kayak that you can use for a wide range of applications, a recreational kayak would be the perfect watercraft, since it features a wider frame that offers more stability.
Fishing Kayak
Meanwhile, if you want to go fishing, or just carry lots of gear aboard, a sit on top fishing kayak is outfitted to handle various gear with numerous creative storage options. It also boasts of a generous weight capacity, and offers an aggressive seating position that helps the kayaker reel in his catch. That said, it's only available in "boring" camouflage colors.
Touring Kayak
There are also narrower and longer sit-on-top kayaks, which are called touring kayaks. These offer more storage space as compared to recreational kayaks, which means you can pack overnight gear including tents, hammocks, and sleeping backs.
Tandem Kayak
If you want to go kayaking with your family or friends but don't want to take separate kayaks, a tandem kayak is the ideal option, since it typically seats two to three people and offers lots of space for children or pets. A tandem kayak is also more stable due to its long and wide profile, and it's a more cost-effective option than buying two or three individual kayaks.
Pedal Kayak
One thing that is relatively new to the paddling world is the pedal kayak, which is quickly becoming popular due to the easy-to-use bicycle-like pedaling system that lets you work your strong legs instead of your arms to move the kayak forward. Pedal kayaks typically feature a rudder to help in steering, and are most suitable for wide, open spaces where you won't need to do lots of tight turns.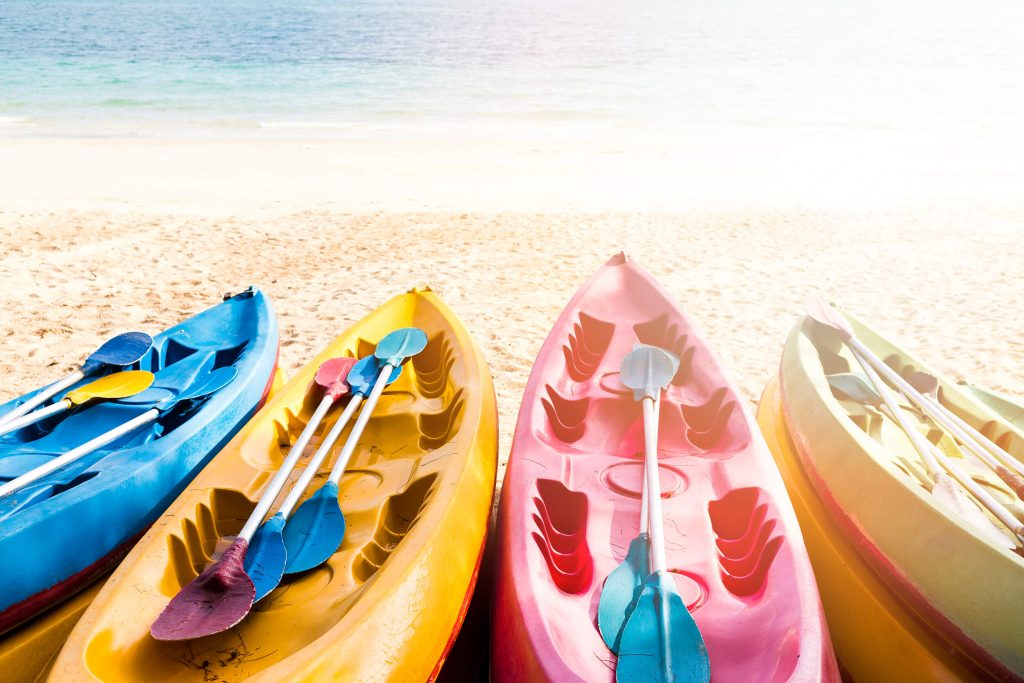 Kayak Length and Width
To reiterate what we have been talking about earlier, the size- or more specifically, the length and width- of a kayak are important factors that determine how the kayak performs on the water. Generally, a wide, short and lightweight kayak will be a lot more stable and less prone to capsizing, but a long and narrow kayak will move faster on the water.
Carrying Capacity
Don't forget to also check out the carrying capacity of the kayak, since this will determine how much gear you can haul on the kayak, or whether you can safely use it yourself in the first place. That said, most kayaks offer a generous weight capacity of 250 to 500 pounds, so unless you have special requirements, you can make do with a standard recreational kayak.
Comfort
Your comfort is also important. Many beginner kayakers make the mistake of buying uncomfortable kayaks and suffer from the pain and discomfort of sitting on stiff seats, which shortens their fun time on the water. Try to avoid molded seats and opt for high quality seats with padding, adjustable backrests, and multi-position foot braces.
Cost
Of course, you also have to figure out how much you are willing to spend on a kayak. Understand that kayaks with simpler designs and cheaper construction qualities will be more affordable than those with lots of extra features, but you'll have to decide whether you are willing to sacrifice these additional stuff that make for a better kayaking experience.
That said, sit on top kayaks are generally cheaper than sit inside kayaks. Basic models can cost as low as $100, and higher end brands can go for upwards of $800.
Other Factors To Consider
Frequency of use: while it may be nice to buy a high-end kayak, it's just a waste of money if you won't really use it all that often
Transportation: if you don't have a car, buy an inflatable kayak that fits in a backpack. If you have a car but it's on the small side, buy a small kayak or invest in a roof rack, or other types of kayak racks for cars and trucks
Extra features: if you think you need it, invest in extra features that up your comfort level, like paddle rests, fishing rod holders, drink holders, and dry hatches
Number of paddlers: this one's obvious, but if you want to be able to share your ride, invest in a tandem kayak; or if you want to go solo, buy a solo kayak that's easier to maneuver and offers more comfort
For more information on how to choose a kayak, read this article.
Overview
Sit on top kayaks are a much better option than sit inside kayaks for beginners, since they are more stable, are easier to get in and out of, and are also more affordable. They also let you enjoy more versatility on the water. And, with the hundreds of different options out there, it's easy to find the best sit on top kayaks for beginners.