This post contains affiliate links. For more information, visit my disclosure page.
The wakesurfers of today are so lucky to have a wide range of wakesurf boards to choose from. When wakesurfing first started, people trailed behind boats using regular surfboards. As the watersport became more popular in the 90s and 2000s, boards used became shorter and companies started designing boards specifically for riding the wakes of boats.
There's no longer a need to make do with cheap, makeshift wakesurf boards. We've searched for some of the best wakesurf boards of 2021 for beginners and pros. They have different tractions and comfort levels, not to mention cool designs. Check out our list below:
Our Best Wakesurf Board Picks
It doesn't matter if you've been wakesurfing for all your life or you're just getting started on riding the wake. We have wakesurf board reviews for all levels.
Hyperlite Landlock 5.9 Wakesurfer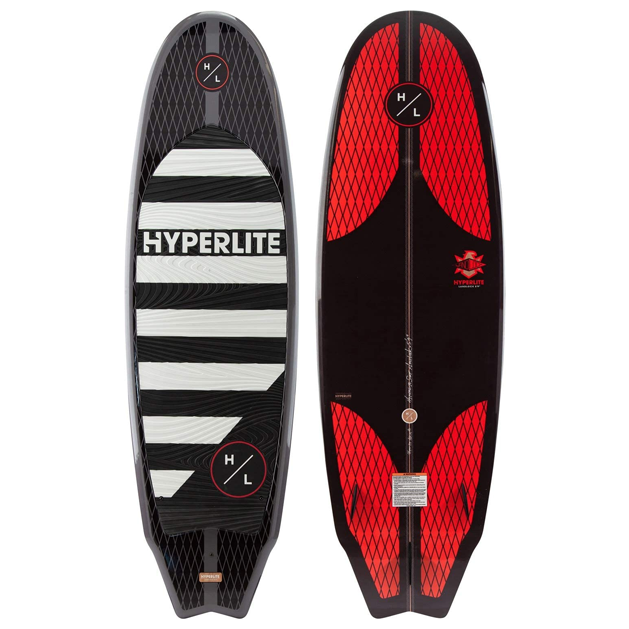 Whether it's your first time to try wakesurfing or you're a pro who's more comfortable riding on the nose of your board, the Hyperlite Landlock 5.9 Wakesurfer might be just for you. With a center width of 20.5 inches and a molded EVA traction pad, this Hyperlite wakesurf board allows first-time surfers to have solid footing during their ride. It also makes an excellent board for riders who are on the heavier side.
The Hyperlite Landlock 5.9 has a rolled edge profile that gives a laidback feel and allows forgiving soul turns. Manufacturer Hyperlite has over 2 decades of experience in the industry and for this board, they have used layered glass—integrating the top and bottom glass—for better durability. Your board is less likely to split as opposed to those that use traditionally woven glass.
Ideal for beginners and bigger/heavier riders
Catches any wave size
Made of durable layered fiberglass
Soft and thick rails
South Bay Board Co. Rambler 63" Wakesurf Board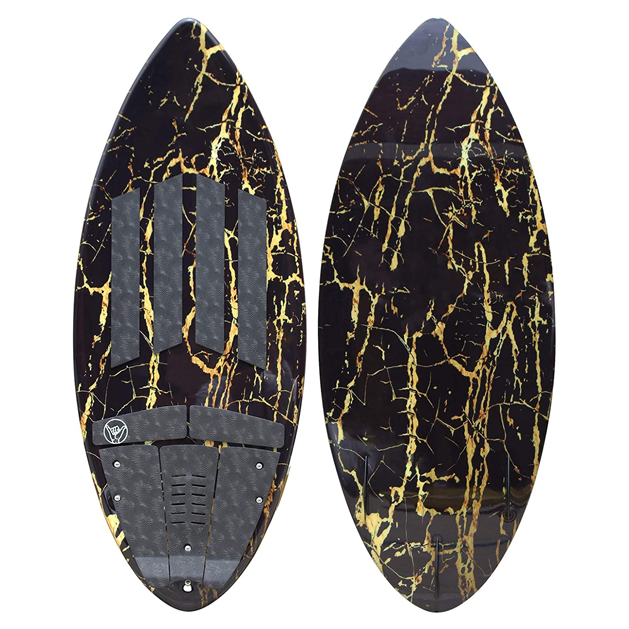 The Rambler 63" is built for speed. It has a twin-ish outline, three-thruster setup, and a flat center base that promises snappy rides, crazy speed, and a close-to-none tail rocker. Apart from being fast, this South Bay Board Co. creation is also incredibly strong as its core is made with compression-molded PU resin plus a deck with textured soft foam. This board amps up the fun with its custom marble graphic design.
Beginners don't need to be intimidated with the Rambler 63" as this board is for riders of any level. It comes with pre-installed traction pads and a raised kicker. The Rambler 63" is an affordable wakesurf longboard option for experienced riders. The underside doesn't have any rails and channels so you can focus on freestyle rides.
Designed by wakesurfers
Value for money
All-around performance
Fast and fun
Airhead Charge Wakesurf Board
The full foam Charge by Airhead is the best wakesurf board for beginners. This starter board can introduce your kids to the exciting watersport without burning a hole in your pocket. It's also a good trial option that you can use before you decide to get a pro board. Even if it has a smaller price tag, the Charge has a three-fin system that allows riders to pick up speed faster – a feature that is common among higher-end boards.
The EVA pad on the deck of this Airhead board is grippy and soft, which offers comfort to riders as well as steerability. You will also find a raised backboard kicker and a 4-inch nose rocker on the Charge, which can help you make agile turns and get better control of your board's movements.
Family-friendly option
Affordable price
Perfect for beginners
Comfortable EVA pad on deck
CWB Connelly Ride Wakesurf Board
CWB Connelly has over 50 years of experience in the water sports industry and the Ride Wakesurf Board is their longest-running model. Ideal for wakesurfers who are looking to enjoy the fun activity for the long haul, the Ride can be adjusted as you improve. You can start off with three fins for better balance and as you become an advanced rider, you can switch it up to a single center fin or two side fins.
With a full EVA pad, EPS foam core, and double edge rails, you can easily surf the wake with confidence as it can offer more forgiving turns. This one-size-fits-all board comes complete with a surf rope—no need to purchase a separate one!
All-in-one package
Customizable fins
For beginners to intermediate riders
Double edge rails for slower turns
Airhead Pfish Wakesurf Board
From easy glides to up-in-the-air tricks, the Airhead Pfish can be used by new surfers who want to expand their skills or advanced riders looking to catch some air. With a fish tail setup, the Pfish is ideal for beginners looking to learn how to glide. At the same time, its specs are also perfect for shredding the wake or even air reverses.
You can ride the Pfish from Airhead with confidence, thanks to its grooved EVA deck that is extra thick. It offers excellent control and a better foothold. What's more, the Pfish is far cheaper than other wakeboard platforms used for tricks. This full shape wakeboard can be used by both young and old, for riders that weigh up to 175lbs.
Extra thick EVA deck
Perfect for learning tricks
Full shape for stability
Skim-style, two-fin setup
Hyperlite Shim Wakesurfer
You don't have to pick between skim or surf styles when you have the Hyperlite Shim Wakesurfer. This board is designed to fit any quiver, which makes it a really good option for intermediate and advanced riders who wants to try out different surf styles. The Shim's new shape and DuraShell technology allows it to be buoyant but still have the feel of an EPS-board.
Its EPS core combined with its lap construction equal to a board that is durable and light, perfect for air and rotational tricks. The Shim's tail channels also allow for ease of maneuvering for a very responsive and smooth ride. With a fast rocker, you can also expect unbelievable speed on the Hyperlite Shim wakesurf board.
Skim + Surf style
Light but durable
Easy to maneuver
Mellow tails for a responsive ride
Ronix Koal Classic Fish Wakesurf Board
Wakeboard-pioneer Ronix has been creating wakesurf boards for over a decade and its longest-running high-end board comes in the form of the Koal Classic.
Offering exceptional quality, this laid-back model can accommodate small to larger riders. Its fins are highly customizable, coming with a spring lock technology and tool-less design. You can switch from a single to a double fin in no time.
The versatile Koal Classic has a full rail and a tall tail kick. Catching air and doing tricks on the wake will be easy to do. With its lightweight construction and excellent support, riding toes on the nose is possible too. Ronix also offers the Koal Classic in women's wakesurf boards design.
Speed and control
High-quality board for intermediate and advanced
Perfect shape for smooth rides
Ideal for both small and large riders
Ronix Marsh Mellow Thrasher Wakesurf Board
High-quality brand Ronix comes out with a more affordable board in the Marsh Mellow Thrasher. This surf style wakesurf board is highly durable, its core is handmade by robots plus has a liquid lava surf resin. The fins are polycarbonate while the deck has a compression-molded soft top. Combining all these elements equal to a wakesurf board with reduced weight but optimized for speed.
Even if it is several dollars cheaper than other high-end lines of Ronix, you can expect almost the same performance from the Marsh Mellow Thrasher. Its hard edging cuts through waves for smooth and stable traveling as well as forgiving turns. The front and rear have EVA pads for extra comfort and grip on riders.
Soft top construction
Hard edging
Combines speed and durability
Affordable Ronix option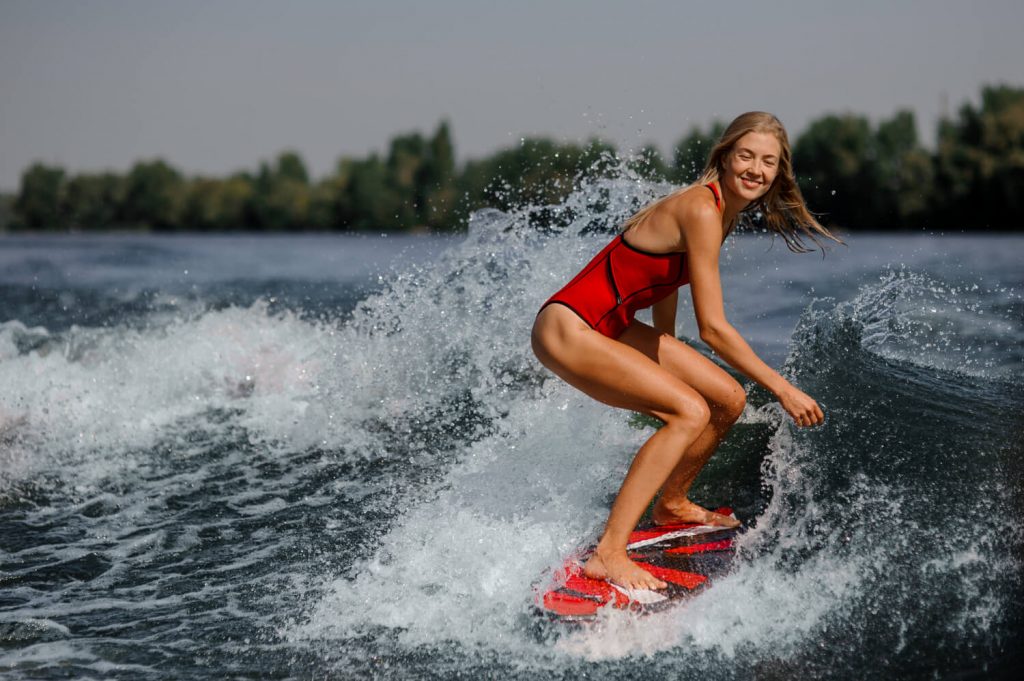 How to Choose the Best Wakesurf Boards
There are several factors to consider when you purchase a wakesurf board. Read on to help you get the best wakesurf board for you:
Style
There are basically two styles of wakesurfing: skim and surf. Skim wakeboards are typically shorter and thinner. You can ride on its tip or its back and it allows more tricks, including spins. On the other hand, surf looks more like a regular surfboard and has a bigger thicker. It's still possible to perform tricks on a surf board but it's slower and more fluid.
Check out these wakesurfing tips for beginners.
If you can't decide between the two, you should consider a hybrid. There are boards that offer the best of both worlds of skimming and surfing. Hybrids are preferred by pros and advanced riders who want to switch up wakesurfing styles.
Size
You should always take into consideration your height and your weight. Wakesurf boards have different buoyancy levels, which can highly affect how much you sink or float in the water. You also need to consider the size of the waves that you will ride. Smaller boards will make it harder for you to ride bigger waves.
Apart from the actual deck, you also need to check the fins of your wakesurf board. Most surf style models have larger fins, which makes it easier to ride waves. However, it will be harder to perform tricks, such as spin maneuvers.
Experience Level
If you are just starting out, it's important to go with a beginner board. However, there are options wherein you can adjust the features of your wakesurf board as your progress increases. Try out boards that have customizable fins if you plan on "growing" with your board. The right board can be the difference between smooth rides and wipeouts. If you prefer an activity where you can stay dry, why not give kayak fishing a try? See the best budget fishing kayaks here.
Conclusion
The best wakesurf board depends mainly on your experience or background in wakesurfing. Apart from that, you should also know what your goals are for this watersport. If you simply want to carve the waves and go on slow and steady rides, it's best to stick to surf style boards. You can also look into more affordable brands if this will be more of a weekend hobby.
However, if you are looking to do a lot of tricks and want to wakesurf several times a week, it's best to invest in a high-end skim style board.
For another watersport that tests your balance, check out the iRocker SPORT Sup review.