Are you thinking of replacing your old paddle board with a brand new toy that serves as the perfect treat for all the hard work you've been doing? There's no need to get desperate. We are here to help you with your search, so you can quickly go back to having a blast on the water with the perfect paddle board that matches your lifestyle.
In this article, we'll talk about the iRocker SUP paddle board, from its design, ease of inflation, performance, and even a bit of its pros and cons, all to help you decide whether the iRocker is the right paddle board for you.
No time to read our full review? Below is a short overview of what you can expect from the iRocker inflatable paddle board:
The iRocker SPORT SUP at a glance
iRocker advertises the iRocker paddle board as "You can buy a cheaper paddle board but not a better one!", and for the most part, it's true. There are just so many reasons that this paddle board one-ups its competition, and at just about every level, at that.
For one thing, it's a complete SUP kit that comes with high quality accessories that you can easily tell are not simply cheap afterthoughts, which is an issue with many stand up paddle board kits. It's also priced reasonably, and is far superior in terms of quality and performance than most of the other alternatives at the same price range. Plus, the warranty is great, too.
While there are many other paddle boards in iRocker's lineup, the iRocker SUP stands out in the sense that it's a versatile board that can handle various water conditions such as flat waters, light chops, and small surfs.
That said, this touring style paddle board is narrower in width and longer in length, making it less than ideal for beginners, and more suited for intermediate to highly skilled paddlers.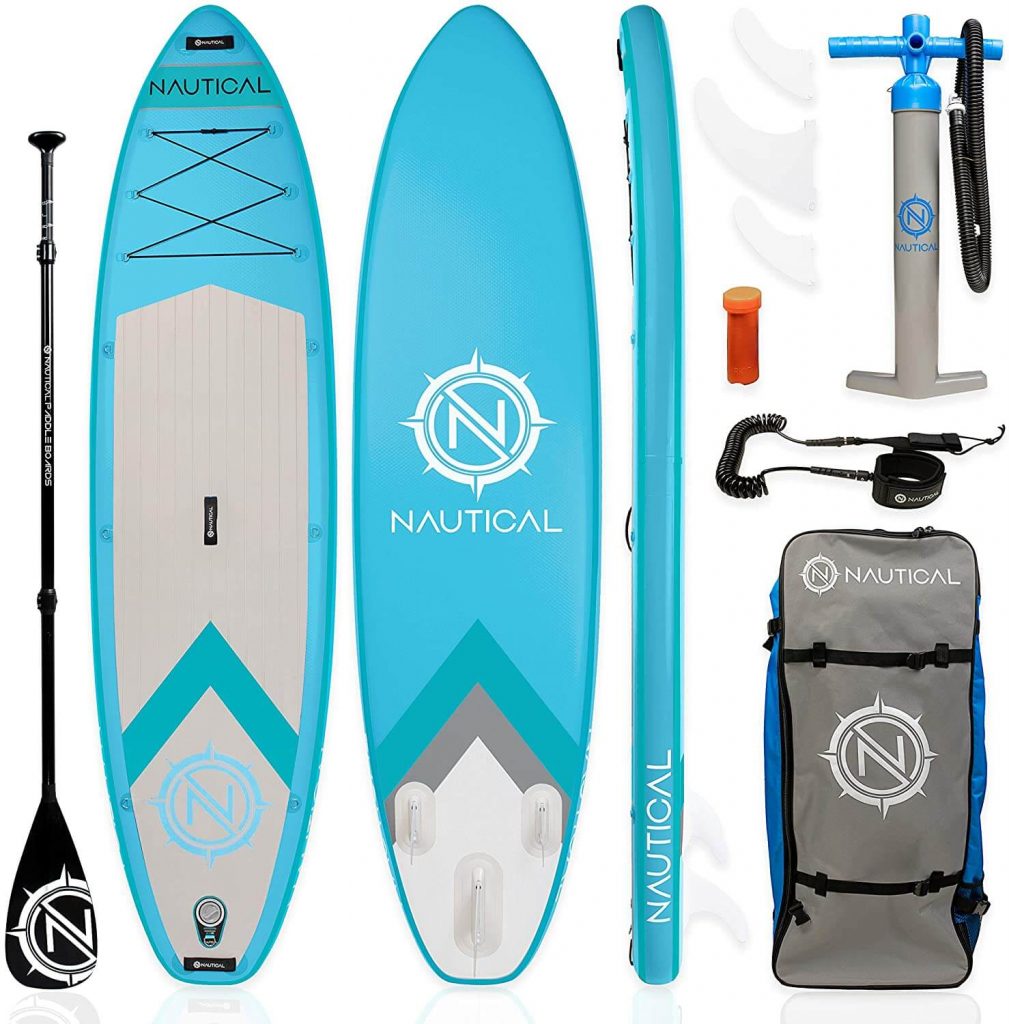 How To Choose The Best Paddle Board
Before we go any further as to what makes the iRocker paddleboard great (or not), let us first talk about how you can guarantee that you are making the right choice when it comes to buying a paddle board.
After all, with all the different choices available on the market, your decision process can get a little difficult and intimidating. It's easy to feel overwhelmed and worry about whether you're making a bad choice on where you want to invest your hard-earned money on.
While this is perfectly normal for any shopper to go through, there is a way you can avoid experiencing buyer's remorse, and actually be satisfied with your purchase. It all boils down to knowing what you really need and want- aka your non-negotiables.
How To Narrow Down Your Options
The first thing you need to do is to narrow down your choices by starting off with the most important criteria. In this case, the kinds of things you want in a paddle board. Think about certain features and styles, particular brands that you like, your budget, and other specific factors that would give you the best value for money.
For example, if you often visit different locations to go paddle boarding, you might benefit from a more transportable and compact option, such as inflatable paddle boards. Since these fit in your backpack, it means there's no need for a car rack, which then means you can travel on a whim or go backpacking.
After you effectively reduce your selection, that's when you can compare individual models and brands, and weigh one against the other based on all the other bells and whistles they offer.
Questions To Ask Yourself Before Buying
One of the most important questions you need to answer is who this paddle board is for. If it's for you, then you need to base your buying decision on your build, height, weight, and paddle boarding skill, since each board is made with a specific user in mind.
Another important factor is where you will use the board, aka what the waters are like in that location. For instance, do you want to paddle on flat water reservoirs? Go on adventures by tackling small surfs and light chops? Or alternate between the two?
Finally, what's your budget? How much are you willing to spend on a paddle board? Remember, price is often indicative of quality, so more often than not, you'll get what you're paying for. Don't just buy the cheapest model you can find; instead, look for a good quality board that is competitively priced.
Protip: Read Product Reviews Online
One thing that may help you easily narrow down your choices and make a more informed decision as to the best paddle board is by reading product reviews on outdoor sports blogs and websites. Say you want inflatable boards, for example. Just search "best inflatable paddle boards" on Google, and check out the articles that show up.
These articles will typically include a list of a handful of tried, tested, and highly rated products with detailed reviews of each one, along with perhaps a buying guide to further help you choose the right board for your needs.
Of course, customer reviews are also highly valuable, since these are insights from actual people who have bought and used the product. The iROCKER Nautical Inflatable Paddle Board, for example, has hundreds of reviews and ratings from customers worldwide, most of which consist of glowing praises.
Detailed review of the iRocker SPORT SUP
Now, let's talk about which aspects the iRocker stand up paddle board excels in, and where (if any) it fails, so you can figure out if this is the right SUP for you.
What's in the box?
The iRocker SUP from Amazon had parts in excellent condition.
These include the paddle board itself, a two-piece paddle made of carbon fiber, a repair kit, a hand pump, a carrying bag, a leash and three fins, and even a few stickers to decorate the board with, along with, of course, a user guide. You'll also get an EVA deck pad, front cargo storage with bungee cords, and 13 D-rings.
Here are our observations:
The board measures 10.6' (L) x 32" (W) x 6" (thickness). It weighs 20 pounds, can carry up to 240 pounds, and is extremely durable, rigid, and stable. It tracks fast, too.
The paddles are made with lightweight, high quality materials. They are adjustable and can be converted into kayak paddles by adding blades on each end, so you can use them to paddle kayaks or canoes.
The pump is a dual action, single chamber hand pump that is easy to use and has a high pressure mode for easier pumping.
The backpack carry bag is comfortable and offers more than enough room for all your paddle boarding gear. It also features straps to prevent the board from shifting.
Is it easy to inflate?
One question you might have with inflatable paddle boards is whether they are difficult to inflate once you carry the board to your launch point, unroll it, and attach the hose. Here's how the iRocker paddle board performs in the category:
As we mentioned earlier, this kit comes with a dual action pump that is designed to inflate on both the push down and pull up, which supposedly makes the board faster to inflate since more air flows through the board.
While this may be true, it also means that you need to exert more physical effort to get the pump moving, which can easily strain your lower back even at the early stages, so you'll likely feel worn out after a while.
That said, it does feature single action mode which activates by removing the plug located in the pump's neck. It's easier on the back, but takes somewhat longer (or about the same time if you factor in the periodic breaks from exerting more effort in dual action mode).
Furthermore, the pump also doesn't register the pressure gauge until the paddle board reaches 7 psi, which means it may be hard to tell at first whether you're actually getting air inside the board. You'll also need to reach a minimum of 15 psi before you can safely get the board on the water, which can take more than a few minutes.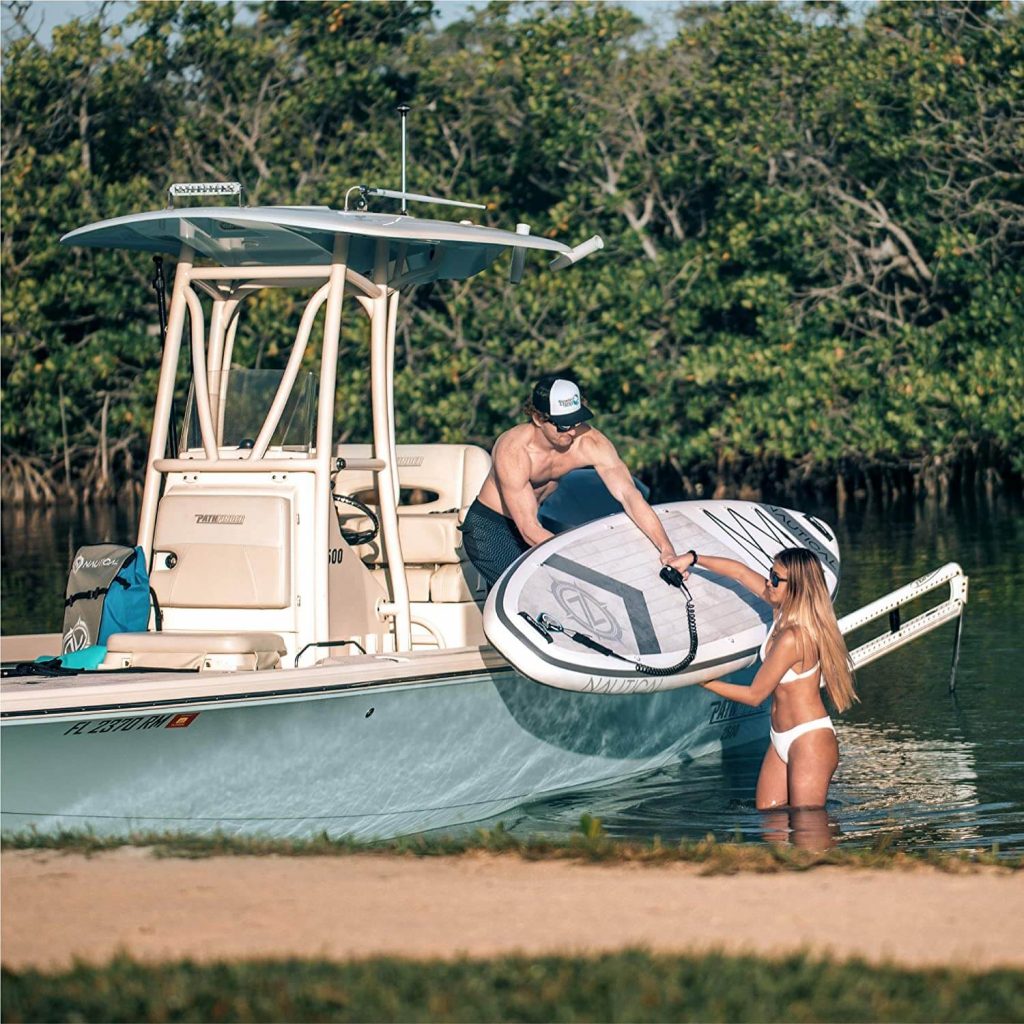 A Few Helpful Tips
One thing we can say about the pump is that it requires a bit of a learning curve before you can efficiently use it and make your life easier, not harder. But, it does definitely get easier after a while. You just need to figure out the right technique, position, and pump adjustment.
Here are some tips you need to keep in mind:
Make sure that the nozzle fits snugly and isn't loose in any way so that air doesn't escape and you get more air inside the board.
Find the most straightforward angle of inflating the board to get a better, less restricted flow of air without creating a kink in the hose.
Try experimenting with your technique for a few minutes until you find the best way to optimize the air flow that goes into the paddle board.
Ultimately, you have to understand that inflating the board is harder at first and will get easier over time, since brand new boards are a lot stiffer, but used ones develop a certain "muscle memory" that makes consequent inflations a breeze. The more you use your board, the easier and faster you will be able to inflate it the next time you take it out on the water.
You also have to expect that pumping those last two to 3 psi in will be the most difficult, in a sense, meaning, you'll need to exert a little more elbow grease to push down. That said, it still won't take more than a handful of pumps.
Alternative: Buy an Electric Pump
At the end of the day, if you don't want to exert effort at all, there's always the option of buying an electric pump so you can set foot in the water and in no time. There are plenty of battery powered options and other models that can be plugged into your vehicle.
Here's our best recommendation:
The Seamax SUP20D 20PSI Double Stage Electric Air Pump is an upgraded electric pump that is programmed with an intelligent proactive digital controller, and makes use of a temperature sensor, voltage sensor, and overheating protection. This air pump efficiently manages dual stage inflation for quick and accurate pumps.
It's packed with lots of other amazing features, such as an audible indicator, backlit LCD display, durable marine grade engineering and lightweight construction, wide humidity and temperature working range, low power construction, real time pressure monitoring, dual air inflators, and a built-in sand filter and outtake chamber.
You can also use it to inflate your inflatable kayak, which should only take ten minutes tops.
Did you know that inflatable kayaks can be motorized too? Here's a list of the best motorized kayaks we found.
How does it perform?
Let's move on to the most important part: how the iRocker inflatable paddle board performs on the water. Here's what we observed:
Tracking and Speed
Since the iRocker SUP is a touring board, it has a longer length that makes for fast tracking, which means you can go faster and further, and therefore be able to cover more ground. In fact, its tracking is impressive even at first use, and even when it's not quite inflated to the required 15 psi minimum.
In this case, you might get a bit of flex in the paddle board, but once it is pumped to the right air pressure, you will easily feel the difference in terms of stiffness and how well the board glides through the water.
Stability
However, the narrower width, which is two to four inches shorter than the typical all around paddle board, also means less stability. The board might feel a little tippy at first use, and you will have to spend some time cautiously figuring out the limitations of the paddle board.
Doing so will help you work out the "right" strokes and movements, such as how much weight you can transition from one leg to another when it comes to turning the board, and how to reposition or shuffle your feet in such a way that you won't lose balance or fall in the water.
Getting the hang of it is quite easy, and soon enough you will feel comfortable and "at one" with the board.
Turning
As for how the board turns, the iRocker paddle board certainly performs better than an all around board as it can turn more readily and with more ease. That said, it's not quite at par with what you would expect from a touring board.
While this can be a small inconvenience to some, this issue can prove to be a dealbreaker for beginner paddlers who are just trying to get the hand of paddle boarding, or any other type of board sports, for that matter.
If you are an intermediate paddler or have considerable experience with other board sports, you will be able to easily adapt to the iRocker SUP, but if you are a beginner, you will likely have a difficult time getting comfortable and orienting yourself on the board.
Wave / Chop Performance
If you ever head out to an area with strong winds, or open waters that are significantly more exposed to wind, expect that the water will be choppier than usual. In this case, it's always best to proceed with caution, especially if you are just trying to figure out what your paddle board's limitations are.
For instance, you can start by paddling on your knees until you get a better sense of the board, then take a standing position after a few practice trips. Get your momentum going by reaching forward with your paddle and giving a couple of strong strokes as you approach a wave.
That said, the iRocker SUP definitely handles small chops and waves (say, one foot waves dotting a reservoir), better than its all around counterparts, thanks to the slight curvature or rocker of the paddle board. This slight nose rocker is a key feature that prevents the board from digging into the wave, instead allowing it to ride over.
This board can easily manage nosing over waves and paddling through them. Simply put, it handles really well. You just need to be careful and pay attention so you don't lose balance when paddling with the wave, especially since the tail end of the board somewhat stalls for a split second then carries forward if the chop or wave pushes the tail.
Is it perfect? Not quite…
All in all, this is a great choice for an inflatable touring board. The board itself and the accessories it comes with are all made with high quality materials, thereby giving you the best value for your money. It also perfectly suits the needs of an intermediate paddler, which is what's really important at the end of the day.
Unfortunately, that's not to say that this board doesn't come with its share of downsides.
For one thing, as we've mentioned earlier, inflating the board requires a bit of effort and some considerable learning curve. Although, it's important to note that this is a common issue among inflatable paddle boards, and doesn't only apply to the iRocker SUP.
It's also not the most stable platform given its touring style profile with a narrower width, so it might feel slightly tippy especially if it's your first time using such a board. And while it turns better than an all around board, the iRocker's turning ability is far from being the best among touring boards, since it's not as precise (though it may boil down to personal preference).
You also have to keep in mind the slight stalling action which can throw you off balance in following a swell or chop when the board glides over the wave. It's not a flaw, per se, but it's something you need to be aware of nonetheless.
Final verdict
All things considered, everything we just mentioned are relatively minor issues that aren't really dealbreakers. All the good stuff about this board easily outweighs all the bad.
Basically, the iRocker paddle board is a high quality touring board that offers ease of handling small waves and chops, great tracking, high quality accessories, and great value for money. In this case, the iRocker's tagline really rings true for us. It may not be the cheapest board available on the market, but it's by far the best inflatable paddle board today.
So, if you are looking for a high quality, great value inflatable paddle board, we highly recommend the iRocker iSUP paddle board. If you've tried it already, let us know whether you hate it or love it by commenting below!