It looks a little bit like a skimboard but thicker, like a surfboard but shorter. What could it be? It's the latest in watersports—the foil surfboard! The first time you saw a person on the water with a foil board, you might have been confused. It's quite short and it looks like it is levitating on water. What's more, the rider is most probably on the board so easily and effortlessly. But if you have ever tried it, you know how foil boards can leave your thighs burning from all the pumping.
Whether you are curious about what a foil surfboard really is or you want one for yourself, check out the information below to help you out. There's a lit of some of the best foil surfboards in the market as well as a helpful buying guide.
What are Foil Surfboards?
Foil board, foil surfboard, hydrofoil board, this watersport sure has a lot of names but it's pretty much the same thing. The foil board is a type of surfboard that comes with a hydrofoil underneath it.
You might have seen a hydrofoil underneath a boat rather than a surfboard. The hydrofoil has fins at the very bottom and a long mast in the middle, which offers support and connect to whatever is on top. For boats, the hydrofoil lifts the boat's hull, which offers greater speed and minimal drag. The hydrofoil does the same for a foil surfboard.
So, What is Foil Surfing Like?
Now that you know what a foil board is, what is foil surfing then exactly? A regular surfboard is used for riding the waves. However, with foil surfing, you can ride a board even without a wave. You will be relying on your balance, core strength, and leg power to pump a foil board up and down to make it move across the water. The wings on the foil surfboard pushed down the water and consequently propel the board up.
Although hydrofoils were made during the 19th century, foil surfing is only gaining popularity during the 21st century. There are other watersports that use hydrofoil, like windsurfing and water skiing, but it's quite different when it comes to surfing as the rider has nothing to hold on to.
The Best Hydrofoils and Foil Surfboards
Foil surfing is pretty new in the watersports arena but it is definitely picking up speed. More and more boards are coming out as well as hydrofoils specifically for foil surfing. Here are some you can check out:
UPSURF Aluminum Hydrofoil AD-H5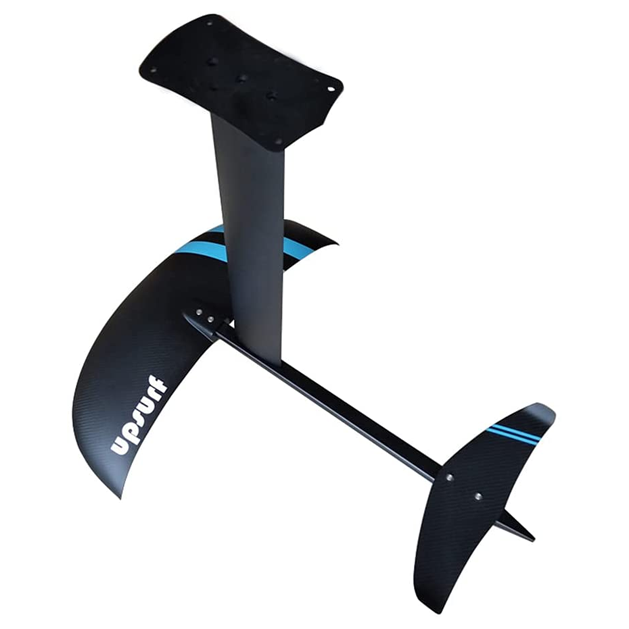 One of the best things about the UPSURF hydrofoil AD-H5 is it is compatible with a wide range of boards. This means you don't necessarily have to buy a new board if you already have one. You can also choose from different mast heights that are suitable for you.
The fins of the UPSURF hydrofoil are made of 3k carbon fiberglass, so it doesn't add weight to your foil surfboard but at the same time is very durable. To ensure that your foil surfing escapade is going to be a steady one, the UPSURF AD-H5 has a mast that is made of aluminum.
Different plate mount connections can be attached to the hydrofoil for surfboards. There are also options for tuttle and deep tuttle connections.
Light yet strong 3k carbon fins
Can be used for existing boards
Solid aluminum mast
Tuttle and plate mount connection options
Crazy Foil Jet Slide Hydrofoil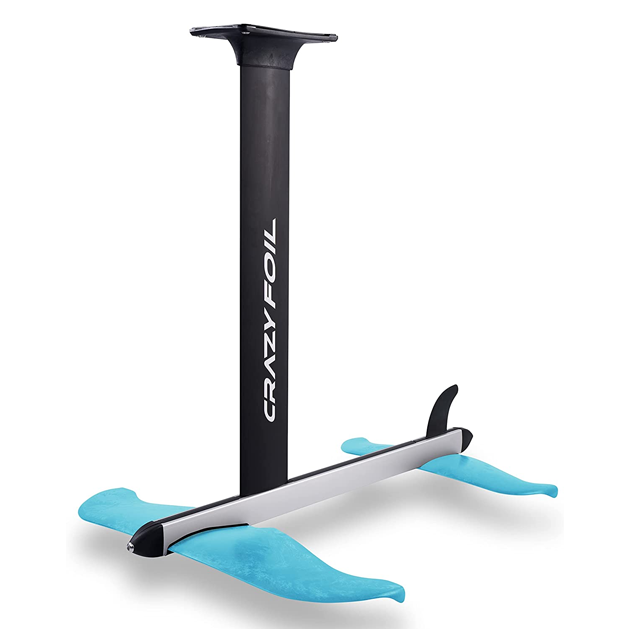 The Canadian-made Crazy Foil Jet Slide is ideal for water sports enthusiasts. One of the highlights of this hydrofoil is it can work on a wide range of thin boards that do not have a track system. What's more, this hydrofoil has detachable parts that are easy to assemble, you can bring it to different vacation spots without a worry.
A 26-inch mast is included with the Crazy Foil Jet Slide hydrofoil but there are optional 34-inch and 20-inch masts that you can purchase separately. The rear foil is 18 inches long while the front foil has interchangeable 24-inch and 30-inch options, both of which are included.
Thanks to changeable parts, the Crazy Foil Jet Slide hydrofoil is able to offer different speeds as well as low drags.
Designed for no-track-system boards
Compact design for portability
Easy to assemble
Comes with 2 interchangeable front foils
Slingshot Sports High Roller Surf Foil Board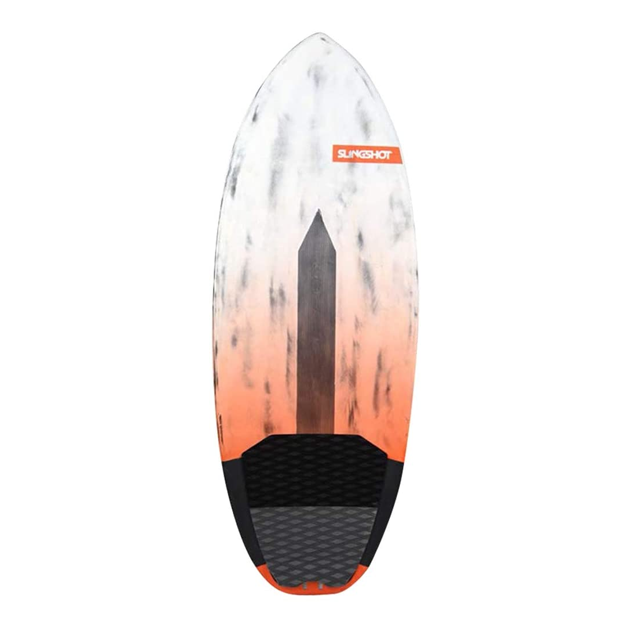 If you are looking for a board specifically for foil surfing, there's nothing like the Slingshot Sports High Roller Foil Board. It has an amazing design to keep it buoyant enough for paddling into the water. At the same time, it has a concave deck, which allows heel-toe leverage for easy carving and turning on the water.
The Slingshot Sports High Roller Surf Foil Board's S-rail is high, which allows users to paddle as if on a longer board. Its compact size makes it easy to bring this foil board wherever you go. Plus, it promises agility on the water and is built for pumping.
You can find the Slingshot Sports High Roller Surf Foil Board in 3 sizes: 4", 4'6", and 5'2". It's suitable for beginners and pros alike.
For paddle-in foil surfing
Concave deck
Perfect for travels, compact
Highly buoyant
Slingshot Sports Hover Glide FSURF V3 Foil Package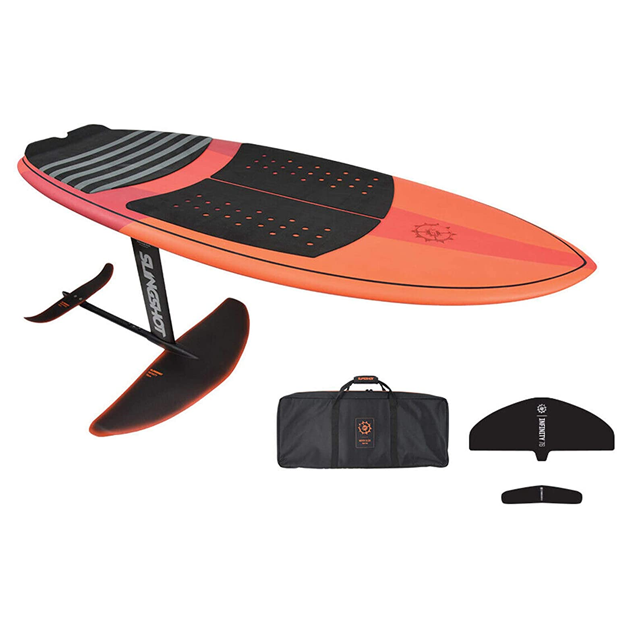 The Slingshot Sports Hover Glide FSurf V3 is the complete package for your foil surfing activity. It already comes with a board as well as a hydrofoil. If your legs get tired of pumping, the hydrofoil can be removed and the board can be used for wake surfing too.
With a 71cm mast, the Slingshot Sports Hover Glide FSurf V3 offers further pumps through the water. What's more, its 76cm infinity wings allow you to ride smaller waves, up to 5 to 6 waves behind wake surfing boats.
You can take your Slingshot Sports FSurf V3 anywhere you go. The easy-to-assemble hydrofoil comes with a travel case and the wings have special neoprene covers for protection.
Plus-sized wing
Complete foil surfing set
Comes with a travel case plus wing covers
Removable foil
E-Foil Surfboards
One of the biggest drawbacks of the foil surfboard is, it can really give your legs a workout; all that pumping gives you less time riding waves. But with modern technology, the e-foil surfboard was invented. These are boards that come with electric hydrofoils so you can enjoy more time on the water. Check out the following e-foil boards: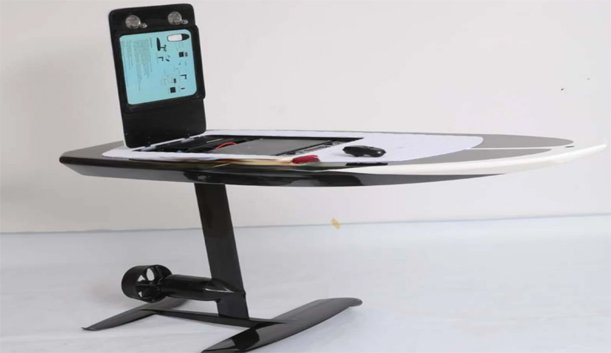 Rise up to new horizons with the Lyft Board, this e-foil board comes in 2 sizes: 5'5" and 6'9". If you are a beginner in the world of e-foil surfing, this might just be for you. It offers a beginner's stage where you can be on your knees and focus first on the hand control.
You can ride the waters at a maximum speed of 45km/hr. The Lyft Board's battery can last from an hour to an hour and a half. After that, you need to charge it for about 5 hours.
The Lyft Board comes with the board attached to a hydrofoil. It also has a battery with a cover, a charger, and remote control.
Comes in 2 sizes
Up to 45km/hr
Lasts up to 90 mins
Ideal for beginners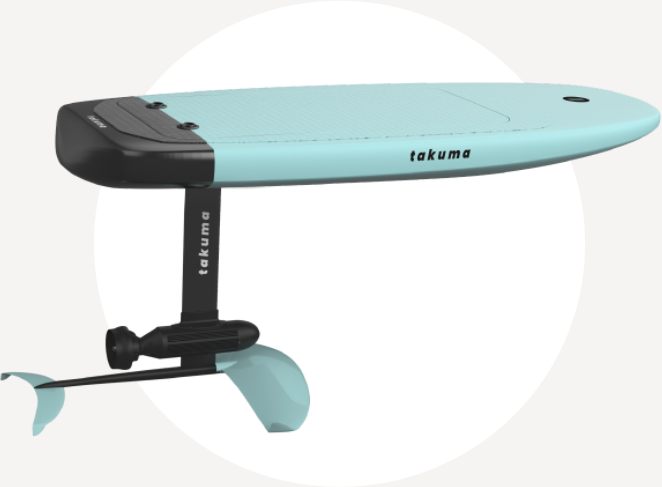 The foil-focused brand, Takuma, comes out with its very own e-foil board. Since the model is modular, it can be used by different rider levels. You can choose from a cruiser or a carver and have the option to pick out the wings. Plus, if your battery runs out, you can switch out to a classic mast.
With a unique propulsion system, the Takuma Efoil allows you to fly through and over the water safely. Its remote control is developed with BbTALKIN, which is the first-ever developer of waterproof communication systems for marine sports.
The Takuma Efoil has a safe cooling system, so you can keep on riding for up to 90 minutes on a full charge.
Suitable for all levels
Unique propulsion system
Remote developed with industry leader BbTALKIN
Lasts 70 to 90 mins
The Australian-designed Flite Fliteboard Series 2 takes efoils to the next level. The highly advanced Fliteboards are highly buoyant yet stable. They are made from aircraft-grade aluminum as well as Carbon Innegra—the result, a lightweight and rigid e-foil.
There are 4 e-foil boards in Series 2 to suit your foil surfing level and your needs. These can also be configured, from the shims to the wings. With an advanced control system, you can easily switch from lazy cruising to adrenaline-pumping speeds on the water.
The Flite app is an excellent touch to the e-foil experience. This app allows you to share and track your rides on the Fliteboard. With 2 battery options, you can ride this e-foil for 60 to 90 minutes.
Up to 60+ to 90+ mins
Can support up to 100kgs
Small motor
Advanced controls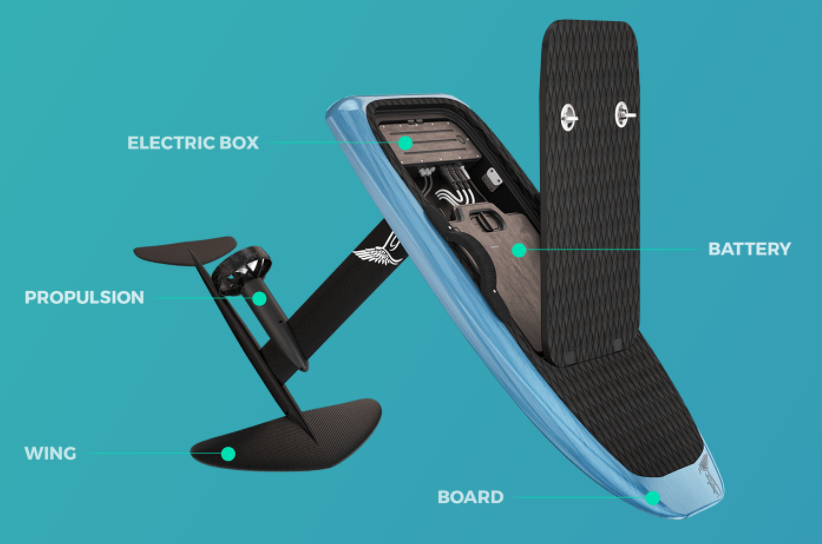 The Lift3 eFoil from Lift Foil offers one of the longest riding times in the market. Its battery can last up to 2 hours on the water. What's more, the charging time is quite quick as a 2-hour charge can power up your 2-hour ride.
One of the best things about the Lift Foil is it comes with an ergonomic controller that can show you battery status and switch up speeds. The controller is waterproof and connects to the board via Bluetooth.
You can enjoy your rides through the water without interruption as The Lift3 has a near-to-silent motor. The e-foil is made of carbon fiber and steel plus its parts can be customized for you.
Quick charging
Silent motor
Ergonomic controller
Up to 120 minutes
Foil Surfboards Buying Guide
Here are some of the things you need to consider when getting your own foil surfboard:
Size
When picking out a foil board, you need to consider your height and your weight. Sellers will be able to determine what kind of board will be able to support you. Aside from the actual board, you also need to check the size of the hydrofoil, like the length of the mast and the span of the wings.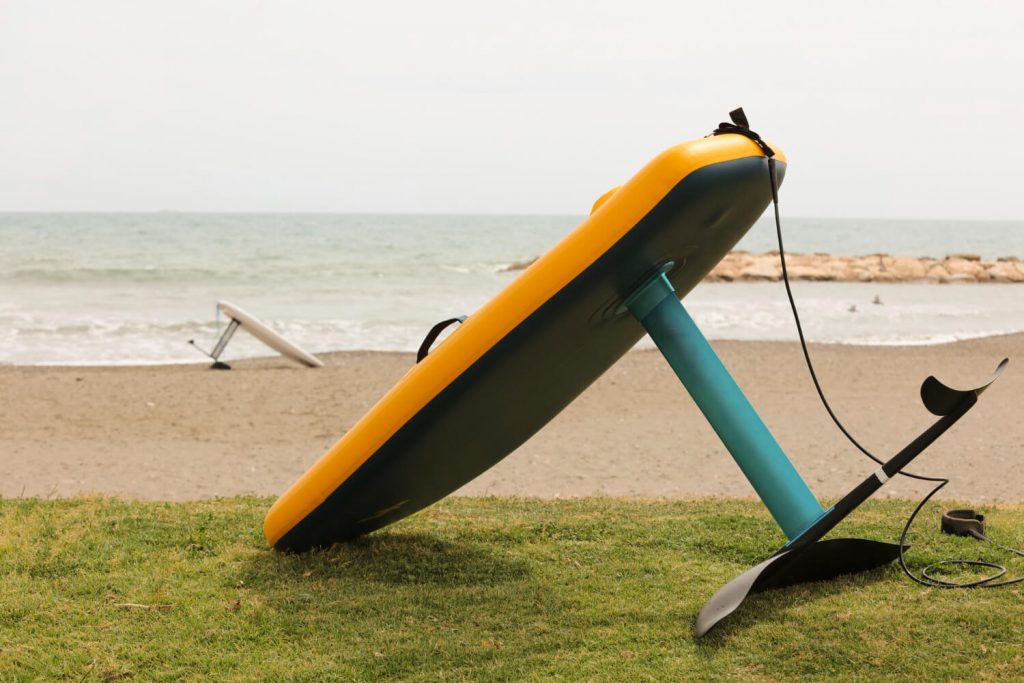 Foil or e-Foil
To go electric or non-electric, that is the question. Both the foil and e-foil have their owns pros and cons, it depends entirely on you on which one is better. Although e-foils are more convenient, you have to take into account the battery life as well as the maintenance of all the board's parts.
Meanwhile, a traditional foil board can be harder to ride, especially for a beginner. Foil boards, although quite pricey, is definitely cheaper than an e-foil as it doesn't have a motor.
Foil Surfing Style
How you will use a foil surfboard can help you choose the right model. Will you be riding behind a wake boat? If you still prefer riding waves, you might consider a board that is designed for paddling in. However, if you will be going for a dock start, you need to consider a wider and more stable board. You might want to check out an inflatable dock while you are at it.
Final Thoughts
The popularity of the foil surfboard is continuously soaring and there will definitely be more and more models that will come out. Although it is a newcomer in water sports, foil surfing might just be here to stay, especially with the invention of the electric foil board.
Just like other water sports, foil surfing can be pretty tricky at first but just stick with it and you'll see why more and more people are getting into it. Make sure you have the right size and type of foil surfboard to make learning easier for you.