This post contains affiliate links. For more information, visit my disclosure page.
If you're on the heavy side, whether that's because you are a professional wrestler, football player, or weightlifter, or you just happened to be born with big bones, or for whatever reason, shopping for a kayak for big and tall people like you can be a difficult task.
The good thing is, there are lots of great kayaks for big guys in today's market. It all comes down to finding one that works for you in terms of the kayak's length and width, reliable carrying capacity, large cockpit size, and comfortable seat configuration, among other factors.
To help you on this journey, we have compiled a list of the best, sturdiest, and most comfortable kayaks made for big people, so you can get all the support you need while enjoying your favorite water activity, and all without breaking the bank.
Our Favorite Kayaks For Big Guys
Do you want the best pedal kayak with rudders and stadium seating, or a simpler yet just as a stable boat that lets you confidently cast your line? Here's a list of the ten finest kayaks for big guys that we found, so you can get into the water as soon as possible:
Wilderness Systems A.T.A.K 140 Sit on Top Fishing Kayak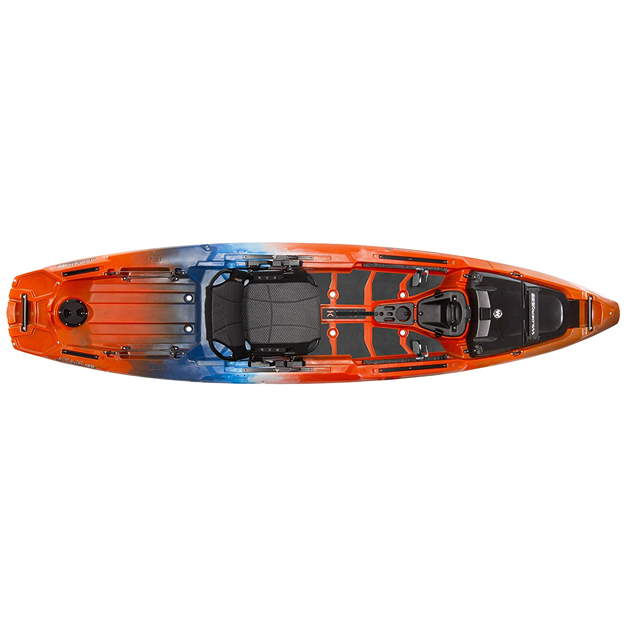 The best kayak for big guys that we found is the A.T.A.K 140 sit on a top fishing kayak by Wilderness Systems, which is actually an award-winning kayak with a spacious open deck from a well known and trusted brand that has been servicing kayakers since 1986.
This fishing kayak is essentially a 14' A.T.A.K 120 but made so much better. It features lots of cargo space and a nice sit on top, low profile design that lets even the tallest boaters to stretch out, making it perfect for a 300 lb kayaker.
It also features traction pads, along with a stand up assist strap, to make for a highly walkable and stable deck. The kayak itself is heavier, making it more stable, and its overall design gives you better gliding and straighter tracking. All of these make it the best fishing kayak out there.
AirPro Max suspension seats
With GPS and removable console
Large molded-in side carry handles
Stern and bow storage hatches
Available in 4 different colors
550 lb capacity
Old Town Loon 126 Recreational Kayak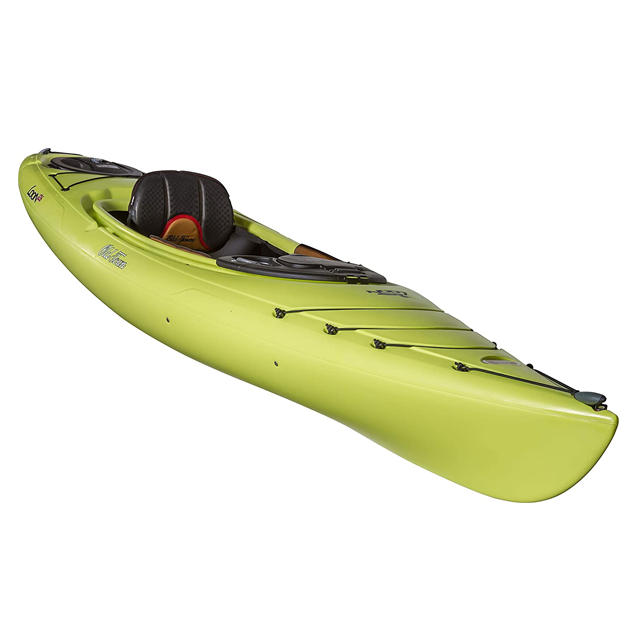 We also fell in love with the Old Town Loon 126 recreational Kayak, which boasts of a triple layer hull made of polyethylene, and a customizable working deck that features a sharp keel line. This is one of the most advanced kayaks of its kind, and you'll soon see why.
For one thing, it features easy grip thigh pads and makes use of the active Comfort System version 2.0, giving you the most comfortable cockpit on a kayak. And then you get the Click Seal hatch designed with a bulkhead, along with so many other inclusions.
Plus, there's the Track foot brace system that gives you plenty of support while enhancing your control and leverage for a stabler and more efficient ride. The work deck is also removable, so you can easily customize the kayak depending on your storage needs and preferences.
Removable deck with a USB charging port
Adjustable ACSII seat for total comfort
Click Seal stern hatch for dry storage
Measures 12'x31"x6", available in 2 other sizes
With carry handles, bungee, paddle clip, etc
450 lb capacity
Sea Eagle 370 Pro 3 Person Inflatable Portable Sport Kayak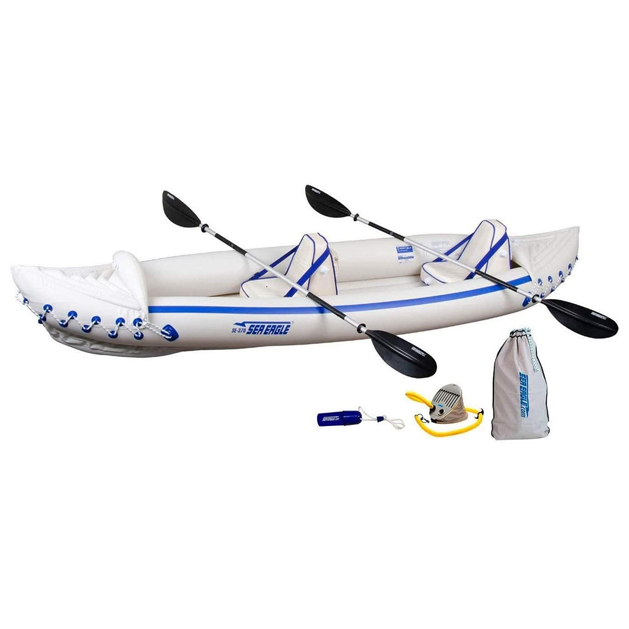 Did you know that inflatable kayaks can carry a heavy person, too? In fact, the best in this department is the Sea Eagle 370 Pro Sport Kayak, which is lightweight and portable while remaining remarkably durable and stable.
This means you can pack it up to a fraction of its size when inflated, carry it anywhere, and set it up in minutes. This rugged kayak even has a 650 lb weight limit, enough to carry three average-sized persons! It's even affordable, perfect for those who aren't blessed with a fat wallet.
It's also an ideal kayak choice for beginner kayakers and experienced paddlers, thanks to its efficient hull shape and lightweight design that make for easy handling of a swift paddling boat. Young or old, you'll love the ease of navigating tricky waters with this kayak.
2 deluxe kayak seats with back support
With 2 bottom skegs and 2 4-part asymmetrical paddles
5 1-way inflation and deflation valves + drain valve
Includes carry bag and foot pump
Can be used on Class III whitewater
650 lb capacity
Driftsun Rover Inflatable Tandem White-Water Kayak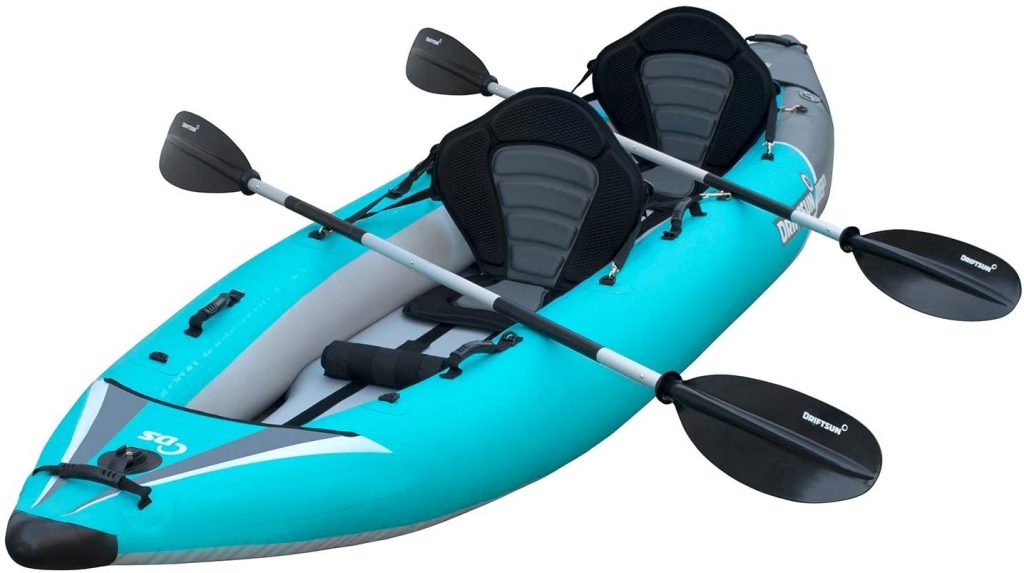 Another unbelievably amazing inflatable option is the Driftsun Rover 220, which is a stable and lightweight tandem whitewater kayak. It boasts of high-grade construction with a premium polyvinyl chloride material that is puncture resistant, even on Class IV rapids.
It also features a drop-stitch flooring that can take on rough waters without sacrificing speed and safety. And, in the unlikely event that it gets ripped, perhaps from an unseen jagged rock, fixing is quick and easy with the included repair kit.
What we really like about this one, however, is its versatile design that features two adjustable seats that can be repositioned, depending on whether you want to do tandem paddling, or a bigger person going solo wants more legroom.
PVC construction with drop-stitch
Rust and puncture-resistant materials
Tracking skeg and removable rear
With 3 inflatable chambers and 8 self-bailing ports
Can be used on Class III and IV rapids
600 lb capacity
Sun Dolphin Bali SS 12-Foot Sit-on top Kayak

Going back to sit on top kayaks, taking the fifth spot is the Sun Dolphin Bali 12 Sit-On-Top Kayak, which is a great recreational kayak for beginner and expert kayakers alike. It's designed with an open cockpit that allows for easy entry and exit and has a 395 lb high weight limit.
It also features protective thigh pads, adjustable foot braces, a dry storage compartment, and a paddle holder, all so you can easily and confidently track and paddle while enjoying optimal stability on the water.
Plus, thanks to its rugged, high-density Fortiflex polyethylene construction that is UV-stabilized, you can use this kayak on most rivers and lakes. It's lightweight, durable, and easy to carry. It even features a wide and comfortable seating area for maximum versatility and comfort.
Wide seat with adjustable braces and protective pads
With the portable accessory carrier for towing storage
Paddle holder and rigging for shock cord deck included
Lightweight and stable with excellent tracking
395 lb capacity
Perception Pescador 12 Sit on Top Fishing Kayak

In sixth place is the Perception Pescador Pro 12.0 Kayak, which is another suitable option for a big man like you. It's a high-performance kayak that offers increased speed and stability so you can go on fishing expeditions on rivers, lakes, coasts, and ponds.
This one's designed with a shorter length and a lighter bodyweight, along with a large, open-plan cockpit for bigger persons. It's made with durable polyethylene and comes with a stadium-style Pro seat that is both removable and adjustable.
Among its many other features are an adjustable foot brace that makes for improved paddling, plenty of storage for paddles and tackles, and rod holders that are dual molded. It's also pretty affordable so you can have more spending money on your fishing gear.
YakAttack gear Trac system
UV protection and impact resistance
Available in different colors
5-year manufacturer's warranty
375 lb capacity
Also check out our review of the Perception Tribe 9.5!
Vibe Kayaks Sea Ghost 130 13 Foot Sit On Top Kayak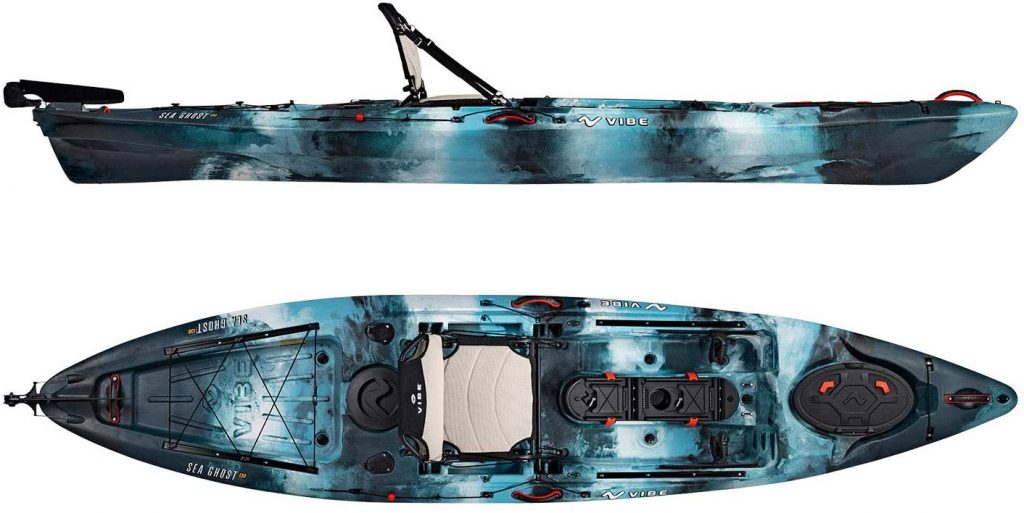 You should also check out the Vibe Kayaks Sea Ghost 130, a nice sit-on-top kayak for big guys with its large and wide hull that makes it super stable. In fact, it's super stable that a large and tall person can confidently stand on it without the risk of tipping the kayak over.
Of course, it also features a durable, high density, rotomolded polyethylene construction, large weight capacity, a great seat, and ample legroom, all of which makes it super comfortable for sitting, paddling, and fishing for a long period of time.
Moreover, it has a toe controlled rudder to allow for easy maneuvering and comes with lots of storage compartments for your fishing gear, including two flush-mounted fishing rod holders and tackle tray holders. Its wide hull and large rear trunk design are great, too!
2-position Vibe Hero seat and foot braces
2 side parks for bungee paddle + fast-access parks for bow paddle
Compatible with a fish finder transducer
4 integrated gear tracks, built-in cup holder
550 lb capacity
Ocean Kayak Scrambler 11 Sit-On-Top Recreational Kayak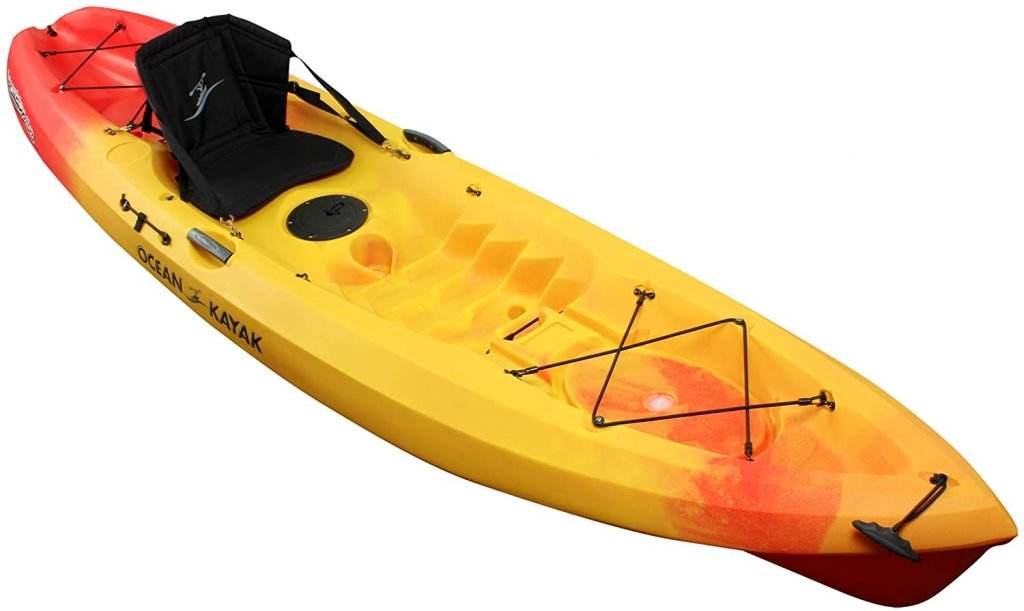 Don't forget to look at the Ocean Kayak Scrambler 11, a versatile, one person, a recreational sit-on-top kayak that's perfect for a confident paddler on the bigger side. It boasts of the brand's signature Tri-Form hull that comes with primary and secondary stability.
This unique hull also comes with a long center keel that keeps the paddler on a straight track. There are many other excellent features too, like the durable Comfort Plus seat which can be adjusted four ways and supports comfortable all-day paddling.
There are also side paddle holders that feature pull tabs for easy attachments and release of the bungee with the bungee button. Not to mention, the oversized tank well with a Cam Lock hatch and storage bucket lets you store so much food, gear, fishing vests, and other stuff.
Molded-in side handles for easy transport
Added bow and stern carrying handles
Lightweight (47 lb), measures 11'x6"
Lifetime hull warranty
350 lb capacity
Sea Eagle 380x Inflatable Kayak with Pro Package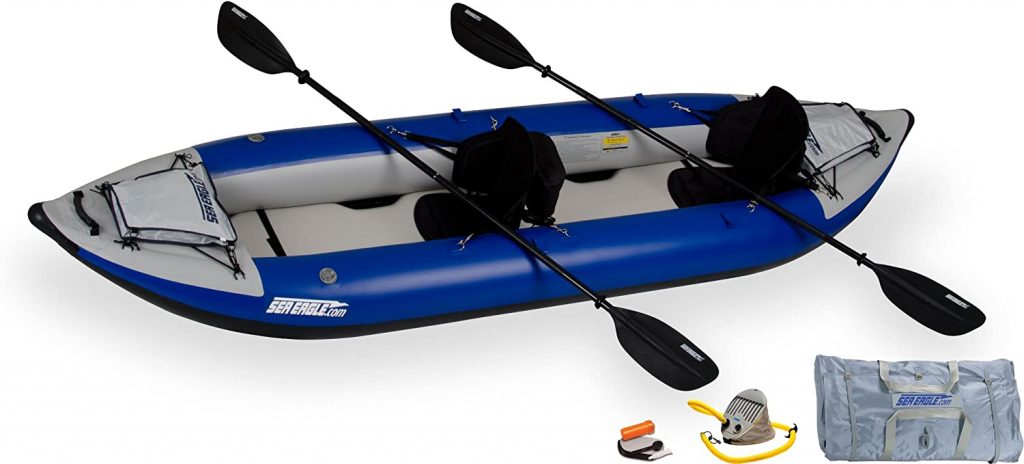 If you loved the Sea Eagle 370 Pro, you'll also definitely love the Sea Eagle 380 inflatable kayak, which can easily accommodate a heavy kayaker or even two to three paddlers. As a matter of fact, it has a 750-pound weight capacity, making it the best model for large individuals.
Now, don't be surprised if we tell you that the reason this kayak far exceeds most hardshell kayaks made for whitewater is that this one's inflatable, which gives it that much-needed buoyancy. And, it doesn't compromise on stability and durability, either.
In fact, this one's so durable that it can withstand banging against sharp rocks, and it's safe for kayaking with your dogs as well. The best part? It features a versatile design that lets you choose between paddling and using a 15 lb electric motor if you want to enjoy the convenience of a motorized kayak.
High-pressure polyester fabric construction
Sliding skeg, D-rings, and fast-draining valves
Can be used on Class IV rapids
3-year warranty
750 lb capacity
BKC RA220 11.6′ Single Fishing Kayak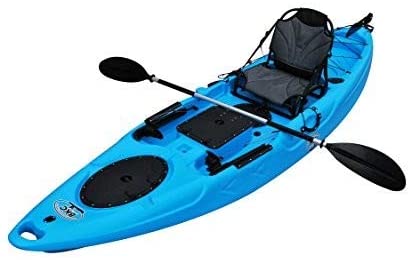 Finally, there's also the Brooklyn Kayak Company UH-RA220 single fishing kayak, which is a great fishing kayak that gives you the best value for your money. It boasts of superior stability and a pre-installed rudder that makes it ridiculously easy to maneuver despite the size.
What this means, really, is that even bigger people can confidently and safely stand on the kayak in order to cast fishing lines and catch some fish. It also offers a highly comfortable seat with excellent back support if you'd just like to sit and relax for some time on the water.
It even comes with lots of other amazing features like a reclining chair, watertight cargo, and storage space fitted with tie-downs, a versatile design compatible with a transducer, and so much more.
Reclining chair with back support
Watertight cargo storage with tie-downs
Foot-operated rudder control, transducer compatible
Limited 5-year warranty
450 lb capacity
Kayaks For Big Guys Buying Guide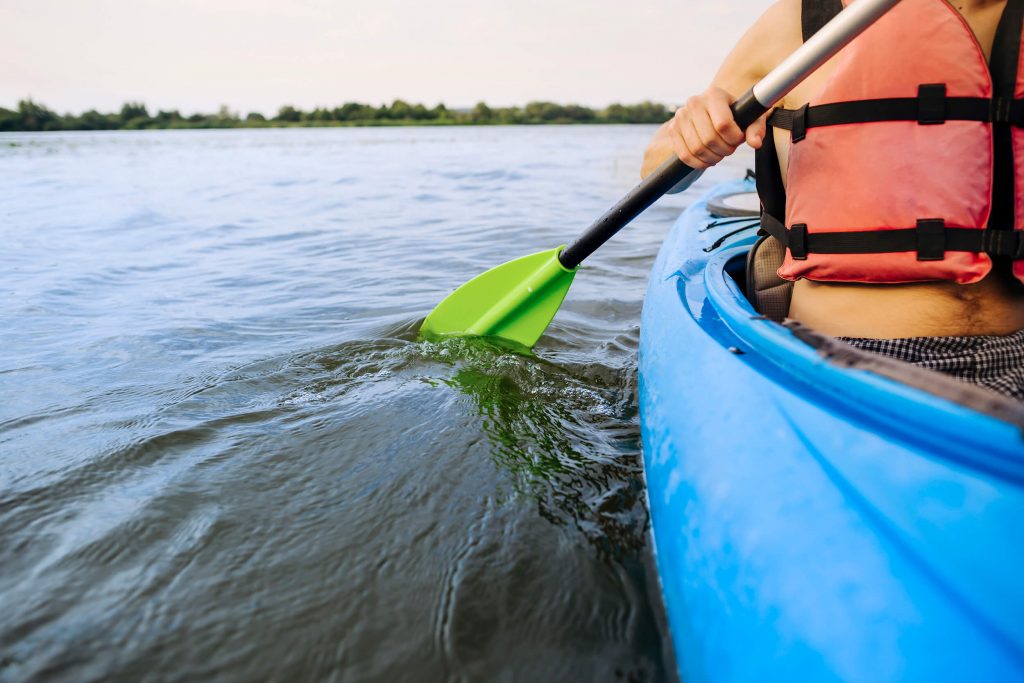 Buying a kayak itself can be a hard task, all the more so if you have additional requirements like a high weight capacity. To help you find the best kayak that will suit your needs, here are the most important factors you need to consider:
Weight Capacity
The best kayak for big guys isn't necessarily the biggest kayak, rather, one that has a great maximum carrying capacity, which can safely handle your own weight, along with the weight of all your other stuff, including electronic gear, coolers, food, fishing rods, paddles, and so on.
And, after all these, there should still be a bit of margin for buoyancy, security, stability, and so you can easily maneuver the watercraft without worrying about capsizing too easily.
At the minimum, the kayak should have a capacity of 350 pounds to 400 pounds, but depending on your weight, gear, and a number of people on the kayak, it might be better to opt for a 500 lb capacity kayak.
Weight Considerations
Don't forget that the weight of the kayak itself plays a factor in its overall weight capacity. To calculate what weight capacity you need, here's a simple formula you can follow:
Ideal kayak weight capacity = (Kayak weight + your weight + gear weight) divided by 8
This gives you a 20% weight buffer for safety.
For example, a 50-pound kayak with a 250 lb kayaker and 25 pounds of gear would need a 400 lb capacity kayak. Something a little lower may work, but this would come with issues of harder paddling, less speed and stability, and less buoyancy.
Users
Again, it's important to determine how many people you are planning to fit on the kayak. This doesn't only help you determine your required weight capacity, but also how many seats you'll need the kayak to have.
A fishing kayak can easily accommodate one to four people. If you need all the seats you can get, there are plenty of durable options, but if it will mostly just be you, a top-tier single kayak is still going to be more preferable.
Kayak Size
Now, while you may not need the biggest kayak out there, the kayak's size still matters, especially if you are particularly tall with long legs and feet. This is important if you're buying a sit-inside kayak where you'll need lots of legroom or a touring/ paddling kayak where your feet might be cramped between the hull and deck.
Sit-inside kayak interiors are typically measured in volume, and the higher this measurement is, the more space you'll have to comfortably fit your lower body inside the kayak as you paddle. If you are a bigger person, always go for the "high volume" kayaks.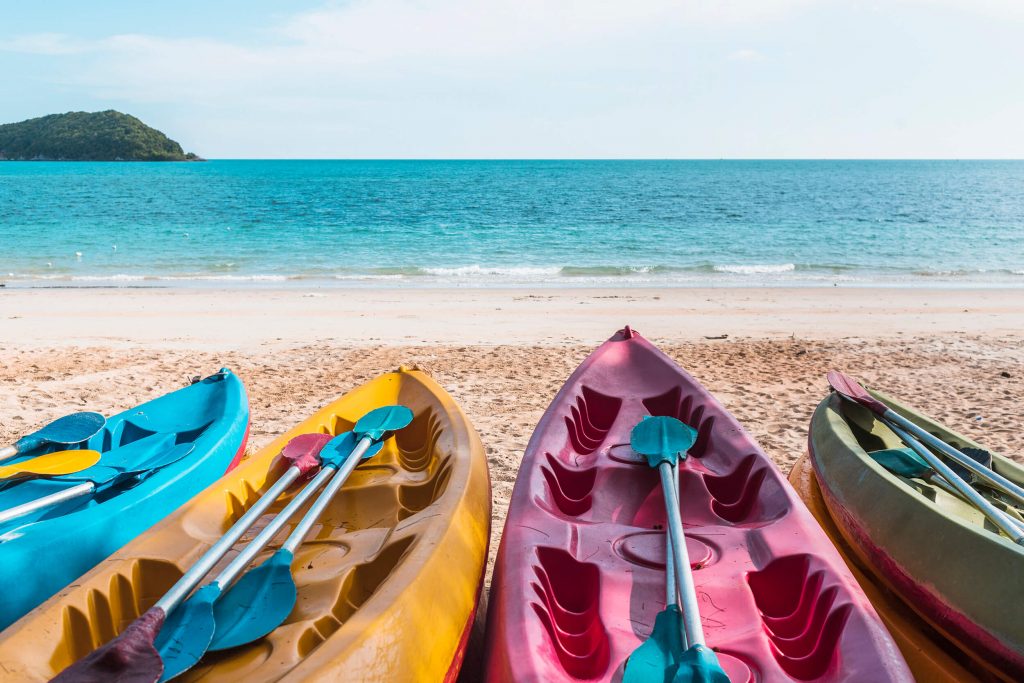 Width
Aside from the kayak's inside volume for your legs and feet, you also need to account for the width, as this will influence a lot of things, such as the kayak's stability, and how easy it is to get in and out of the kayak safely and without tipping it over.
For large paddlers, an ideal hull width should be no less than 30 inches. A wider hull lets you slide your hips right into the kayak, as well as sit comfortably and stretch out during your time out on the water.
Length
Along with width, there's also the factor of length. In fact, length and width should go hand in hand, so you don't end up with an almost rounded kayak that can't be paddled from side to side. Remember, length also affects volume, and in turn, buoyancy.
Most kayaks come in an average of 10-foot length, but as a bigger kayaker, it's best to start with 12 foot long watercraft or bigger.
Comfort
The kayak seat should also be designed for maximum comfort, regardless of the kayaker's size. This simply means that the cockpit is wide enough so you don't feel uncomfortable and cramped, nor make it difficult for you to slide in and out of the kayak.
Furthermore, it is preferable that the kayak seat be adjustable, whether that's in terms of recline, position, or other feature that makes your seating experience more comfortable.
Padded Seat
Aside from that, the seat should also come with plenty of padding, as well as a good backrest. This way, your back, and rear side get good support, so you don't get out of the kayak experiencing discomfort or pain.
That said, don't disregard the molded plastic kayak seats on sit on top kayaks, as these, too, can be pretty comfortable. Besides, you get the added safety of being able to alight quickly in the event that you capsize.
Pro-tip: Get a Sit-on-Top Kayak
The simple fact is, a sit on a top kayak will be much more forgiving than a sit-inside kayak for bigger and taller kayakers. Great recreational sit-on-top kayaks also feature higher buoyancy ratings.
Boating Location
As with all types of watercraft, you should always anticipate the type of water, water current, and terrain where you will be using the kayak, since most, if not all, kayaks are designed for specific environments.
For example, inflatable kayaks are largely unsuitable for rocky rivers and fast-flowing water. To be on the safe side, always check the kayak's NNMA rating so you know where it's safe to use.
Design
The design and complexity of your kayak should really depend on how experienced you are in the sport. Cheap, simple kayaks are best for beginners so you don't have to worry about learning the ropes on how to deal with complicated parts and add-ons.
Budget
Finally, it's always wise to set a working budget on how much you are willing to spend on your kayak (and other related gear), then stick to it. Try to avoid unbelievably cheap kayaks unless they come from trusted sellers and manufacturers, and have lots of great but honest reviews.
Helpful Kayaking Tips For Big Guys
Kayaking can be loads of fun, but it does come with a few obstacles before you get to actually enjoy it. Buying the right kayak for you is one, and learning how to kayak properly is another. Here are a few helpful tips for big guys like you who would like to experience kayaking:
How To Choose A Kayak That Won't Capsize
The great thing is that kayaks nowadays are built to be really stable. But, like any watercraft, there's always a risk of capsizing, no matter how minuscule. If this is something you are worried about, always go for a kayak with a wide beam of at least 30 inches.
This will increase your balance and stability on the water. Furthermore, flatter and wider hull will also give the same effect, along with rudders and skegs that jut in the water.
How To Get In And Out Of The Kayak
At the end of the day, though, no matter how wide your kayak is, it still requires some learning curve to easily get in and out of the kayak. This is especially true for sit-inside kayaks, as your lower body goes inside the boat. For sit-on-top kayaks, thankfully, this isn't really an issue.
What would help you have an easier time entering and exiting the kayak is a wider opening of the cockpit, as well as adjustable footpegs. These will also offer more comfort while you're out on the water.
Your Comfort Should Be A Priority
If you're buying a kayak online, you won't really be able to test and feel it until it arrives on your doorstep. What you can do, however, is to make sure that the kayak seat is comfortable by looking for words such as wide, comfortable seating, EVA foam padding, and high back support.
For bigger guys and gals, the best kayak seats are those that come in-stadium styles and with metal framing. These will guarantee maximum comfort so you don't have to deal with a sore back while you wait for the fish to take your bait.
Safety First!
Before you go, remember to also invest not just in your kayak, but also in your safety gear, including a fishing life jacket in the right size for your build. This, along with a kayak safety kit, will ensure that you are safe out on the water, especially if you get into an accident. Remember, it's always a smart idea to stay on the safe side even if you are a great swimmer.
Conclusion
Now that you've seen our reviews of the best kayaks for big guys, as well as our buying guide on how to pick the right kayak for you, which one is your most favorite?
Remember, the ideal kayak for you is one that can safely and easily carry your weight, have a decent-sized hull and cockpit for your legs and feet, and is stable enough so you can stand, sway, and do whatever you want on the kayak.
Simply put, your safety and comfort are the two most important things while you're out on the water. All those other extra features should only come second.