This post contains affiliate links. For more information, visit my disclosure page.
Kayaks are amazing out on the water, whether it's a river, lake, or ocean. In fact, whitewater rapids and other challenging conditions are nothing compared to a skilled kayaker and a well-built kayak.
However, once that kayak is out of the water, it's useless and cannot move on its own, which is why you need a kayak rack for trucks so you can transport the kayak from one place to another. This kayak carrier should make it easy for you to load and unload the kayak quickly, all while protecting it as you go on the road.
To help you find the best kayak rack for trucks, here's a comprehensive guide on the best kayak racks online with an in-depth review of each model, as well as some helpful tips on how to pick the right kayak carrier that suits your needs.
Benefits Of A Kayak Rack
First things first- why do you need a kayak rack? Aside from being able to take your kayak to different water adventures, of course.
A kayak roof rack for trucks is, first and foremost, designed to protect your watercraft and keep it safe during transit. While your kayak may be durable, all that bouncing and sliding from driving on rough terrain, along with the outdoor elements, can still cause some damage.
Kayak carriers prevent this from happening by securing your kayak on the truck roof and surrounding it with padding for extra support and protection. Aside from this, you'll likely be able to carry other watercraft on a versatile kayak rack as well, such as canoes and surfboards.
Top 10 Kayak Racks
Check out these ten best kayak racks for trucks, so you can take on more adventures and have the thrill of your life out on the water, without having to worry about your kayak while on land.
Darby Industries 944 Extend-A-Truck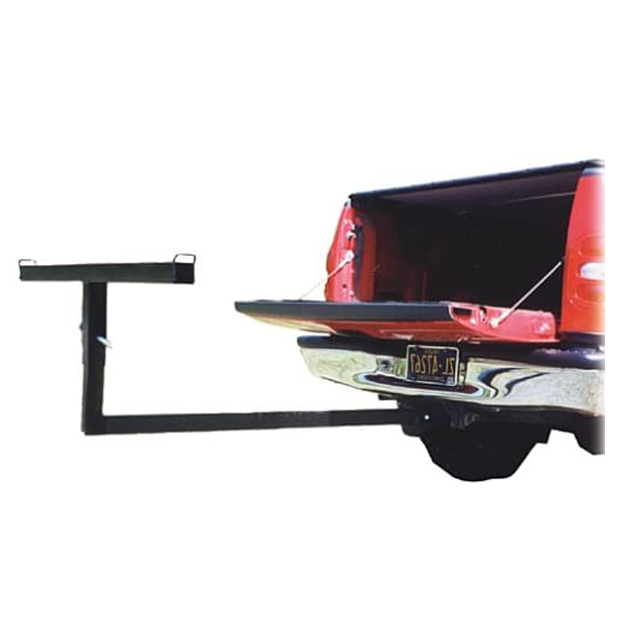 Our top pick is the 944 Extend-a-Truck by Darby Industries, which is designed to safely and securely haul your kayak either above or behind the truck. It features a simple and streamlined but highly functional design in plain black.
It also comes with four-inch-wide support with an adjustable height so you can choose between extending your truck bed or hauling heavy loads on the truck's rooftop. Either way, it works well in keeping your kayak safe and secure.
The best part is, the Darby Industries Extend-a-Truck can easily be disassembled and stored flat behind the car seat when it's not being used. It even comes with a red flag for enhanced road visibility.
4 ft wide support, fits 2 in the receiver
Excellent craftsmanship
Great value for money
350 lb weight capacity
TMS 800 LB Adjustable Kayak Contractor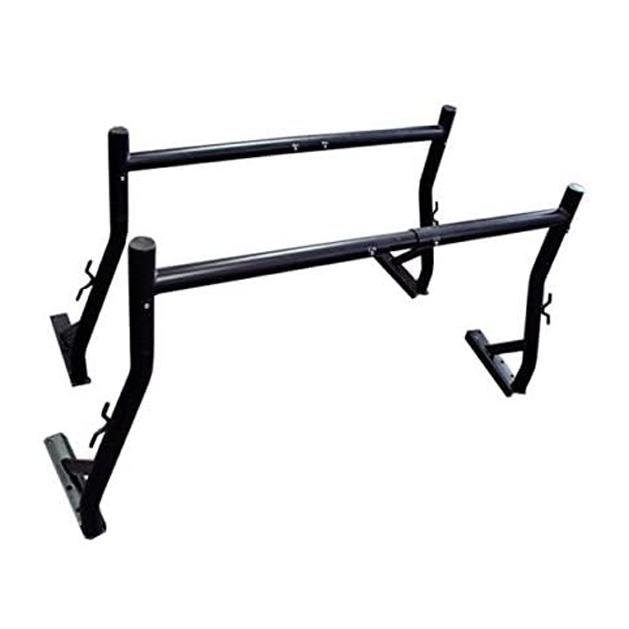 Our second-best pick is the TMS 800lb adjustable kayak contractor, a heavy-duty construction rack made with durable steel. This one's great for hauling not only your precious Austin kayak, but lots of other big items as well, such as lumber, ladders, pipes, and more.
It comes as a set of two adjustable and multi-functional steel truck ladder racks and is guaranteed to let you haul longer and bigger items that simply cannot fit on an average-sized truck bed of a pick-up truck.
What we really like about this is its sturdy frame, along with the fact that it's so easy to install. You can even extend the width depending on the size of your truck bed. It's guaranteed safe and secure for transporting property without worrying about anything falling out.
30 in height, adjustable width (5-7 ft)
800 lb weight capacity
Heavy-duty steel base
US patented design
ECOTRIC Pick Up Truck Bed Hitch Extender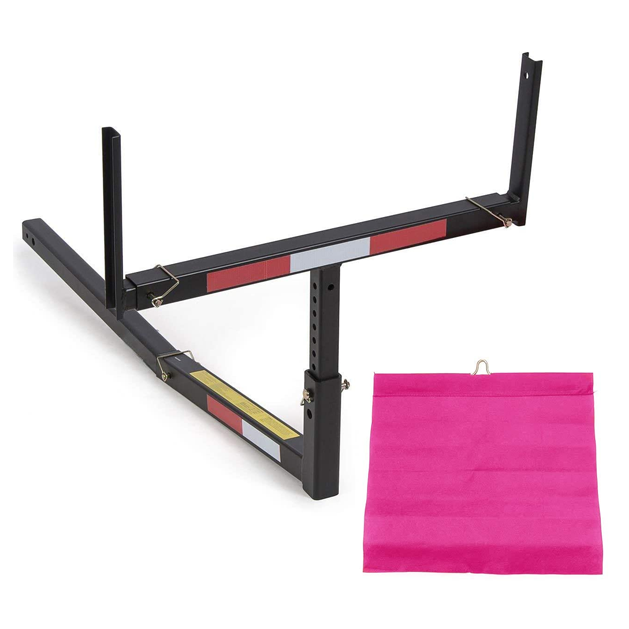 Another overall favorite is the Ecotric pickup truck bed hitch extender, which is made for the standard two-inch trailer hitches, meaning, it would work well on most pick-ups and other vehicles, small and large.
Moreover, you can also use this on a 1 ¼ inch hitch receiver. You just need to purchase a hitch adaptor, add it in, install the truck bed extender as usual, and you're good to go. Reall, there's no reason for you not to buy this one.
With its adjustable width and height, you can easily transport bigger and longer loads, or make smaller adjustments to the truck bed extender to better suit your application needs. It's made with heavy-duty steel tubing, too, so you can be sure it's durable.
Fits 2 trailer hitch receivers
750 lb weight capacity
Adjustable width and height
Lightweight but durable as 27 lbs
Leader Accessories Kayak Rack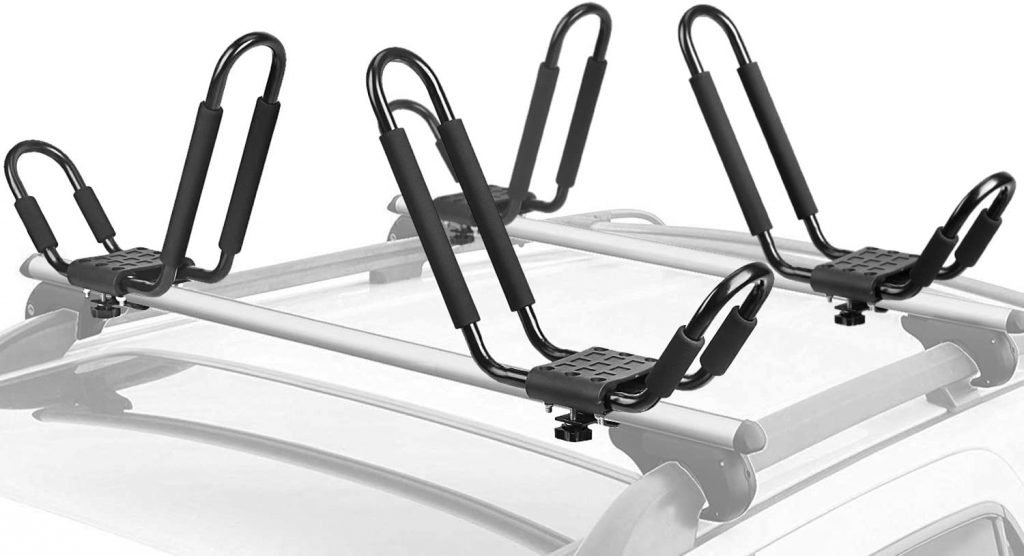 Taking the fourth spot is the Leader Accessories kayak roof rack for trucks, which is a multi-purpose rack that can be used as a canoe rack, surfboard, ski board, and snowboard carrier, and of course, your good old' fishing kayak or tandem pedal kayak.
This pair of two J bar-shaped crossbar is made with high-quality steel with an extra EVA foam padding design and is meant for rooftop mounting with four-piece tie-down straps. It's sure to keep a tight lock on your kayak while preventing any rubbing or scratching.
What's more, is that the steel base is also powder coated for maximum protection against the elements and superior resistance to rust and corrosion. Plus, the hardware has quick on/off capability for fast assembly, installation, and removal.
Can carry 2 kayaks
2 pc J style bars at 8 ft long
250 lb weight capacity
4 pcs tie-down straps
AMP Research 74813-01A Black BedXTender HD Max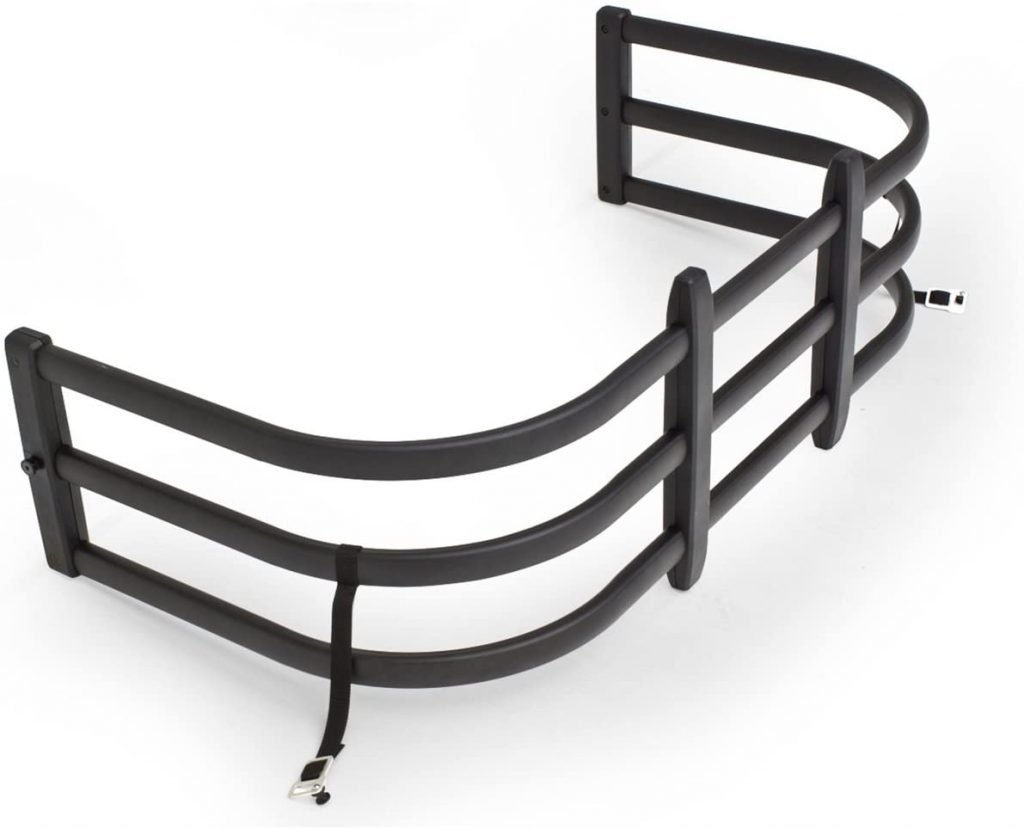 In fifth place is the AMP Research black BedXTender HD Max, which lets you gain up to an extra two feet of secure and enclosed cargo area by simply flipping the BedXTender out with the tailgate.
When it's extended, it offers you maximum cargo capacity thanks to its classic U-shape. Alternatively, flip in to close the tailgate and keep your smaller cargo and tools contained inside your truck bed.
It also features a clamshell design that is torque resistant and has composite uprights, along with aluminum alloy tubes in a rounded rectangle shape and with a nice finish of durable powder coating. It's easy to assemble, too.
Adds 2 ft of extra cargo space
Limited 3-year warranty
Easy to assemble and install
Available in black and silver
AA-Racks Model APX25 Extendable Aluminum Pick-Up Truck Ladder Rack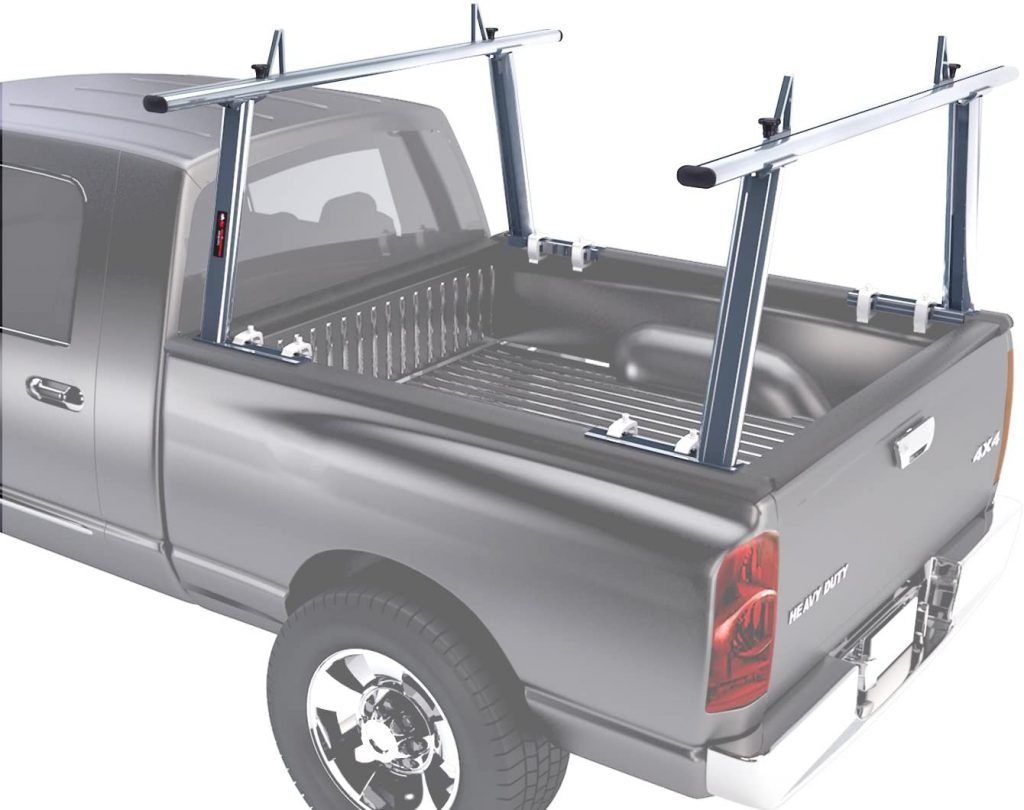 Ranking sixth is the AA-Racks model extendable aluminum pick-up truck ladder rack, which is one of the best kayak ladder combos on the market. It's amazing for many other utilities and construction materials, too.
It boasts of superior aluminum construction, which gives it exceptional rust and corrosion resistance. It also features weather-resistant paint as a powder coat finish, so it's really built to work well and last for a long time.
Furthermore, it's easily compatible with various truck models thanks to its inclusion of eight C-clamps, also made of aluminum, which allows for a no-drill installation process. The only vehicles it doesn't work with our trucks that come with utility track systems.
Heavy-duty reinforced aluminum
800 lb weight capacity
Available in 3 colors
Easy to assemble and install
Apex ATR-RACK Ladder Rack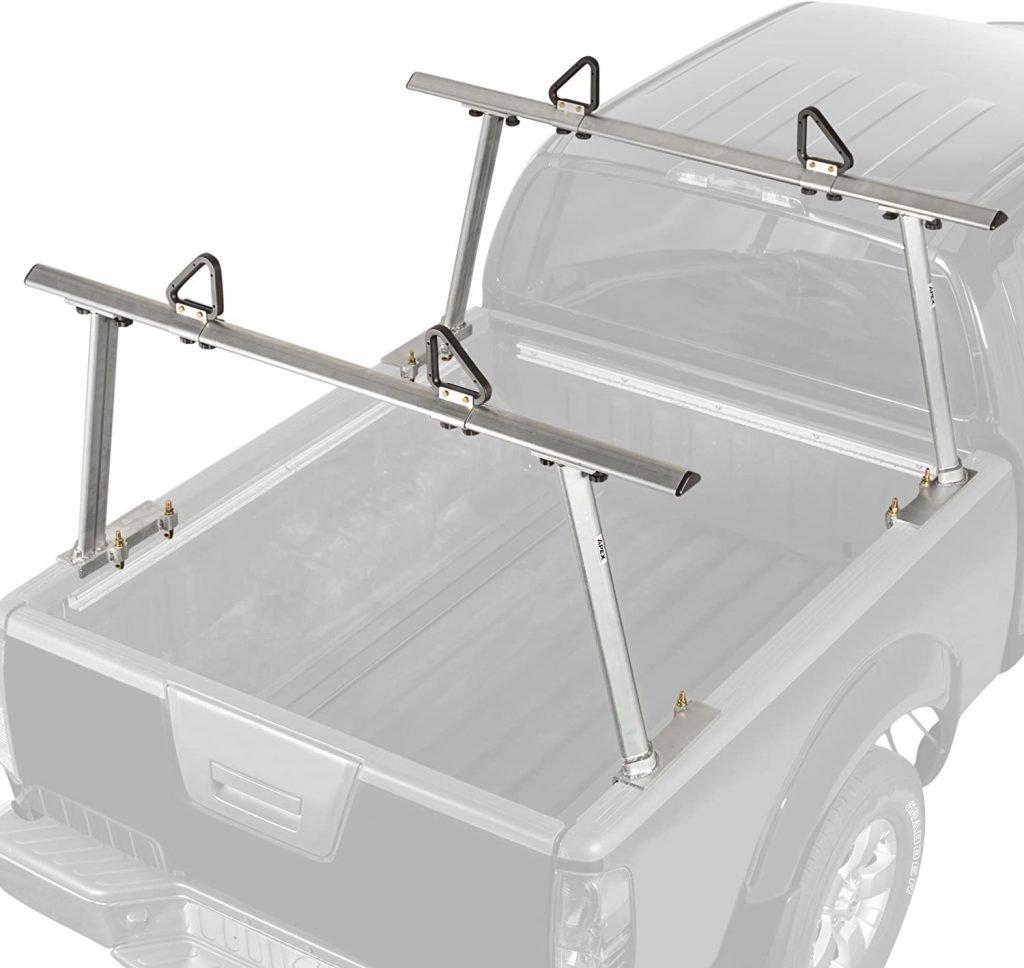 Another amazing option for a kayak ladder combo is the Apex ATR-RACK ladder rack, which is a universal rack made for heavy-duty lifting. It allows you to conveniently transport long, wide, and large objects with ease.
It also features high strength aluminum construction in order to make it not only lightweight but corrosion resistant as well. And, with the fully adjustable crossbars that fit most compact to mid and full-size trucks, this is definitely one of your more versatile options.
To top it all off, it comes with four pieces of triangular ladder stoppers that can easily slide along those top bars in order to fit your cargo width. This means you can easily and confidently tie down and secure your stuff in no time.
Ideal for trucks up to 66.5 in wide
No drill clamp system installation
Lightweight aluminum construction
800 lb weight capacity
AA-Racks Model X35 Truck Rack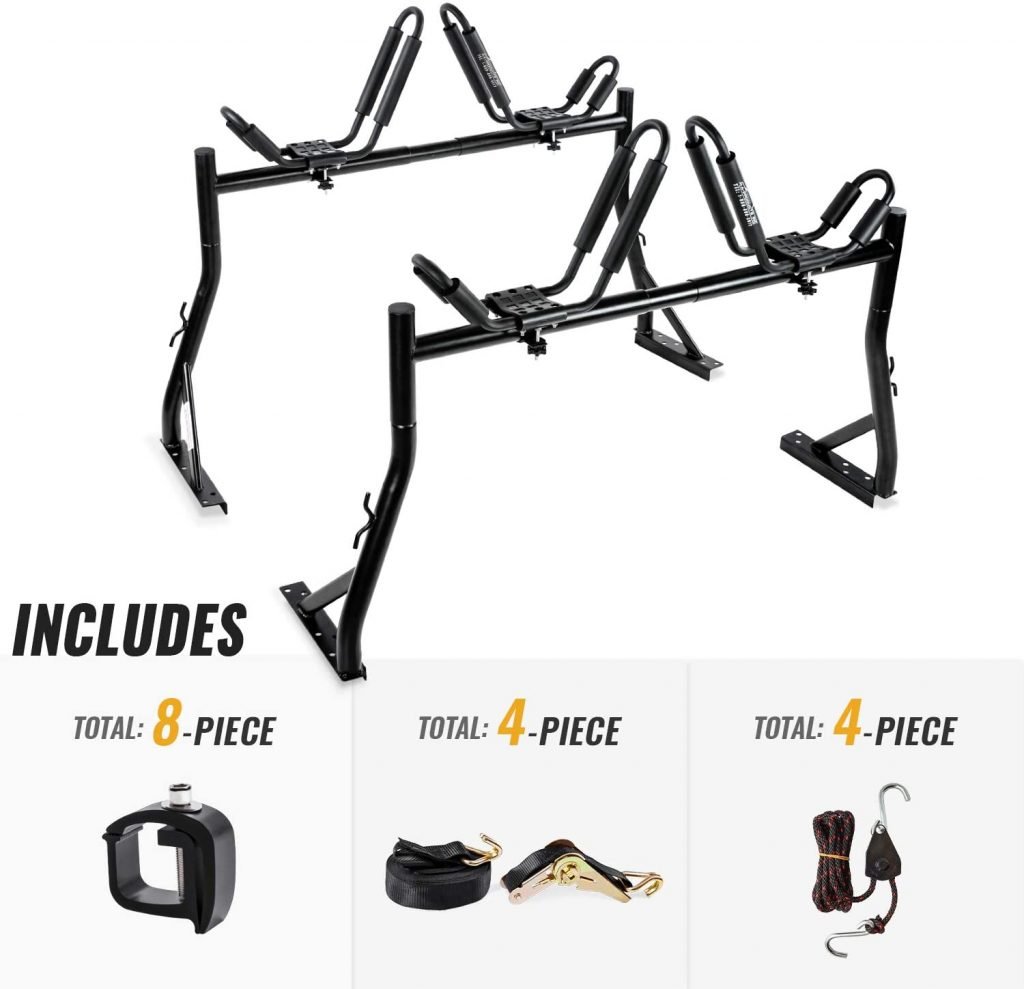 An alternative to the AA-Racks APX25 is their Model X35 truck rack, which is an all in one bundle of adventure that allows plenty of space for 2 kayaks. It comes as a complete set with everything you'll need for installation without the need to drill holes.
This means that it's quick, simple, and easy to set up, as well as to takedown. It features securing ratchet straps that are heavy duty and ensure your kayaks are tightly strapped down during the entire drive.
It even boasts of adjustable rope hangers, each with a 300-pound capacity. This is along with eight C-clamps and heavy-duty extended bolts for maximum safety and security. As long as your truck doesn't have a utility track system, this is a great choice for you!
2200 lb weight capacity
With rubber base and foam padding
Custom bolts for easy assembly
Non slip and water resistant
TMS 800LB Universal Pick Up Truck Ladder Rack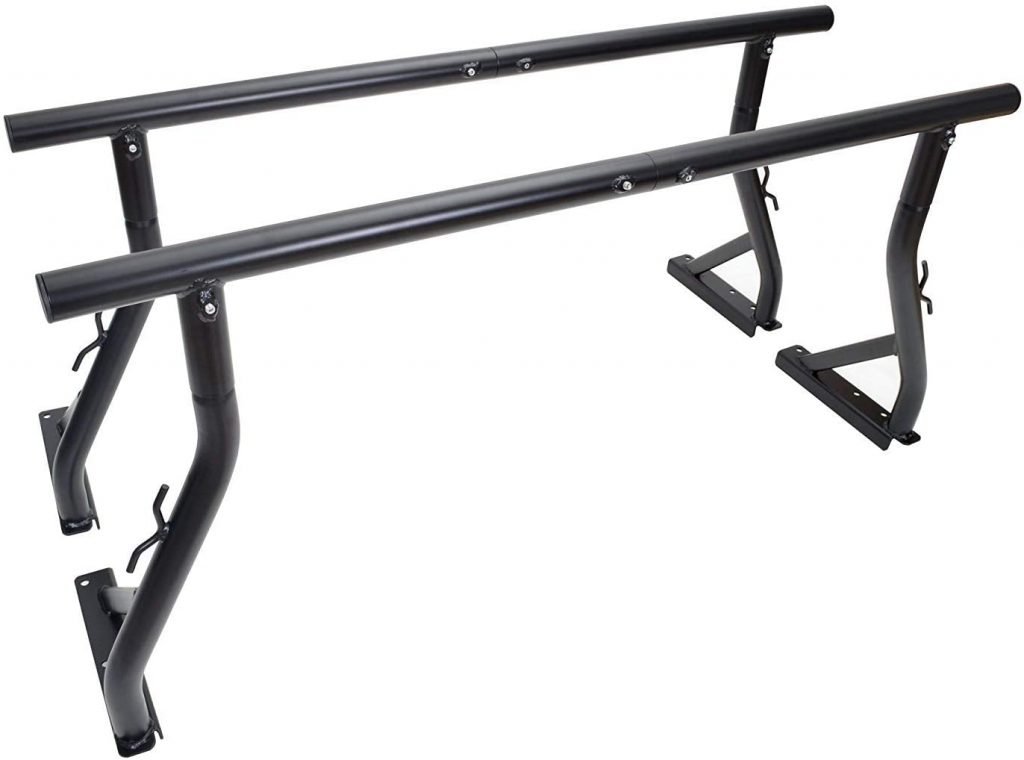 If you like what the TMS brand offers, you'll be happy to know that you have plenty of amazing options for them when it comes to hauling a kayak on trucks. The universal pick up truck ladder rack is a multi-functional tool that you're sure to love.
That's because it's designed to haul big and long items like ladders, planks, mattresses, pool equipment, and of course, kayaks and canoes. This is highly adjustable so it can fit on most trucks, as well as safely carry various cargo.
You simply have to install the rack, which is quite easy, then you'll see that the centerpiece can be adjusted once you insert it. Once you achieve your desired size, simply lock it in place using a set screw on both sides.
Adjustable length for different truck sizes
Durable, sturdy, and long-lasting
Easy to install with minimal drilling
Great value for money
Thule Xsporter Pro Aluminum Truck Rack with Load Stops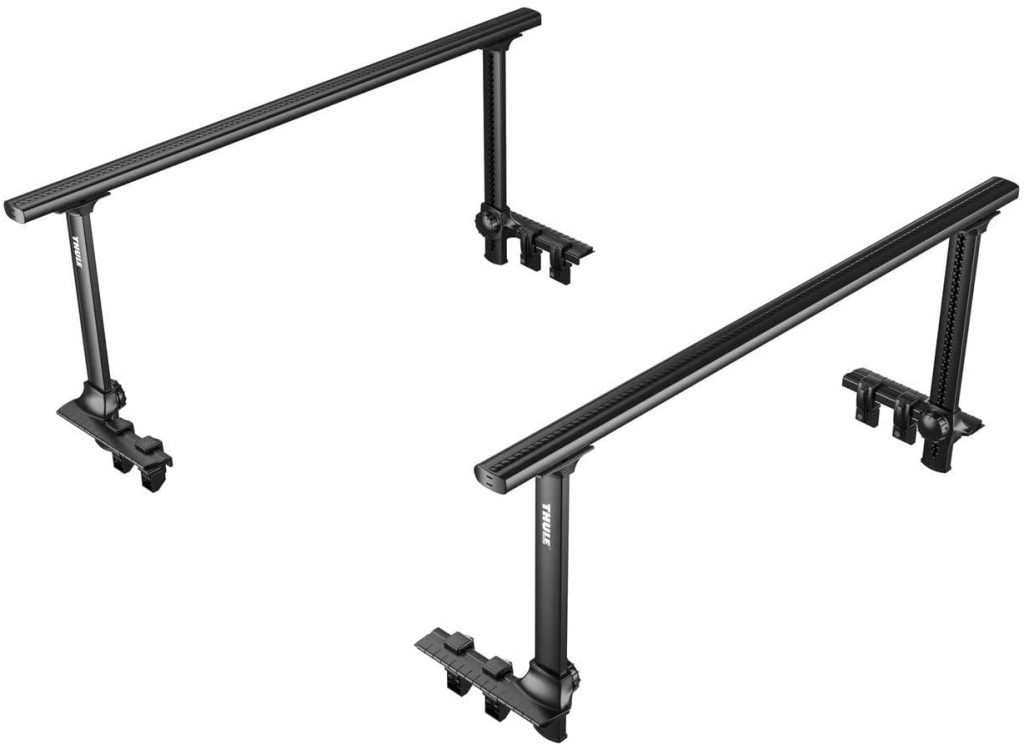 Last but not least is the Thule Xsporter pro aluminum rack that can easily be mounted on your truck so you can carry large loads such as canoes, kayaks, surfboards, ladders, SUPs, building supplies, and so on.
It's designed with load stops to make things easy, convenient, and secure, as the rack pretty much conforms to the dimensions of your cargo. The height is also adjustable, and it boasts of a SecureLock design to keep your belongings safe.
Moreover, it's super easy to assemble and mount since it doesn't require any cutting and drilling. It also guarantees superior aerodynamics and makes for a quiet ride, so you can focus on enjoying your trip and getting to your destination.
Integrated AirTrip technology
SecureLock design for safety
4 1-key lock cylinders + crossbars
450 lb weight capacity
Key Factors To Consider When Buying A Kayak Rack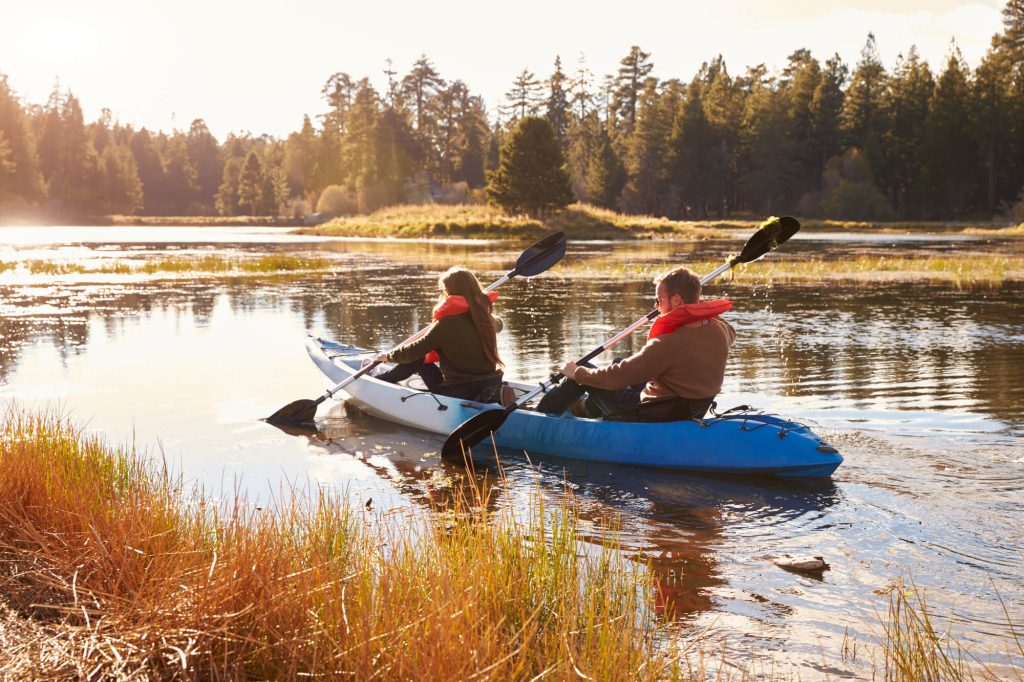 Not sure how to choose a kayak rack for trucks that will work well for your needs? Here's a list of the most important factors you need to take into account before making a purchase:
Cradle vs Saddle
Kayak carriers come in two different designs- cradles, and saddles. These two styles, coupled with the distance between each one with the use of the car rack's cross rails, largely influence how your kayak will be supported depending on your driving conditions.
This is important since it determines where the points of contact are between your kayak and the carrier, and these key locations are what really affect the cargo's overall protection. Now, whichever style you prefer, it's important that the kayak rack is made with either steel or aluminum, and comes with lots of padding.
Padding
Speaking of padding, this is essential as it keeps the kayak from coming into direct contact with the hard metal rack, which can lead to scratches and damage due to bouncing and friction during your drive.
This padding is typically located around the bottom of the rack. Thicker padding such as foam blocks is more preferable in terms of protection, but since these are bulkier, you might have a harder time folding and storing the carrier when you're not using it.
Loading Straps
You also need to make sure that the kayak carrier has plenty of strong, durable, heavy-duty loading straps to properly secure, tie-down, and support your kayak or any other cargo. These straps are what fasten down the load tightly on the rack so it doesn't move around.
Not all kayak racks come with built-in loading straps, which may or may not be a good thing, since some of these factory-made straps are of mediocre quality. If you do have to buy your own, make sure that these won't snap or tear, and will last for a long time.
Installation
It's also ideal if the kayak carrier is easy to assemble, install, mount, and even remove, especially if you'll rarely be using it.
To emphasize, drilling is usually a no-go for many truck owners. Not only is it a hassle to do, but it likely also violates whatever warranty and insurance coverage you have, since it's a permanent modification. The better option is to look for a durable, no-drill option that will preserve your vehicle's integrity while letting you enjoy the full benefits of a kayak rack.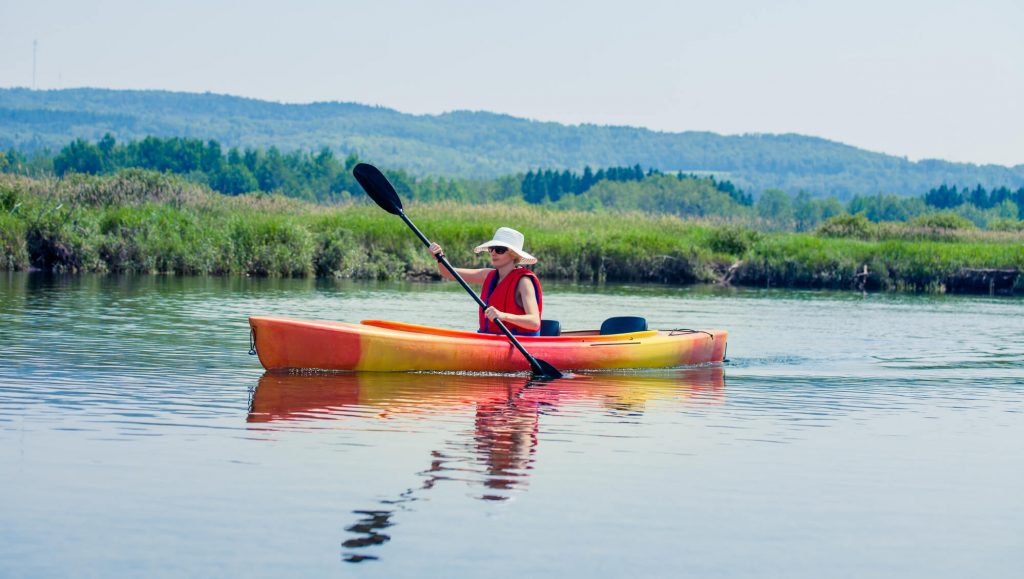 Trailer Hitch
Most kayak carriers are designed to fit on two-inch hitch receivers. If your truck has a different size hitch receiver, an easy solution is to buy a hitch adaptor. However, if your vehicle doesn't have a hitch at all, consider going for a bed extender instead, or even a kayak trailer that can fit and transport multiple kayaks and other equipment.
Roof Rails
It's not recommended to mount anything on a bare car roof, and as such, you'll need crossbars and roof racks. If you already have those, make sure that the kayak carrier you purchase is size-compatible, or comes with versatile mounting accessories. If you're buying aftermarket crossbars, even better since you'll have more freedom compatibility-wise.
Number of Kayaks
How many kayaks are you planning to haul on every trip? Not all kayak carriers are made the same, and if you don't plan properly, you might not have enough roof or truck bed space for your kayaks.
If you'll transport more than one kayak, the best carriers are those in J-hook and vertical styles, as they offer the best space-saving set-up.
Cost
Like most material things, kayak racks are available at different price points:
Budget kayaks at $100 and below are a hit and miss in terms of construction and quality, so you need to be really vigilant, especially with padding and tie-downs. Those in the mid-range of $100 to $200 are significantly better, and this is where you'll find the most basic and light-duty racks of well-known brands.
If you want a higher-end or heavier duty kayak carrier, expect a price of $200 or higher. What you're paying for here is quality, versatility, cradle design, multi-use functionality, and superior protection.
Final Thoughts
At the end of the day, the best kayak rack for trucks is one that works for your needs and budget. Found your top pick yet? Let us know in the comments!