This post contains affiliate links. For more information, visit my disclosure page.
Best Overall
Sun Dolphin Kayak
Single kayak (sit in design)
UV stabilized construction
250 lb weight capacity
Premium Choice
Perception Kayak
2-level adjustable seat
Fishing gear storage
Front storage
New to the wonderful world of paddling? There are lots of good starter kayaks out there, but the real question is, how to pick a kayak for a beginner. That is, of course, after you find answers to all your other questions, like 'is kayaking hard?', and 'how to use a kayak'.
When it comes to buying a kayak for beginners, there are many things you need to consider, such as where you'll be paddling, the type of kayak you prefer, the quality and stability of the kayak, how easy it is to use, and so on.
To help you out, we are here to answer these questions. Check out our reviews of the ten best kayak for beginners, along with our buying guide filled with all the must-know tidbits on how to pick a good beginner kayak.
Sit in vs Sit on Kayak
Let's first define these terms and get them out of the way. Basically, kayaks come in two types: the traditional sit-inside kayaks with an enclosed cockpit, and the more recent sit-on-top kayaks which have a higher clearance and therefore won't get filled with water.
It is arguably better for beginners to use sit-on-top kayaks rather than sit in kayaks since it's easier to get in and out of them, and they are also stable and easy to use, not to mention great for fishing, whereas sit in or recreational kayaks are more suited for paddlers who don't want to get wet when paddling on ice-cold waters.
Comparison: Sit on Top vs Sit inside Kayaks
PROS OF A SIT ON TOP KAYAK
PROS OF A SIT INSIDE KAYAK
– Ideal for warm weathers and kayakers who are okay with getting wet
– Wider base for more stability
– Plenty of space for kayaking with kids, pets, and for fishing
– Easy to enter and alight from even while on the water
– Self-bailing scupper holes to prevent and manage water intake
– Ideal for cold weathers and kayakers who want to stay dry
– Low center of gravity for easier paddling with less wind resistance
– Dry and secure below deck storage
– Offers familiarity and comfort of sitting "inside" the kayak
– Can be fitted with a spray skirt to protect against the wind and waves
Learn more about different kayaks here.
Top 10 Kayaks for Beginners
Check out these ten best kayaks for beginners that will fit right in your budget and will definitely give you a great time on the water! Not sure how to pick the right kayak for your needs? Read our buying guide below!
Sun Dolphin Bali SS 10-Foot Sit-on top Kayak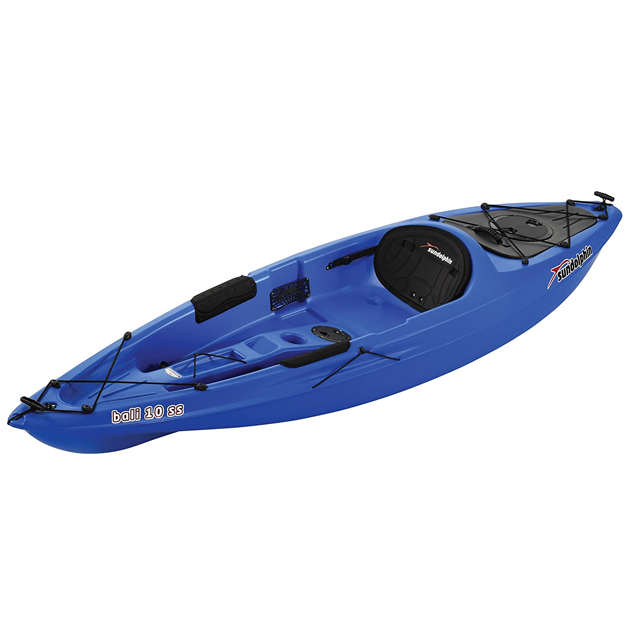 The best beginner fishing kayak for us is the popular Sun Dolphin Bali SS, which is great for anyone who wants to adventure down rivers and lakes. This is a durable vessel with a sleek hull design and high-density Fortiflex polyethylene construction.
It also offers great resistance to the harsh effects of fresh and saltwater, making a suitable choice for a river or ocean kayak. Trust us, this is the best starter kayak for kayakers of all heights, thanks to its adjustable foot braces and protective thigh pads.
It also has a paddle holder, a dry storage area for your gear, and a backpack-like portable accessory carrier for those extra supplies. And even though it's just a one-person kayak, it does come in various sizes and offers plenty of space to fit a small child or a pet.
Single kayak (sit-in design)
Available in 8, 10, and 12ft sizes
UV stabilized construction material
With shock deck rigging
250 lb weight capacity
Perception Pescador Pro 12 Sit on Top Fishing Kayak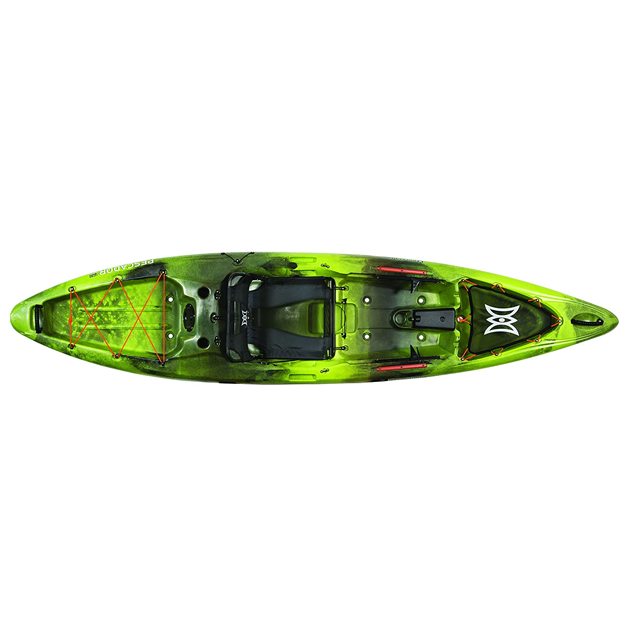 Another top favorite is the Perception Pescador Pro from the brand's most popular kayak series. This one is the best fishing kayak for anglers who want to catch more fish, as it offers plenty of accessory mount options and generous storage for both your gear and your catch.
It promises serious performance, comfort, and stability, along with all the must-have features to give you a fun and easy experience on your all-day excursions. These include an adjustable and removable camp chair that lets you enjoy heavenly comfort.
Furthermore, it's also geared to be the best sit on top kayak for beginners with its lighter weight and shorter length to give you more space while increasing your maneuverability and making your transport easy. This means you can go further and fish in quiet waters.
2-level adjustable Pro seat with breathable mesh
Large open front and rear storage with bungee lashings
Fishing gear storage, skid plates, quick-adjust footrests
Available in 10 and 12ft size
325 to 375 lb weight capacity
Intex Explorer K2 2-Person Inflatable Kayak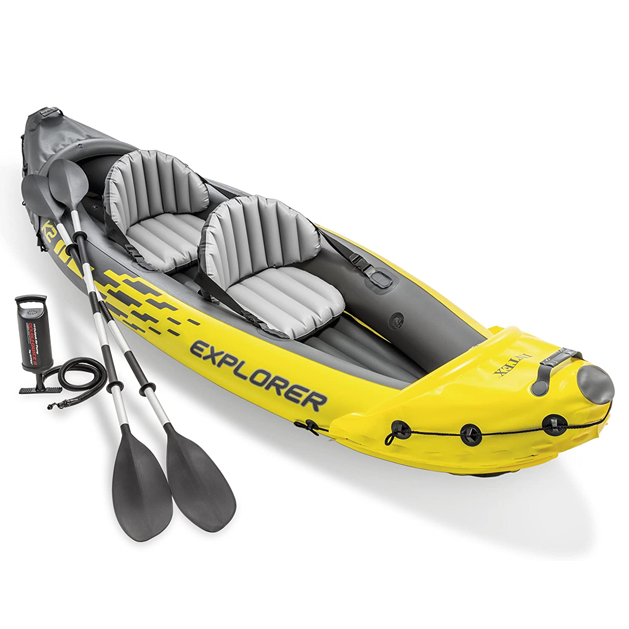 We also really like the Intex Explorer K2, which for us is one of the best inflatable kayak as well as a great, portable kayak for beginners who want to kayak on calm waters, and not have to worry about transporting their kayak out of the water afterward.
This two-person adult kayak can fit two paddlers. It features an uplifted bow to keep you dry, as well as stern and bow covers that help the kayak maintain its shape. It's also constructed with heavy-duty vinyl on top of a premium nylon shell to make it durable, and puncture-resistant, too.
And, it comes with 3 separate air chambers, so in the unlikely event that the watercraft does get punctured, you can stay safe on the water with the other two inflated chambers that will safely get you back to the shore.
Fits two adults and a child or pet
Rotomolded polyethylene construction
1200 denier nylon + 30-gauge vinyl
Measures 12'.1 ft x 33 in
475 lb weight capacity
Sevylor Quikpak K5 1-Person Kayak

Taking the fourth spot is the Sevylor Quikpak K5 one-person kayak that lets you hit the water within minutes. This is all thanks to the fast and simple set-up of the backpack, unpack, and kayak, with its innovative backpack system that packs everything you'll need.
It even folds out into the kayak seat! And, you also get to enjoy the PVC construction with a thick polyester cover and rugged tarpaulin bottom, all of which make this kayak great for handling the lake's rigors.
Like the model above, this one also features multiple air chambers that are sure to bring you back to shore safely no matter what happens. It even comes with spray covers to keep you dry and splash-free, as well as lots of accessible storage areas for your gear.
Easy to carry transforming backpack system
24-gauge PVC material + tarpaulin and polyester
Double lock valves for easy inflating/ deflating
No-leak airtight system with multiple air chambers
Bungee storage and D-rings
Intex Challenger K1 Inflatable Kayak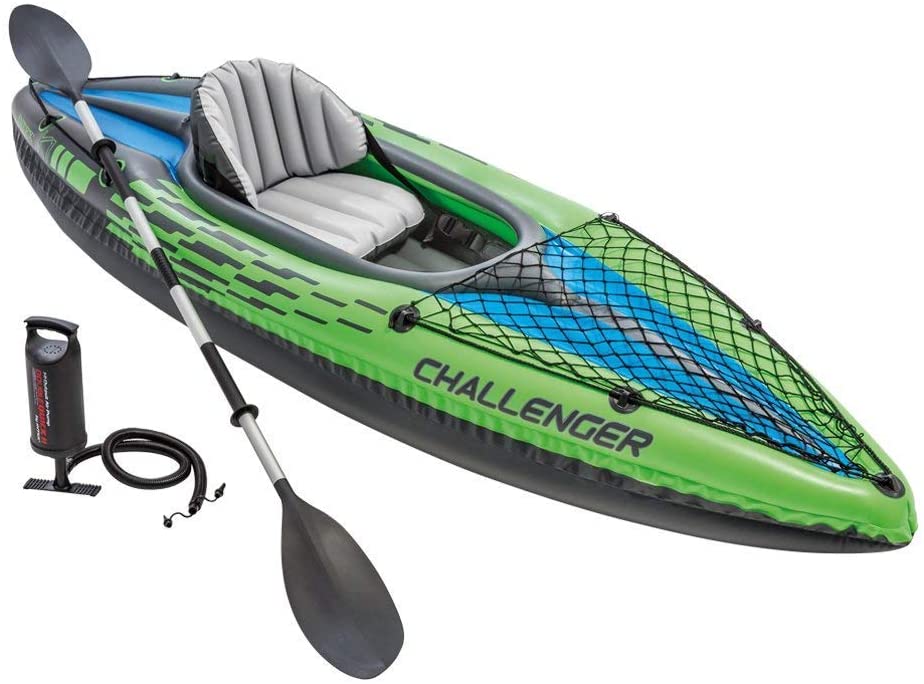 Another amazing option for an inflatable kayak is the Intex Challenger K1, a convenient, portable, and easy to store blow-up kayak that frees you up from the hassles of transporting a full-sized kayak and finding storage space for it.
It comes with a pack of everything you need to go out on the water, including an 84-inch oar made of aluminum, a manual, a high-output hand pump, and a repair patch. It's also easy to inflate, which takes all of five minutes.
What we really like about this kayak, however, is that it features a narrow profile with multiple air chambers and an inflatable I-beam that enhances your stability. It's also lightweight, easy to maneuver, quickly picks up speed, and tracks well.
Lightweight and portable construction
Quick and easy to inflate
Paddle and pump included
Available in 2 styles
220 lb weight capacity
Lifetime Youth Wave Kayak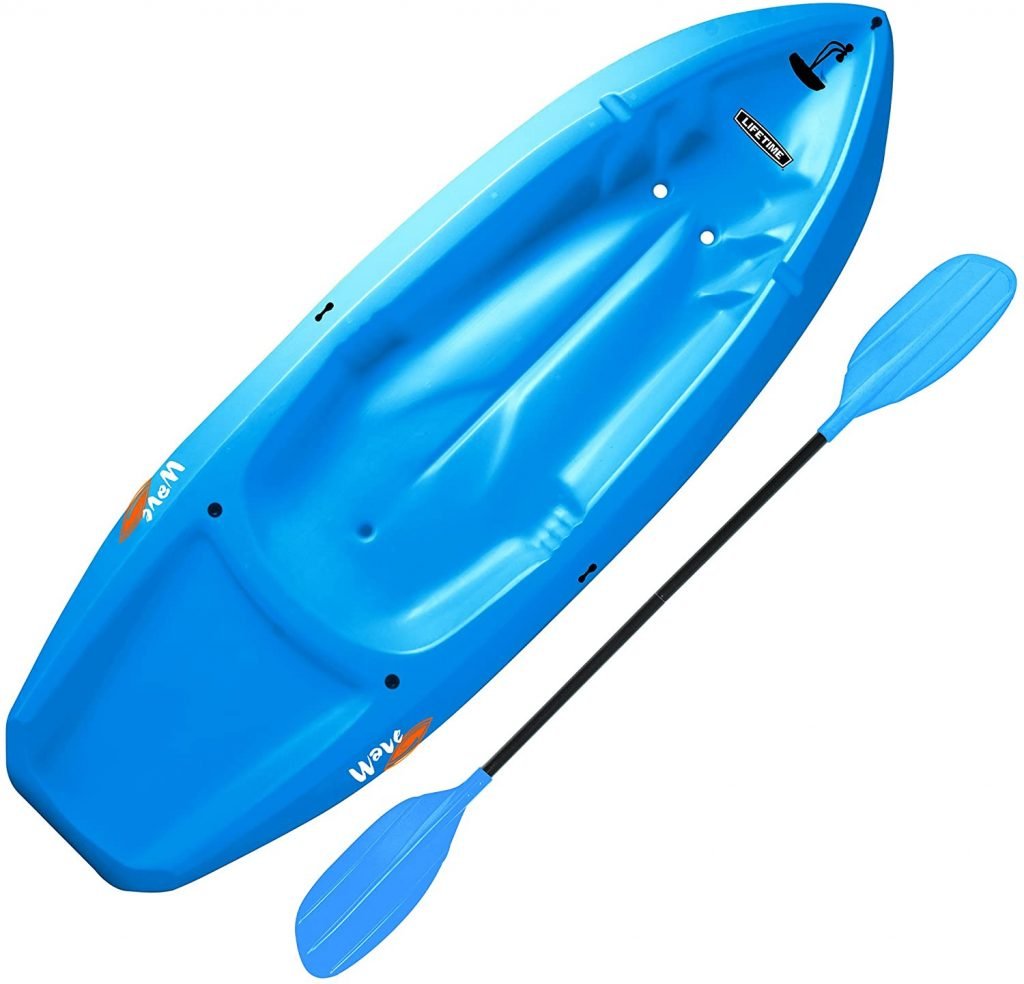 All the ones you've seen above are adult kayaks, but how about for kids who also want to experience the thrill of kayaking? Well, look no further. The best option is the Lifetime Youth Wave kayak, a six-foot-long sit-on-top kayak made for children.
It features side, front, and back molded-in handles for easy transport, is super lightweight at only 18 pounds, offers a good carrying capacity that can fit a young kayaker weighing 130 pounds or less, and is really easy to use even if it's the child's first time kayaking on his own vessel.
It also comes with an ergonomic cockpit design to improve the kid's balance and motor skills, self-draining scupper holes to prevent filling the kayak with water, and a reverse chine that enhances stability and allows for a swim-up step.
Single kayak (sit-in design)
High-density polyethylene construction
UV stabilized kayak material
Limited 5-year warranty
250 lb weight capacity
Sea Eagle 370 Pro 3 Person Inflatable Portable Sport Kayak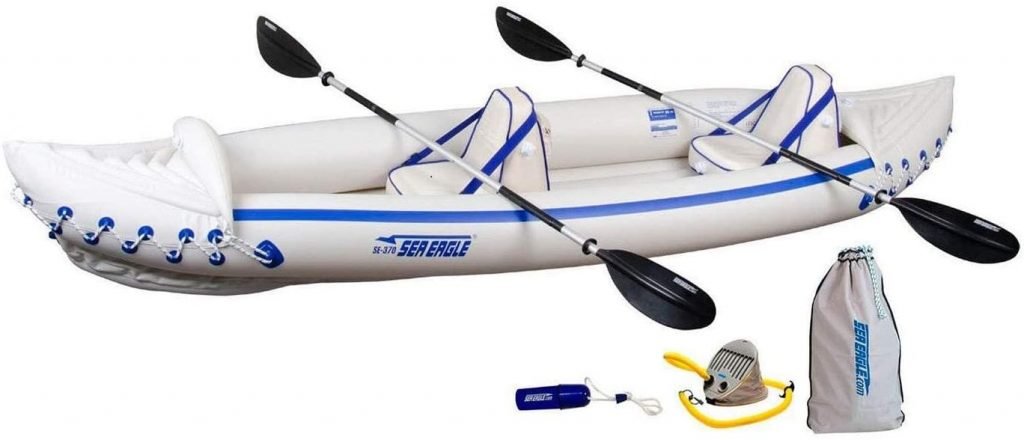 Going back to more amazing inflatable kayak brands, the Sea Eagle 370 Pro features a unique design that lets it keep its shape well even without the addition of a rigid aluminum frame. It can even fit up to three kayakers and a furry friend, too.
And, it's made of an ultra-tough polykrylar hull which is pretty much impossible to puncture, whether by jagged rocks or your pet's claws. It also has plenty of storage space at the front and rear for all your cargo, so you can use it for fishing and camping trips.
What's more, it only weighs 32 pounds, and when deflated, nicely fits into a duffel bag that's already included with your purchase, so transport and storage are not an issue. Not to mention, with a Class III whitewater rating, this is perhaps the best whitewater kayak for beginners.
Polykrylar construction
3-person comfortable seating
Comes with carrying bag, repair kit, and inflation pump
Measures 12.5 ft (inflated), 31x19x8 in (deflated)
650 lb weight capacity
Lifetime 10 Foot Two Person Tandem Sit-on Kayak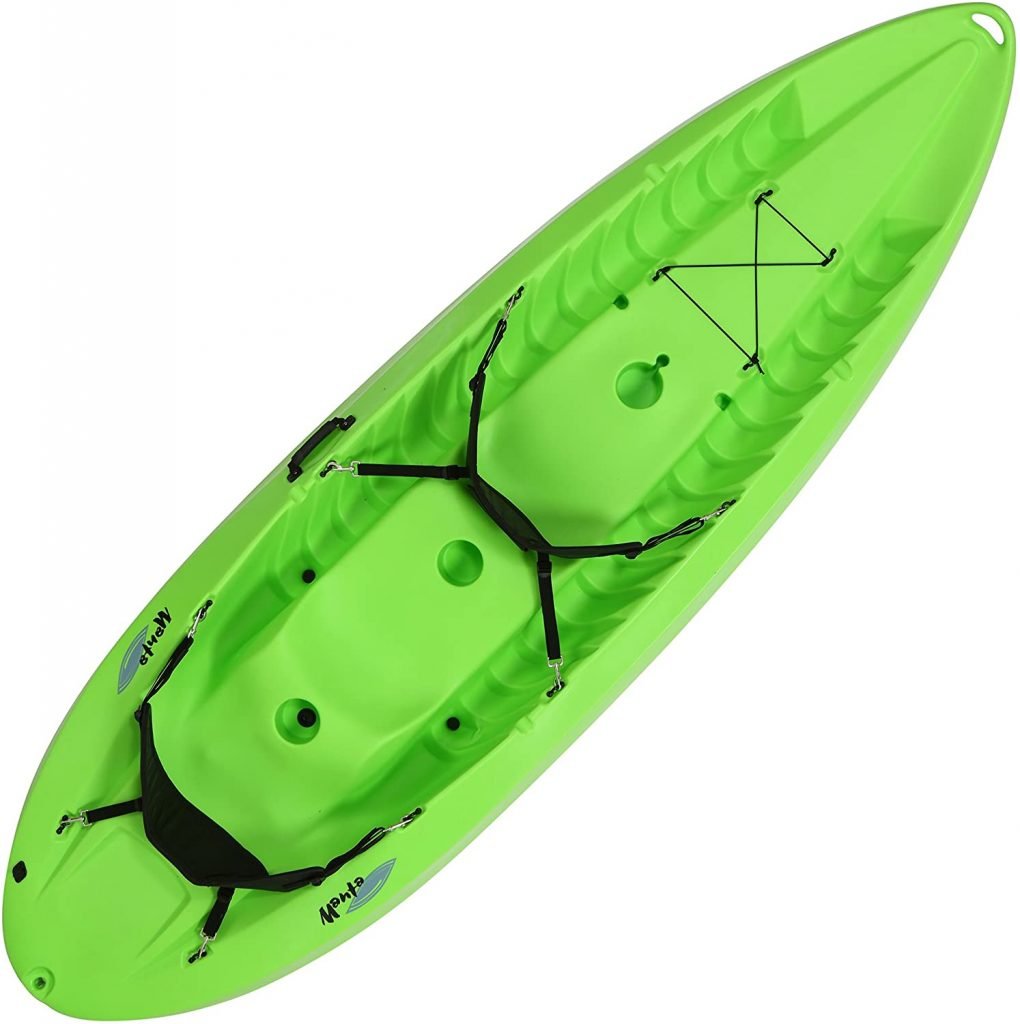 You should also check out the Lifetime Tandem Kayak if you're planning on a couple's fishing trip or would just like to spend quality time with a friend out on the water. This is a great kayak for long fishing and paddling adventures.
It's a flat bottom kayak designed for maximum safety and stability with its stability chine rails and deep tracking channels. In fact, this is probably the most stable kayak on this list. It also features high density, blow-molded polyethylene construction for added durability.
And, it's impact resistant and UV protected, too. It also comes with a comfortably padded seat with a nice backrest so you can really enjoy your kayaking trip. It's also easy to transport with its relatively lightweight design and its carry handles at the front and rear.
2 beneath-deck storage hatches + paddle keepers
2 flush-mount fishing rod holders + 1 adjustable holder
Shock cord straps, ditty trays, and T-handles
Chine rails and deep hull channels
500 lb weight capacity
Sun Dolphin Journey 10-Foot Sit-on-top Fishing Kayak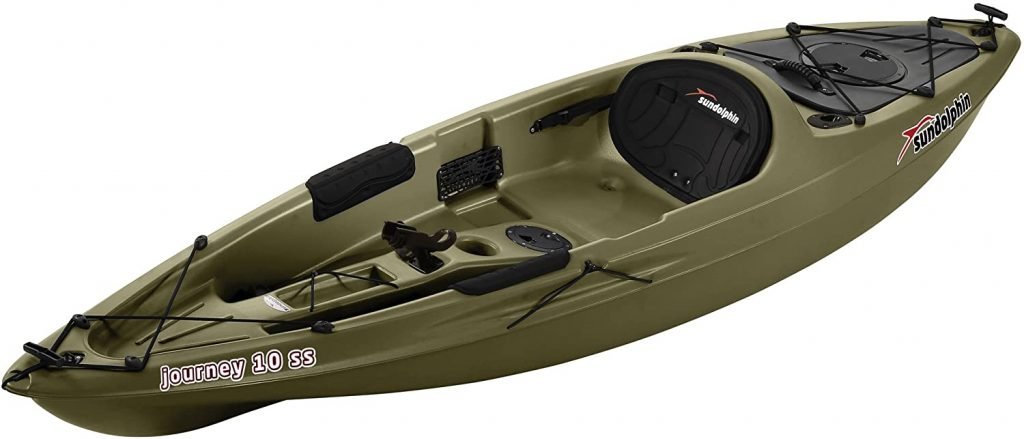 Another great choice from Sun Dolphin is the Sun Dolphin Journey, which features a basic hull complemented with lots of awesome features such as flush mount rod holders, a swivel rod holder, and other things that make it a great fishing kayak.
It also features a large and spacious seating area equipped with adjustable foot braces and protective thigh pads to maximize your comfort, and it's designed with a wide profile to allow for stand-up fishing line casting.
Furthermore, it comes with a multipurpose portable accessory carrier that can be used as a bait holder or for holding your catch. This can be towed behind the kayak while the emptied tank well is used for storing more gear.
Best river kayak for beginners
Plenty of fishing gear storage
Multiple footrest positions
3 different styled fishing rod holders
Retractable carrying handles
Ocean Kayak Malibu Two Tandem Sit-On-Top Recreational Kayak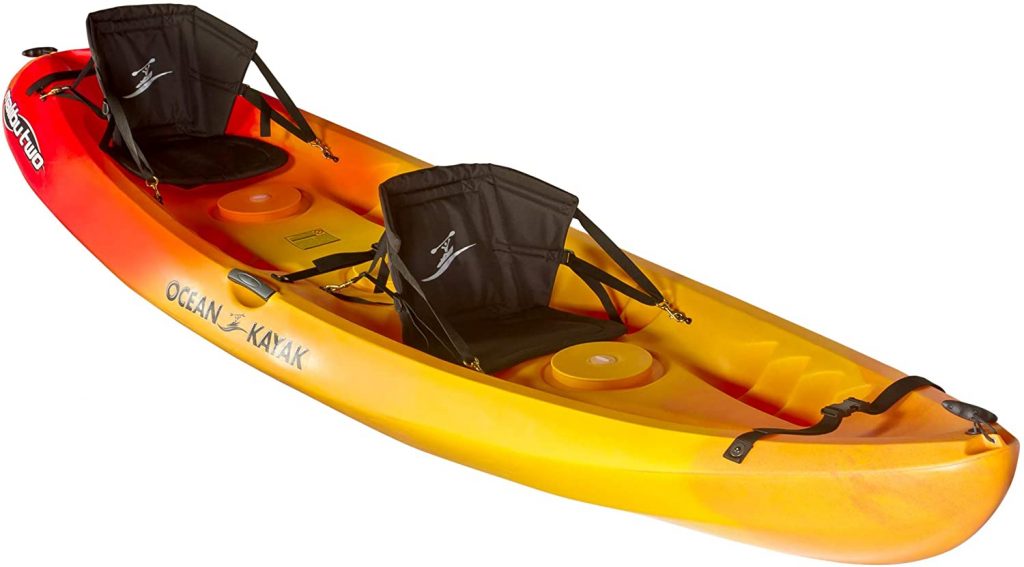 Finally, we also have the Ocean Kayak Malibu 12, which is a highly popular sit-on-top tandem kayak due to its affordability and its dedication to making ways for a family fun activity. Among its many features are the two Comfort Plus seats with multiple, rotating positions.
This seating design actually makes it great for bringing along a child or a pet even though it's technically just a two-person kayak. It also features the unique Tri-Form hull design that makes it great for handling rough, swift, and flat waters.
Aside from being highly versatile, it's also quite lightweight, and is very stable, making it a suitable choice when it comes to kayaking for beginners. It even comes with gear straps and tank wells and can fit all of your gear.
Semi-flexible HDPE construction
UV resistant nylon cloth seats with brass and steel
Comes with skid plate and overlapping foot wells
Reflective logos for enhanced nighttime visibility
425 lb weight capacity
Beginner Kayak Buying Guide
Not quite sure what is a good starter kayak, or what goes into buying a kayak for beginners? This short buying guide should help you get started:
Purpose
What do you really want to get out of your kayak? Do you just want a simple starter kayak so you can, well, learn to kayak, and practice all the kayaking basics? Do you want to grow with your kayak, meaning, it should be customizable and allow for upgrades?
There are many different types of kayaks made for specific purposes. For example, a kids' kayak is different from a fishing kayak, and a kayak for beginners is certainly different from a kayak for advanced paddlers.
When it comes to a novice kayaker, the best option is a sit on top or recreational kayak that would do well in calm waters like lakes and rivers. Keep in mind that it's only safe to go out into the sea or other large and unpredictable body of water once you have better skills, and an appropriate ocean kayak or whitewater kayak.
Size
The kayak's size, length, width, and depth are all important factors, with each measurement affecting different things. For example, length influences how easy it is to maneuver the kayak, as well as its tracking ability and speed. Basically, shorter is easier, but longer is faster.
Length also affects the ease of transport outside the water, and if you have a 7 to 14-foot kayak, you'll likely need to buy a truck bed extender or kayak rack. Meanwhile, width influences stability, ease of entry and exit, and storage. However, a wider kayak also means less speed, increased drag, and harder paddling.
As for depth, this really just means more space and legroom, along with cargo storage. What you have to keep in mind is that a roomier cockpit means the hull sits up higher and you'll be more exposed to the cold wind and waves.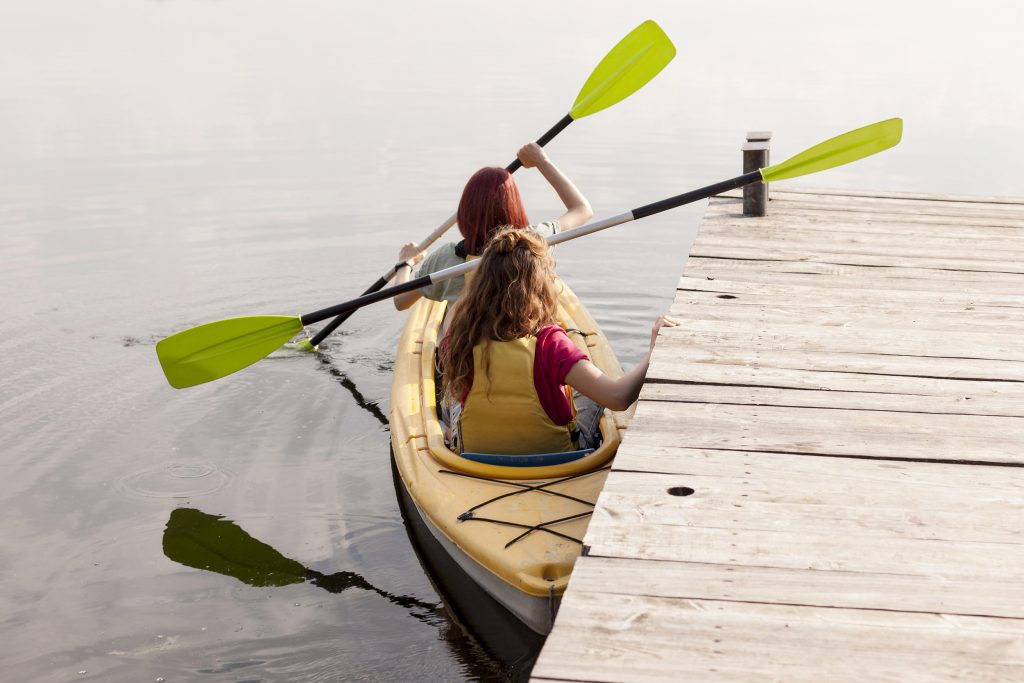 Construction and Durability
Learning to kayak can be quite difficult and you're bound to suffer through some mishaps along the way. As such, you'll need a durable kayak that can take on all the abuse you'll be putting it through. Besides, a durable kayak just lasts longer.
When it comes to durability, the construction material is really what we are talking about. It can be expensive stuff like ultra-light Kevlar and carbon fiber, the slightly more affordable lightweight fiberglass, or the standard hard plastic that is durable but heavy.
Inflatable kayaks are good options for beginners as well, as they are buoyant and portable. Just stay away from wooden kayaks and fabric kayaks with metal frames.
Stability
The stability of any watercraft is important as this determines whether or not you are likely to tip over and capsize. This is all the more important if you don't really know what you're doing yet and are just starting to find your balance. To give you an idea, shorter kayaks are generally more stable than the more professional styles.
Stability also refers to two things: one is primary stability, meaning, how well the kayak does on calm waters and while you're doing low motion activities like entering, sitting down, and exiting the kayak. The other is secondary stability, which refers to the kayak's stability on rough waters and during high speed or whitewater kayaking.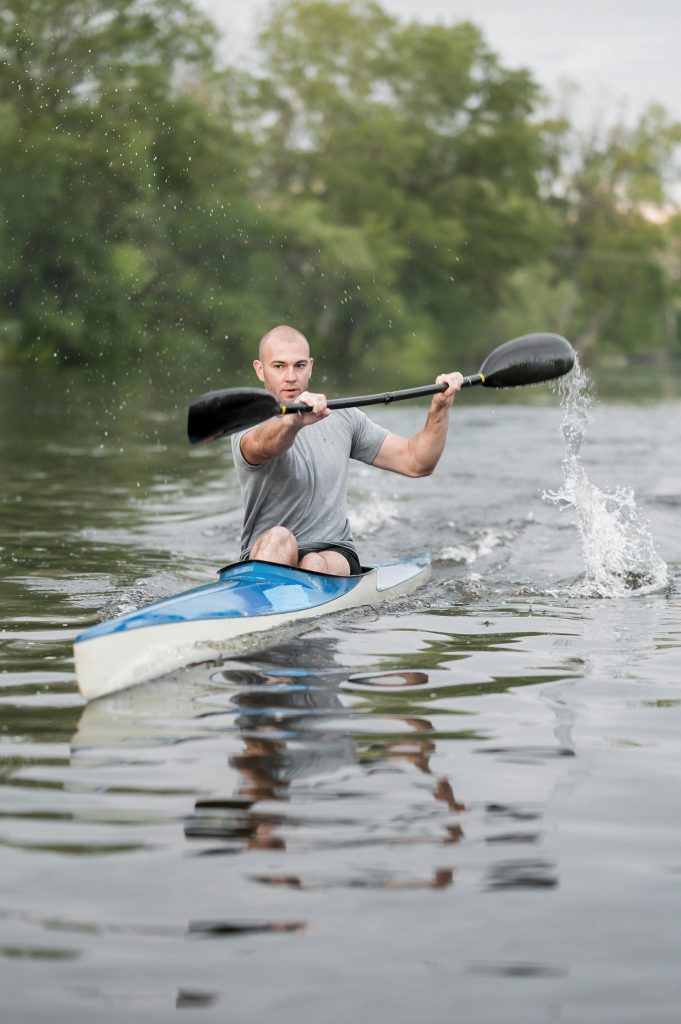 Gear Compartments
It's always nice to have plenty of storage space inside the kayak, especially if you'll have a lot of gear or you're going fishing or camping. Generally, sit-inside kayaks will have more dry storage, but you can also find lots of great sit-on-top kayaks with creative storage solutions like side rails, holders, and tow-behind baskets.
Comfort
Learning to kayak doesn't have to mean experiencing back pain and sore feet from stock kayak seats. No matter if it's a regular kayak or one of the best pedal kayaks. If you can, upgrade to a better seat, or go for a kayak with adjustable seat options. The seat should also have padding, high back support, and offer plenty of legroom, or even extra space for a kid or a pet.
Portability and Storage
Unless you have a decent-sized vehicle or a trailer that can easily haul a full-sized kayak, it's smarter to opt for a lightweight and collapsible kayak. And don't think of it as "going less" either, since these days, inflatable kayaks are just as strong and durable, sometimes even better than a hardshell kayak in some aspects. Plus, they're cheaper, too!
Price
Speaking of price, you should also keep in mind that how much you spend on a kayak largely determines what you get in terms of construction, durability, design, features, and overall quality. But, if you're buying a kayak for beginners, don't go for the higher end models as these are more complicated to use and require extensive care.
Overview
Buying your first kayak can be scary, but as long as you know what to look for, you are sure to find the best kayak for beginners that your money can buy. Remember, it all boils down to your style, preferences, taste, and budget.
If you didn't like any of the models we reviewed, feel free to check out other options such as Austin kayaks, and let us know so we can help others find their perfect kayak too!