Every paddler should know the importance of a good kayak flag as a part of their kayaking safety kit, especially when paddling in the open ocean, in high traffic areas, or at night. A kayak safety flag can spell the difference in how your kayaking experience goes.
Whether you are exploring the great outdoors, experimenting with kayak fishing, or towing another kayak, using a visibility flag helps you keep out of harm's way. A kayak dive flag is also beneficial for snorkel and scuba enthusiasts by alerting nearby boaters of your location.
There are plenty of options for kayak flags on the market, but the best kayak flags are those that can fit on just about any watercraft, and come with extra safety features. In this article, we'll share with you our best finds.
Our Favorite Kayak Flags
To help you find the best kayak flags, we surveyed the market and came up with this list of the most promising options. Take a look at each one and see if they seem like a good fit for what you need.
Ueflbaby Bike Safety Flag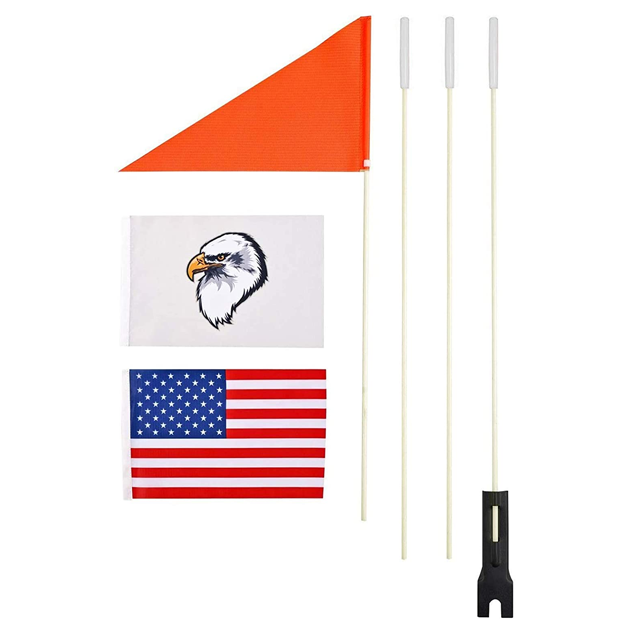 Our top pick is the Ueflbaby Bike Safety Flag, a bright orange, six foot tall flag that's guaranteed to make you highly visible even on open waters. It's unique for many reasons, one being that it comes as a set of three flags, and another is that it features a collapsible fiberglass pole that you can fold down into four sections for convenient storage when the kayak is out of the water.
Ths heavy duty kayak flag pole made of fiberglass is strong enough to withstand strong winds, as well as tree branches, metal poles, signboards, and other hard surfaces that the pole can come into contact with. It's also pretty easy to install, and can be used for various purposes.
As for the flag itself, you'll be happy to know that it's waterproof and tear-resistant thanks to its polyester construction. This also means that it's easy to clean, so it can stay bright, vibrant, and colorful for longer, which is ultimately what you want from a visibility flag.
Comes as a set of 3 different kayak flags
For normal security, formal events, and making a statement
Waterproof and tear-resistant flag, durable flag pole
YakAttack VISICarbon Pro Kayak Fishing Visibility Flag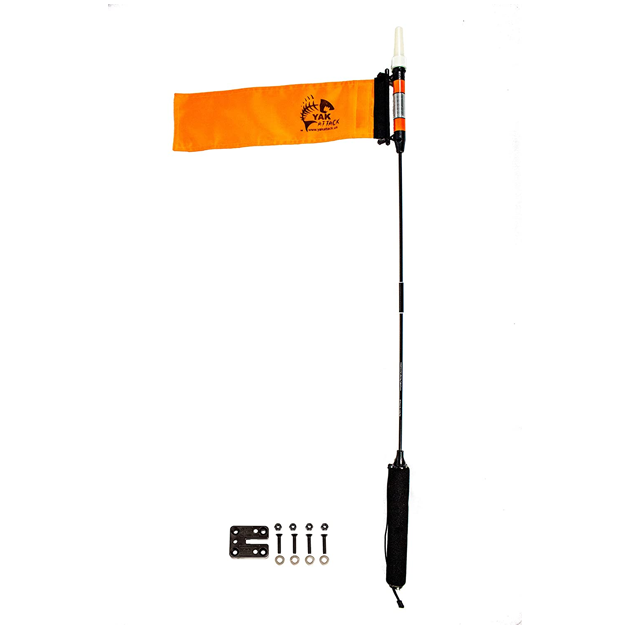 We also really like the YakAttack VISICarbon Pro Kayak Fishing Visibility Flag, which is one of the best kayak flags that money can buy, for the simple reason that it promises and delivers everything you could possibly want from a kayak flag.
For one thing, it's extremely flexible, lightweight, and collapsible. It allows you to enjoy a high degree of visibility, so others can see your kayak at any angle. The flag pole is also designed to snugly fit into any rod holder of Hobie fishing kayaks.
One unique feature about this flag is that it features LED lights for added visibility, especially at night. It also comes in a bright orange nylon canvas, which ingeniously doubles as its carry case once the carbon fiber flagpole is collapsed to a mere 14 inches.
Built-in LED light for improved night visibility
SilentSlip foam base designed to fit flush mount rod holders
Comes with Mighty Mount base kit and included hardware
Country Ent. 40-3711 Telescoping Spring Mount Safety Flag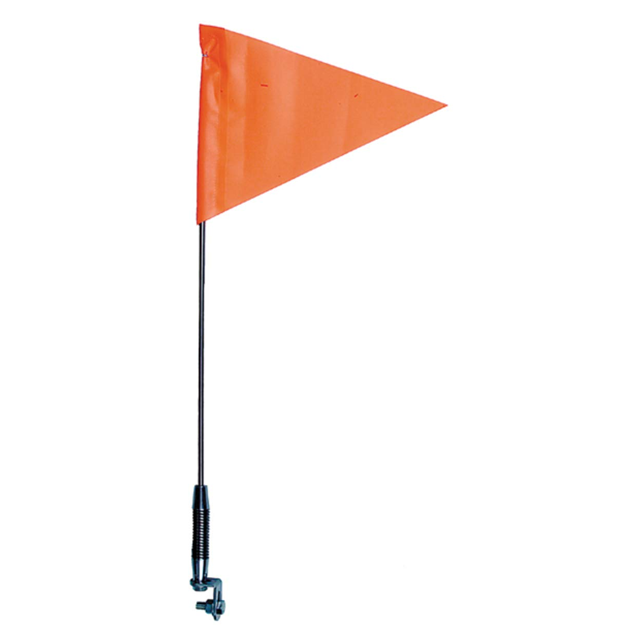 Another great option is the Country Ent. 40-3711 Telescoping Spring Mount Safety Flag, which is a simple, no-frills kayak safety flag that will keep you visible out on the water without much fuss or distraction. Due to its simplicity, it's a great, affordable choice for those on a budget.
This one makes use of a spring-loaded mounting bracket, along with a stainless steel flagpole that extends to 62 inches. This design and construction further enhances the visibility of the bright orange flag that simply stands out everywhere.
While it may not seem like much, especially as compared to some other kayak flags on this list, its stainless steel construction actually makes it one of the strongest, toughest, and most durable models on the market. It's not at all flimsy, either.
Adjustable telescoping design (max. 62" length)
Durable and wind-resistant stainless steel pole
Spring loaded base for easy installation
SunLite Safety Flag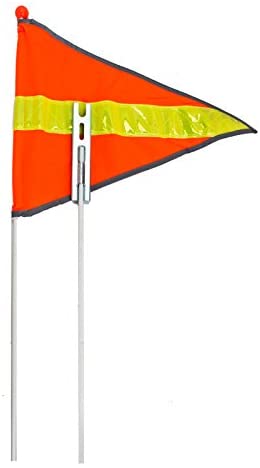 In fourth place is the SunLite Safety Flag, which is a unique visibility flag that takes a somewhat different approach by combining an otherwise plain orange background that's designed with a central reflective stripe to better enhance your visibility.
It comes with a six-foot long fiberglass pole that is made with two separate pieces which you can either use separately, or combine into a longer pole for better visibility. Each of the two poles are a fixed height, so the adjustability comes from using either one or both poles.
Either way, the fiberglass construction makes the flagpole highly durable, so you can be sure that it will hold up for a long time. You can even install them on different water and land crafts and move at high speeds, and the pole will keep up with your demands.
2-piece design to allow for versatility and easier packing
Yellow reflective piece on orange flag for improved visibility
Easy to assemble and install with screws and washers
SeaGator Dive Flag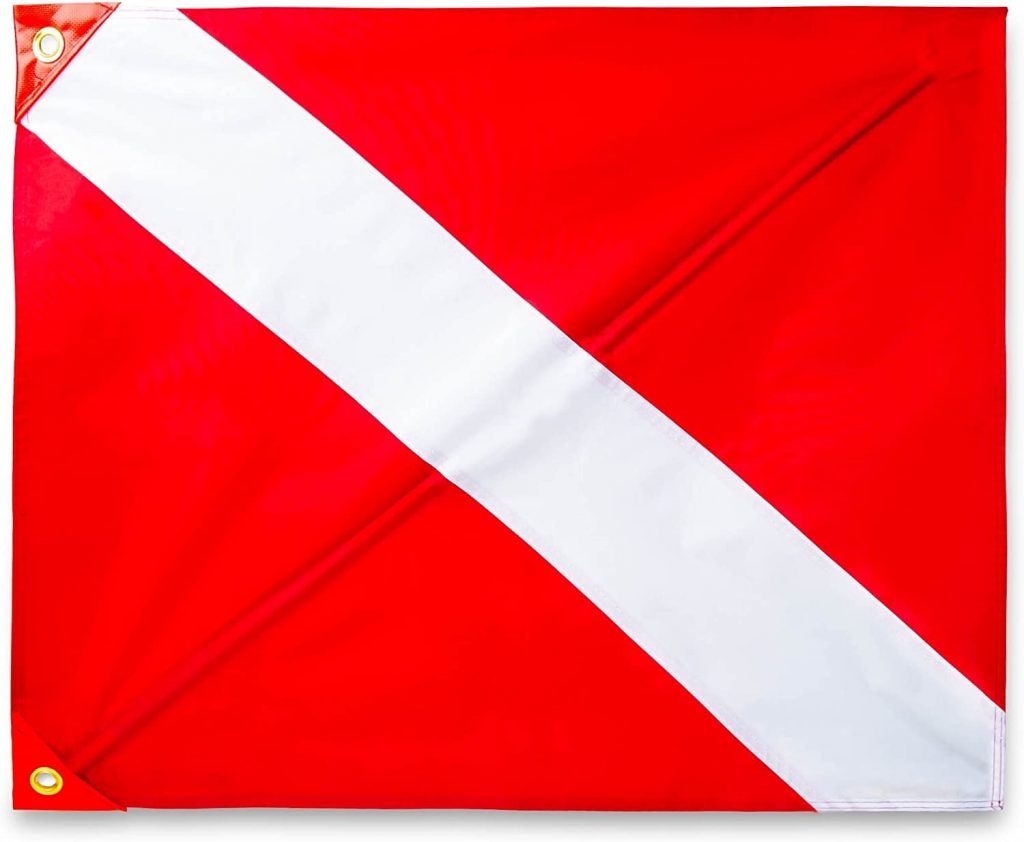 Taking the fifth spot is the SeaGator Dive Flag, which is a staple for divers in the US. also called a diver down flag, this one's basically a red flag that features a white diagonal stripe on the canvas. It's used to alert boaters to your presence when you are under the water.
You can use it as a kayak flag, dive flag, or any other type of visibility flag with the right mounting hardware. It measures a good 20 by 24 inches, and comes with a removable stiffening pole to make it easy to assemble and collapse as needed.
One thing to note, however, is that while the flag itself is amazing and is sure to hold up for a long time, it doesn't readily come with a kayak flag pole, so you will need to purchase one separately. A good idea would be to mount it on your existing kayak flag, since this one is made with better materials as compared to standard kayak visibility flags.
Durable nylon construction
Meets USCG/ state safety regulations
Multipurpose, easy to use
M-Wave Bicycle Safety Flagpoles

You might also want to take a look at this M-Wave Bicycle Safety Flagpole, which is a neon color safety flag that makes for enhanced contrast against various backgrounds. It stands five feet tall to maximize visibility, and it's lightweight at only five ounces.
It's also easy to install simply by using a bolt, and you even have the option of changing its mounting system to better suit your needs. For example, if you want to attach it to a bike, you can do so by mounting it on the rear axle. You can also attach it to a wheelchair using zip ties.
Other noteworthy features of this flag aside from the great fit and adequate height include the flagpole's fiberglass construction, which is a great quality material that feels just the right touch of springy without being too bendable.
Bright neon-yellow flag color
Lightweight and durable construction
2-piece rod for easier storage
Lixada Kayak Safety Flag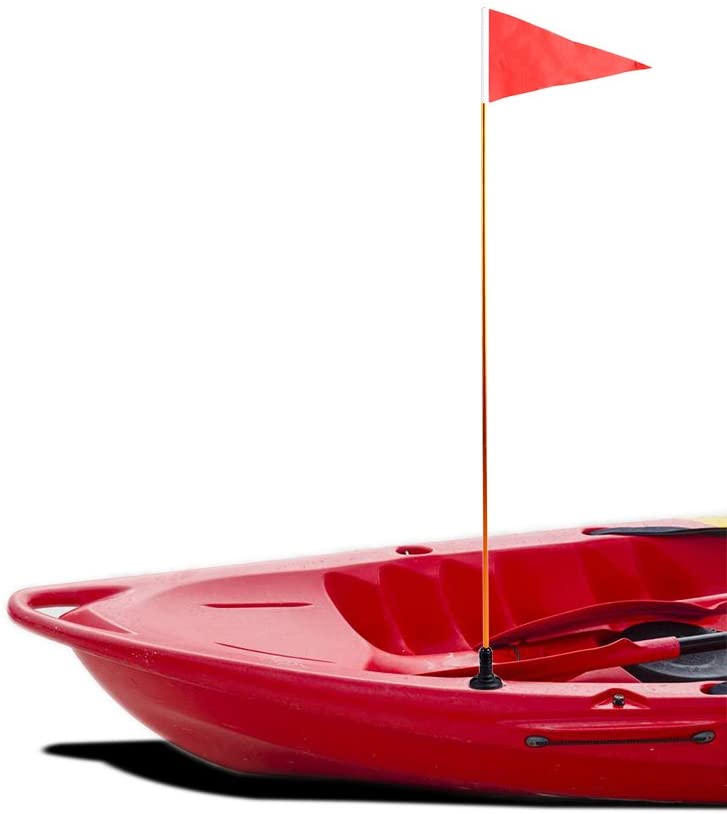 Finally, another unique choice is the Lixada Kayak Safety Flag, which comes with a small flag at the top end, and a high-quality flashlight on the pole. The flag comes in a bright red color, and coupled with the light, you get maximum visibility even from far away.
This one features a lightweight yet strong aluminum kayak flag pole that can easily withstand rough weather and strong winds. It's also collapsible, making it a great choice for smaller watercraft like kayaks for kids. Plus, it's easy to install and assemble.
More than that, it also comes with a DIY attachment kit to allow you to mount the flag on any kayak, canoe, boat, or other crafts. What we really like, however, are the three-piece self-joining aluminum sections that make up the pole, since they enhance the flag's stability on the water.
Red banner and light ideal for open water
Aluminum flag pole effectively withstands wind pressure
Base mounting hardware included
Choosing The Right Kayak Flag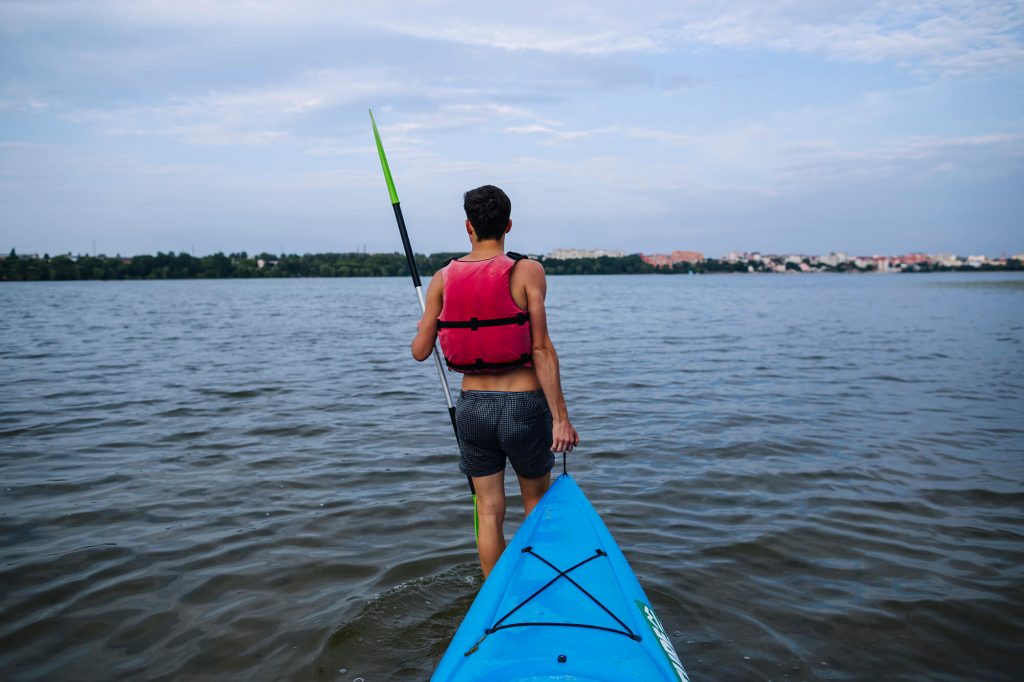 You should know by now that a good quality kayak flag is an important addition for your safety while you are out on the water. The best kayak safety flags are ones that are brightly colored, stands tall and proud, easy to assemble and install, and can effectively withstand water and wind conditions.
Size and Visibility
In terms of size, the flag canvas and the pole should be taken into account. The flag, for one, has to be big enough that it can be seen even from faraway, but not so big that it creates drag.
As for the flag pole, taller or longer flagpoles help you stay visible and remain in larger vessels' line of sight, so it goes to say that longer is better. Then again, drag may be an issue, so it's wise to get an easily adjustable telescoping pole.
Use and Versatility
You need to consider how and why you want to use a kayak visibility flag to better help you figure out which model would work best for your needs.
For instance, if you want to go kayak fishing, opt for a high visibility flag that won't disturb or scare away the fish. If you want to paddle at night, go for a flag that comes with LED lights. Or, if you want to go diving, a red-and-white or blue-and-white dive flag would work best to keep you safe. You can also use a kayak flag for when towing your kayak in and out of the water.
Ease of Installation
Fortunately, kayak flags are generally easy to assemble and install, but even so, some models are harder to install than others, since some flags attach to gear tracks and rod holders, while others make use of a mount system which requires drilling holes for kayak deck base.
Final Words
At the end of the day, a kayak flag is not the only safety gear you need before heading out on the water. You also need other things, like a kayak fishing life vest to prevent you from drowning, and a repair patch to keep your kayak from sinking. So, if you want to enjoy a fun and safe kayaking adventure, make sure to gear up!