"What to wear kayaking?" is one of the questions people ask themselves before actually kayaking. After all, you always have to consider wearing the most comfortable gear before you head down to the water. So, we have listed all the things you need to wear while kayaking. Our goal is to give you a budget-friendly yet high quality gear for your adventure.
What To Wear Kayaking
Everything that you need to have from head to toe before kayaking is right here on this article. Let's check these must-have kayaking outfits out now.
Tops
Short-sleeved shirts or bathing suits are the perfect kayak clothing on hot summers. Just make sure to prepare a long-sleeved extra shirt in your dry bag in case you get too cold. Here are some of the specific tops you might want to consider other weather conditions:
Long-sleeved Shirt
If you want to know what to wear kayaking in hot weather, a long-sleeved shirt that can be converted into a short-sleeved one is the best to wear. It is perfect for kayaking during the day or sit-on-top kayaking. Go for a polyester-made shirt since it is lightweight and breathable.
These shirts are made with sun protection to prevent sunburns. Overall protection is what a shirt should give you during your entire kayaking and also fishing experience.
Shell
When kayaking in cold weather conditions, you should expect that the water and wind will be freezing cold too. It is advisable to wear a top with a thick outer shell to keep you comfortable. Go for clothing that is made with nylon with a urethane coat for extra protection.
So, whether you're going on a day trip, whitewater kayaking, or sit-on-top kayaking, the cold will never bother you. This shell clothing promises to be wind and waterproof while being breathable at the same time.
Bottoms
As for the bottoms, in terms of what to wear kayaking in summer and other seasons, you just have to remember the rule of thumb that we set for tops: During summers, wearing kayak shorts is totally okay. But, for breezy and cool seasons, here are some things to remember:
Pants
A sunny day can turn into a chilly and windy day in just hours. It is recommended to always bring an extra set of pants to keep the cold away. You can choose kayak pants that are made from nylon, polyester, or canvas.
They are perfect for day kayaking and sit on top kayaking without making you feel uncomfortable. It is best to choose a stretchy fabric that can be pulled up into shorts. It would also be great if you can get windproof and waterproof kayak pants.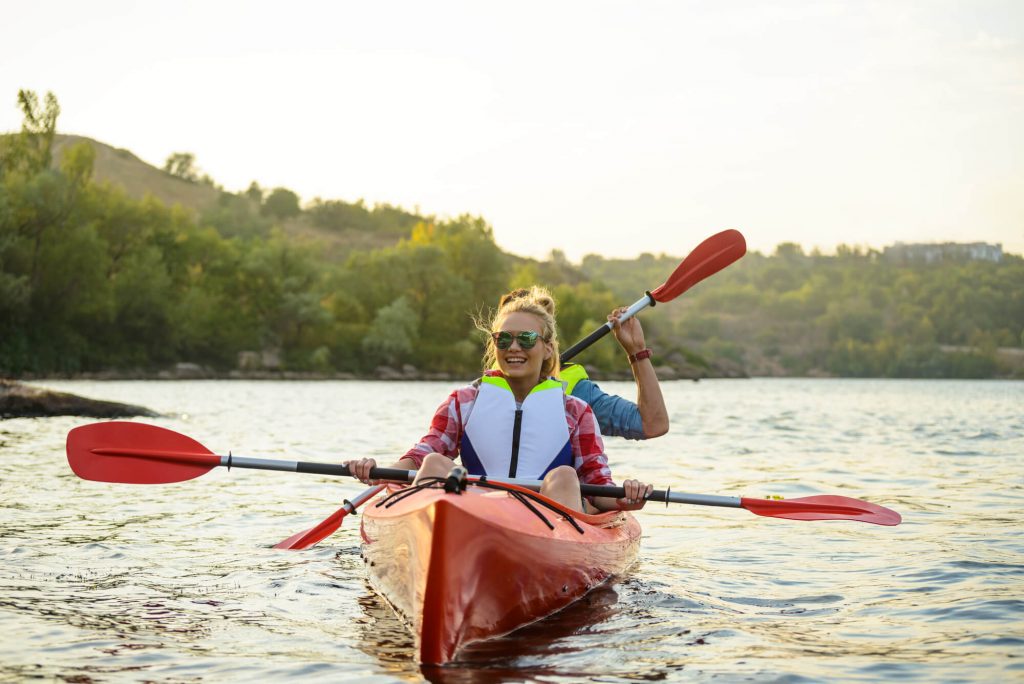 Shell Pants
Shell pants are ideal for keeping you warm while kayaking in a cold river or lake. These pants are usually made from high-quality synthetic fabric that is usually water-resistant and windproof. It can keep you warm while allowing your skin to breathe too.
Drysuit
Drysuits are designed to keep you warm even as you wade in rough waters while kayaking. Drysuits are usually made from Gore-tex and nylon for the utmost performance and protection. So, even if you battle with rough waters, your body is protected from the wind and cold.
It promises to keep you warm even in icy and frigid weather conditions. This suit is ideal for whitewater kayaking and touring during cold days. If a drysuit has mesh draining features, adjustable parts and a front-entry feature, then you have got yourself a very reliable and durable one.
Also check out: the best inflatable kayaks in 2021
Footwear
Now that you know what kayaking attire you need, here's the answer to the question of what to wear while kayaking in terms of footwear:
Sandals
Sandals are best worn while kayaking since the straps will always keep your feet tightly in place. Regular sandals will work out just fine, but if you want to go the extra mile, you can choose a pair of sandals that are made from water-safe materials.
Water Shoes
Like what we have mentioned above, water shoes are made to withstand water and the damage it can bring to footwear. These shoes are usually made with stretchy fabric, rubber soles, neoprene, mesh, and polyester webbing. All these features and materials work together to keep your feet comfortable while kayaking.
It is perfect to be used on warm days, so your feet can breathe under hot weather conditions. You can use these shoes while touring, and it's great to find water shoes that are drainable to keep the water out of your feet.
Whitewater Kayaking Footwear
Drysuits sometimes come with detachable dry shoes or booties that are built-in. When shopping for whitewater kayaking footwear, make sure that it is made from neoprene and it has a rubber sole to keep you safe from slippery areas.
High-quality footwear is ideal for any weather conditions as you enjoy your whitewater kayaking. Waterproof and insulated kayaking footwear is always the best choice for whitewater kayakers.
You might also want to check out this review of the best kayak for big guys.
Accessories
We have already talked about kayak apparel and footwear, but we have also listed some useful accessories that you would definitely need while kayaking. These accessories are designed to keep your body protected while also making for cute kayaking outfits.
Whether you're kayaking under the sun or rough cold waters, these accessories will keep you on the go. Sunglasses and brimmed hats are one of the best things to bring when kayaking during summer. In cold seasons, synthetic or wool gloves are your best friend.
Wide-brimmed Hat
One important thing to remember while kayaking is to keep your body protected from the sun. A wide-brimmed cap is very useful not only in kayaking but also for other outdoor recreational activities and sports. Get yourself a hat with adjustable straps, making sure that it won't fly off even with harsh winds.
Warm Hat
During hot summers, a wide-brimmed cap is an ideal hat to wear, but it won't be beneficial during cold seasons. To keep you warm, try using a balaclava headgear. Or, you can also wear a helmet for extra protection.
For a warm hat, the best materials to choose are nylon, polyester, and microfiber. This type of hat is very affordable, and it will effectively protect you from cold days. If the hat comes with a UPF+ rating, that can be one of your perfect considerations to buy it.
Gloves for UV Protection
Did you know that gloves can effectively protect your hands against cold and the harsh rays of the sun? They aren't given much importance, but it is best to wear gloves that are lightweight and breathable to keep your hands protected.
There are various kinds of gloves that you can check out. There is a full-finger style, and there is also one with the same style but with touchscreen features. There are also ¾ fingerstyle gloves, which are one of the most famous types of gloves. You can also opt to wear extra arm sleeves in case you're wearing a short-sleeved shirt.
Warm Gloves
Purchase warm gloves that are made from nylon, fleece, or neoprene. This is perfect to use for cold seasons. They are also perfect to use when touring or whitewater kayaking. You no longer have to worry about your hands freezing during cold days. Make sure that your gloves also have adjustable wrist straps to always keep them secured.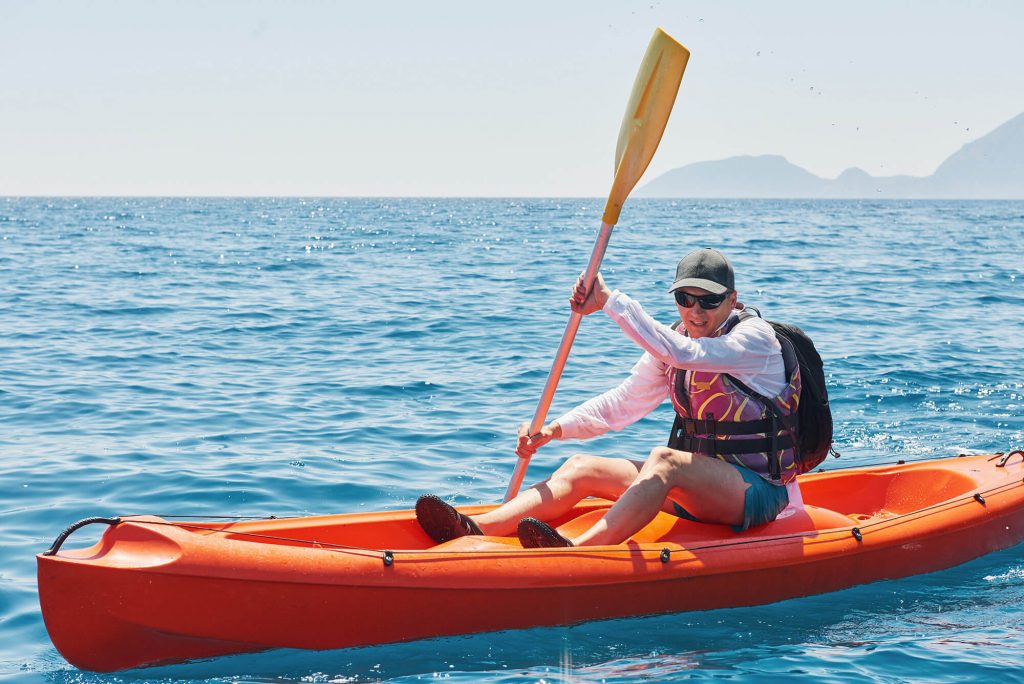 Kayak Clothing and Accessories – Tips and Tricks
Aside from knowing what to wear to go kayaking, it's also important to have some knowledge on how to make the most of your kayaking experience. For starters, A kayak life vest is always a must when kayaking. Make sure to never remove it, even if you're a good swimmer. This device is vital for anyone's safety, especially when hitting tricky white waters.
A clothing gear with UPF-rating for sun protection is always the best to wear especially during hot days. Make sure to also apply some sunscreen before going kayaking. Cotton must also be avoided at all times since water won't dry off easily. Quick-drying fabric should be your best friend while being on the water.
Another thing to remember is that your clothes must let you move as comfortably as you can be. They also have to be resistant to abrasions to keep your skin protected from any rocks and rough materials that can wound you. Keep out of zippers that rust, especially when you kayak on saltwater.
Overview
Ensuring that you are properly dressed before kayaking is vital for your safety and protection. While you are enjoying your sightseeing, you should also be comfortable as you paddle your way to your destination.
Always check the weather forecast and the temperature of the water before packing your stuff. Again, even if you don't plan on swimming as you kayak along, it is not guaranteed that you won't get wet. So, make sure to check out this article every time you think about what to wear kayaking, and always enjoy your adventure.