Swimming, snorkeling, scuba diving – they're all fun, thrilling adventures to do on the open waters. So, what more if you add some adrenaline rush and wonder at the marvels of nature by swimming with, say, sharks?
In fact, shark diving is such a popular activity around the world, and for many reasons, too. You get to practice your love of diving, you get to explore all these wonderful spots, and see all these creations lurking just underneath the surface.
If you want to try it out, or you're looking for the perfect spot to go visit some sharks, here's a list of the best shark diving destinations around the globe: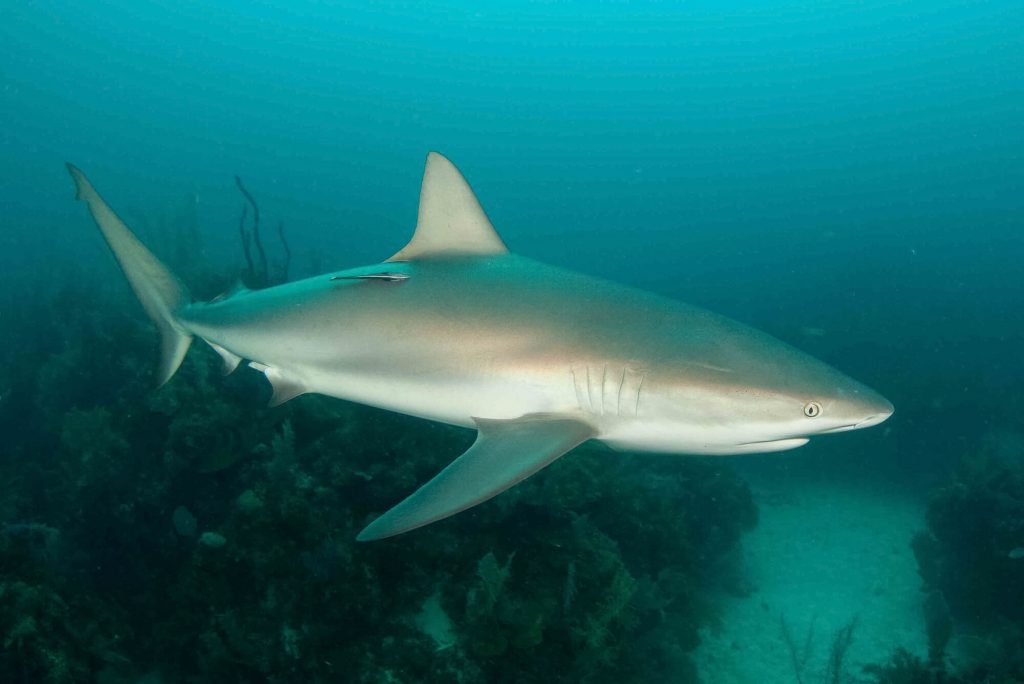 1. Beca lagoon, Fiji
Beca lagoon is easily among the best destinations you can go for scuba shark diving. It's widely popular thanks to the abundance of eight different shark species such as bulls, tigers, lemons, and sickle fins to name a few. There's even a feeding program at Beca lagoon's Shark Reef Marine Reserve so you can chum it up with your scaly buds.
2. Bimini, Bahamas
If you want to hang out with bull sharks, play around with dolphins, and go fishing for some marlin, be sure to check out Bimini, where you'll find the original island belonging in the Gulf Stream, as well as the Bimini Big Game Club right along the marina.
3. Blue Corner, Palau
The Blue Corner in Palau is unique in that it's a vibrant reef right on the deep ocean's edge, so it's a spot for sweeping currents that fill the surrounding corals with lots of nutrients that hordes of sharks and other marine life are eager to gobble up.
4. Cocos island, Costa Rica
Feel like diving for the entire day? In the Cocos island located at the pacific coast of Costa Rica, you won't run out of marine encounters, from manta rays to marlin fish and hammerhead sharks, all while enjoying the magnificence of volcanic rock formations towering from all around.
5. Fakarava, French Polynesia
The Tumakova pass in Fakarava, French Polynesia brings in constant incoming tide right into a tight channel, resulting in blazing speeds of water current. Diving in this water will surprise you with a welcoming committee of reef sharks right at the mouth of the narrow pass.
6. Galapagos, Ecuador
The Galapagos islands are a home to pelagic fish schools and a variety of sharks enjoying the steep walls and ripping currents of their saltwater surroundings. It's a perfect, sought-after destination for scuba divers. It's also near the Darwin island and Wolf island, which are two other remote – and totally worth it – dive sites that you can visit.
7. Gansbaai, South Africa
If you want to experience real cage diving and see some regal great white sharks, there's no better way to do it than by heading to the ocean's wildest corner, aka southern seas of Gansbaai in South Africa, which is a total hotbed of activity with lots of apex predators who simply love temperamental waters, and of course, never-ending food supply from fur seals.
8. Great Barrier Reef, Australia
Another really famous shark diving destination is the Great Barrier Reef, specifically the Osprey Reef, which is located in Australia. It's home to gray reef sharks, wobbegongs, and silvertips, not to mention minke whales if you drop by the Lighthouse Bommie in June or August.
9. Guadalupe Island, Mexico
Aside from South Africa, you can also get a chance to experience cage diving in Mexico's Guadalupe island. It's a great spot for those who want to feel the adrenaline rush of being surrounded by great whites. Plus, you can also visit a nearby sea spout – the La Bufadora – and go kayaking for a relatively calmer yet just as fun water activity.
10. Hebrides, Scotland
For perhaps the rarest shark encounter, try Hebrides in Scotland. Here, you'll see Basking sharks, which are second largest to whale sharks. These are prehistoric filter feeders who like the North Sea's chilly waters, so it's certainly going to be fun swimming with them.
11. Jupiter, Florida
For fans and lovers of yellow-tinged lemon sharks, Jupiter, Florida is the absolute best spot to see them, especially during the cold winter months where these sharks migrate to the deeper ledges and wrecks of Jupiter and Palm Beach. You can even go paddling beneath the Loxahatchee River's cypress stands while you're there.
12. Kwazulu-Natal, South Africa
Apart from great whites in Gansbaai, you can also see baitfish, copper sharks, dolphin pads, and gulping whales if you head to South Africa's Kwazulu-Natal. This area spans miles wide and doesn't run out of serious predatory marine life. There's even an adrenaline inducing zip-line canopy in the nearby Karkloof Nature Reserve for a second dose of adventure.
13. Malapascua Island, Philippines
The tropics is also home to some truly wonderful sceneries and marine biodiversity. Take the Monad Shoal in the Malapascua island of the Philippines. You'll see some pelagic thresher sharks – a rare sight – as they arise from the ocean's deeper crevices to drop by cleaning stations. For topside adventure, there's a plethora of inter-island cruises and cliff diving spots.
14. Marsa Alam, Egypt
Also a rare marvel, the Marsa Alam in Egypt (wild spot is a pinnacle that's covered by lots of corals) houses some elusive oceanic whitetip sharks, which are even fiercer pelagic predators as compared to the whitetip reef sharks. Just take a day boat to reach your destination, and then drive inland to check out the Luxor ancient city for a different kind of marvel.
15. Maui, Hawaii
Of course, this list won't be complete without the beautiful Maui, Hawaii, which is actually a home of dozens of different diving locations. If you want a one-stop-shop of marine excursion, Scuba Diving Maui offers everything from congregations of scalloped hammerheads, nearshore reefs, dramatic lava formations, cinder-cones, and lesser-known dive sites that hold surprises.
16. Morehead City, North Carolina
You might not know this, but closer to home, there's actually a nice little diving destination right in the heart of North Carolina – the Morehead city, which is known as Atlantic's graveyard. It's packed with sand tiger sharks so you're sure to see their majestic bodies and ragged teeth. You can even wreck dive here, as well as fish for bonito, mackerel, and cobia.
17. Nassau, Bahamas
Likely the best (and the original) place for shark feed diving is the Nassau dive center in the bahamas. You can try out the age-old practice of descending with a chum bucket to entice hoards of Caribbean reef sharks at Ray of Hope wreck and Shark Arena, and as an added bonus, you can also practice kite surfing.
18. North Queensland, Australia
Another amazing diving destination in Australia is North Queensland, which is a great place to visit during the height of the summer season where you'll see thousands of migrating turtles wanting to lay eggs, as well as hungry tiger sharks who are eager for some fresh turtle snack.
19. Placencia, Belize
From March to June, Placencia in Belize is a hangout spot for schools of whale sharks and spawning snapper. In fact, you don't even have to dive deep in order to see some hungry sharks – snorkeling or even surface sighting is enough to see feeding predators, including humongous whale sharks.
20. Playa Del Carmen, México
Why get stuck in a cage if you can swim freely among nature's apex predators? At the Playa Del Carmen in Mexico, you can encounter bull sharks and more if you visit sometime between December and March. There's a sandy bottom that gives you a clear and safe view of a truly spectacular phenomenon, and there's also a cenote and cavern you can explore.
21. Ponta Do Ouro, Mozambique
If you're planning to visit dive spots in South Africa around May to October, do a quick stop in Mozambique and check out Ponta Do Ouro. You're sure to see a wide variety of predatory species such as hammerheads, bull sharks, and tiger sharks.
22. Rhode Island, USA
No time for an out-of-the-country trip? Just head on to Rhode Island and dive deep into the cold waters of the North Atlantic to see some fast-swimming blue sharks that shimmer and shine under the water, as well as mako sharks that pass by your view of sight in a split second. You can even do some deep-sea fishing if you head to the Gulf Stream.
23. San Diego, California
One more spot that lets you go scuba diving with sharks without a cage is right in San Diego California. Aside from the picturesque coastlines, La Jolla cliffs, carved sea caves, and kelp forests, you will also get a chance to see an assortment of pelagic predators.
24. Socorro Islands, Mexico
While Playa Del Carmen is home to bull sharks, Socorro islands in the same country is a hangout spot of whale sharks, tiger sharks, and hammerhead sharks. One thing we like about this location is that it's near the Baja desert, so you can partake in both water and land activities – yes, we're talking about ATV adventures.
25. South Ari Atoll, Maldives
Whale sharks, reef sharks, and nurse sharks are just some of the many species you'll get to encounter in the reefs, atolls, pinnacles, and channels of the South Ari in Maldives. It's a truly wonderful spot just right on the edge of the open ocean.
26. Tiger beach, Bahamas
As the name suggests, Tiger beach is a home to tiger sharks, but not only that, you'll also see some hammerheads, lemon sharks, and Caribbean reef sharks. It's no wonder that this shallow sand fat is a popular destination among divers, adventurers, and marine photographers.
Overview
Now that you know the best spots for shark diving across the globe, what are you waiting for? It's time to book that trip and pack your bags! (Just don't forget your gear, though)
If you're a little scared being face-to-face with these regal forces of nature, here's a quick guide on how to safely interact with sharks when scuba diving.