What do you need to go jet skiing? Is it easy to drive a jet ski? Is it safe to ride a jet ski in the ocean? These are probably some of the questions that might be running through your head if you are just starting out or have never tried riding a jet ski.
A jet ski is a personal watercraft or PWC that first became popular in America during the 70s. To this day, it continues to be a prominent water recreational activity. If you want to learn how to ride a jet ski, it's actually pretty easy—maybe even easier than learning how to ride a bike!
Before You Start
There are some things you need to do before you hop on a jet ski. Make sure you have the following requirements:
License
Depending on where you will ride your jet ski, you need to check if a license is required. There isn't a jet ski license per se but you will need a boating license to be able to ride a jet ski. Check with the local authorities or NASBLA (National Association of State Boating Law Administrators) first.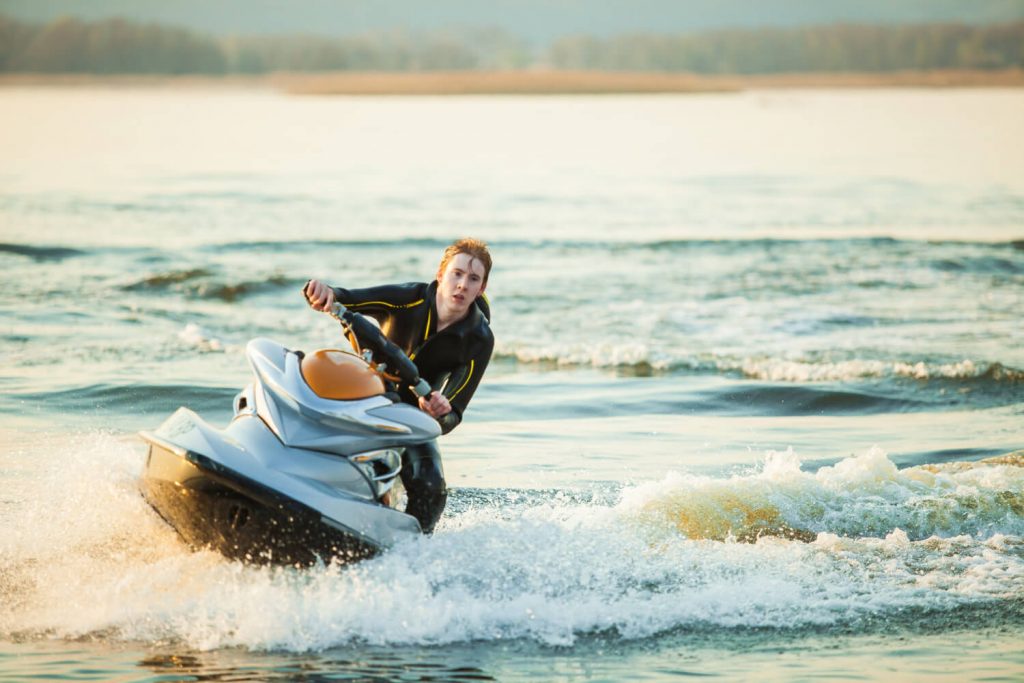 Boating Safety Course
Taking a boating safety course is a requirement in acquiring a boating license. However, even if you don't need a license to ride a jet ski in your location, it's still a good idea to familiarize yourself with the basics of operating watercraft.
Proper Gear
Wearing the proper gear is a must, especially for beginners and first timers. You might have watched movies where riders are simply in their swimsuits (or maybe even a formal suit) zooming along the ocean in a jet ski. But, it's important to wear a coastguard-approved personal flotation device or life vest—yes, even if you know how to swim! Depending on your location, wearing a life vest is more than just a must, it's the law.
Wear a wetsuit, rashguard, or any other swimsuit, preferably one that doesn't need to be tied. Anything that is snug and won't come off if you happen to fall off your jet ski or weigh you down if it gets wet. You might also be interested in wearing aqua shoes or water socks for extra protection. While you're at it, don't forget to put on sunscreen.
Step-by-Step Instructions
You finally have all of your requirements, it's time to get on a jet ski and into the water.
Place your feet on the jet ski's footwell and get in a comfortable sitting position.
Put your hands on the handlebars.
Make sure that the key to the ignition is safely attached to a lanyard and the lanyard is wrapped around your wrist. This way, if you fall off, it would be impossible for the jet ski to zoom away without you, the engine will just shut off.
Put the key in and hit the start button.
Check first if you are in the clear before pushing gently on the throttle.
Start slow, going on 5mph up to 10mph is ideal for beginners.
Once you get the hang of it, you can start going a bit faster.
To make turns, your body needs to lean towards the direction you are going to. Push your body to the side when you need to make a left or a right.
Seems simple enough, but do remember that you need to keep your balance. It may not be balancing on two wheels but rather on moving water. If you are more of a visual learner, a helpful video on how to ride a jet ski might do the trick.
FAQ
How do I get on a jet ski from the water?
It's definitely easier if you are above the jet ski. Do it from the shore or a dock, you might want to check out the best inflatable dock if there isn't one built-in where you are. Otherwise, you need to rely on upper body strength to pull yourself up from the water going up to the jet ski. There are usually handles on the platform you can grab on to.
Is jet skiing scary?
As long as you don't go too fast at once and the water is calm, you should be fine. You're just going to need some time to get used to balancing on a jet ski. Also, remember safety first.
What do I need to drive a jet ski?
A license or certification, depending on where you will ride a jet ski, is required for you to drive. It's also compulsory to have a life vest. Other things you might want to bring include a signaling device, such as a whistle, and a GPS device.
Practice Makes Perfect
It's like riding a motorcycle or driving a car, you need to practice. You need to get into the water, and you might fall, but that's part of the learning process. It's best to start learning how to ride a jet ski on calmer waters and staying in an area close to the shore or the dock. And, don't go too fast at once. Pretty soon, you'll be experiencing adrenaline-pumping jet ski rides.