Maui has always been a place in most people's bucket list simply because of the unending wonders that you can see on the island. All the marine life and exciting adventures await you as you take on an adventure in Maui. you can explore the vast species underwater through scuba diving on this magical island in Hawaii.
The most fascinating thing about Maui scuba diving is that it will always surprise you on every dive. Every dive would be different because of the astounding creatures and sceneries that you can find. Your eyes will feast on all the lively marine species underwater, and you surely won't want to get back up on the surface.
The Best Scuba Diving Spots in Maui
You will never run out of scuba diving spots in Maui. Here, we have gathered the top scuba diving spots that you can plan to visit:
Airport Beach
If you'd like to see a thriving and healthy coral reef as soon as your feet touch the ocean, Airport beach is the way to go. The shore is a bit sandy, and you can see tons of hidden corals and fish between 50 – 80 feet.
Airport beach is one of West Maui's most reliable beaches because it also offers tons of free parking spaces, grills, and other attractions aside from scuba diving. The beach is sandy and shallow, making it perfect for scuba diving lessons.
Black Rock Beach
This shallow beach that only has a maximum depth of 35 ft. prides about its stunning rock formations and schools of fish that you can see as you dive. The water is always crystal clear for the entire year, making it one of the best Instagrammable beaches for snorkelers and scuba divers.
Carthaginian II
The famous Carthaginian II shipwreck is one of the best destinations in Maui if you want an awesome adventure. With 97 ft. underwater, you will find a stunning view and calm waters. It's also a great spot for shark diving in Maui.
Honolua Bay
Another favorite diving spot in Maui is the Honolua Bay. You would love the powerful waves and rich marine life that you can explore. The shoreline is rocky and the depth of the water is between 18 – 45 ft, making it perfect for snorkeling and scuba diving.
Lanai Cathedrals
If you want a unique and bucket-list level of adventure, the Lanai Cathedrals should be your next destination. From lava shoots to small caves, you will have a once in a lifetime exploration underwater in this spot. The breathtaking cathedral-looking underwater adventure awaits you.
Makena Landing
Also called the Turtle Town Maui, Five Caves, Maui Caves, Five Graves, Turtle Arches, Makena Landing will always be the crowd favorite for scuba diving, kayaking, and snorkeling. You would find tons of Hawaiian turtles swimming around this sandy beach.
With an average depth of 25 to 40 ft, you wouldn't want to close your eyes as you see the beautiful corals, eels, butterflyfish, and more. Makena Landing's underwater world will never fail to amaze you in every dive.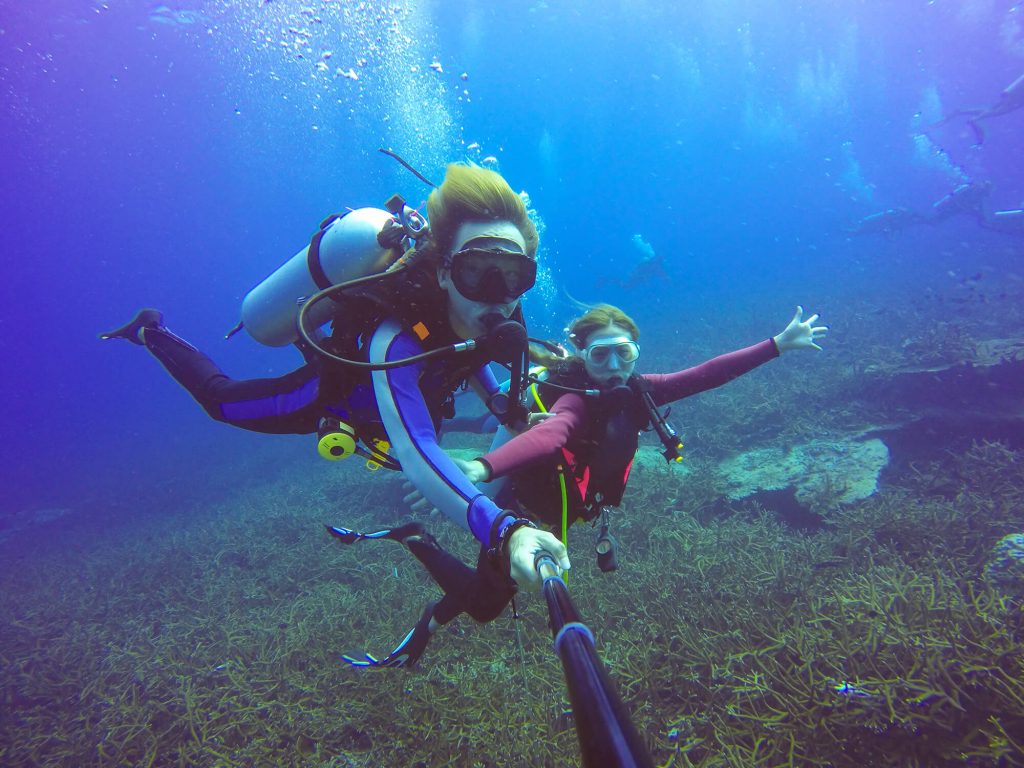 Mala Wharf
You will always have a rewarding dive at Mala Wharf. It is one of the best destinations in Maui for scuba diving. It was previously a pier, so you would find tons of old dock pilings below the surface. It has a maximum depth of 30 ft, making it ideal for both snorkeling and scuba diving.
Mile Marker 14
If you prefer a shallow dive just along the coastline, Mile Marker 14 is your best location. You can find Instagrammable spots because of the mountains of West Maui in the background. This location is ideal for beginners since the water is always calm.
Just make sure not to step on the coral reef because they are one of the longest living corals in the amazing Hawaiian waters. 40 ft is the deepest you can get in this spot, and you will be welcomed by sandy valleys and rich coral formations.
Molokai Hammerhead Dive
Dive with hammerhead sharks, barracudas, Galapagos sharks, and gray sharks at the Molokai Hammerhead Dive. If you're up for an extra adventure with these scary yet gentle creatures, this is a must-go destination for you.
Molokini Crater
This moon-like crater is actually an underwater volcano that formed almost 230,000 years past. If you're an experienced diver, you will surely enjoy this spot since it comes with 150-feet visibility. If you try Molokini diving, whale sharks and schooling fish in crystal waters will always welcome you every time you dive into this spot.
Related read: Deepest free dive
Molokini Back Wall
Numerous underwater creatures can be found in the Molokini Back Wall dive. Manta rays and manta sharks can swim with you in this location. With 100-feet visibility and swimming in warm seawater, this spectacular diving location is a must-go for experienced divers.
Ulua Beach
If you are looking for a spot with tons of scuba diving lessons and refresher training, Ulua beach is the palace to go. Beginners can dive at the outer reef and enjoy the massive marine life underwater. This is the perfect place if you're new to scuba diving.
Shore-based diving and snorkeling are the most popular experiences at Ulua beach. You can also find tons of cleaning stations for turtles and you would enjoy looking at them swim up together with other reef fish.
Other Scuba Diving and Snorkeling Spots in Maui
You might want to check out these other snorkeling and scuba diving spots in Maui:
Ahihi cove
Canoe beach
Dragon reef
Golden arches
Hidden pinnacle
Kapalua bay
Jodo reef
La perouse pinnacle
Napili bay
Olowalu
Pinnacle point
Red hill
Split reef
Turtle caves
Ulua/ Mokapu
Wailea point
… and more!
For more information about Maui diving spots, visit https://goscubadivemaui.com.
Maui Hawaii Scuba Diving FAQs
When is the best time to go scuba diving in Maui?
Every month is always the best time to visit Maui, Hawaii. But if you're looking forward to seeing whales, and sharks, you might want to check out the months where these giant creatures usually linger along the Hawaiian waters to make the most out of your vacation.
To give you an honest expectation, you won't always see whales underwater, although you will most likely hear them. You can always get a ticket for whale watching in Maui, and it is best to get them from September to November for great deals and discounts.
Where can you get a scuba diving certification?
As soon as you land in Hawaii, you are always free to get a scuba diving license. You can find tons of scuba lessons, training, and courses in Maui. What's great is that you can even get a certification for the entire family, even your kids.
If your little one is 5 years young, he/she can get scuba diving classes with no certification. But kids 10 years old and above can now get their certificate after the training. Exploring Maui with the entire family is surely possible!
Can you go scuba diving in Maui without a certification?
You don't need to have a scuba diving certificate in Maui. But if you want to try it, the best thing to do is to get a guided diving tour.
Getting a certification allows you to be prepared for any dangerous thing underwater, and having a professional diver along with your adventure is always the safest choice. Plus, they know all the cool spots in any of the dive sites you want to go to!
Can you go snorkeling in Maui?
We have stated that scuba diving and snorkeling are both famous attractions on Maui. You can bring all your snorkeling gear and enjoy the crystal clear waters and rich sea life in any diving spots on Maui. You can also look for facilities that offer snorkeling lessons and snorkel rental in Maui for you to rent if this is your first time snorkeling.
Overview
These islands listed above are only a few of the many islands in Maui County. If you're up to a whole new Maui scuba diving experience, these diving locations deserve a spot on your bucket list. You can check out South Maui and West Maui for incredible scuba diving gems.
The Northern and Eastern part of Maui aren't usually explored because of hurricanes in the middle of the year. But, they are a great destination in summers because of calm waters.