Fishing is all about peace and relaxation and going back to nature. However, it doesn't mean that you have to rough it completely. On your next fishing trip, you might want to get kayak fishing accessories to make it more enjoyable or comfortable. Below are the top fishing accessories that can help you in different ways, from improving your fishing skill to giving your kayak an upgrade.
Best Kayak Fishing Accessories For…
Improving Your Fishing Game
These accessories will help you from finding fish to actually getting a high-quality catch.
Fish Finder
With a fish finder, you can find the fish that you actually want to catch. It will be easier for you to navigate the waters and spot fish hiding wherever.
Fish Grip
If you find yourself always getting caught by fish hooks, it might be because you are handling the fish wrong. With a fish grip, you can gently remove the fish from the water or the net easily. Plus, it will help in keeping the fish calm. Fish grips are important in retaining the freshness of fish whether you plan on releasing them again or taking them home.
Floating Fish Net
Fishing is all about multi-tasking, one hand is reeling in a fish, the other is keeping the boat still with a paddle while also holding onto a fish net. You can lessen the grunt work by using smart kayak fishing accessories. With a floating net, it will be easier to get your fish and you don't have to worry about your accessories sinking to the bottom of the lake.
Increasing Your Comfort
Again, just because you are on a nature trip doesn't mean you have to be uncomfortable. Here are some accessories to make your trip easier:
Seat Back
Not all kayaks are built the same, so if you don't have a place to lean back, you know how tiring that can get. What's more, it's not really too good for your back or your posture. Consider getting a seat back for your kayak so you can fish longer.
Rod Holder
If your arms and shoulders tend to get stiff during kayak fishing, it's best to get rod holders. You can choose from rod holders that are simply mounted on your kayak but there are also ones that are adjustable so you can keep your rod in the holder even if you get a bite.
Flotation Device
Get peace of mind with a personal floatation device that suits you perfectly. PFDs should be breathable and not too bulky so your range of movement is not limited.
Kayak Trolley
Gone are the days when you have to lug your kayak to the water. With a kayak trolley, you can easily take your kayak anywhere. You don't have to park close to the lake or get a pricier house rental that is on the waterfront.
Upgrading Your Kayak
Kayak fishing accessories aren't just about making your boat pretty. Instead, they can make your kayak easier to access and use plus make it safer.
Extra Storage
Kayaks are really quite small so if you have a large haul of fish, there really isn't anywhere to place them. A good solution is getting a PAC or portable accessory carrier. The Sun Dolphin Journey 10 ss is a kayak that comes with a PAC, which can be removed when not needed.
Anchor
Even in calm waters, you might not notice but your kayak is slowly moving inch by inch until you are nowhere near your fishing spot. For this, you can get an anchor for your kayak so you can stay in place.
Lights
It's easy to lose track of time when you are enjoying yourself. You might want to consider getting lights for your kayak if this tends to happen to you. It's hard to navigate waters in the dark. You may also invest in flags so it'll be easy to track which kayak is yours.
Clips and Leashes
To keep your paddles from getting away from your kayak, you might want to get paddle clips or even paddle leashes. You'll never have to worry about chasing on the loose paddles with only your arms to propel you.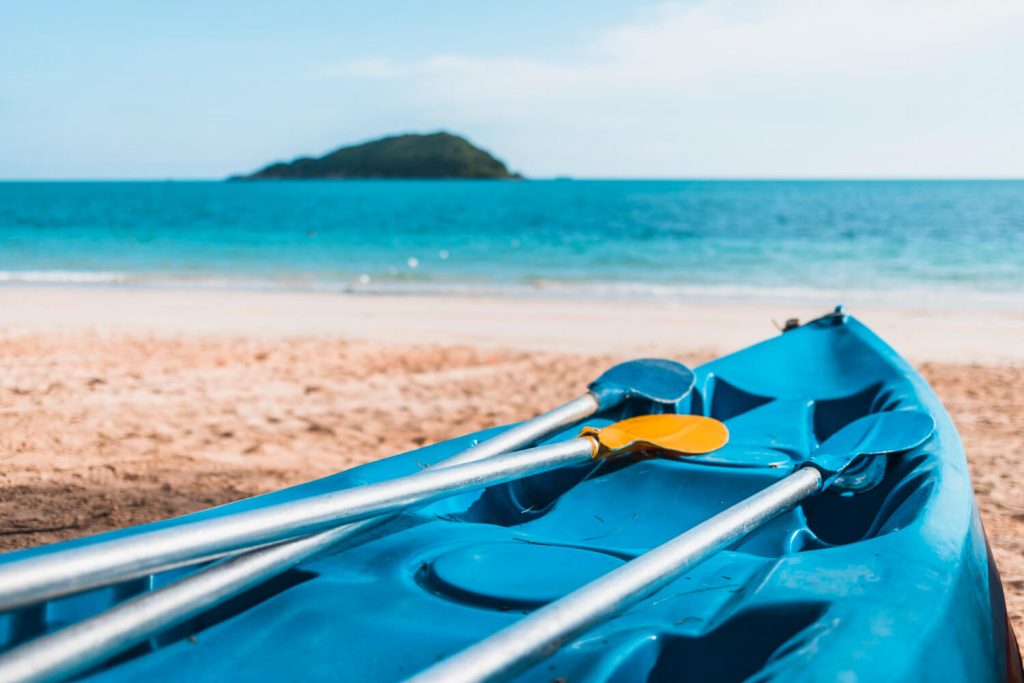 What to Look For in Kayak Fishing Accessories
There are hundreds of kayak fishing accessories in the market and it might be overwhelming at first to choose. Make sure to read customer reviews and look out for the following features:
Kayak Compatibility
Before buying a seat back or rod holder mount, you need to make sure that it is compatible with your kayak first. You don't want to end up with kayak fishing accessories that can't actually be added to your kayak.
Durability and Water Resistance
Check the materials of the kayak fishing accessories you are looking at. They have to be resistant to water, obviously, but also should last for more than just one to two fishing trips.
User Friendliness
Everyone has different fishing styles, so opt for fishing accessories that will be easy to use and will actually add value to your fishing trip. If it seems too complicated to use, don't get it.
Final Thoughts
Kayak fishing accessories can be very helpful for your fishing trip. When you do get them, make sure that they are compatible with your kayak and, of course, with your fishing style. Again, not all fishing accessories are built the same so make sure to check reviews before buying.