Imagine jumping into a refreshing pool in your backyard during the hot summer days to battle the heat. It's fun, no? Although, to maximize all the enjoyment, you have to install your pool right- meaning, it has to be on an even level. If not installed properly, the pool will be uneven, which can be annoying.
A pool that is not installed correctly will cause injuries, especially for a family with kids. As such, it is important to ensure your family's safety by installing your pool correctly. Don't worry though, we are here to give tips and explain how to level ground for pools.
Also read: Can you tan when it's cloudy?
How To Level The Ground For Your Pool
Leveling ground for above ground pools is easier than you think. You just need to pick a good spot, do some digging, clean it up and compact it, then add a base.
What You Will Need
Leveling grounds for the pool may look a little tricky, but the truth is, it isn't. It's even easier if you have the right above ground pool leveling kit. So, before we answer your question of how to level ground for above ground pools, here is a list of tools needed for ground prep for above ground pools:
Lawn roller and wide rake
Level and long, extended board
Rototiller or sod cutter
Wide shovel and pick
Step-by-step Procedure
Now that you know what you'll need, here is the basic procedure on how to prepare ground for above ground pools:
Look for the perfect place where you prefer to install your pool. Remember, you have to first verify that there are no lines of utility that are running beneath this spot.
After picking the right spot, you can now use a tool for leveling to identify the spots and loftier slopes that will need some work. Place markers like stakes for you to easier identify these spots.
Dig the loftier slopes to attain similar levels. Be careful not to add other materials or earth to the areas that are lower- just focus on digging out the elevated spots.
Don't forget that it is important to use a tool for leveling to confirm if the ground is even. You'll also want to eliminate the debris, rocks, and branches- use a rake to do so.
Afterward, compact the soil. To make this easier, you can wet the soil first with the use of a garden hose. You may want to grab a handheld tamper for firmer and compact soil.
Finally, you can now put sand or other materials that will act as a base on the modified space.
If the spot you have chosen has sod, then you may want to tidy it up first by doing the steps listed below:
Two weeks before the installation of the pool, you have to eliminate the grass in your preferred location, first covering it with plastic sheets or a tarpaulin.
Wet the soil of your preferred spot, and then remove the existing sod. All of this is possible by using grub hoes or sod cutters.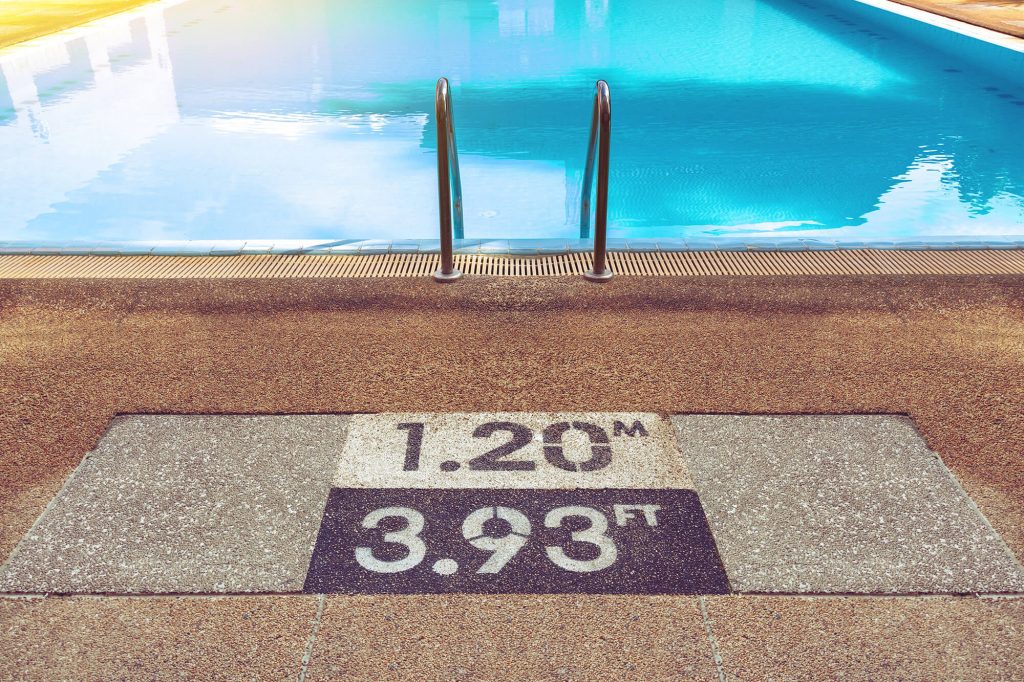 How To Level An Already Installed Pool
Leveling an already installed pool is challenging even for the experienced pool installer. In this kind of situation, pool deconstruction is the most convenient way to flatten the ground smoothly.
But, if the ground is just off by around three inches or so, you might be able to resolve this problem without pool deconstruction. Below is the easiest way to level ground for an already-installed pool:
Never level your ground while your pool is even remotely filled up with water- it may cause injuries and make your work more complicated. So, drain all the water from your pool first.
Next, identify the lower and higher sections of the spot.
Locate the blocks for leveling on the lower area of the pool and pull all of them off.
Look for the connectors in the bottom area of the pool, and get your pool to a flat and even level by investigating the walls.
Once that's done, you can now re-establish your leveling blocks, then just do the process again for the lower areas.
Underneath the walls you elevated, cover it up with dirt.
Finally, after you even out lower sections in the higher areas, you can now replenish your pool with water.
A typical mistake that beginners make is they keep on trying to fix the higher area of their pool whereas it is much easier to fix the lower area. The reality is, the easiest way to level ground for pools is to elevate height than diminish it.
Why It's Important To Level The Ground Before Setting Up Your Above Ground Pool
Leveling grounds for pools is the most avoided part by many homeowners, hence a common question goes like "how to set up Intex pools on uneven ground". But the thing is, if you don't realize how important it is to make sure that your pool ground should be flattened, you will face a multitude of above ground pool leveling problems.
Below are a few reasons why it is important to level the ground for your pool:
It evens out the water level
A pool that's been installed in an uneven space causes danger. The deeper area is risky for small children if their feet cannot reach the bottom of the pool. It may also cause issues with cleaning equipment and skimmers which can get stuck on the shallow part of the pool.
Also check out: Best mermaid tails for kids
It prevents the pool structure from being compromised / weak
Uneven pools cause additional pressures on certain areas of the pool wall and liner. The reason for this is that it is not scattered evenly on every side. As such, the worst thing that may happen to you is your pool can be damaged, which will cause a flood in your yard that may cause injury to nearby people, as well as damage to surrounding structures.
Take a look at these best water aerobic shoes
It makes for a nice-looking pool
Uneven pools do not look good, and they can easily be noticed right away. The pool will simply look wonky, and it can be quite obvious that the water in the pool isn't even. This can be an eye-sore, and who wants that in their beautiful backyard? You'd rather a pool that's party-ready, right?
Related read: Teen pool party ideas
Other Ways To Level An Above Ground Pool
Below are the other ways on how to how to level an above ground pool:
Concrete Slab
If you want to know what to put under above ground pool to level it, the easiest method to level ground for pools is to use concrete, which can easily be made into a smooth and flattened surface. Its texture is also rough, which guarantees that your pool will stay stable and can handle plenty of people.
Crushed Stone
Crushed stones are a much better option than sand, and is perhaps the best way to level ground for pools. If you want to avoid critters finding their way under your pool, then this is the best option for you. The kind of stone often used to level pool ground is limestones, but it has to be ground well- if not, your pool may gain some scratches.
Sand
This is perhaps the cheapest way to level ground for pools. If you're planning to use sand for leveling ground for Intex pools, simply pour sand over your desired pool location, spread it out evenly, and compact it. If you do every step correctly, the ground should be flattened out.
Solid Foam
Solid foams can be a good layer of protection between surfaces made with concrete and the pool above the ground. If you are not fond of digging, you'll be glad that foam is an easy way to level ground. You can simply put the foam in your desired location to elevate the ground. You can also cut the foam in any shape you desire.
Pavers
Patio blocks and pavers are an ideal material to level yard for pools because they are durable. The blocks allow the stable to be upright. In this case, ensure that the material you decided to use on leveling up your above-ground pool can be good support.
Conclusion
Swimming pools are a great way to beat the beat, so do it right and take your time deciding and planning out where to construct your pool. This is why we have provided you with lots of options on how to level ground for pools.
Now you know the importance of leveling the ground of your desired spot for a pool. Remember, if you do all of these wrong, then there is a great chance that your pool may be slightly look off. Uneven pools can also attract danger, and we don't want that in our backyard.