For many people, kayaking is a fun and exciting activity. Kayak fishing? Even more so. That said, it does come with a few difficulties, but nothing that the right fishing gear can't fix. We're talking about fish hooks, weight, floats, and of course, fishing rods.
The best kayak fishing rod is one that lets you catch fish easily and quickly. It should keep you comfortable and give you full control over your catch. You'd think that that's easy to find, but you'll be surprised with the sheer number of mediocre fishing rods on the market.
So, to help you out, we spent hours of research and found the most promising options for kayak fishing rods this 2021. Check them out below:
Our 10 Favorite Fishing Rods
To enjoy the best kayak fishing experience, here are the top ten best fishing rods you can bring on your next excursion:
Ugly Stik Elite Spinning Fishing Rod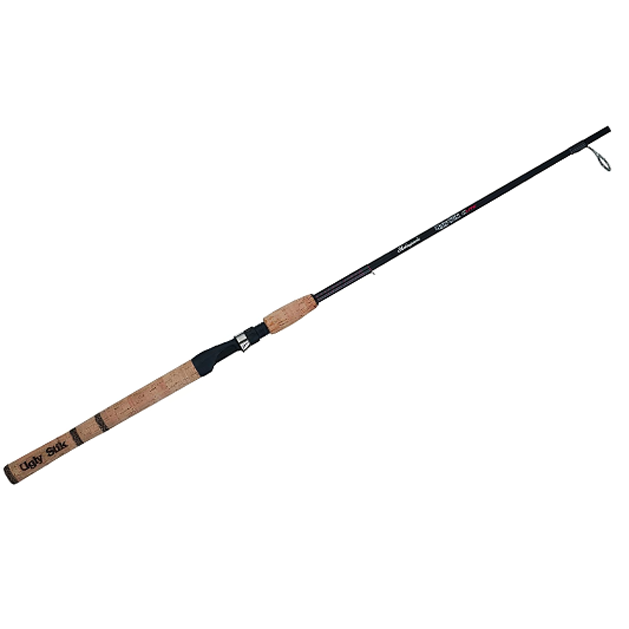 If you want to enjoy the most memorable and exceptional kayak fishing trip, our top pick for kayak fishing rods is the Ugly Stik Elite Spinning Fishing Rod, an iconic kayak fishing pole that is a familiar favorite among anglers thanks to its lightweight design and superior durability.
Made from graphite and fiberglass, this fishing rod is highly sensitive and weighs like a feather. Meaning, you can fish all day long and carry the rod around without getting exhausted. This rod is also strong and sturdy, allowing you to reel in just about any fish- big or small.
Perhaps the best part is that this fishing pole's reel seat is exposed, which means that there's little chance of you missing out on an amazing catch since your hand and the pole blank are always in contact. There's even a cork handle that maintains a comfortable and strong grip even when the pole gets wet from splashes.
Lightweight fiberglass and graphite construction
Enhanced durability with stainless steel guides
Increases sensitivity with clear tip design
Sturdy and flexible
Ugly Stik GX2 Fishing Rod and Spinning Reel Combo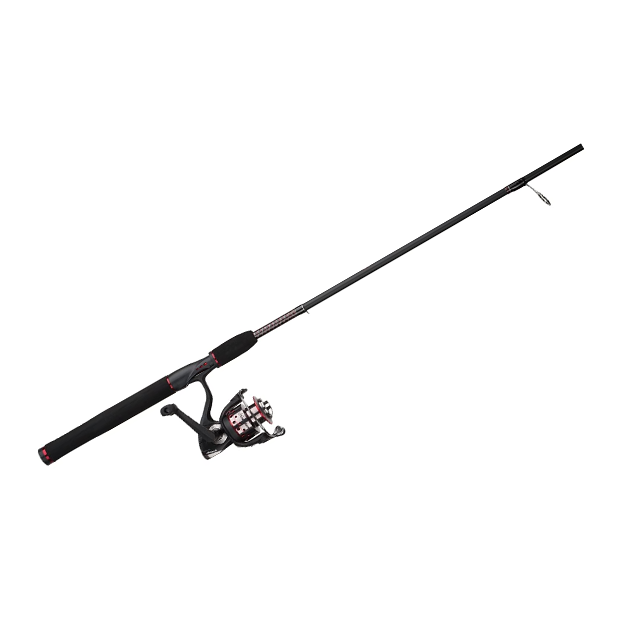 We also really like the Ugly Stik GX2 Fishing Rod and Spinning Reel Combo, an eye-catching and innovatively designed fishing tool that makes for a fun fishing experience. It boasts of a beautiful modern appeal, along with excellent durability and strength offered by its use of anodized aluminum for the spool.
The rod itself features a graphite and fiberglass construction that makes it equal parts sensitive and lightweight. Meanwhile, the glass real contains a unique nylon material that offers protection against corrosion and rust. There's also a stainless steel one-piece guide that gets rid of the need for insert pop-outs.
To top it all off, this fishing rod combo boasts of a ball bearing made with stainless steel, as well as a clear tip design, making it strong, sensitive, and resistant to wear and tear. All these features make for a smooth performance and help increase your catch.
Suitable for beginners
Budget-friendly option
Durable and lightweight construction
Reliable and smooth balance
Shakespeare Micro Spinning Rod
Also among the best is the Shakespeare Micro Spinning Rod, the perfect choice for those who want a kayak fishing pole that promises ultra-light action. This rod features an adjustable length to suit your preferences and accommodate your catch.
Plus, it can also flawlessly perform various actions. In other words, it's a highly versatile product. The Shakespeare Micro is made with graphite for maximum strength and sturdiness, not to mention also enhancing the rod's sensitivity to let you reel in more catch.
It also features a cork handle that guarantees better grip and comfort while fishing, as well as guides and inserts made with stainless steel. Finally, for the most powerful performance, this rod also comes with cushioned hoods and one conventional reel seat.
Great ultra-light action
Ideal for light lures
Enhanced grip with full cork handles
Able to bend almost 90 degrees
Shimano Solora 2 Piece Spinning Rod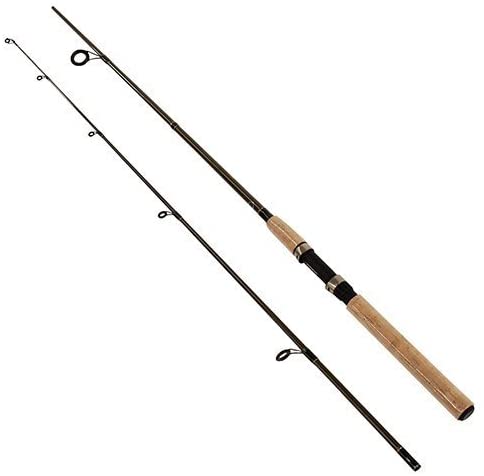 The Japanese based Shimano brand has been a key part of the angling world for a full century. Known for being one of the best, this brand has a laser-like focus on precision engineering, and this is what has enabled them to continuously create innovative products. The Shimano Solora 2 Piece Spinning Rod is no exception.
It's the ideal angler's tool for beginner and experienced anglers alike. It features a lightweight fiberglass construction with a cork handle. The rod is also reinforced with Aeroglass blank for added durability and sensitivity, as well as aluminum oxide to make for smooth retrieves and line flows for each cast.
Not only that, this kayak fishing rod also boasts of comfortable rear grip handles and cork fore, and a solid locking reel seat made with graphite. And, it comes as a pack of two, so you and your buddy can both reel in some catch while on your tandem fishing kayak!
Lightweight and durable construction
Suitable for beginners
Good stretch, medium action
Best value for money
Fenwick Eagle Spinning Fishing Rod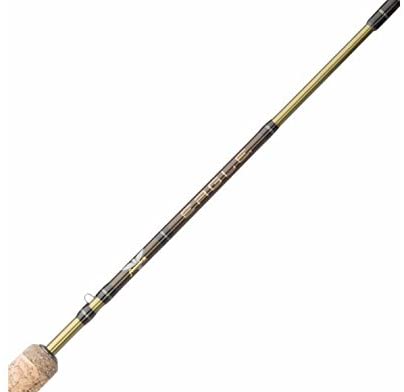 Taking the fifth spot is the Fenwick Eagle Spinning Fishing Rod, which showcases the brand's classic actions that allow anglers to target pretty much any species of catch. It's made with 24 ton graphite and boasts of a sweet blend of technology and tradition.
Among its excellent features are the upgraded guides made with stainless steel, inserts constructed with aluminum oxide, minimal reel seat, and blank through construction. These things ensure improved casting performance, reduced friction, and heightened sensitivity to transmit impossibly light bites.
Many users even claim that this rod's sensitivity is state of the art. Its moderate action is sure to match most anglers' fishing style. You'll also love the fact that you can use it for multi-species kayak fishing, allowing you to catch both the smallest and biggest fish.
Proven and tested Classic Fenwick Actions
Improved ergonomics with reel seat
Premium TAC grips and cork
Limited 5 year warranty
Okuma Classic Pro GLT & Rods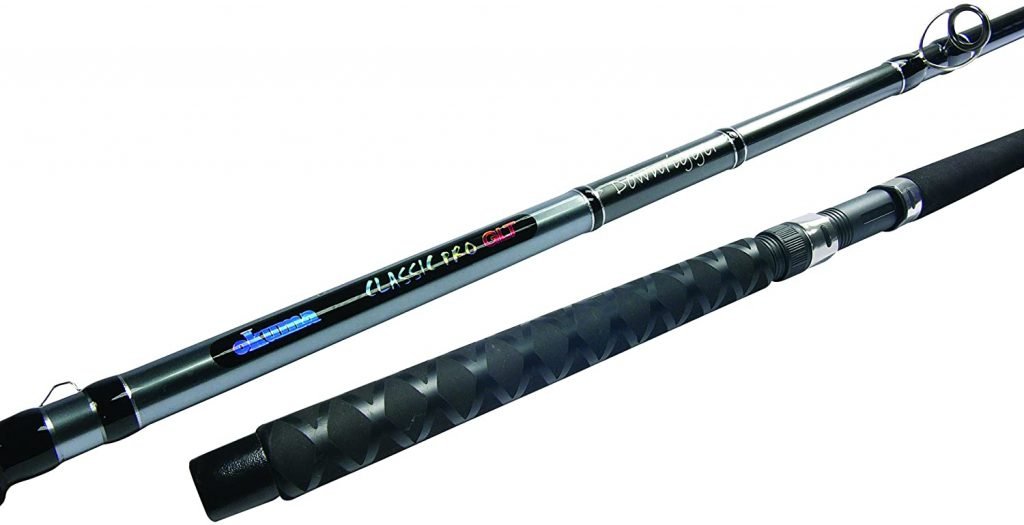 Another amazing option is the Okuma Classic Pro GLT & Rods, which promises dependable performance. Built with high quality materials, it offers a dreamy feel that professional anglers are sure to appreciate.
For starters, this kayak fishing rod is made with graphite, including the frames, side plates, and spool. This makes for excellent weight and corrosion resistance. The spool and handle arms also feature anodized aluminum for added strength and durability, and there are T-style knobs that make for a more secure grip.
Not to forget, you get to enjoy even line lays with the stainless steel guide system, and minimal maintenance with the gear system that's self-lubricating. This system even makes the main gear and drive shaft operate smoothly under any condition.
Corrosion resistant and durable
Lightweight graphite construction
Reduced heat and better performance
With multi-disc drag system
Daiwa Presso Spinning Pack Rod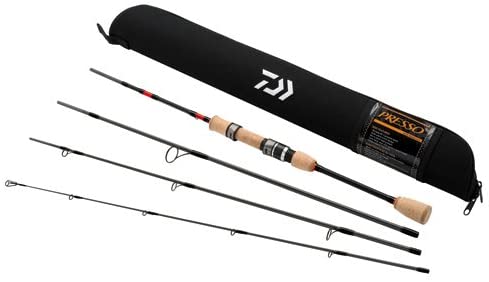 If you want a fishing pole that offers ultralight actions, we highly recommend the Daiwa Presso Spinning Pack Rod. It boasts of a great combo of light absorbing action and casting power for handling strong fish even on fine lines.
The blank is micro-pitch taped during curing, which guarantees even graphite and resin distribution. This technique delivers maximum sensitivity and power, so you're getting a sensitive fishing rod that casts well and performs 100% all of the time.
All in all, it's a great, well rounded kayak fishing pole that makes for soft recoveries after a long fight against salmon- although catching other fish like coho, sockeye, and trout is easy peasy. It even features a lower section hook keeper, a split cork grip that's extremely lightweight, and a minimal reel seat.
Beautiful and functional design
Lightweight, durable, and sensitive
Easy transports even with the reel attached
Great value for money
Daiwa PSO704ULFS-TR Presso Ultralight Spin Rod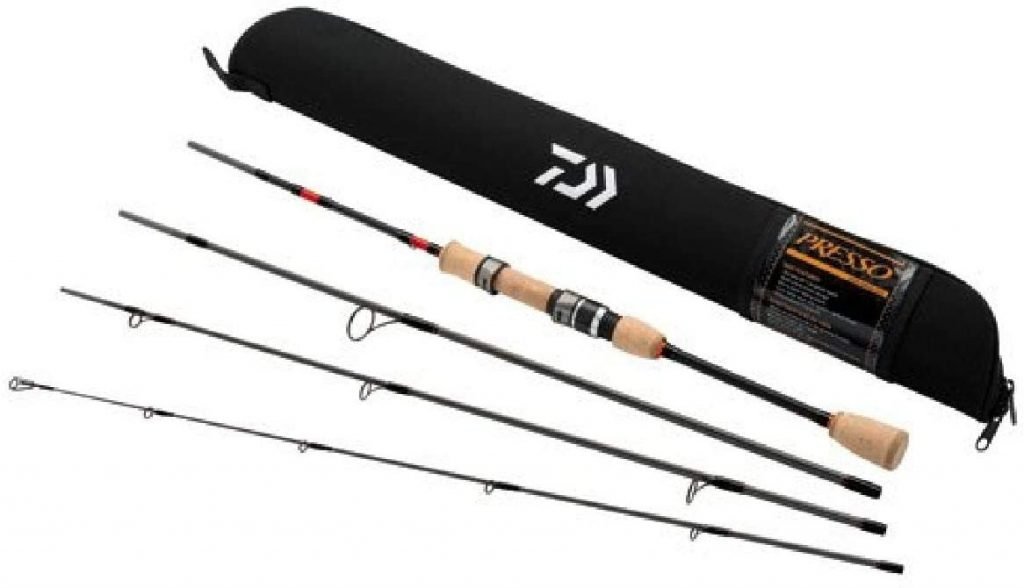 Also from Daiwa is the Daiwa PSO704ULFS-TR Presso Ultralight Spin Rod, which promises true performance- whatever that means. What we do know is that it's well-loved by anglers, partly since it readily comes with a convenient travel case and a guide system that assists in great hooking, accuracy, and sensitivity.
This guide system features an aluminum oxide coating to protect against rust, making it suitable for freshwater fishing. Meanwhile, the rod is made from dark graphite blanks to deliver maximum power and sensitivity. There's also some micro-pitch blank taping going on during its curing process in order to ensure even resin and graphite distribution.
What we really love about this rod, however, is that it features shock absorbing action to help you handle strong fish even on an ultra-fine line. Plus, the split cork handle is lightweight and offers a firm yet comfy grip, while the stainless steel reel seat comes with a cushioned hood for extra power when reeling in stubborn catch.
Powerful and reliable performance
Cork grip for comfort and dependability
Rust-resistant material and construction
Travel case included
Okuma Nomad Inshore Graphite Travel Rod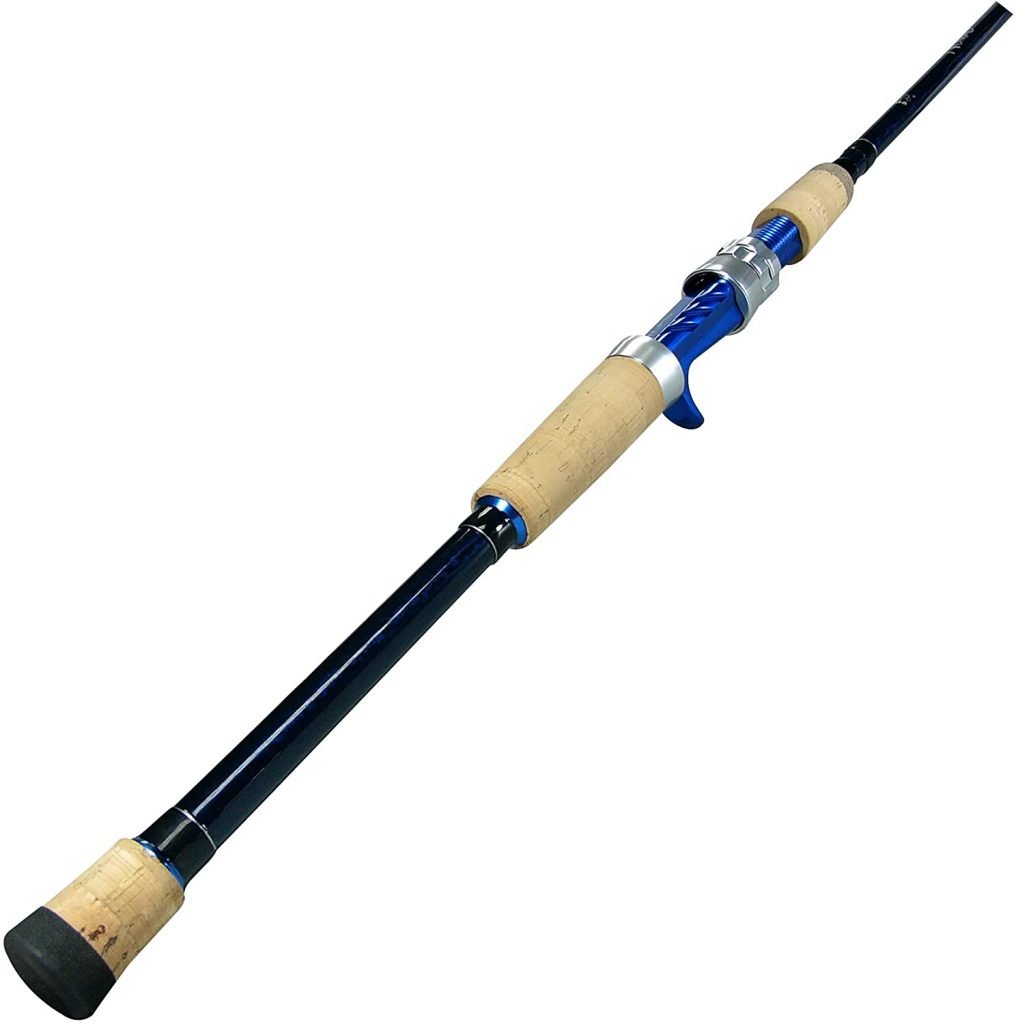 You've seen the Okuma Classic Pro earlier, so now let's talk about the Okuma Nomad Inshore Graphite Travel Rod. like the Daiwa Presso, this one's also great for travelling as it comes with a portable carrying case. Hence, it's perfect for anyone who wants to have a great time fishing on a kayak.
In fact, even the rod itself is portable since it's made with three separate pieces that you can assemble and disassemble as needed. Don't even worry about not enjoying as much sensitivity, since its unique construction gives this rod a solid, sturdy feel.
You can even catch bigger fish with this as it offers exceptional control and power. Moreover, this kayak fishing rod's well-balanced weight allows you to tightly hold it and get a better feel of your catch. You'll also get two different actions from the tips of the rods, allowing you to conveniently participate in multi-species fishing- and in various fishing conditions at that.
Ideal for long distance and multi-species fishing
Durable graphite blank construction
Reel seat made with stainless steel
Comfortable, non-slip grip
St. Croix Rods Mojo Inshore Spinning Rod

Last but definitely not the least is the St. Croix Rods Mojo Inshore Spinning Rod, which is easily one of the best kayak sea fishing rods on the market. Specifically designed for saltwater inshore fishing, this fishing pole boasts of premium construction and great performance. It's made with lightweight SCII graphite blank that makes for great durability and strength.
It also features a split grip handle that offers a comfortable grip and better balance. Not to forget, the cork handle doesn't only make for an attractive look, it also enhances the rod's functionality, which is essential especially in inshore fishing.
At the end of the day, the St. Croix Rods Mojo Inshore Spinning Rod lets you position your lure anywhere you want thanks to the rod's great action. This rod even has a slow-cure flex coat finish that makes for a durable, clean look.
Ideal for saltwater inshore fishing
Comfortable and well-balanced
Premium quality cork handle
Aluminum oxide guides
Kayak Fishing Rod Buying Guide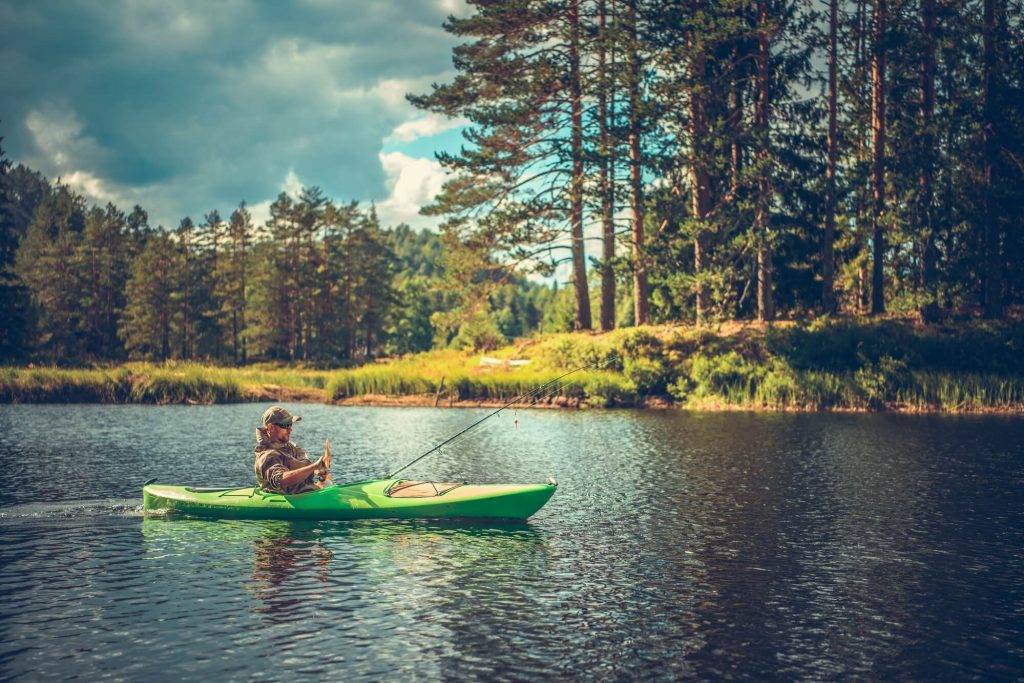 The right kayak fishing rod will offer superior performance and let you enjoy a great fishing experience, but finding a fishing rod that perfectly fits your needs can be quite difficult. To help with your buying decision, take into account the following factors:
Type
One thing you need to understand is that there are many different types of fishing rods available, and that you need to figure out which type best suits your needs.
For example, spinning rods are better suited for lure and bait fishing, especially kayak fishing. These rods are great for catching small and medium sized fish near the shore. Meanwhile, bait casting rods offer more versatility, control, and accuracy while casting, but they are more suited for experienced anglers and can be difficult to use for a beginner.
Check out: the best kayaks for beginners in 2021
Size and Weight
You also have to factor in the size and weight of the kayak fishing pole. This means taking into account the location of your fishing spot and the species or type of fish that you want to catch. These two things will help determine the right rod durability.
To give you an idea, thin, long, and lightweight fishing rods are best for smaller catches, while solid, short, and heavy rods are more ideal for larger and heavier fish. Even the fishing conditions, aka whether you're fishing in saltwater or freshwater, will affect the kind of fishing pole you need.
Rod Length
Now, when it comes to kayak fishing, you'll notice that the fishing rods are shorter in length than other types, which is a must for better maneuverability. A relatively short rod will also conveniently fit inside your kayak and will let you easily remove fish from.
That said, the rod cannot be too short either, as this will present quite a few challenges. For instance, if the rod isn't long enough, you won't be able to extend it past the kayak's bow. This is important to prevent your line from getting caught when your catch tries to swim under the watercraft.
Butt Length
Aside from the length of the pole itself, you also have to take into consideration the length of the rear end of the rod, which is the part sticking out under the reel. Again, due to space constraints inside a kayak, your fishing rod must have a short butt section so that you can easily move around inside the kayak without getting the rod caught in your vest.
Material
When it comes to material, kayak fishing rods are typically made of graphite, fiberglass, carbon, or composite, with each material offering a unique set of features that influence the rod's feel and action. As such, choosing a fishing rod material should be based on your personal preferences, as well as your budget.
Carbon fiber rods are generally the best as they offer exceptional speed and performance. The only thing is, carbon fiber is an expensive material, so it's mostly reserved for high-end models. A great alternative would be graphite (or a mix of graphite and fiberglass), which retains weight well and offers power, flexibility, durability, and sensitivity- meaning, you can catch lots of fish.
Saltwater Fishing
Kayak fishing can also be done in more turbulent and unpredictable waters, such as the sea. But, the thing with saltwater fishing is that, aside from requiring exceptional skill and control from the kayaker, not to mention suitable gear and watercraft, it comes with a few extra requirements.
We're talking about protective measures that help make your gear last longer and steer clear of damage and wear. For kayak sea fishing rods, this means rust and corrosion resistance. Now, these are important regardless of where you want to fish, but know that saltwater is harsher on your rod materials, and as such, ensuring adequate protection is a must.
Mounting
You'll also have to consider your kayak's mounting system, since you need to make sure that this mounting system is compatible with your fishing rod. In other words, ensure that the rod will fit perfectly inside the kayak's rod holder.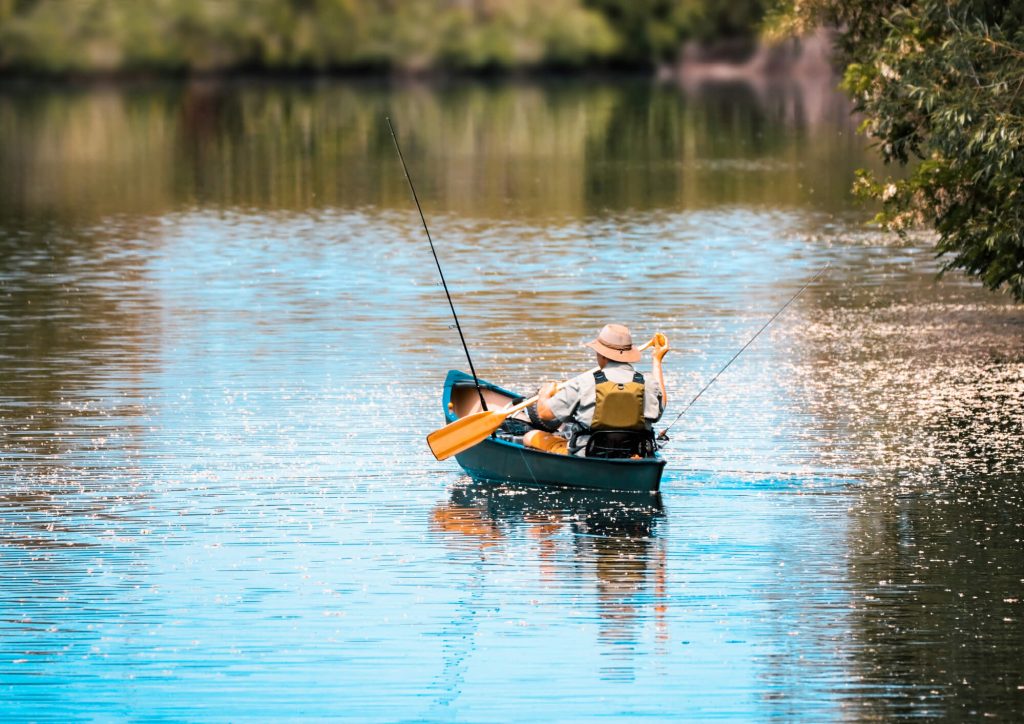 Action / Flexing
One of the most important factors when it comes to buying a fishing rod is its action, which is how the rod flexes along its length, as well as the speed as to which the tip of the rod returns to its natural position.
Basically, the rod's action is what makes for good performance while reeling or casting. It's also dependent on the material, lures, and size of the blanks. Depending on the type or species of fish you intend to catch, the action of the rod can be slow, medium, or fast, with slow action rods being ideal for smaller catch and fast action rods for bigger catch.
Power
Meanwhile, a fishing rod's power is its ability to resist force, aka how much the rod springs back after said force is released. Here's the difference between low and high power rods:
On one hand, high power rods come with high tensile strength, so when you use it for fishing, you'll notice that the lure will jump while you're retrieving it, dragging in the water for a bit, before springing forward then dragging again.
On the other hand, low power rods lack responsiveness, and as such, using one means having to move the entire rod instead of relying on the quick movement from the rod's base transferring to the tip. That said, with low power rods, these would somehow spring back when your line breaks under pressure.
Test / Weight Capacity
Simply put, "test" refers to your fishing line's weight capacity. This means that when you see a test listed in a fishing rod's product specifications, know that it's referring to what line test rating is best recommended for use with that fishing rod.
This line test, when combined with your reel's drag settings, is what gives you an idea of the fishing rod's weight capacity. That said, there really isn't an industry standard for these test ratings, so it's generally better to rely on customer reviews as to what sorts of fish they were able to catch and to what extent they were able to subject the rods to without breaking.
Reel
Buying a nice fishing rod isn't the end of your journey- no, you still have to look for a couple of other stuff to complete your gear, such as a good quality reel, for starters. It has to be compatible with the fishing rod, and intended for the same purposes and weights.
Lightweight reels are convenient options for kayak fishing, while spinning reels are more user-friendly and better suited for beginner anglers. Regardless of what type of reel you choose, however, it's always important to make sure that it's resistant to corrosion so that the moving parts inside don't get damaged- especially so if you're doing saltwater fishing.
Leash
Another important part of your fishing gear is the leash of the fishing rod, which is a useful security feature even when the rod is resting on your kayak's rod holder. The leash will ensure that the fishing rod is always attached to the kayak even if it manages to escape your grasp or if the kayak somehow capsizes.
Price
Here's the thing about kayak fishing rods: they come in a wide range of prices. Now, while higher-end rods are typically made with higher quality materials and offer better features, many anglers prefer to stick with mid-range or even entry level rods for the sole reason that rods can break, snap under pressure, or fall out of the kayak, never to be seen again.
If these things happen, you're saying goodbye to possibly hundreds or even thousands of dollars, and as such, buying a cheaper fishing rod might be a better idea. At the end of the day, it's really up to you.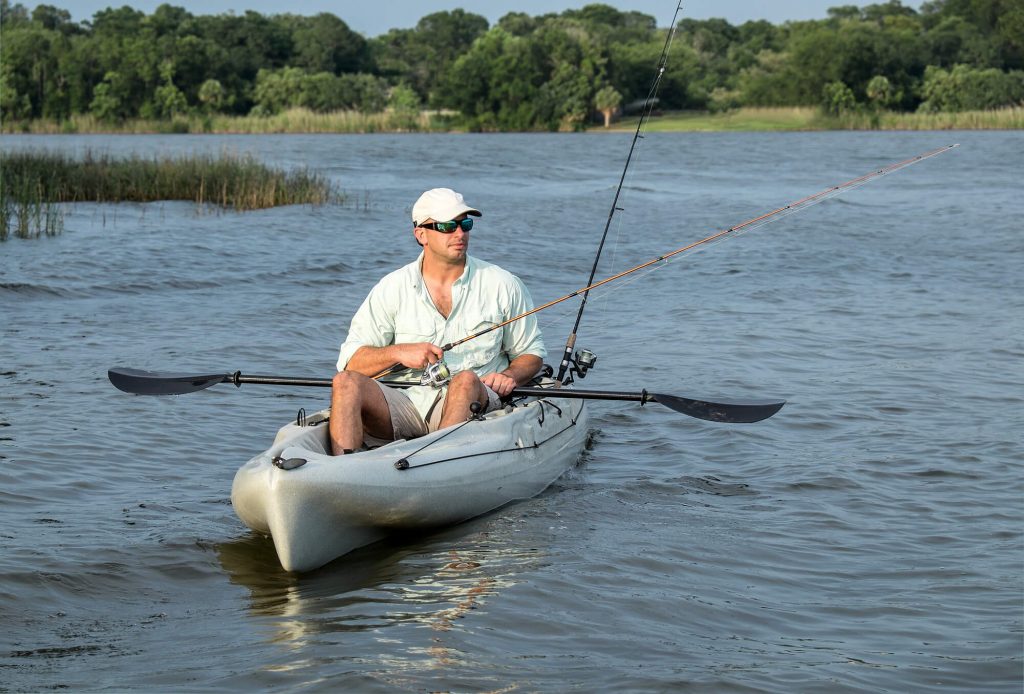 FAQs
What's the difference between regular fishing rods and kayak fishing rods?
It really all boils down to size. Kayak fishing rods are shorter in length and have shorter handles so that they can easily fit inside small kayaks. Various models of kayak fishing rods also feature telescoping designs or fold/ break down into several pieces to make them more portable.
Is it safe to fish on a kayak?
Yes. Just make sure to observe safety precautions, use the right gear, wear a kayak fishing life vest, and learn basic safety measures on kayak fishing. When you're just starting out, stick to calm waters and smaller fish. After a bit of practice, you'll see that kayak fishing is fun and easy.
What fishing equipment do I need for kayak fishing aside from a fishing rod?
You will need a fishing line, fishing reel, baits or lures, hooks, a kayak cooler, and a kayak fishing net. Other tools you might need include fishing pliers, a fish lip gripper, and rod holders.
Overview
At the end of the day, the best kayak fishing rod is one that maximizes your kayak fishing experience and helps you become a much better angler. It should be made with good quality materials, let you catch all your target species, and work well in your fishing conditions. This way, you're sure to get the best value for your hard-earned money.